Two of my all-time favorite things are the season of autumn and women's fashion. So, naturally, it makes sense that fall fashion is a top love and priority in my life. Getting dressed between the months of September through November is, truly, one of my all-time favorite hobbies. Keeping this love affair in mind, suffice to say that I've spent a lot of time researching and shopping for women's fall fashion essentials… and even decided to buy a few in multiple colors.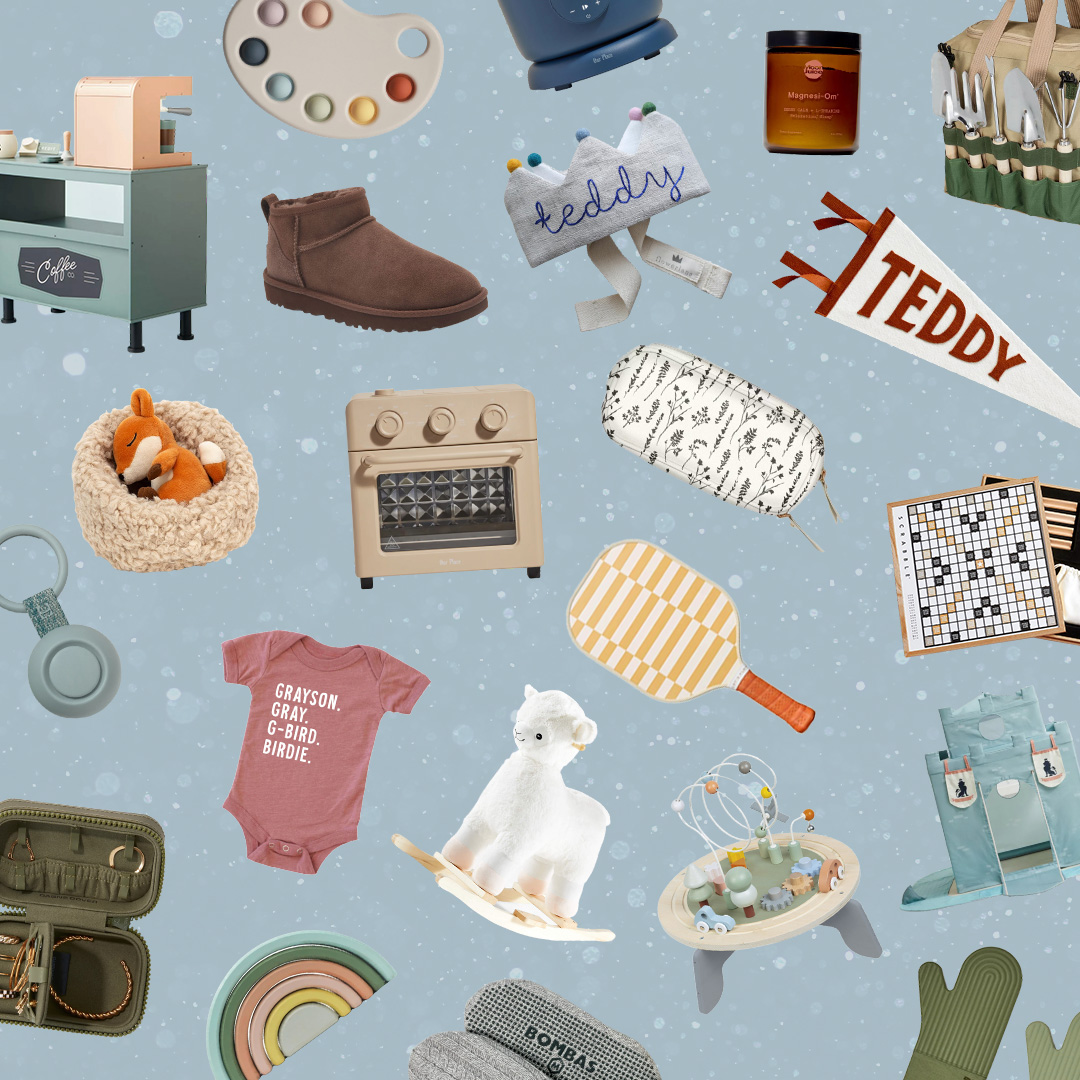 everything you need to ace holiday gifting this year 🎁
While there was a time in my life I would have avoided adding duplicates of any item to my closet (there are so many wonderful options out there—why would you want two of the same piece taking up space?), this mindset is just another component of my life that has been influenced by motherhood. Let's just say, when your favorite pair of jeans is serving as the base of a laundry pile the size of Mount Everest, it's nice to have a second pair on hand.
To be clear: Not every piece is worthy of being owned in multiples. But—as a WFH toddler and baby mom on a never-ending quest to discover the best cozy, seasonally-inspired, and practical items—these are some that I've come to believe are. Keep reading for nine fall fashion essentials I love so much I had to buy them in multiple colors.
9 Fall Fashion Essentials to Buy in Multiple Colors
My mothering journey is closely connected to the autumnal season. I've been pregnant and postpartum twice during the fall, and have mothered two children (a now almost 1-year-old and almost 3-year-old) through this transitional season for several years. For me and my lifestyle, the perfect fall mom fashion pieces are cozy and practical.
While some moms might enjoy donning business casual clothing to head into the office, I find that my WFH lifestyle tends to influence my reaching for casual and elevated casual pieces the most. In the fall, I like wearing pieces that are just as well suited for working from my home office as they are for taking my kids to the local pumpkin patch or cider mill. Versatile tops and practical footwear, for instance, are two common themes. These nine items are the ones that I just couldn't resist going back to buy in multiple colors:
UGG Boots
The first "real" fashion item I ever purchased was a pair of UGG boots. I was 16 and had diligently saved cash from holidays and birthdays for a solid two years before taking the plunge and making the investment (I still remember proudly touting the bag out of my local Journeys). While I only just recently retired that pair of UGG Classic Tall boots (if you're a millennial like me, you might remember them being all the rage in high school), I now own a pair of both UGG Ultra Mini Classic Boots and UGG Mini Classic Boots.
While of course UGG boots are currently super trendy, they're also incredibly practical for motherhood. Since leaving the house for me almost always means shepherding my 2-year-old while simultaneously holding my 11-month-old, I appreciate how easy they are to throw on and the fact that they match with just about every outfit.
Carly Jean Los Angeles Malibu Wide Leg Jeans
In case you haven't gotten the memo (and if you didn't, I get it—momming is time consuming), wide-leg is THE silhouette of 2023. If you did get the memo, you probably also noticed that—like any fashion item—there are an overwhelming amount of shopping options available. If you're feeling lost on a pair to try, I highly recommend giving this option a try. They have become my go-to "cool mom" jeans. I own this particular jean in both washes and love styling them with button-down shirts and sweaters. Word to the wise: This style does run a bit small. I'm almost always a U.S. size four and while I tried a size three based on the size chart, I found that size five was much more comfortable.
Hollister Oversized Crew Sweater
I know what you're thinking: Isn't Hollister for teens? I get it. I thought the same. But I have to tell you, this is one of my favorite sweaters of all time. It is ridiculously cozy and the kind of staple you'll find yourself reaching for every time it's fresh out of the wash. The oversized fit is both ultra-comfortable and on trend, the material is soft, and the weight is just right for fall (not too heavy, not too light)… the list goes on and on.
I currently own it in three different colors but have considered adding every single one to my closet. Speaking from experience, it's oh-so-easy to style with jeans, skirts, and trousers. The oversized fit is also perfect for layering if you like styling your sweaters with a collared shirt or turtleneck underneath.
Abercrombie Sloane Tailored Pant
Trousers have been an "it" pant for a while now. They're timeless, elegant, and can be styled with any number of shoes and tops, making them versatile for a number of different settings. If you're looking for a pair to add to your wardrobe this fall, these cult-favorite trousers from Abercrombie are essentially the only option. Between the tailored fit and inclusive sizing, they are extremely flattering for all and I personally love the quality-to-price-point ratio. As a mom, I've found that throwing these pants on is an easy way to feel instantly more put-together.
Kiel James Patrick Fall Sweaters and Sweatshirts
If you're looking for a fall fashion essential that will keep you cozy while getting you compliments every single time you wear it, then a KJP sweatshirt or sweater is just the ticket. My all-time favorite is the Instagram-iconic Big Cozy Fall Leaf Sweater, with the Cozy Pumpkin Sweater coming in at a close second. While the pieces are admittedly a little pricey for a parenting budget, I can say I have never once regretted purchasing one of these items—and I own an almost embarrassing amount.
They're unashamedly bold in their seasonality and have continued to spark joy in my own personal wardrobe for three years and counting. I love styling all of these tops with jeans and skirts, and the sweaters—paired with leggings—also helped see me through my fall-time postpartum days with both of my children. I can't tell you how many times I've recommended these tops to family members, friends, and colleagues. Purchasing one of these autumnal pieces is a fall fanatic's rite of passage.
GAP CashSoft Turtleneck Mini Sweater Dress
Last fall, when I was nine months pregnant, I found myself shopping for a handful of fall wardrobe staples that would help me feel stylish and cozy postpartum, and that would also be wearable beyond my fourth trimester. While I know some people have mixed feelings on them, I've always loved a good sweater dress and found this turtleneck offering from GAP to be absolute perfection.
It's soft, cozy-yet-put-together, easy to wash, and even easier to style. After ordering the dress in a neutral beige color, I immediately went back for a second dress in green. The dress is back again this season in a handful of made-for-fall colors and I find myself tempted to purchase more. I wore both dresses constantly throughout the fall and winter last year (both during the workweek and on weekend excursions with the kids) and am looking forward to wearing them again this season, styled with a pair of tall boots.
EllandEmm Button-Up Shirts
I first came across this lesser-known fashion brand last year and have since fallen in love with just about every single item on their website. This shirt, in particular, is one of my favorites and has become one of my work-from-home staples. I love the preppy, personalized style of these pieces and often find myself throwing them on top of whatever base layer I'm wearing prior to Zoom meetings.
The black striped button-up is a classic piece that can help you casually channel French-girl fashion and the blue Sienna shirt throws serious academia vibes (an aesthetic I personally fall in love with every time autumn rolls around). If you're looking for a preppy-cozy fashion piece that will have people asking you, "Where did you get that?" I can't recommend these shirts enough.
Aerie Real Me Belted Pleated Skort
Tennis skirts have become one of my favorite wardrobe items. They are super comfortable and can be easily dressed up or down. This fall, I've been styling them with sweaters and sweatshirts on top, and a pair of loafers and crew socks on bottom for a casual preppy look that's also practical for keeping up with my kids. While I have a few varieties hanging in my closet, this pleated version from Aerie is an affordable favorite that I own in both brown and white.
Tecovas Cowgirl Boots
A couple of years ago, I started dabbling in the cottagecore aesthetic. Having grown up on my grandparent's sheep farm in upstate New York, it felt only natural. Plus, I love any excuse to wear a cute pair of boots. This summer I acquired my first pair of Tecovas "The Annie" and—in an eye-catching shade of Indigo blue—they very quickly became my favorite piece of footwear. The quality is unmatched and they are so much more comfortable than you would imagine. This fall, I'm looking to add a second pair to my shoe rack—which is really saying something, considering how fit to bursting said shoe rack already is.
While the Indigo boots hold a special place in my heart, I know that a more autumnal shade (such as the Sienna Suede) will feel more appropriate in the months ahead. I tend to enjoy leaning into a "witchy" aesthetic and am looking forward to pairing these boots with midi and maxi skirts, alongside the more traditional jeans and sweater combo. I know these high-quality, on-trend boots will also help breathe some life into the outdated skinny jeans I still have hanging out in my closet.