One of the many joys of preparing to welcome a new baby into the world is designing their nursery. Of course, you want it to be a comfortable and soothing space for your new little one, but you're going to spend a lot of time there, too—which means you should love it just as much.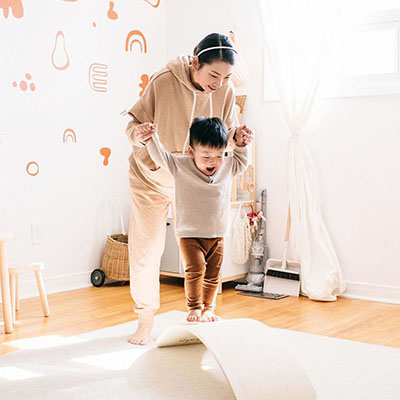 If your kid is turning 2, get ready for hilarious conversations, much more involved play, and lots of sweet, sloppy kid hugs and kisses. As for what you'll need? Leave that to us.
You still want the nursery to feel like it's a part of your home, not a daycare filled with only kid items, but you also want it to be child-safe and babyproofed (just like the rest of your home). It's a fine line to walk, but it can certainly be done, especially with some nursery design inspiration from others.
And while getting a nursery ready for a new baby can certainly add up quickly, there are certain essentials that are worth investing in to create a space that's both mom-friendly and baby-appropriate.
Check out five of our favorite gender-neutral nursery items worth investing in below.
If you don't already know, the baby phase goes by in the blink of an eye, so ensuring that some of the big-ticket nursery items are timeless and able to age with your child is key. That's one of the many reasons we love The Glider from Nurture&. The sleek design fits in with just about any nursery style, and it comes in three gender-neutral colors—gray, ivory, and navy—that pair perfectly with whatever look you're going for.
And let's face it: between round-the-clock feedings, rocking, reading, and everything in between, you're going to log a lot of hours in your glider—so no matter how nice it looks, it needs to be comfortable. Whether you're breastfeeding or bottle-feeding, proper head and arm support are must-haves, which is why The Glider was designed with an adjustable head support and supportive arms.
Speaking of feeding, this chair is going to get spilled on, whether it's breast milk, formula, spit-up, or any of the other not-so-cute things that come out of your new little bundle. The Nurture& Glider's spill-proof, stain-resistant fabric has you covered here.
You might be surprised to learn that not all gliders are created equally when it comes to the one thing they're designed to do: glide. I once tried one out that made a loud clicking noise every time it moved back-and-forth, and I've sat in plenty of gliders that require too much effort to rock, feel jerky, or push me too far forward. This chair includes a smooth glide design (a must-have when it comes to soothing a crying baby or not waking a sleeping one) and power recline (perfect for snuggle sessions).
And finally, one thing no one tells you is that at some point, when you finally get the baby soothed or sleeping, and you settle in to scroll your phone, it will run out of batteries. But that's no problem with The Glider's built-in USB charger. Yes, they really did think of everything—probably because they created and designed the glider after interviewing hundreds of parents who know firsthand what a quality glider needs to be.
2. Solid Blackout Curtains
When the sun is shining, but you want your little one to be sleeping, there's a very simple solution to that: blackout curtains. Blackout curtains are great for newborns, who are used to darkness in the womb and clocking in around 16-20 hours of sleep around the clock. But blackout curtains will last you well beyond the newborn and baby phases and into the toddler and preschool years and beyond.
Blackout curtains make getting kids to bed at a reasonable hour a little bit easier in the months when the sun is still shining well past their bedtime. And controlling how much light comes into their room in the early morning can also help prevent some of those 5 a.m. wake-up calls from the daylight that signals their bodies to wake up. For the chronically short napper, blackout curtains might just be the game-changer.
3. A Cute Bookshelf
Shelf space is a must for any nursery, not only for book storage but also to display those adorable photos, toys, and other décor. The right bookshelf can be a statement piece in itself and help tie the whole room together. And though it might not seem like it right now, the baby phase goes by so fast, so selecting a piece that isn't necessarily "baby" but can be used throughout the years will save you from redesigning later. You may even want to consider shopping outside of the baby/kids section for bigger pieces of furniture like this. As with all furniture, make sure it follows babyproofing protocol and is safely secured to the wall to prevent falling.
4. Toy Storage Bins
If clutter drives you crazy (that's all of us, right?) you definitely want some cute but functional storage bins for toys. Look for ones that complement the overall style of the room since you'll likely be leaving these out for easy access to toys instead of hiding them away. We like these soft, kid-friendly bins that can double as laundry hampers and withstand whatever our little ones put them through.
5. A Fun Pouf
When you're not reclining in your glider, you may want some other foot support, especially when feeding or rocking your little one. A fun pouf is an easy way to add some whimsy and charm to your nursery while still being a functional, kid-proof piece. Look for something soft and baby-friendly, but also durable to last you throughout the years.
This post was in partnership with Nurture& but all of the opinions within are those of The Everymom editorial board. We only recommend products we genuinely love.