A thoughtfully wrapped present can add to the magic of the holidays by building anticipation for what's inside, especially among the littlest gift recipients. And before I became a mom, I was someone who loved the process of wrapping gifts. I took pride in styling the perfect package with luxe ribbon or a handmade bow. Motherhood changed that (to no one's surprise), and now I speed-wrap most things on Christmas Eve with nary a bow in sight. However, this year I'm trying to slow down and reconnect with some of the things that used to bring me joy during the holidays, like wrapping gifts.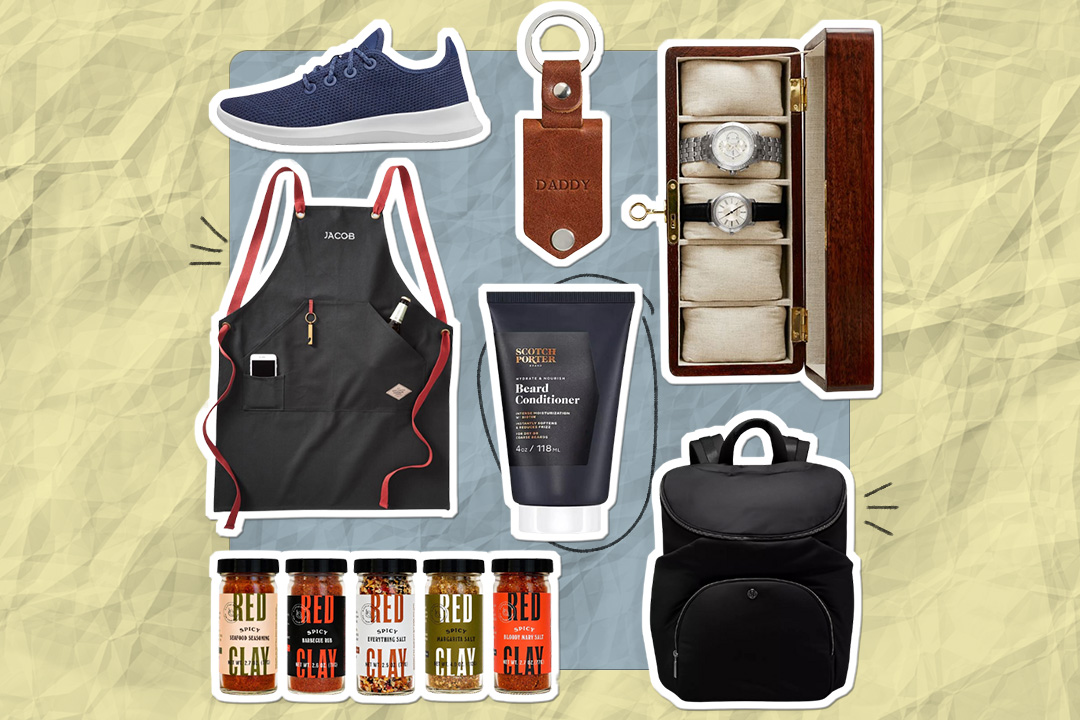 june 18 is coming up fast — have you started shopping yet? 😎
But even passionate gift-wrappers could use a few hacks to make the process easier, and we're here to help. For example, how exactly do you wrap a soccer ball? And how do you stop the gift-wrapping supplies from taking over the kitchen table? Keep scrolling for more than 20 helpful gift-wrapping hacks to try this season.
Wrapping Oddly-Shaped Gifts
When you want to do more than shove something into a holiday gift bag—though we're not saying that's a bad thing—try one of these hacks for wrapping weirdly-sized gifts. Everything from soft stuffies to basketballs can be wrapped with a little creative folding.
Stuffed Animal
Candle
Large Cylinder
Ball
Beauty Item (Not in a Box)
Creative Packaging Ideas
These gift ideas are so cute they're practically begging to have their picture taken before being opened. From craft paper artwork to kid-friendly designs, keep scrolling for some swoon-worthy designs you can totally try this year.
Try Hand Lettering
While not all of us have the skill to create the work of art @chalkfulloflove did here, any of us are capable of painting a few snowflakes, trees, or a meaningful holiday message on brown kraft wrapping paper.
Draw Gingerbread Houses on Brown Paper
We were already fans of the @themamanotes activities for kids, and we love how a white paint pen, ribbon, and brown paper turned these packages into the cutest gingerbread house-inspired gifts.
Add Mini Ornaments and Bottle Brush Trees
Blogger and girl mom Raven Vasquez is the queen of the pretty-in-pink aesthetic, and we love how she added mini ornaments and bottle brush trees to make these gifts that much more adorable.
Make a Gift Card More Exciting
People appreciate gift cards they can use as they please, but sometimes they can feel a little boring to open. Make them feel more special with this hack from @beeandblooms.
Elevate a Boxed Gift
Make a gift in a standard box a little more exciting with this fun hack from Lindsay Roggenbuck.
DIY a Rudolph Box
For the easiest and cutest gift-wrap hack, grab brown paper, a Sharpie, and a red cotton ball to recreate Rudolph on a package like Kara Cofield did here!
Personalized Gift-Wrapping
For that extra-special touch, add personalized elements like photos or monogrammed gift tags to your packages this year.
Add a Photo
Make it even cuter by choosing a childhood photo of the recipient taken during the winter holidays.
Use an Initial Ornament or Gift Tag
A quick Google search will reveal tons of cute initial ornaments, or you can easily DIY your own with cardboard and some colorful paper.
DIY a Holiday Card Envelope
Create a little pocket for a heartfelt holiday note or card with this clever gift-wrap hack from Chelsea Williamson.
Sustainable Gift-Wrapping
If the wasteful piles of wrapping paper strewn about on Christmas morning stress you out, try some of these more eco-friendly gift-wrapping ideas.
Save Those Brown Grocery Bags
Recycle all your saved Trader Joe's bags by turning them into gift wrap!
Upcycle a Box Top
How many of us have an unmatched box top or bottom lying around? Turn a large box into a smaller one with this handy hack from @beeandblooms.
Wrap With Reusable Fabric (Plus More Ideas!)
This TikTok from @sweet.sustainability contains several eco-friendly wrapping ideas, like using fabric to wrap gifts and upcycling bags and old Christmas cards.
Gift-Wrapping Tools and Storage Hacks
It's so easy for the gift-wrapping station in your home to quickly get out of hand. These hacks can make the whole process easier and more organized.
The Little ELF Gift Wrap Cutter
You might have seen this gift-wrapping tool on your feed. It's great for anyone (like me) who struggles to cut in a straight line and who has a habit of losing the scissors.
Amazon
This product is the perfect tool to cut wrapping paper.
The Container Store
For an alternative gift wrap-cutting tool, the WrapMaster makes measuring and cutting the perfect amount of wrapping paper a cinch.
A Curated Wrapping Paper Set
For aesthetic lovers who appreciate coordinated gifts under the tree, grab a curated set from Merry Market.
Merry Market
This gift-wrapping set has everything you need for cute and coordinated gifts:
- 3 rolls of paper
- 3 rolls of ribbon
- 25 gift tags
available in traditional and minimalist wrapping styles
Gift Ribbon Storage Hack
For a budget-friendly way to store your holiday ribbon, try @themamanotes's crafting caddy hack using a basket you can get on Amazon.
Gift Wrap Storage Hack
No need to buy one of those expensive gift wrap organization stations! For an easy and affordable gift wrap storage hack, Chantel Mila uses a toilet paper or paper towel roll to roll up the wrapping paper, places the rolls in a garment bag, and hangs the bag in the closet until next year!