Chicago-area mom of three, Brittany Snyder is all about finding the joy in the little things with her family this year. And we loved seeing how the little festive details she adds around her home perfectly complement her light and bright aesthetic. Plus, we love all the pink touches—a reflection of her girl-mom status.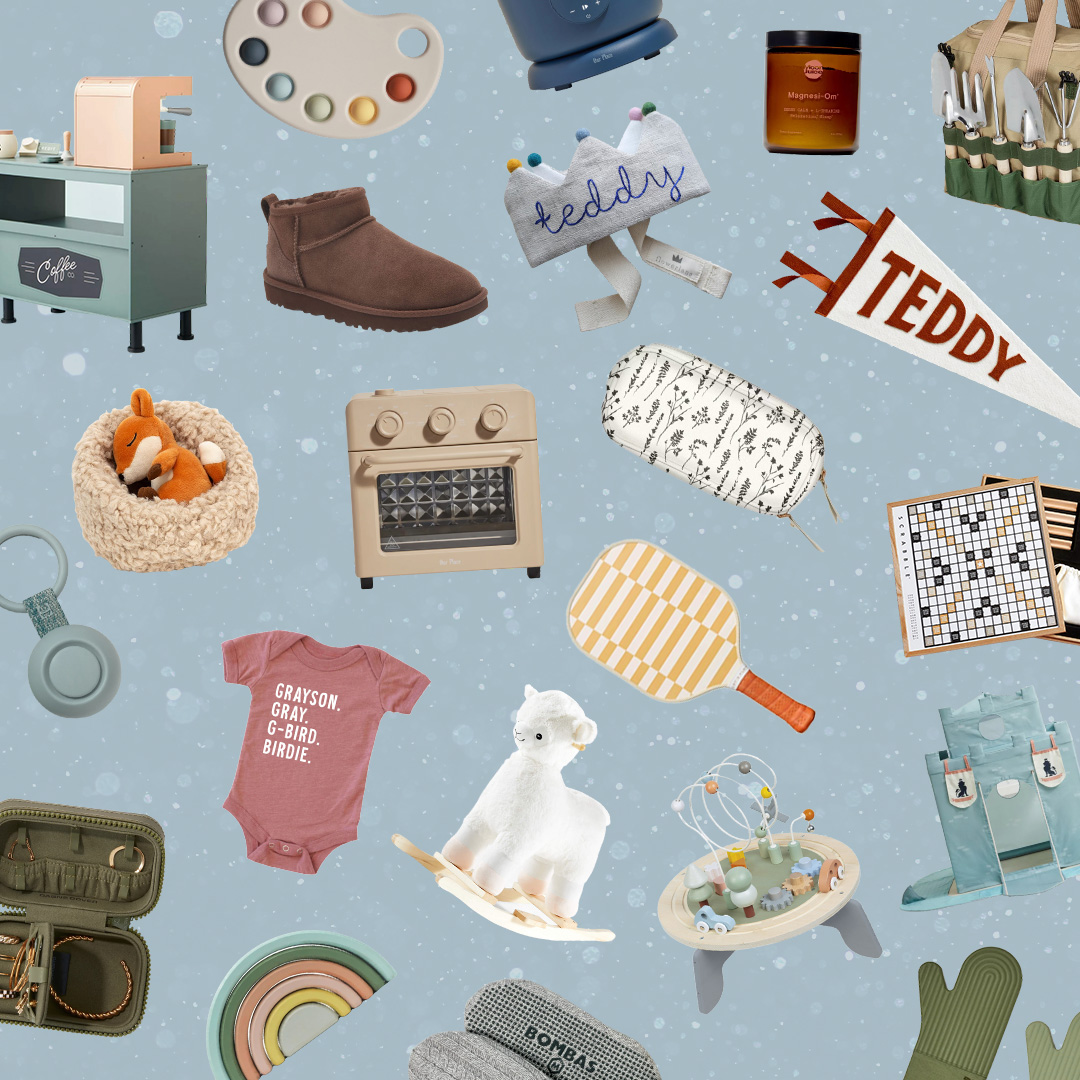 everything you need to ace holiday gifting this year 🎁
A self-identified crafty-mom as well, Brittany is no stranger to making DIY decorations (keep an eye out for a homemade advent calendar and a custom pom pon wreath). Read on for glimpses into all the pretty holiday things around her home this season, including her daughter's extra special dollhouse.
Name: Brittany Snyder
Location: Chicago Suburbs, IL
Home's Square Footage: 1,900
Kids: Avery, 6; Emerson, 4; and Isla, 2
Before we take a tour of your cheerful holiday home, can you share a little bit more about your family?
We live in the Chicago suburbs and love finding joy in our everyday adventures. You could say we really, really love celebrating holidays, and cultivating family traditions is something both my husband, Scott, and I value and cherish.
Our perfect Friday night includes throwing every cozy pillow and blanket on our couch, ordering pizza, and watching our favorite movies—top it off with ice cream and maybe even a game or two, and we are one happy family!
When do you start decorating for the holidays?
We typically start decorating a week or two before Thanksgiving; however, as our girls get older, they request our Christmas tree up earlier and earlier, and I am more than happy to oblige!
Get the Look
What is your favorite piece of holiday decor in your home?
Hands down, my favorite piece of holiday decor in our home is our living room Christmas tree. It is filled with all of our family ornaments, and it truly brings me so much joy! Sitting by our tree and looking at all of the girls' handmade ornaments from school or the ornament we were gifted when we got married is really like looking at all of my dreams coming true.
Get the Look
Where do you typically shop for holiday decor?
I always add a few new holiday pieces to my decor each year and love finding holiday decor at small shops, like Sweet Lulu in Frankfort, IL. They curate the best Christmas decor and stocking stuffers each year. Etsy is another place where I find one of a kind holiday decor, like my cute stocking tags from Chalk Designs by Me and my felt garlands from Glitter Party Co.
How do you incorporate holiday decor into your home's everyday aesthetic?
I tend to keep our everyday home decor neutral and bright. Light spaces always make me feel calm, and I really love to carry that in with our holiday decor too. While our main floor decor is mostly neutral mixed in with a little pink, because girls run the world over here, the girls' rooms are where we can have fun with color! I love sprinkling in fun DIYs and bright accent pieces to get the girls excited about the holiday season.
Get the Look
Do you ever make DIY holiday decorations?
Yes! Crafting and creating DIYs is something I do for my own joy. I love mixing in my DIYs to our home decor and my little ladies always love to help with a good project.
This year, I created a new advent calendar for the girls, and I'm so excited to start that new tradition with them! You will also spot a few DIYs in the girl's rooms like Isla's New York City Christmas village and a pom wreath. I also love making holiday-themed front door mats—it's such a fun way to welcome in guests!
Your girls' bedrooms are so fun and festive! How do you keep your holiday home decor kid-friendly?
Something I swear by when decorating our home is keeping it beautiful yet functional and always kid-friendly. Keeping holiday decor minimal and sprinkled in with our typical decor helps to make it kid-friendly, while also including baskets with the girls' favorite holiday toys and books, so they can enjoy the decor too.
Get the Look
What does Christmas morning look like in your home?
Christmas morning begins early at our house. Our girls always wake-up before the sun with anticipation about what Santa has brought! We start the morning by opening gifts, looking in our stockings, and eating a big brunch. I always make the same brunch my Mom made for my family when I was growing up—Christmas morning brunch may be one of my favorite holiday memories.
Get the Look
What's your family's favorite holiday tradition?
Our family's favorite holiday tradition is when we get into our matching holiday PJs, drive to get ice cream, and enjoy it while looking at all of our town's holiday lights. We always come home and watch a Christmas movie afterward. This year, we are hoping to add-in a family sleepover by our Christmas tree to end the night.
How are you adjusting your celebrations this year?
With all of the change 2020 has brought this year, we are getting creative with some of our favorite holiday traditions! We love baking Christmas cookies, and we are hoping to have a big Zoom cookie decorating day with some of the family we won't be able to see this holiday season. We are so thankful for Zoom and FaceTime to continue to feel connected and keep some of our favorite family traditions alive this holiday season.
Brittany Snyder Is The Everymom …
Favorite Christmas song? "Merry Christmas Baby" by Otis Redding. We are also loving the Kacey Musgraves Christmas album
Favorite Holiday movie? The Holiday
Favorite winter-time drink? Egg Nog Latte
Best gift you've ever received? My December (and first) baby—Avery!
Top of your kids' wish list this year? American Girl Wellie Wisher Dolls
Santa's lap—did your kid(s) cry or smile? Our youngest Isla was the FIRST to cry on Santa's lap!
Ideal holiday date-night (pre-COVID)? A little holiday shopping followed by dinner and a holiday movie.