I could imagine conducting this interview with designer, expert thrifter, and mom of three, Shelby Goodman, as we walked (masked) among charming small town antique shops or sitting in her cozy living room beside a crackling fire. But, alas, email and photos will have to substitute for a personal tour of Shelby's nearly 100-year-old craftsman style house, with its vintage finds and modern touches.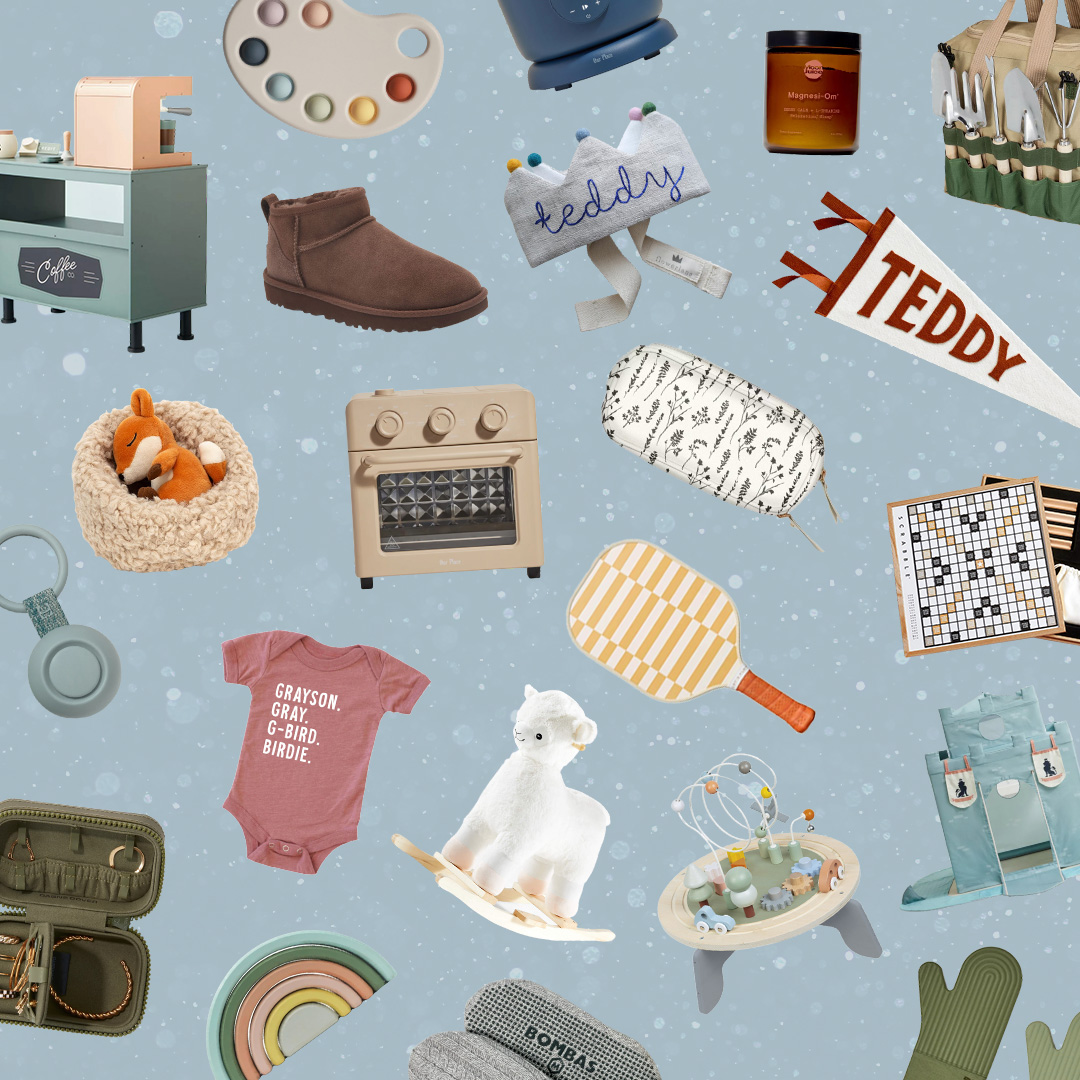 everything you need to ace holiday gifting this year 🎁
Moving from the mountains of Virginia to be closer to family in the heart of the Midwest, her Indiana home feels warm and inviting yet still polished and put-together—all with three young sons running through the halls. 
With the help of her handy husband, Shelby has taken on home projects big (see: her kitchen nook before and afters) and small (see: her new board and batten bedroom wall). Read on for more of her project tips, budget design ideas, and hacks for having an organized home with kids. 
Name: Shelby Goodman
Age: 35
Location: Indiana
Home's Square Footage: 1,500
Years Lived In: 5
Rent or Own: Own
Children: 3 boys
Before we get into chatting about your beautiful home, tell us a little bit about yourself and your family! 
I met my husband freshman year of college and married him two weeks after graduation senior year. We spent the first eight years of marriage living in the mountains of Virginia. During that time, I worked part-time as a graphic designer, started blogging, and learned I love making a home. We also had our first two sons, Grady and Griffin, during that time.
In 2016, we moved to small-town, Indiana in order to be closer to my parents and make some changes for our family. That same year we bought our current home, and it has grown so dear to us as we've worked on making it our own while enjoying its unique history. In 2019, we also brought our third son, Graham, home to this house making it all the more special.  
How would you describe your overall interior design style?
Thoughtfully collected. I absolutely love making a house a home by finding unique items that fit the space and style. Our current home is a 1925 craftsman-style home full of cottage-y details like wide, arched doorways, french doors, and a large original fieldstone fireplace. What I'm most drawn to in design might be a bit more modern and eclectic than what you'd see in our home, but I think it's important to match the character and charm with our decor in this house. 
Do you have a favorite room? Why do you love it? 
It's got to be our living room. It's just got such a cozy and homey feel to it. It's also the place we spend so much time together as a family; where we make forts, eat pizza, turn on the fireplace, and drink cocoa. It's where game nights go down and where so many of my boys' childhood memories are being made. We recently got the Article Burrard sectional, and it's been a game-changer for all five of us being able to snuggle on the couch together for movies. Being covered in a pile of my people is a little slice of heaven for me.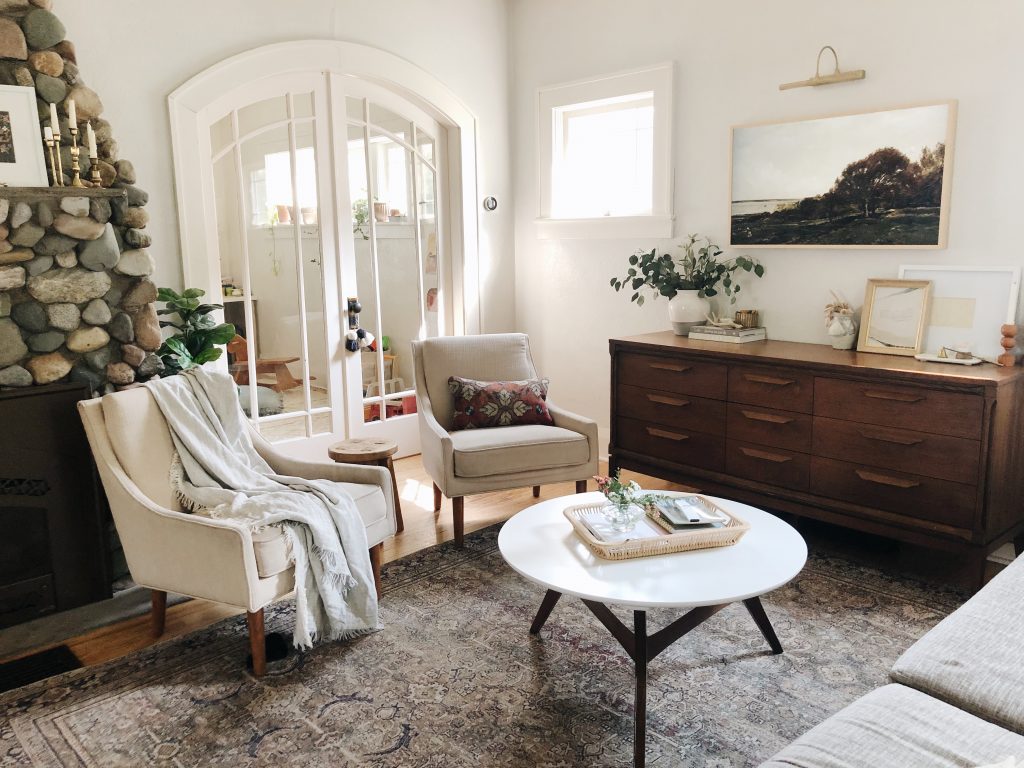 Get the Look
Do you think that style changed when you became a parent, especially to three boys? 
I do think I became a bit more laid back in my design as I became a mama. One of the things I vowed to myself as a mama of three boys who loves to decorate is that I'd never let anything feel too precious.
I like a home to feel live in and loved on so I think it's important to be flexible with your style and allow it to evolve with what suits your family best in each season.
I want to let them eat on the couch during movie nights and not roll my eyes when I'm cleaning chocolate off it later. To not stop a game of "the floor is lava" just because they're using my favorite pillow. To already know that I'll be retying the fringes on my fringey blankets when I put them out there. I like a home to feel lived in and loved on, so I think it's important to be flexible with your style and allow it to evolve with what suits your family best in each season. 
Get the Look
How does your daily life inspire your home design and decor choices?
I'm a huge thrifter and have been for over 10 years. This is where all my favorite decor pieces have come from. It's become a pastime I have enjoyed doing with each of my boys and having them help me choose items that reflect us as a family. My favorite antique laurel mirror in our house was a $12 yard sale find that I still remember carrying to my car in one hand with a baby on my hip in the other. 
What have you splurged on? What have you done on a budget?
This year we splurged on the Frame TV after our TV of 12 years broke. I waffled for a while on it because it felt like a lot of money for a TV, but I have no regrets. It honestly makes me so happy to not walk into our most used room in the house and see a big black box. And I love updating the art with the seasons. 
I feel like the majority of our house we have done on a budget, honestly. I feel blessed to be married to such a handyman who can and does a lot of our updates himself. Probably one of our most satisfying before and after's is our kitchen. We were able to update it for under $1000 by doing a concrete treatment over our existing countertops and choosing a beautiful, but budget-friendly, flooring to replace the yellow checkerboard floors we inherited. 
Kitchen Before:
Kitchen After:
Get the Look
Your house has so many fun details. What are some of your favorite "finds" that make your house feel unique to your family?
Form and function is my motto around here. I love things that look beautiful but are still incredibly useful for storage—which is important in a smaller home. I have so many favorite thrift finds in our home, like the lockers in the boys' room. They were such a fun addition and were a Facebook marketplace find. Another piece would probably be our old library card catalog which was gifted to me from a retired teacher friend. It feels uniquely us yet organizes all those random things you'd normally throw in a junk drawer.
Let's talk kid's bedrooms and nurseries, what advice do you give others that you've also used yourself?
My favorite advice when helping people design and create spaces is to find one inspiration piece and let it be your jumping-off point. It can be something simple as a color palette or a piece of art, but it will help you keep a space cohesive and give you a vision to work with. For my son's nursery, I found an adorable moon and cloud banner and used that as my inspiration piece giving his design a slight nod to the concept of day and night. 
Two of your boys share a room, can you tell us about how you incorporated both of their personalities and how the transition to sharing a room went?
That was one of those transitions that seemed like it was going to be way harder than it was. I think overall it's helped bond them as brothers, and it really helps that they're close in age and into the same things. I reused a lot of the things that I had used to decorate each of their nurseries which makes their shared room design special. 
Get the Look
Can you tell us a little bit about your most recent project? And what's next on your list?
Our most recent project was creating a little board and batten wallpaper accent wall in our bedroom. It seriously changed the whole space for us, and I wish we'd done it sooner. I always tell clients to focus on their bedroom first to be a sacred space but have done a bad job doing that for us in this home. It's still not quite where we want it, but we're getting close!
Next on the list is wrapping up our little half bath mudroom bathroom. My husband and I worked together to refinish an old dresser and retrofit it to become a bathroom vanity. I love the way it came out! He still needs to finish the drawer cuts and we need to replace the crown molding but it's looking so good!
Bathroom Before:
Bathroom After:
Get the Look
Do you have any hacks for keeping your house put together, even with three kids?
Proper storage and not allowing us to accumulate excess 'stuff.' We try to abide by the one-in-one-out rule with anything new we bring home. We also make it a family rhythm to reset the house every evening before bed. That means everything gets put back in its place and the boys pick up all the toys. It really helps to start each day with a tidy home even if it's destroyed by the end of each day!
Get the Look
How has pandemic living changed your design choices (if at all)?
Honestly not much changed for us since we both often work from home anyway. It was definitely trickier while the schools were closed, and we learned to juggle making space for each other to work while the kids were home. But if anything, I think it made us appreciate our little home even more for all the ways it's grown and expanded to accommodate our lives and our family. 
Shelby Goodman Is The Everymom …
Go-to coffee order? Americano with a splash of half n' half 
Favorite TV show right now? My husband and I enjoy watching This is Us together as a Tuesday date night in
The last book I read was … The Giver of Stars by Jojo Moyes
This year I want to learn how to … make latte art at home
First trip you'll take after the pandemic? Reeeeeally overdue for a girls' weekend—doesn't matter where.
Most embarrassing mom moment? Oh goodness, I feel like motherhood gives you so many, ha! The first one that comes to mind is having my son very loudly ask me why the teenager in front of us with acne had all those 'itchies' on his face. I can still feel my face turning 10 shades of red as people looked at us.