Exciting as it may be, buying baby things can be surprisingly stressful. I still remember turning to my husband a few months into pregnancy and frantically informing him that we hadn't yet bought a wipe warmer. (Spoiler: We never use the one that we got.) When I first started browsing baby registry lists, I felt like I needed a million things that would cost approximately a million dollars.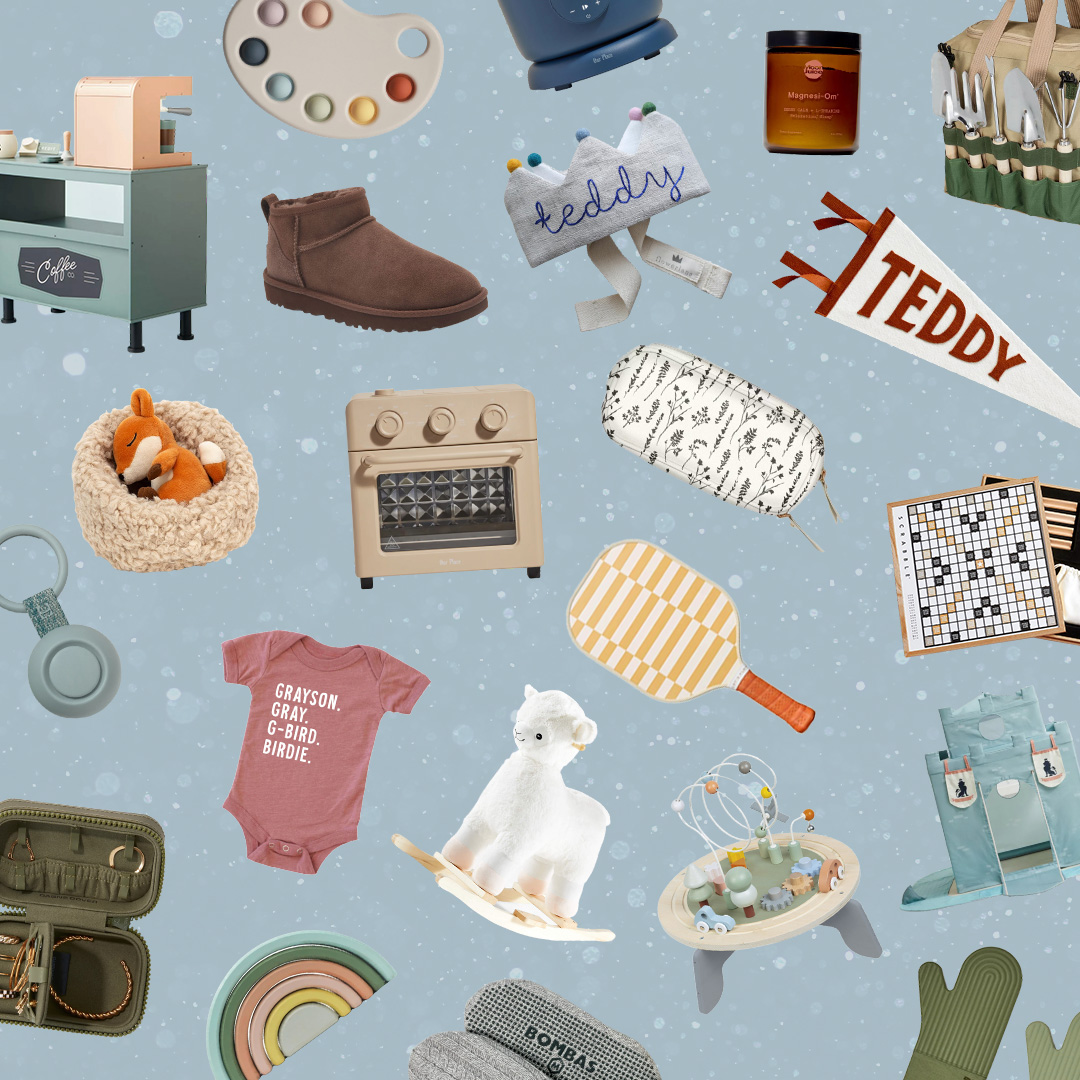 everything you need to ace holiday gifting this year 🎁
While there's no denying that children are expensive (one study found that the cost of having a baby can run up to $21,000 in the first year), I eventually found that having a child doesn't have to wipe out your savings. There are many ways to acquire gently used or even unused baby items as long as you're willing to put in a little legwork. For me, the extra effort was worth it not only because it saved us thousands of dollars but because it felt good to be resourceful and produce less waste. With the number of people having children every year, I knew there had to be a lot of good baby stuff available—if only I could hunt it down. Here's how I did it and what I learned along the way.
Online Community Groups
Three groups proved invaluable in my hunt for baby items: my local Facebook parent group (which exists in many communities), the Next Door app (which connects people nationwide to their neighbors), and most of all, my local Buy Nothing Project group. In the past decade, Buy Nothing Project Facebook groups have popped up worldwide, providing a space for neighbors to help neighbors by donating items they no longer want. To acquire things, you can respond to people's posts or proactively post that you're looking for a specific item.
By doing so, I obtained a crib, bouncer, play gym, and more. Once someone responded, I'd direct message them, and we'd arrange for a pick-up time. Generally, I had very sweet experiences, often chatting about their children and in some cases, staying in touch. If you feel uncomfortable meeting strangers, you can go to their homes during the day and have someone you trust to come with you. While the groups historically live on Facebook, the Buy Nothing Project recently launched an app, which is still in its early stages.
Safety Tip
Anything a baby will sleep in needs to be in top shape, with no missing parts or cracks. Ask for the user manual and double-check to see that all of the parts are still there. If they no longer have a manual, you may be able to find it online.
Remember that the more times a piece of furniture has been assembled and taken apart, the more wear and tear it's likely endured. Our crib had only been used by one family before us, and they'd purchased it only a year before we used it. Had it been, say, 15 years old and passed through multiple hands, I probably would've thought twice about laying our baby to rest in it. It's also super important that the mattress and sheets fit perfectly. See the AAP guidelines for complete info on safe sleep.
Resale Marketplaces
For certain products like strollers and car seats, safety was a major concern, so we bought them from GoodBuy Gear because the company vets all of its products for quality and ensures they haven't been recalled. We prioritized getting a high-end stroller and car seat, and we found both significantly marked down. They were labeled "open box," which the site describes as "typically floor models or returns that have been inspected for safety, functionality, and cleanliness," and I was thrilled to see that they looked good-as-new when they arrived.
Facebook Marketplace is another good resource, though shipping costs can add up unless you can drive to pick up items. Finally, I had fun shopping for clothes at traditional thrift stores—the advantage of which is that you can really examine items to make sure those precious little onesies don't have any visible stains.
Safety Tips
For car seats, in particular, you want to trust the source you're obtaining it from, whether that's a resale market or a close friend. Confirm that it has never been in an accident before and that it functions as new.
Additionally, when using unregulated marketplaces (which includes Facebook and consignment stores), check that the item hasn't been recalled. For instance, the Fisher-Price Rock n' Play Sleeper and Boppy Newborn Lounger, both wildly popular when they came out, have been recalled relatively recently.
Insurance-Covered Products
While friends encouraged me to invest in a quality breast pump, finding out that the model I wanted was $260 was a real sticker shock. I was pleasantly surprised to have a seamless experience ordering a pump through Aeroflow Breastpumps that was largely covered by my health insurance. The site made it super easy to find out which brands were covered by my plan and processed the coverage for me so I didn't have to call my insurance provider (which is high on my list of activities I dread doing).
Safety Tip
Anything babies will eat from or put in their mouths such as bottles, pacifiers, breast pumps, and teethers should be sanitized before first use. The CDC provides clear guidelines on safe sanitizing methods.
Religious Institutions and Schools
Local institutions like churches, temples, mosques, and schools often have donation services for those who are struggling to afford children's items, or they have swaps that are open to anyone. My neighborhood elementary school hosts a massive swap periodically in which hundreds of people bring and take items as needed. Try Googling for organizations near you and keep an eye out for bulletin boards and signs advertising the events.
Friends and Family
While this may seem obvious, don't underestimate the generosity of your existing community. Not everyone is open to receiving used products, so people may not offer to give or loan you items if they don't know you're looking (especially if it's more of an acquaintance). I made it clear on my registry that I was open to hand-me-downs, and a friend loaned me a giant bag of maternity and baby clothes with the request that I eventually return them to her.
If you happen to know someone expecting a baby a few months before or after you, you could even split the cost of items that will only get used for a short time. I know two families who split a subscription to Lovevery, which makes beautiful—albeit quite expensive—play kits tailored to different developmental stages every few months. When the older baby ages out of a kit, her parents pass it on to the younger one, saving them each $240 each for the year. This would also work for a bassinet or high-end swaddles, which are typically only used for up to six months.
Safety Tip
If the product is not a recognizable brand and you can't look it up, you might want to pass. That cute teether your coworker got on vacation abroad might be fine, but it may be hard for you to verify that the material is safe for babies to chew on.
The Cost/Benefit Analysis
As thrilled as I was to find many wonderful used items, it did take significantly more time and energy than simply hitting the "Buy Now" button on new products. One thing that helped me prioritize was weighing the cost of the item with the effort it would take. I wouldn't walk 30 minutes for relatively inexpensive products like pacifiers and snot suckers, but I did for a bag of high-end swaddles that cost nearly $40 each. Ultimately, I really enjoyed scouring for items though, and it made me feel better about the financial part of preparing for our firstborn.