Creating a baby registry can be overwhelming and confusing. With endless options to choose from, how is anyone supposed to know where to start? You're in the right place if you're looking for some guidance on picking the best baby registry for you.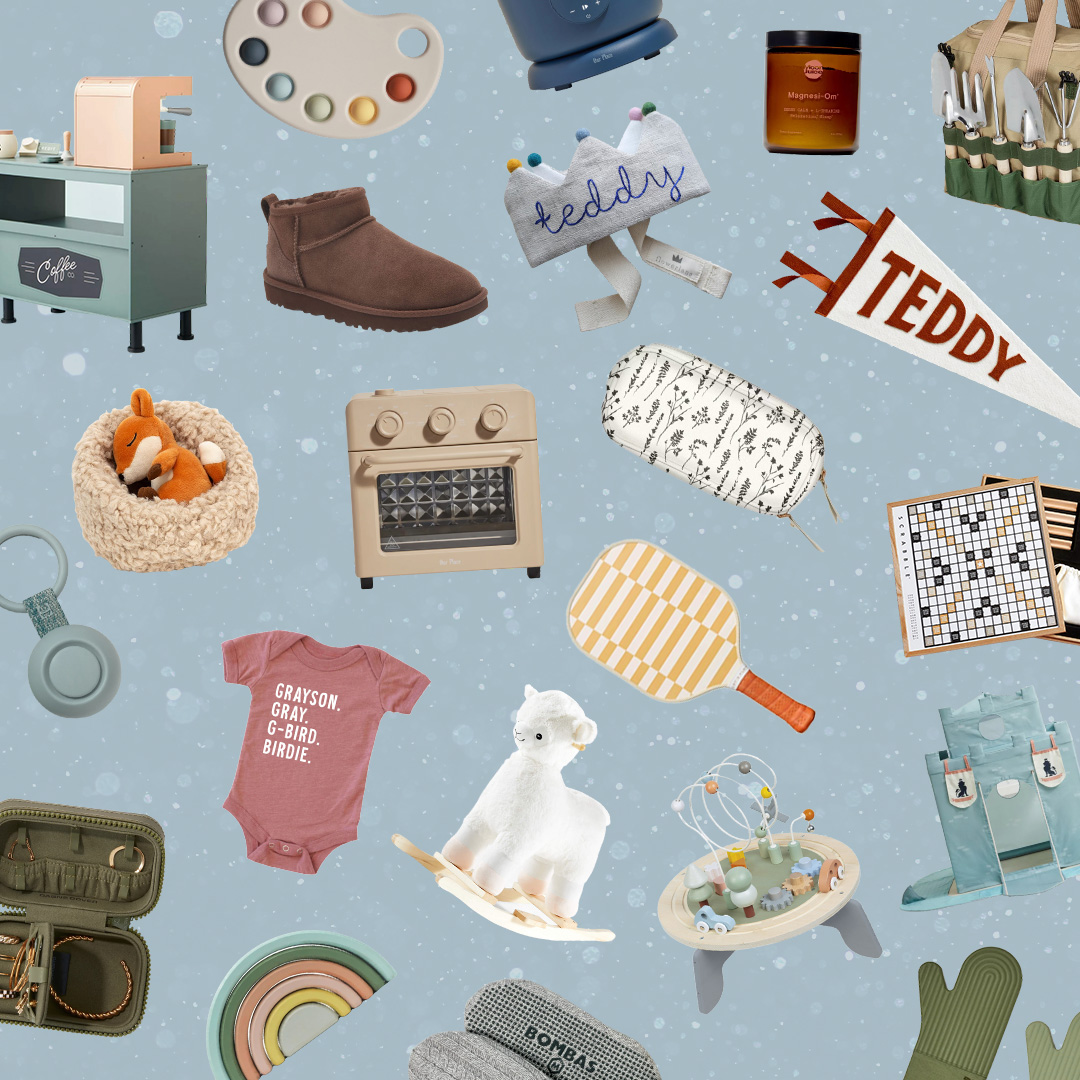 everything you need to ace holiday gifting this year 🎁
If you're wondering what are the best places to get big-ticket items like cribs and nursery furniture, or which stores offer the best perks like completion discounts and free shipping, we're reviewing the most popular baby registry sites so you can make the best decision for you. From Target to Babylist, Pottery Barn, and Crate & Kids, there is a baby registry out there for everyone and we are breaking down what each of these baby registries offer.
Whether your due date is around the corner or you've got months to go, read on to get the scoop on the best baby registries so you'll have everything you need when baby arrives.
Our Picks: The Best Baby Registries of 2023
As if we needed another reason to love Target, the store's baby registry is one of the best options out there. Between their easy-to-navigate website, extensive product selection, and top-notch baby registry perks, registering at Target is a leading choice for many moms. Not to mention that with around 1,800 U.S. stores, Target is a convenient option for just about all of your friends and family, no matter where they live. Plus, gift givers can never go wrong with a Target gift card.
The Perks:
Free Welcome Box: When you create a Target baby registry, you'll get some great freebies in your free welcome kit filled with coupons and samples for you and baby. Just stop by guest services on your next Target run to get yours.
Completion Discount: You get a coupon to get 15% off everything left in your registry eight weeks before your baby's due date, so you can purchase anything you still need.
Free Shipping: When you or your gift givers spend over $35 or use your Target RedCard, you'll get free two-day shipping.
Free Returns: Return or exchange anything from your registry for up to one year.
Price Match Guarantee: Target will match the price on qualifying items that you buy at Target and then find for less at Target.com, select online competitors or in a Target or competitor local print ad.
Universal Registry: You can actually add the items you want from other websites to your Target registry.
Babylist is one of the most versatile baby registry options. As a universal registry, you can add any item from any store, and not just the big box ones—you can add items from sites like Etsy, too. Babylist doesn't stop at tangible purchases either: friends and family can sign up to help in other ways: like bringing you meals after the baby arrives, signing up to care for a pet or other child while you're giving birth, and even contributing to a college fund.
The Perks:
Free Welcome Box: Create a Babylist registry today to be eligible for a free baby box full of goodies for you and baby with a minimum $10 purchase.
Completion Discount: You'll get a 15% completion discount to use on unpurchased registry items that's eligible to use within 60 days of baby's due date and up to six months after baby arrives.
Free Shipping: Free shipping on orders over $45 shipped by Babylist. Babylist also lets your gift givers choose which retailer they want to purchase from, and other retailers have their own shipping policy.
Group Gifting: Items sold at the Babylist store are eligible for group gifting, so gift givers can contribute whatever amount they'd like to some of your big-ticket items.
Universal Registry: You can add any item from any store to your Babylist registry.
Are you even a mom if Amazon hasn't saved the day for you at least once? There's one-stop-shopping and then there's Amazon: the ultimate all-in-one registry for anything and everything baby-related you could ever need. An Amazon baby registry is a go-to for many moms for convenience (hello Prime 2-day shipping) and product selection, from the big-ticket baby must-haves to the day-to-day essentials.
The Perks:
Free Welcome Box: If you're an Amazon Prime member, you'll get a free welcome box when you create an Amazon baby registry and have over $10 in purchases from it.
Completion Discount: Non-Prime members get a 10% discount and Prime members get a 15% discount that can be used twice. You're eligible for the discount from 14 days after you create your registry until 60 days before the due date in your registry.
Free Shipping: Amazon offers free 2-day shipping for Prime members. Non-Prime members can get free shipping on registry orders over $25.
Free Returns: Return any of your registry gifts for up to 365 days. If you purchased it as the registry owner, you have 90 days.
Baby Registry Diaper Discount: When $500 worth of items are purchased from your registry, you are eligible for a 20% discount on diaper purchases through Amazon. The discount expires when your baby turns 1, or you reach the maximum of $300 in eligible diaper purchases.
Group Gifting: Gift givers can contribute whatever amount they'd like to put in for eligible items on your registry. This is a great way to ensure you get the big-ticket items you really need, like strollers, car seats, cribs, and other more expensive purchases.
Universal Registry: Amazon includes an option to install a universal registry button on your browser to use if you want to add a product from another site.
When it comes to low prices, Walmart can't be beat. That's one of the many reasons moms-to-be opt for a baby registry from the store. Plus, with more than 4,500 stores across the U.S., Walmart is a super convenient option for friends and family to shop.
The Perks:
Free Welcome Box: When you create a Walmart baby registry, you'll receive a free bundle of baby essentials and products to try.
Free Shipping: Walmart offers free next-day delivery on eligible orders over $35.
Free Returns: Free returns are available for up to one year on eligible registry items.
Price Match Guarantee: Walmart already has super low prices, but they'll match competitor's prices online for the same product.
Another universal baby registry, MyRegistry.com allows you to add all your favorite baby gear from all your favorite stores, in addition to registering for cash gifts (like to start that college fund). Plus, if you've already created registries at separate stores, MyRegistry.com allows you to sync them in one place. And for all the Costco lovers out there: as a partner of MyRegistry.com, you can add items from Costco to your registry. Beyond the registry aspect, you can use features like the Baby Gift Idea Boards and Popular Baby Gifts to get inspiration for what to add to your registry. Plus, your registry is easy to share with family and friends through a customized URL link.
The Perks:
Universal Registry: MyRegistry.com is a universal registry where you can add items from different stores and/or organize your registries from other stores all in one place. The

MyRegistry Universal Registry app

also

becomes a barcode scanner to use in-store.

Completion Discounts and Other Perks:

You can enjoy the benefits of a universal baby registry and keep all the perks of retail store gift registries from favorites like

Target

,

Amazon

,

Pottery Barn Kids

, and

Crate&kids

, including

completion discounts and rewards

, by

syncing

your existing registries with your MyRegistry account to create one easy-to-manage gift list.

Cash Gifting Options:

Gifts can include both baby/pregnancy products and

Cash Gift Funds

, which allow parents to request money to go toward larger purchases, such as nursery setup, a stroller and other gear, college tuition, or ongoing necessities like diapers and babysitting. Cash Gift Funds are also great for group gifting.
Pottery Barn Kids is one of our favorite registry options for chic nursery furniture, décor, and baby gear. While it's pricier than some others, we love PBK for some of those super special items that are both beautiful and high-quality. It's not an all-in-one registry, but definitely one to consider for unique and personalized gift ideas.
The Perks:
Completion Discount: Anyone who creates a Pottery Barn Kids baby registry will receive a 20% completion discount code valid two months prior to and six months following baby's due date.
Free Returns: You can return or exchange registry items within 90 days from baby's due date or 90 days from when the item was purchased, whichever is later.
Universal Registry (sort of): While you can't add items from any store, you can add items from Pottery Barn's family of brands, which includes West Elm and Williams Sonoma.
Crate & Kids is another baby registry favorite for stylish nursery furniture and décor, as well as unique gifts. Coming in at a higher price point than some others on this list, we wouldn't consider this an all-in-one baby registry option, but a great choice for special or personalized gifts.
The Perks:
Completion Discount: A Crate & Kids baby registry includes a 10% completion discount to use on items that went unpurchased on your list.
Free Shipping: Crate & Kids offers free shipping on baby registry orders of $49 or more.
Free Returns: In-store returns are free for non-furniture items returned within 90 days with a receipt. If you're shipping a return, you must cover the shipping cost.
Group Gifting: You can tag big-ticket registry items as a Group Gift, so gift givers can all chip in what they want to contribute.
FAQ: Baby Registry 101
What Is a Baby Registry?
A baby registry is a list of baby items that you would like to receive in preparation for baby's arrival. Your baby registry helps gift givers select baby products that you most want and need. As the registry owner, you add items to your baby registry—from big-ticket purchases like strollers, car seats, and high chairs to everyday baby gear like onesies, bottles, and thermometers.
As friends and family purchase gifts, your baby registry will automatically track what has been purchased and what you still need. Many registries offer perks for parents-to-be like completion discounts, free welcome boxes, free shipping, and more.
When Should I Create a Baby Registry?
When to create a baby registry is totally up to you. You can start adding items to a registry before you've even told anyone that you're pregnant, or wait until you're a little further along. Some moms-to-be prefer to wait until they have found out the baby's sex, but there is no reason to wait if you are ready to start.
What Should I Put on a Baby Registry?
Baby registry must-haves generally fall into a few categories: bathing, bedding, clothing, feeding, nursery gear, travel, and playtime gear. If this is your first baby, you will likely have a number of big-ticket items on your registry like a stroller, car seat, baby bouncer, swing, baby lounger, etc. You also want to include everyday items like baby bottles, burp cloths, pacifiers, and more.
Pro tip: many baby registries remain online for a year after the baby is born. If you know someone who has had a baby in the past year, search for their registry to get some ideas.
Where Should I Register for Baby?
The options are endless and overwhelming when it comes to where to register for baby. You can stick to one store, create a universal registry, or have baby registries at multiple stores. Our favorite baby registries include:
Should I Create a Registry for My Second Baby?
Many moms-to-be opt to create a registry for their second baby, while others opt not to. Beyond gifts, one benefit of creating a second baby registry is to use it as your own personal to-buy list. You may have received the bulk of baby essentials when you had your first baby, but there are likely a few new items you'll want for baby number two (or beyond). Some of these items include:
Multi-camera baby monitor
Newborn baby carrier
Double stroller or new attachments/seats for your current stroller
A second diaper pail
Another white noise machine
New baby bottles