When I picked up my youngest on her last day of kindergarten last year, I asked how she was feeling. "Not good," she responded, with tears in her eyes. She had loved kindergarten and was going to miss her amazing teacher, seeing her friends every day, learning new things, and sharing all her newfound knowledge with her family. Not surprisingly, I started crying too.
Kindergarten is a magical year. And if your little kid is headed to school in the fall, they have so much to look forward to in Kindergarten. Most teachers will say kids don't need to really learn anything to prepare for kindergarten when it comes to academic skills, outside of recognizing their name, letters, and numbers. Instead, skills like building independence, being social with peers, listening, and following directions are higher on the readiness list for kindergarten. Ahead of the school year this fall, here are a few things you can do to support your future kindergartener as they get ready for this special milestone.
1. Practice Letters and Number Recognition
Help your little ones learn the alphabet (and sing the alphabet), count, and recognize their own name. Toys and books are a great way to support their learning. And editor- and reader-favorite brand Melissa & Doug has plenty of options to help!
2. Work on Fine Motor Skills
Summer art projects with scissors, crayons, markers, paintbrushes, and more can help kids develop their fine motor skills while using their imaginations. Plus, certain toys can help with practical skills, like tying their shoes.
Amazon | Melissa & Doug
Little ones can practice cutting with kid-friendly scissors.
Amazon | Melissa & Doug
Perfect for rainy days, grab a few crafts for kids to work on fine motor skills and use their creativity.
Amazon | Melissa & Doug
Even though kids don't need to learn how to tie their shoes before kindergarten with all the velcro or lace-less options, they can still practice this life skill with a fun shoe toy!
3. Encourage Independence at Home
Kindergarten teachers will appreciate parents who work on their child's independence skills in advance. Your little one should be able to use their lunch container without help, put on and zip their own coat, hang up their backpack, and get their shoes on and off. I'll never forget one important reminder from kindergarten orientation: "Velcro shoes are a teacher's best friend."
4. Build Social Skills
The pandemic years have certainly made socialization a bit more challenging for kids. Luckily, summer offers plenty of opportunities for outside get-togethers with peers. Here are some ideas to get kids ready for the social aspect of school.
Sign up for a summer camp, music class, or other opportunity for them to interact with children their age.
If your little one is taking the bus to school, find other kids in the neighborhood to meet so they'll have a buddy to recognize on the first bus pick-up day.
5. Get Comfortable With a New Routine
Summer is a time when routines loosen a bit, but as the school year gets closer, it's a great time to practice getting ready in the morning. A routine chart can be a great way to set expectations for the day. Little ones can see the tasks for the day and see what's coming next, which can help lessen anxious feelings.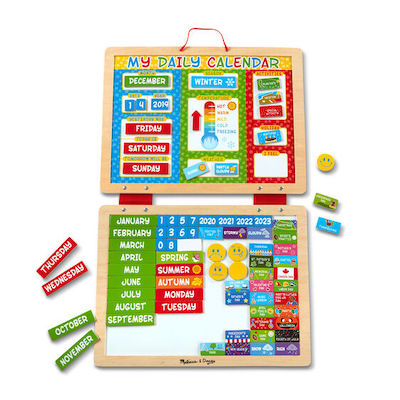 Melissa & Doug
Get kids started off right with a daily routine chart so they know what's coming. This set has 80 magnets including years, months, numerals for dates, days of the week, holidays, special events, and even emotions.
Use code EVERYMOM20 to get 20% off any Melissa & Doug product!