Figuring out what to add to your baby registry is one of the biggest pregnancy to-do's. It can be entirely overwhelming to try to nail down exactly what your baby will need, especially if this is your first child. Beyond that, if you prefer to shop at multiple stores or like supporting small or local brands, it can be hard to decide where exactly to register.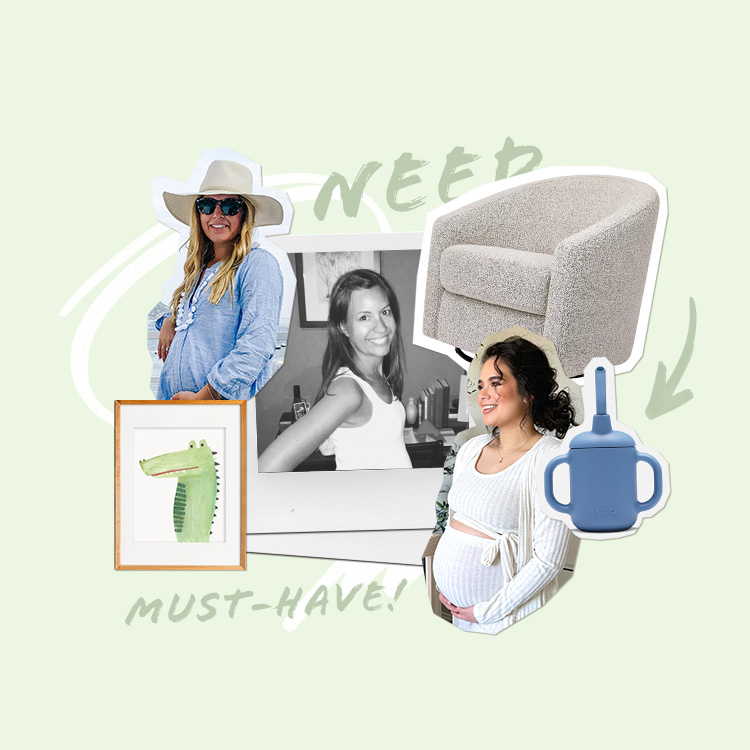 babylist has everything you need—and more! 💕
Well, lucky for all of us, there's a new type of registry called a universal registry. Our cofounders, Danielle and Alaina, introduced us to Babylist, which solves most of our registry dilemmas in a super easy and functional way. The site eases the overwhelming experience of deciding where to register for your baby – because with Babylist, you can choose items from any store or shop (including Etsy and other independent indie designers) and add it to your baby registry. You can even register for things like home cooked meals, dog walking, babysitting help. Or plan for the future and register for cash funds to use on anything from college funds to diapers down the road. 
If you're someone who doesn't want to limit how many retailers you have on your registry, a universal registry is a way to go. You can add all of your favorite brands without having to worry about juggling multiple registries. This is especially helpful you prefer your nursery furniture and decor from one place and your baby gear (like a stroller, car seat, and bouncer) from another. You can even have a "private" category for things you need to remember to buy but don't necessarily want others to see (like tons of overnight maxi pads and nursing bras). Babylist lets you add any item from any store and you can even add or link existing baby registries from other stores so everything is under one URL. Your partner can be added so they can register for items too. It's so convenient to have everything in one place. 
As an added plus, Babylist is extremely easy to use. Their app makes it easy to update your registry on-the-go (or in bed late at night). It lets you browse by store or price and you can see available, reserved and purchased gifts. The Babylist Button works similar to the Pinterest pin it button, and allows you to save items from any store. Babylist also allows you to add links from registries for other stores, and will alert you of price changes. 
And, Babylist can qualify you for a Hello Baby Box full of goodies for you and your baby when you register (only available to US residents and other restrictions do apply). Not only is it fun to open, but it's filled with items you'll use once baby arrives. The boxes vary month-to-month and are only available for a limited time, so it's definitely worth checking out. 
After experiencing firsthand how easy it was to purchase baby gifts for Danielle and Alaina from Babylist, and seeing how seamlessly they registered, I so wish it was around when I had my first baby.  I am sure I would have avoided being gifted things I didn't need (like that 10th receiving blanket) and more of what I did need (meals, burp cloths, and extra pump parts). 
Of course, the issue of what exactly you need to register for isn't going to solve itself. It's so hard to know what you'll need before you meet your baby. Babies, just like all of us, typically come with their own personal preferences (many of which don't often coincide with what we originally had in mind). Some of the best advice I got was to prepare our home with the bare baby-care necessities and then, once the baby was home with us, use our leftover gift cards to get exactly what we needed. It worked for us and maybe it'll work for you, too.
Babylist offers registry consultation help and has tons of best-of guides to help you pick out the best products for your baby. You can also get inspired by sample registries.
Here's a breakdown of the basics you'll need when bringing home a newborn. And don't forget to download our Ultimate Baby Registry Checklist so you don't miss anything. 
Feeding 

Depending on whether you're planning to breast- or bottle-feed, your feeding needs will likely vary. Most moms try to have supplies for both on hand, so you're not running out to the store in the middle of the night for something you don't have but need right this instant. 
Sleep
Of course, your little baby will need a safe place to sleep. There are many options for new babies, and some moms even opt to start babies off in a crib right away, while others prefer something smaller, like a bassinet or portable crib.
Play
Let's be honest, newborns don't play. But, it's nice to have a place to put them down, especially when their wake-time begins to get longer and longer. And, reading to your baby is considered to be one of the best ways to both bond with them and begin developing their awareness to language — so books are ALWAYS a good idea. As your baby starts to get older (and their eyes begin to focus), simple grasp toys are a good way to help them interact with their environment.
Care
This stuff is likely the most boring, but also the most important. After all, above anything else, babies need to be cared for and these are the items you'll be picking up the most in the next few months.
Diapering
Bathing
General Care
Travel
Depending on your lifestyle and how often you drive or walk, your baby-travel necessities will vary. For most, a car seat is a necessity. For some, a stroller is, too. But many women prefer to just wear their babies for short strolls in the neighborhood, and a wrap or baby carrier gets much more use for them than that stroller. I love my stroller and my carrier and am so glad I have both, but these choices will definitely depend on your family's preferences.
Click here to start your Babylist universal registry today and qualify for your free Hello Baby Box!
This post was in partnership with Babylist, but all of the opinions within are those of The Everymom editorial board.