The months before giving birth can be one of the most precious times in a person's life, and for many moms, one of the most exciting traditions is the highly-anticipated baby shower. In preparation for the baby, all of the mommy-to-be's close friends and family will get together to show their support with gifts—from blankets and baby bottles to strollers and toys.

While I'm a huge fan of baby showers (I remember mine fondly and absolutely love spoiling my girlfriends at theirs!), one thing I have found myself thinking about lately is why we traditionally have these celebrations before and not afterward. A mother's needs after the baby is born are quite different.
Let's face it, most of the gifts an expectant mom receives at her baby shower are for the baby. But what about mama? Parents generally have enough onesies, burp cloths, and bottles to last them years. The time after you give birth is arguably one of the most challenging times: being sleep-deprived, over-touched, sore, and hungry.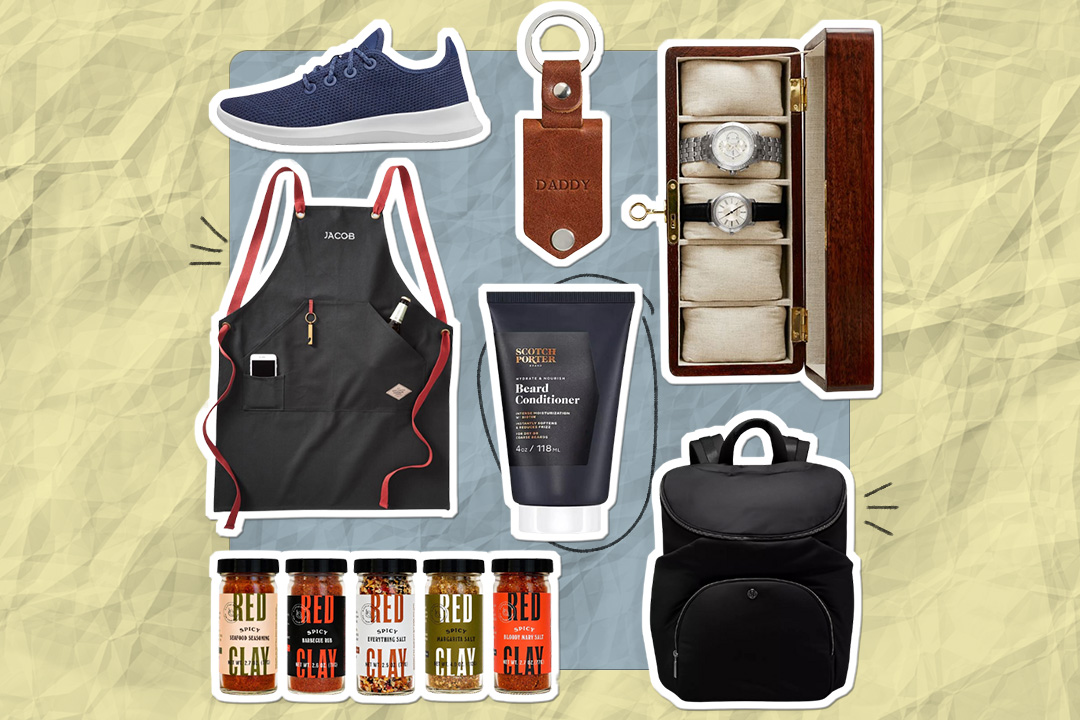 june 18 is coming up fast — have you started shopping yet? 😎
Babies, on the other hand, sleep often (if we're lucky) and live in onesies and diapers. Besides the boob or bottle, there isn't much more they need. Moms need a lot in order to keep up with the baby, so I'm sounding off on what I think are the most important gifts for mama postpartum.
If attending a baby shower is on your calendar this year, instead of a cute gift for the baby to wear or play with, consider giving the new mom a present that promotes rest, relaxation, and self-care and makes their life easier. Not sure where to begin? Here is my postpartum mommy registry of items that a new mom will thank you for after giving birth. Or if you're an expectant mom creating your registry right now, consider adding these items to your list!
Creating your baby registry can be overwhelming, but we're here to help with editor- and expert-approved picks for everything you need for your new baby (and for you!) with our first ever Baby Registry Awards. Click here for our top picks for everything from bouncers to baby bottles.
For Labor & Delivery
For Postpartum Healing
Postpartum Care Kits
Yes, they give you most of these items in the hospital, but what I like about these kits is that they are a bit of an upgrade from the freebies. I like the elevated mesh panty and the clean and fragrance-free products.
Frida Mom
This smaller convenient set comes in a caddy with:
- 4 pairs of underwear
- 4 Ice Maxi Padsicle Pads
- Perineal Cooling Pad Liners(24ct)
- Perineal Healing Foam
Bodily
This Care for Birth Box from Bodily comes with everything from a postpartum recovery latte to mesh undies. It's an upgrade from a classic labor bag.
Bodily
Similar to the Care for Birth Box, this Scheduled C-Section Box comes with a variety of helpful goodies, including a compression belly band for post-abdominal surgery.
Healing Products
From healing down under to taking care of sore and cracked nipples from newly breastfeeding or pumping, you'll be glad you have these tried-and-true favorites on hand.
Earth Mama
The right nipple cream can make all of the difference between painful patches and minor temporary soreness as your body adjusts to feeding another human. Earth Mama's Nipple Butter is non-GMO, lanolin-free, and made without petroleum or parabens—so you don't have to wash it off before feeding your baby.
Target | Earth Mama
For care down there, register for this soothing organic perineal spray.
Pelvic Floor Therapy/Acupuncture
Birth does a number on the body. Whether you're recovering from a cesarean section or vaginal birth, your body takes a beating. So many women forgo treatment and just excuse the pain as part of the process. Remember that if something feels off, contact your doctor. There are so many resources to help your body recover.
For instance, four months after having my son Liam, I started having terrible pain in my wrist. After a week of pain, I went to the doctor to find out I had and still have (it came back with my second baby) Mommy Thumb. With the help of acupuncture and physical therapy, I'm on the road to recovery.
Postpartum Wardrobe Essentials
Nursing Bras & Tanks
Comfortable nursing bras with easy access for breastfeeding or hands-free pumping are key postpartum. Here are four highly-rated favorites.
Postpartum Underwear
Comfort is key during postpartum recovery—from leggings down to underwear. Once done with the disposable undies, these will be new go-to's.
Hatch
If there was ever a time you deserved a comfy pair of undies, it's now. The full-coverage panty includes all-day support with light sculpting compression.
multiple colors available
Target
For the moms with scheduled C-sections or who are healing from C-sections, this pair also includes built-in, medical-grade silicone.
multiple colors available
Postpartum Robes and Pajamas
Kindred Bravely
Whether you want to pack for the hospital or keep it at home, you'll appreciate this soft postpartum robe, especially during those late nights and early mornings.
2 colors available
Lake
The perfect maternity and postpartum PJs—Lake pajama's pima cotton is super breathable for those postpartum sweats, plus the snaps make the top easily accessible for breastfeeding or pumping.
multiple colors available
Maternity Leggings
I basically lived in leggings postpartum. The high waist gives your tummy support without feeling tight at all.
Storq
These leggings are buttery soft and, I promise you, you'll wear them long after your baby is walking. They are made of spandex jersey and are for both pregnancy and postpartum.
4 colors/patterns available
Nordstrom
A favorite of The Everymom readers and editors, these Zella leggings include a stretchy, supportive panel for maternity wear and postpartum.
Nutrition and Hydration
We are trained to examine everything we put into our body while pregnant, but many forget the importance of helping your body recover after pregnancy through nutrition. The First Forty Days is a book that revives the lost art of caring for a mother after birth. The book includes 60 simple and delicious recipes for healing soups, replenishing meals and snacks, and calming lactation-boosting teas, all formulated to support the unique needs of the new mother (and to feed hungry partners, too).
In addition to the recipes, this warm and encouraging guide offers advice on securing help during the postpartum period, navigating inevitable relationship challenges, and honoring the rite of passage that is pregnancy and birth.
Heng Ou
More than just a recipe book, The First Forty Days by Heng Ou offers advice on the postpartum period and nurturing the connection between mother and child in the first few weeks after birth.
Food Delivery
Low-prep food delivery is key for postpartum parents. Consider registering for (or gifting a new mom!) fully prepared meals or convenient smoothies.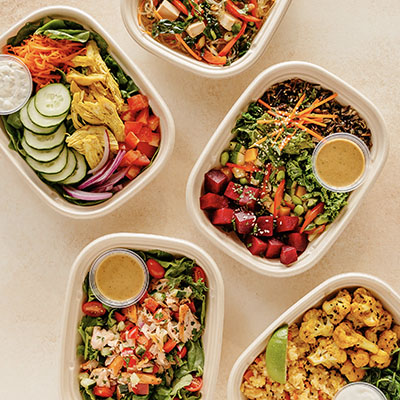 Territory Foods
Prepared by local chefs and delivered to your door, meals from Territory Foods are healthy and ready-made, making it easy for moms to get the nutrition they need with the limited time they have.
Grab a gift card so new parents can customize their meal order.
Spoonful of Comfort
Not many things can warm you up like a cup of soup. Spoonful of Comfort delivers a hearty portion of delicious soup along with rolls and cookies.
Daily Harvest
As a new mom, it's easy to forget to eat during a time when it's incredibly important to be nourishing your body. Daily Harvest delivers delicious food and smoothies made with whole fruits and vegetables.
Food Services From a Postpartum Chef
Now I know this seems like a bougie luxury, but hey, that's why you should put it on your baby registry for people who can get it for you as a group. While researching postpartum chefs, I found The Culinistas, a full-service, in-home, private chef company that can grocery shop, prepare postpartum recipes, and even clean up. Can I get a hell yes? Of course, it's only available in certain cities, but freshly made food delivery is still a great gift. If this feels too indulgent for you, ask your friends for a food train of healthy meals. Trust me, the last thing you want to do is prepare food when you haven't even had a chance to shower.
A Giant Water Bottle
And since we're on luxury items, the social-media famous Stanley Cup seems like it was made for postpartum moms, who need an easy, one-handed way to get the extra hydration they need to recover.
Stanley
Like the beloved giant cups of ice water they give you at the hospital, make sure you have your own at home like this 40-ounce tumbler, which includes a convenient straw to sip through.
Mental Health and Newborn Support
Coaching or Therapy for Transitions
Motherhood can bring you to your knees, and for a first-time mom, the transition can either be smooth or a little bumpy. Personally, I struggled with a loss of self and lifestyle as I entered motherhood. It can change so many aspects and relationships in life, which is why I highly recommend gifting a coaching or therapy session to the new mama in your life. Even if it's just a consultation, it might just be the encouragement she needs to get the help she wants.
Mom Support Group
These are often called baby groups, but they are so much more than that—they're a lifeline for a new mama. It gives you the ability to connect with other moms, share resources, and build friendships. And if you can't make it in person, there are virtual options like Mysha.
Newborn Sleep Course
The hardest part of newborn life can be the complete lack of sleep. Taking a newborn sleep course can teach positive sleep habits, like learning about wake windows and sleepy cues for tired new parents.
Night Nurse Care
I can't express enough the toll that consistent lack of sleep takes on your body. If you have a group of girlfriends who can split the bill, do it. You can hire a night nurse for two days or six weeks. Anything is appreciated, and mama will have peace of mind knowing her little is being taken care of by a professional. No need to wake up in a panic to check if the baby is breathing. Someone is doing that for you!
House Cleaning
Whether you offer to come over to do the cleaning yourself or you hire a service, the cleaning must be done. A few tips for offering to clean: let your mommy pal know she doesn't need to interact with you or maybe even offer to come while she's napping! Laundry, dishes, and bottle-washing are all welcome.
Doula Support
Doulas can help with a range of things pre- and post-pregnancy. Some will even leave with you from the hospital or birthing center or attend your home birth.
The Best Books for New Moms
The postpartum period is a time of transition, and these four books focus on different parts of the process; becoming a mother, early parenting, shifting relationships, and returning to work after baby.
---
I am a firm believer that taking care of a mother will help her take care of her baby, so why not show them support both before and after giving birth. New moms will definitely appreciate gifts that make their hectic day-to-day more manageable and comfortable. These suggestions are just the beginning—there are tons of items to will help a new mom thrive in her new role.
Whether it's Mother's Day, her birthday, or your very own version of a push present any day of the year, let's normalize keeping the support for new moms coming well after the baby shower and birth.