When you're expecting a baby, a safe place for the baby to sleep—such as a good crib or bassinet—is a must-have item when it comes to baby gear. Over recent years and with advances in technology, many cribs and bassinets now come with smart features, like automated motion and sound to soothe fussy babies. Chances are, if you're a parent or parent-to-be, you've heard of two of the most popular smart cribs: the Cradlewise smart crib and Snoo bassinet.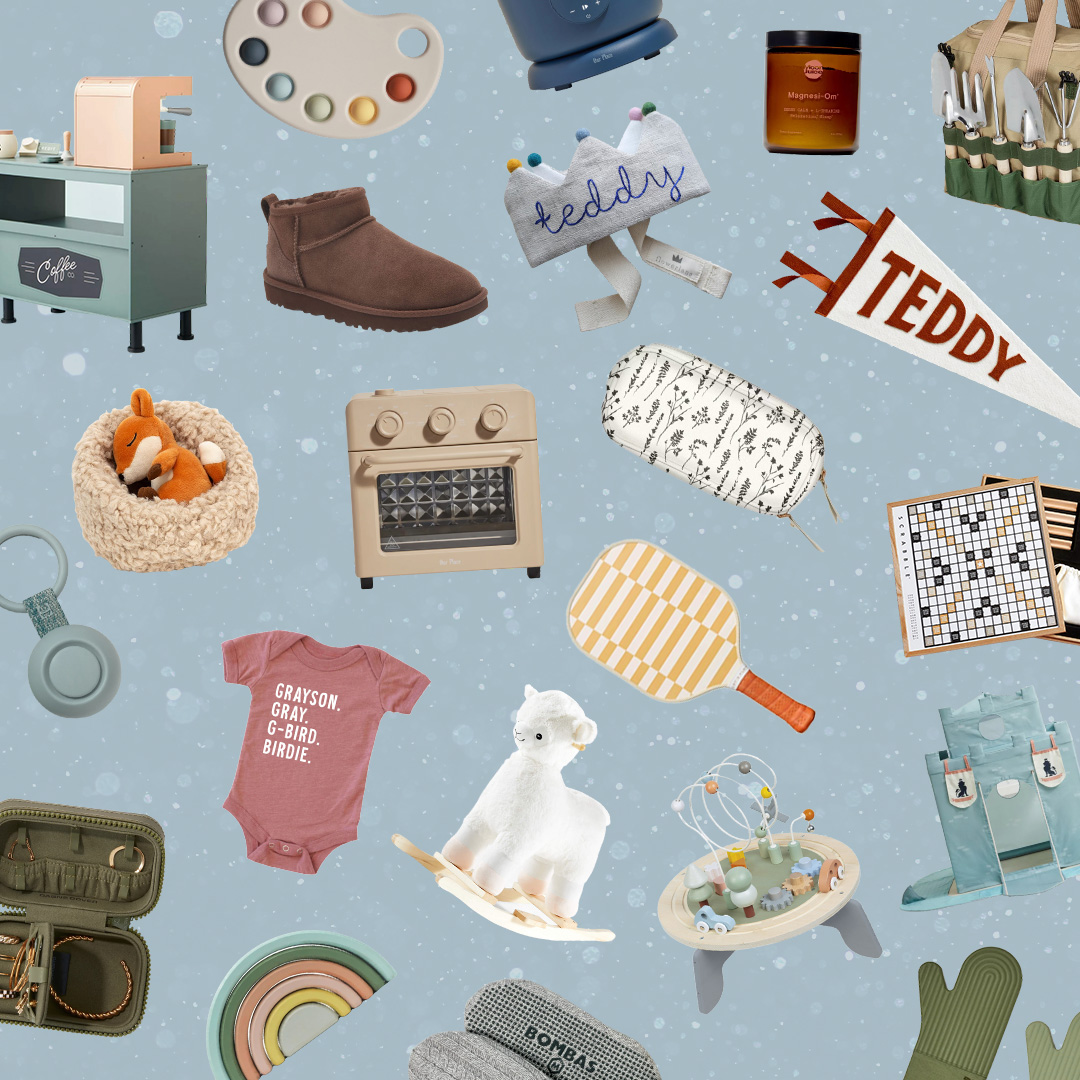 everything you need to ace holiday gifting this year 🎁
But, like many of us, you may not know the difference between them (or have the time to do the research). That's why we've done it for you: read on to learn about the differences between the Snoo and the Cradlewise and which may be best for your needs.
Cradlewise vs. Snoo: What Are Smart Sleepers?
A smart sleeper is a crib or bassinet crib that has built-in technology with motion and sound to help soothe babies—such as automated rocking, swaying, bouncing, white noise and music that start when the crib or bassinet senses that a baby may be waking up or getting fussy. Of course, a smart sleeper won't replace the need for parents to soothe and cuddle their babies (they're babies, after all), but it can offer some peace of mind for a few extra hours of sleep.
Launched in 2016, the Snoo is a smart bassinet designed to help babies learn to fall back asleep without intervention. It promises an added 1-2 hours of sleep per night through three levels of gentle rocking that escalate with the baby's fussiness and a built-in white noise machine to mimic the womb.
Cradlewise is a newer crib on the market—a convertible smart crib that launched in 2021. Like the Snoo, it is designed to soothe babies back to sleep through gentle bouncing that escalate as your baby wakes and fusses, along with calming music.
Both the Snoo and the Cradlewise have mesh walls on the sides to ensure maximum breathability (think: Newton baby mattress but on the sides of the crib). Below, we're comparing the Cradlewise vs Snoo, based on features, costs, and more!
Cradlewise Smart Crib: Everything You Need to Know
The Cradlewise Smart Crib is a convertible smart crib that soothes your baby to sleep using gentle bouncing motion, like how parents comfort their baby in their arms. Once your baby is back to sleep, the bouncing stops.
How Does Cradlewise Work?
Cradlewise senses and learns your baby's sleep patterns to recognize when it is still time to sleep and when it is OK to wake. It starts soothing before your baby gets distressed—meaning, no noise from baby's cries. Instead, it spots wake-up signs when baby is in the "quiet phase" of waking up—very still but awake and taking in the environment—and starts gently bouncing.
The Cradlewise Extras
Along with the bouncing motion, the Cradlewise crib includes soothing music and a video/audio baby monitor that tracks sleep and provides insights. Bigger than a bassinet and smaller than a traditional crib, the Cradlewise falls into the mini crib category. Unlike the Nestig Wave Crib, which coverts from a mini crib to a full-size crib, the Cradlewise converts from a bassinet to a mini crib.
The Cradlewise App
With the Cradlewise app, you can see your baby from anywhere through the video and audio monitor, control and customize the crib settings remotely, and add other caregivers who may need to monitor baby, like partners, babysitters, and grandparents.
How Long Can You Use the Cradlewise Crib?
Cradlewise converts from a bassinet to a crib, so it can be used from 0-24 months, up to 33 pounds. The bassinet is recommended for 0-6 months old, and the crib for up to 24 months.
How Do You Transition Out of the Cradlewise Crib?
You can control the Crib Sensitivity of your Cradlewise—meaning, how quickly and how often your Cradlewise bounces and auto soothes based on your baby's activity level.
When you're ready to start transitioning out of the Cradlewise crib, you can start reducing the sensitivity levels gradually until your little one is able to self-soothe back to sleep without the need for bouncing at all. Cradlewise notes that it can take up to a month to complete the transition process, so you will want to plan accordingly.
How Much Does Cradlewise Cost?
The Cradlewise crib costs $1,999, but the company offers discounts for planning ahead and ordering for a later delivery date. Ordering six months from when you need it delivered will save you $600 for a total cost of $1,399 (the savings amount is changing April 1, 2023, so order soon to save more).
Is The Cradlewise Safe?
The Cradlewise Crib meets or exceeds all U.S. Consumer Product Safety Commission safety standards for bassinets, non-full-size baby cribs/play yards, and crib mattresses, according to the company. It is also certified by JPMA, which requires additional safety requirements and is tested at an independent laboratory. The crib is GREENGUARD Gold Certified, meaning it is free of harmful chemicals.
Cradlewise Pros and Cons
Pros:
Use from birth to 24 months
Auto-soothe sensitivity levels can be adjusted
Includes video and audio baby monitor to see baby from anywhere
More than one caregiver can use the app and monitor
100 day risk-free trial option
Sleep tracking data and insights through the app
Cons:
Expensive
Somewhat complicated assembly process
No option to rent
Is the Cradlewise Crib Worth It?
All babies are different, but for especially sensitive sleepers, Cradlewise may help parents get a few more hours of rest. While it is expensive, some parents find it worth the cost, especially since the Cradlewise crib can be used up to 24 months. At the very least, it's worth looking into the 100 day risk-free trial to see how your baby likes it for a few months—if it's working, great! And if not, you can return it.
The SNOO Bassinet: Everything You Need to Know
The Snoo, which is a smart bassinet, soothes your baby through rocking motion and a built-in white noise machine to mimic the womb. The Snoo smart sleeper gently rocks while your baby sleeps, and includes different levels of gentle rocking motion that escalate with the baby's fussiness to help them learn to fall back asleep without intervention.
How Does the Snoo Work?
When your baby fusses, the Snoo will wait a few seconds before responding to give your baby a chance to self-soothe first. If baby keeps fussing or crying, the gentle rocking gets slightly faster, and it will play white noise that gradually gets louder. The bed will move through four levels of increased sound and motion until your baby is back to sleep. If they don't fall back asleep, the Snoo will stop so that a caregiver can comfort, change or feed baby.
The Snoo Swaddle
Unlike the Cradlewise, the Snoo requires a specific swaddle. The Snoo swaddle hooks onto clips on each side of the crib to prevent rolling—and it won't turn on unless the clips are engaged.
The Snoo App
The Snoo App offers several settings for you to customize, such as limiting the level or intensity of the rocking motion or volume of the white noise. It also tracks sleep patterns and provides insights into wake and sleep periods for your baby.
How Long Can You Use the Snoo Bassinet?
Your baby can use the Snoo from birth to 6 months, 25 pounds or when they can get on their hands and knees—whichever comes first.
How to Transition Out of the Snoo
The Snoo has a weaning mode setting that stops the all-night rocking while the baby sleeps but keeps the white noise. The company recommends using the weaning setting for at least a week before transitioning your little one out. They also recommend weaning baby from the Snoo Sack by swaddling with one arm out for a few nights, followed by both arms out, if it is going well (meaning, they aren't startling themselves awake).
How Much Is the Snoo?
You can buy the Snoo for $1,695 or rent it for $159 a month.
Is the Snoo Safe?
The Snoo meets or exceeds every infant safety standard, according to the company, and has won 34 top honors, including the National Sleep Foundation's Innovation of the Year. It is the first and only medical device to receive the FDA's special breakthrough designation for the bed's potential to reduce SIDS/SUID by keeping sleeping babies secured on the back.
Snoo Pros and Cons
Pros:
Sleep sack attaches to bassinet to keep baby safely on their back
Customizable sensitivity levels and weaning mode
Easy to assemble
Rental option
30 day risk-free trial
Sleep tracking data and insights through the app
Cons:
Expensive
Can only be used for 6 months
No video or audio monitor
Is the Snoo Worth It?
It depends on the baby, of course, but if you have one who just. won't. sleep., it may be time to look into the Snoo. The Snoo promises to give you an added one to two hours of sleep per night, and the reviews range, but for many, it delivers on that promise. There's no guarantee that it will work, but with a 30 day risk-free trial, it's worth giving it a shot. Who knows, your baby may even start sleeping the extra 1-2 hours of sleep per night that the company promises. For a sleep-deprived parent, a little more sleep is worth quite a bit.
Cradlewise vs. Snoo: Which Is Right for You?
For many parents, smart sleepers, like the Snoo or the Cradlewise, deliver on their promise of better sleep for baby and more sleep for parents. And if you're a parent who likes to sleep track, both the Snoo and Cradlewise offer this through the app. While there's no way to tell which camp you'll fall into without trying it out, it is worth comparing the product features to see which may be right for you.
The Snoo is a good option for parents looking for something to help with sleep through the first, and often most challenging sleep-wise, six months. It is also a good choice for those who prefer to rent than buy. Since the Snoo does not include a video or audio baby monitor, it may be a better choice for parents who plan to keep baby in their room. The Snoo is also smaller, like a bassinet, so may be a better option or those in a small space or who want baby right next to the bed.
The Cradlewise crib can be used longer than the Snoo, making it a good choice for parents who don't want to transition after 6 months. It includes more features, like the video/audio baby monitor via app, so those who plan to have baby sleep in a separate room—or just want to peek in on baby when they have a babysitter—may prefer the Cradlewise. Parents who are worried about transitioning out may also prefer the Cradlewise because it only bounces until baby falls back asleep (whereas the Snoo rocks all night).
Strictly speaking, the Cradlewise offers a better value for the cost since it can be used six times longer than the Snoo. After doing the math, the Cradlewise comes down to about $83 per month for 24 months of use, while the Snoo is closer to $282 per month for six months of use.
Every family is different, every baby is different, and often, every night is different when it comes to sleep with a new baby. A smart crib or bassinet may not be the right answer for everyone, but it can help parents get a little more rest. In the end, no matter what you choose, the most important thing is to follow the American Academy of Pediatrics safe sleep guidelines—and rest assured that you will, someday, sleep through the night again.