My neighborhood yoga studio is flooded with newcomers as soon as January hits. The classes are predictably jammed—a sure sign that it's the season for New Year's resolutions. Regardless of the fact that many of these would-be yogis peter out in February, they are still setting the intention to be more mindful, move their bodies, and give themselves space.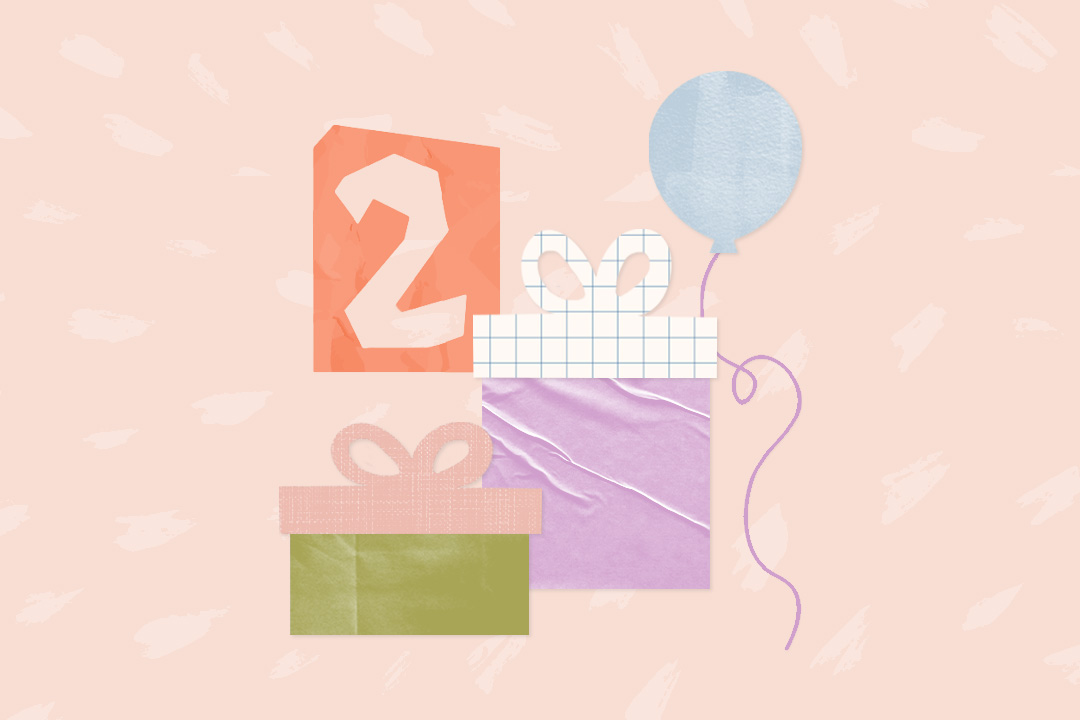 a LO in your life will love these! 🎁
It's a commendable practice, no matter the success rate, and it's something Dr. Carrie Thomas, Psy.D encourages us to share with our kids. "We often turn to praising a child in order to build their self-confidence," she said. "This certainly plays a role, but a child's self-confidence is greatly impacted by working toward a goal and seeing it through."
That being said, there are right and wrong ways of goal-setting with your little ones. To nail down the tenets of a kid appropriate resolution that's also smart, healthful, and inspiring, I brought in the experts to share their views. Here's what they had to say about goal-setting with kids in the New Year.
Give kids the reins
Let's face it: New Year's resolutions are tough enough to keep when we set them ourselves. Can you imagine how uninspired we'd feel to face them each day if they were foisted upon us? For this reason, Dr. Thomas advises parents to let young ones set their own goals, within parameters of course. She adds, "Resolutions are a great opportunity for us all to take agency over things we would like to change or accomplish. Allowing a child to identify what is important to them can be very powerful, and it loses meaning when the goal comes from an external source."
Frame it right
"The best way to focus on self-improvement goals is to approach it from a growth perspective," said Sofia Mendoza, child therapist. "We all have capacity to learn and grow. Part of learning also means being OK with making mistakes, asking for help, and trying again (and again)."
Set realistic goals
There's no faster way to give up on a resolution than to realize it is never going to be within your reach. For kids in particular, with their big imaginations, it can be especially important to strike the right balance between aspirational and attainable. Dr. Thomas suggested breaking a loftier goal down into small, actionable steps—each a measurable, realistic goal in itself. With this method, we teach our kids a valuable life lesson: how to work through the steps it takes to achieve their goals.
Consider your values
When you sit down with your child to dream up your resolutions for the year, bring every self-improvement goal back to your family's values of health and body positivity, suggests Mendoza. She explained that a resolution to eat more fruit and veggies makes our bodies feel strong. Goals revolving around physical activity can tie into the importance of playing outside as a family and keeping our bodies happy.
Show them how it's done
With every aspect of parenting, the best method of teaching our children is always to model the behaviors we'd like to see. Mendoza encouraged parents to set goals right alongside their little ones and be open about the paths we'll take to achieving our resolutions. "Kids want to be like their parents so much. They'll be more likely to engage in behaviors when they see a parent model them, act positively toward healthy behaviors, and witness them happy and accomplished as they meet their health or self-improvement goals," she said.
Create a vision board
Think of it as a family brainstorm, a vision board can get everyone involved in setting fun and healthy improvement goals for the new year. The trick, Mendoza cautioned, is to keep each of the resolutions framed in a positive light. Kick off your discussion by prompting each family member to consider what healthful habit they would like to engage in more in the next year (think simply like eating more fruit at lunch, checking out new hiking trails, reading more, creating a family game night, etc.) Then, invite everyone to clip out photos, illustrate their intentions, or use good-old-fashioned words to set their sights on healthful and fun improvements for the new year.
Steer them in the right direction
When it comes to self-improvement, it is our duty as parents to help nudge our kids in the right direction. We set resolutions, not because there is anything innately wrong with us, but because there is always room and reason to learn and grow. In this respect, Dr. Thomas recommended that parents be cautious about resolutions that may be unhealthful or harmful to kids.
If your child is overly concerned with body image and wishes to set a goal to lose weight, it might be a good time to steer your child in a different direction," she said. "You can also discuss ways to turn that goal into something healthier (e.g., finding ways to eat healthy rather than focus on weight, or finding ways to be more accepting of oneself)."
This article was originally published at an earlier date and has been updated for timeliness.