This spring, a fledgling vegetable garden promises to transform your backyard into a space of learning, discovery, and nourishment. Armed with the right advice, a simple plan, and a few supplies, any gardening novice can coax a handful of seeds into a miniature farm by summer's end.
Creating a veggie garden alongside your little ones is not only a wonderful way to keep tiny hands busy, but it also has a host of invaluable lessons to leave behind. Everything from life cycles to responsibility to hard work can be learned inside the garden.
Read on to learn how to start a vegetable garden with your little ones this summer.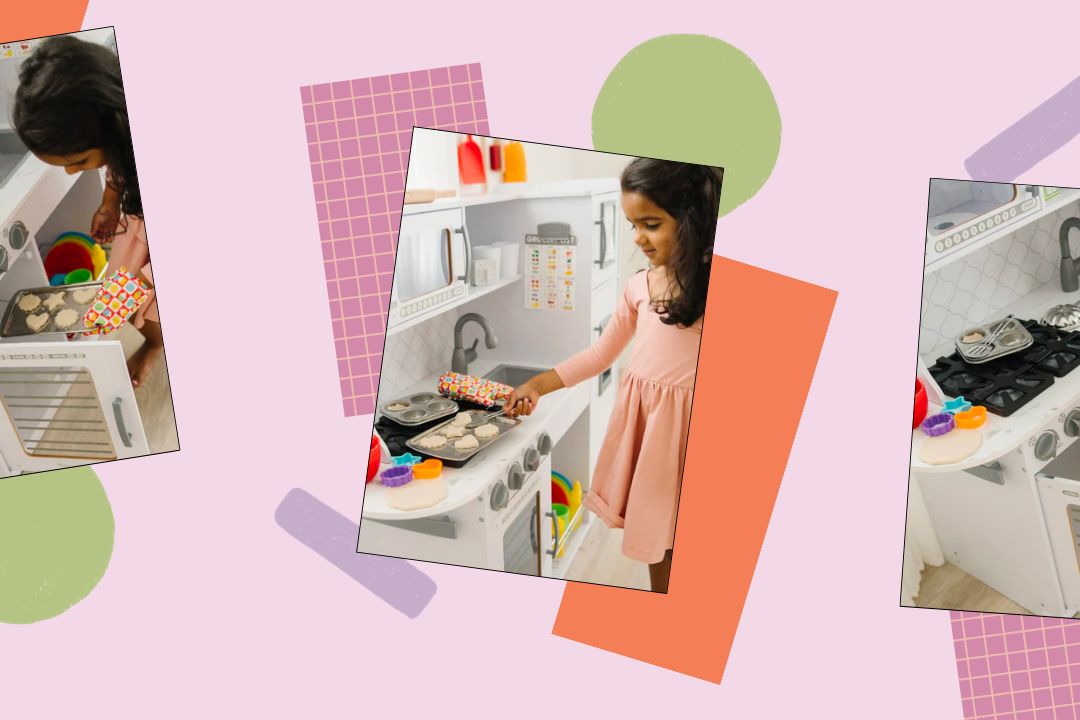 Set Your Space
No sprawling suburban backyard? No problem. There are many ways families can grow their own food that goes beyond the traditional garden plot. When considering your space, you may want to plan your garden using one of these methods, providing your choice offers at least six hours of sunlight each day:
A backyard raised bed: Easy to build or purchased readymade, a raised bed is a wooden structure that acts as a giant container. Amy Enfield, Ph.D., Horticulture Expert for Bonnie Plants, recommended a bed that is at least 12" deep to allow for ample root growth. You will need a soil mix specific to raised beds.
Containers: A city balcony can be an urban farm with a few well-placed containers. Enfield said that a 12-14" pot can yield spring veggies such as lettuce and spinach. And an 18" pot can hold peppers, eggplant, or single plants of tomato, cucumber, or zucchini. "Your containers should be filled with a quality potting mix that is specially formulated to provide the right amount of air, water, and nutrient movement around plant roots growing in containers," Enfield said.
Grow bags: Purchase a grow bag (or sew your own from landscape fabric!) for veggies such as potatoes and carrots. Fill with soil et voila, a simple and practical way to grow veggies that need a bit more room to flourish. Once filled, a grow bag will stand upright and can easily do its thing on a balcony or patio.
Windowsill: If you prefer to do your gardening indoors, a windowsill herb garden makes a practical accompaniment to any sunny kitchen window. Once your plants take off, simply snip away to add homegrown flavor to whatever you cook.
Pick the Plants
Deciding what to grow will largely depend on your individual tastes and the space you have available. "Don't forget to take into account how much room vegetables need to grow, especially if you're growing in a raised bed," Enfield said. "Plants need plenty of space to grow and good air circulation around their leaves to help prevent disease." She recommended beginner farmers check their seed packets or plant tags for details on each vegetable's spacing needs.
Enfield recommended first-timers choose their plants based on the herbs and veggies they regularly eat—noting that there are cool-season veggies and warm-season varieties that require different planting dates. Beets, peas, broccoli, tomatoes, eggplants, and beans are just a few veggies that can be grown in containers and raised beds. Leafy greens are some of the fastest and easiest vegetables to grow, noted Enfield, making them particularly well-suited to young gardeners.
For an easy container garden any kid would love, she suggests planting a pizza garden. Interested? Here's what you'll need:
1 Roma tomato plant (with a growing cage)

1 basil plant

1 sweet banana pepper plant (staked)

1 oregano plant

1 rosemary plant

1 flat Italian parsley plant
Start Seeds
There are two ways to start a vegetable garden: from seed or from a young plant. If you want to get started right away, with less regard to the weather, you can start growing from seeds in early spring.
Here's what you'll need to get started:
From there, Enfield recommended the following steps:
Fill each section of the egg carton with potting mix
Add seeds, planting 2-3 seeds per container as some may not sprout
Place your egg carton in a warm spot and keep the soil moist
A couple of weeks after seeds sprout, remove the weaker plants so that the strongest can grow
Once your area has hit the last frost date in spring, your young plants are ready for the outdoors
Water and Sunshine
Whether you've grown your veggies from seed or young plant, they will need plenty of water and sunshine to flourish.
"Thoroughly water your garden whenever the top inch of soil is dry," Enfield said. "The easiest way to test this is to stick your finger in up to the knuckle. If the soil is dry, water. If not, wait another day."
During the hottest days of summer, Enfield cautioned that our gardens may need daily watering. And they need feeding of their own too. She advised new gardeners to purchase a plant food formulated for vegetables, such as Miracle-Gro Performance Organics Edibles Plant Nutrition.
Get Kids Engaged
While little ones can be involved in every step of garden prep and planning, there are a few tasks especially suited to kids:
Have children take charge of planting marigolds along raised beds. Marigolds, often described as the workhorse of a garden, are brightly colored flowers that repel hungry rabbits and invite beneficial bugs into your growing space. Each fall, as these annual flowers dry up, little kids can harvest their seeds to plant anew next spring.
Small children can work the soil alongside you, tilling your raised beds to prepare them for planting. "Heavy soils should be worked until the largest particles are about the size of a large crabapple," Enfield said.
Little ones can be your lettuce planters with this special trick: have them use scissors to cut 2" strips of newspaper. Then, work with them to whip up a batch of paste using flour and water. With your homemade paste, fix teeny tiny lettuce seeds to the newspaper. This method is a fun craft for kids and helps keep nearly invisible seeds from blowing away. Simply plant the newspaper strips and they will safely degrade while your lettuce grows.
Children can make scarecrows to frighten off any garden pests.
Encourage kids to scrounge around their home and yard for materials to build a wind chime. Anything that makes noise—from bells and sticks to clothespins and buttons—will do. Want to get fancy with it? Bust out the art supplies and let your little one's imagination go to town.
When it comes to growing root crops, such as beets and carrots, Enfield encouraged parents to allow children to handle the harvesting. "It's like they are growing a treasure hunt," she said.

Beginning a backyard garden can be a wonderful way to enjoy the outdoors with your little ones—while also providing fresh food for your family. Worried about messing up? Don't be. "Don't be discouraged! What happens when we grow our own food is … we learn. Mistakes can and will happen, but just like anything else, practice makes perfect," Enfield said.