Pregnancy announcements are usually something to celebrate, and while they still are, there is a bit of worry behind the excitement for the new mom and dad to be due to the global pandemic affecting everyone. While pregnancy and parenthood often come with its own set of questions, there is more to consider now—like if you'll be able to deliver in a hospital, who will be allowed in the delivery room, and what does getting help from family and friends look like?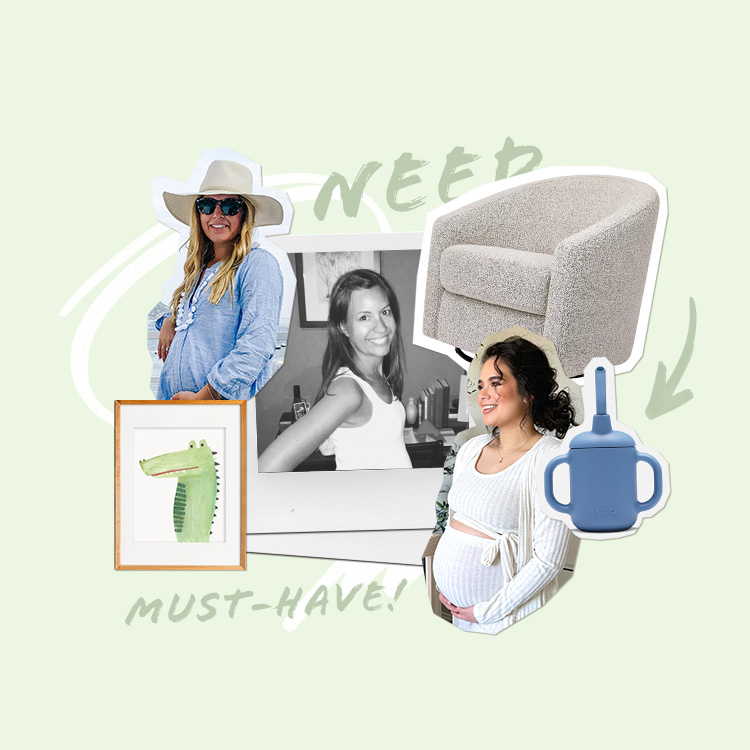 babylist has everything you need—and more! 💕
New parents are having to navigate this journey in a way that has never been done before.
My friend just had a baby a few weeks ago, and since then, I've been thinking about all of the things I can do from afar to make sure she has the support she needs. Her husband is lovely, but new dads need help too. In a non-pandemic world, her friends and family would likely be at her house around the clock helping her with her toddler, bringing over meals that can easily be heated up and eaten in a moments' notice, or taking the baby for a walk while the new mom and dad take a shower or a nap uninterrupted.
Unfortunately, we have to be much more cautious with the help we provide, and many of us still need to keep our distance even from other family members—especially with a brand new baby. So if someone you know recently had a baby or is about to, here are a few things you can do from afar to still show your love and support.
1. Do a socially distanced visit
Being newly postpartum, even if it's not your first child, can be an isolating experience. It's important to engage with friends, family, and other people who can relate to your situation. While the pandemic has certainly created barriers to do this, it doesn't mean seeing loved ones is completely out of the equation. It just means you'll need to get a little creative while also staying safe.
While you may not be able to cuddle that new baby right away, that doesn't mean you can't swing by for a quick visit. If you choose to go this route, you can stay in your car and see the family at a distance while chatting for 20 minutes or so. Or you can choose to visit in an open area, like a backyard or park, staying six feet apart, and wearing a mask.
2. Offer to keep her virtual company during an evening or early morning feeding session
I remember when our son was a newborn and I was up in the middle of the night for a feeding session, I had such a hard time figuring out what to do to keep me awake. It's no wonder why there's a running joke of purchases piling up at the front door the next day because moms are often online shopping in the wee hours.
One thing that helped me was texting another new mom who was also up at the same time. While the conversations may not have made much sense due to our sleep fatigue, we were in it together and knew that we were helping one another through what can be a tough transition.
If you're typically a night owl or an early riser, ask your friend when they're usually up during those times and offer to sit on Zoom or be a texting buddy for an hour. Since you're already awake it's not much of a struggle for you and your friend will really appreciate having someone there to talk to or simply having some company "nearby."
3. Send a postpartum box
We've all been there: swiping all of the postpartum underwear and numbing spray from our hospital room before we go home with our new baby. Thankfully, for me, the nurses encouraged me to do that as they said I was paying for it whether I kept it or not. 
Full transparency: had my sister not made me my own homemade postpartum kit—complete with witch hazel pads, iron-enriched smoothie packs, and homemade nipple cream and face moisturizer—I would've been completely unprepared when I came home from the hospital. Sending someone a postpartum box is such a thoughtful idea as they will likely run through the items they've taken from the hospital and will probably need more.
Depending on your budget, there is a wide variety of postpartum boxes to consider. Here are a few to look into.
4. Offer to do their Target run or grocery trip for them
Many of us have chosen to have our groceries or toiletries delivered to our doorstep due to the pandemic, but those delivery services can add up. Tell your friend that you're making a run to Trader Joe's or Target and see if they'd like you to pick them up something. Don't live near your friend? Let them know you're placing an order online and see if you can ship some more diapers, wipes, or formula their way.
P.S. the trick to this one is to say you're already doing this (even if you're actually not) because as we all know, sometimes it's hard for moms to ask for and accept help. But it might be a little easier for her to do so if she knows you're not going out of your way!
5
. Send a gift card for a meal delivery service
Nutrition is a huge part of feeling healthy during postpartum. Eating well, and enough is important for your mental, physical, and emotional wellbeing, not to mention that if you're breastfeeding it will help keep your supply up.
Unfortunately, there is way less time to cook once a new baby arrives and sometimes this results in eating less nutritious food or even skipping meals altogether. To help out with this, why not send someone a gift card to a meal delivery service where they have quick, healthy, and tasty meals right at their door that takes no time to make at all.
If they already have a freezer full of food that they're working through, they can make these meals and freeze them for a later time as well. It's a win, win all around.
Sun Basket
Great option for special dietary needs!
6. Ask the spouse (not mom) what they need
Moms are often consumed with everything that comes with taking care of a new baby. While partners are taking on more responsibility with household work and child-rearing duties, they often don't carry the same mental load as mothers. 
When it comes to asking the parents what you can do to help during this time, it might be better to ask the spouse than the new mom. The spouse may be able to assess the situation from a birds-eye view and have a better perspective of what not only the family needs but specifically, the mom. If the spouse says they're doing OK, for now, let them know you're available physically or virtually should they need a helping hand. Just knowing that someone is ready and willing to help can be enough comfort as new parents.
Bringing a new baby into the world right now is likely scary and uncertain for many new parents, but the fact remains that adding a new member to the family is an exciting moment nevertheless. Thankfully we live in a time where we have a lot of technology literally in the palm of our hands which allows us to stay connected to loved ones near and far.