My daughters copy nearly everything I do, from every downward dog to the occasional muttered curse word. And while it can be equal parts delighting and frustrating to have two mini shadows underfoot, there are moments when I know in my heart I can use this mom influence for a greater good.
This baby bath set from editor-favorite brand Pipette includes tear-free shampoo + wash, nourishing daily lotion, and a hippo toy to make bath time extra fun.
As parents, we have the ability to nudge our children in the right direction by modeling the behavior we wish to see. This works for everything from proper table manners to apologizing to practicing inclusion and acceptance. Simply put, if we want our kids to be big-hearted and open-minded, we have to be the example they can follow.
That's why I am making a point to celebrate the hard-won achievements of people from all walks of life—eagerly introducing my girls to a host of diverse historical figures who shaped the world as we know it today. If I take an interest in these brave change-makers, it will only be a matter of time before my girls follow suit.
So, in celebration of Pride Month, I'm highlighting for my kids six courageous LGBTQ+ heroes who changed the world for the better. Read on for their inspiring stories.
Sylvia Rivera (1951-2002), a Latina transgender woman, and Marsha P. Johnson (1945-1992), a Black trans woman, were gay and transgender rights activists in the 1960s and '70s. Together, they fought for the rights of all people in the LGBTQ+ community—particularly transgender and Black, Indigenous, and People of Color. 
Both Rivera and Johnson played instrumental roles in the Stonewall Riots, the 1969 clash with police that marked a turning point in the fight for LGBTQ+ rights. Later, these two good friends co-founded a life-changing group for at-risk trans youth, Street Transvestite Action Revolutionaries. There, they provided food and shelter to trans and queer kids experiencing homelessness on the streets of New York City. 
Rivera and Johnson are often cited as the very reason transgender people are included in the gay rights movement today. To celebrate Pride Month in 2020 is to celebrate the hard-fought gains of these two extraordinary people. 
Audre Lorde (1934-1992) was a prolific poet, often drawing on her lived experience as a Black, gay woman to fight injustice through the written word. "I do not hide who I am. I am a Black, lesbian feminist warrior mother, and if I were not those things, I might be wealthy and famous from my writing today," Lorde was quoted as saying in a 1991 interview.
She was honored with an American Book Award for her work documenting her fight against breast cancer—and she was later named the New York State Poet Laureate. And while her writing isn't geared toward kids, it's her life's story and decades-long fight for justice that are sure to inspire both the young and old.
Harvey Milk (1930-1978) became one of the country's first openly gay elected officials when he won a seat on the San Francisco Board of Supervisors in 1977. Spirited and charismatic, Milk used his stature to fight for gay rights—working to ban employment and housing discrimination. Though he was killed less than a year into his political role, he brought new energy and hope to the gay rights movement, inspiring change across the country.
Bayard Rustin (1912-1987) was a passionate civil rights activist who organized Martin Luther King Jr.'s historic March on Washington. Because he was a gay man, Rustin believed his presence would distract people from King's message. So, he agreed to stay on the sidelines, working quietly alongside King as a dear friend and advisor for many years–without taking credit for the significant role he played in the civil rights movement.
Carole Boston Weatherford and Rob Sanders
Barbara Gittings (1932-2007) is remembered as one of the most widely influential activists within the gay rights movement. She was courageous and strong, fighting for the rights of others in a time when being gay was anything but accepted. It is because of Gittings that the American Psychiatric Association no longer classifies homosexuality as a mental disorder.
She also organized the country's first protests in support of gay rights, helped create the National Gay and Lesbian Task Force, and persuaded public libraries to offer more literature for and about the LGBTQ community.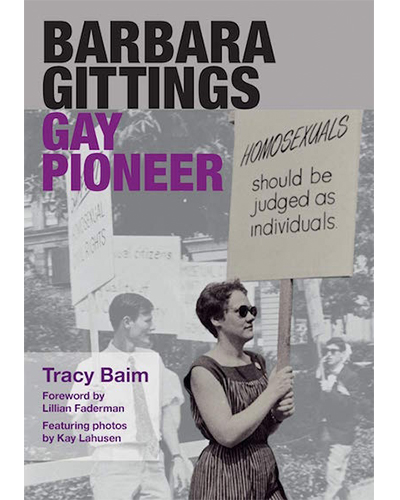 This article was originally published in June 2020 and has been updated for timeliness.