As an interior stylist and wedding planner (how fun are those jobs?!), it's no surprise that every inch of Kristin Corrigan's Fort Washington, Maryland house—which was previously featured in a Home Tour on The Everygirl—looks perfectly decorated and intentional yet endlessly inviting and comfortable. And when it came to designing her first baby's nursery, Kristin knew the exact feelings she wanted to convey in the space: warmth, peace, comfort, style, texture, imagination. Spoiler alert: the room is all that and more.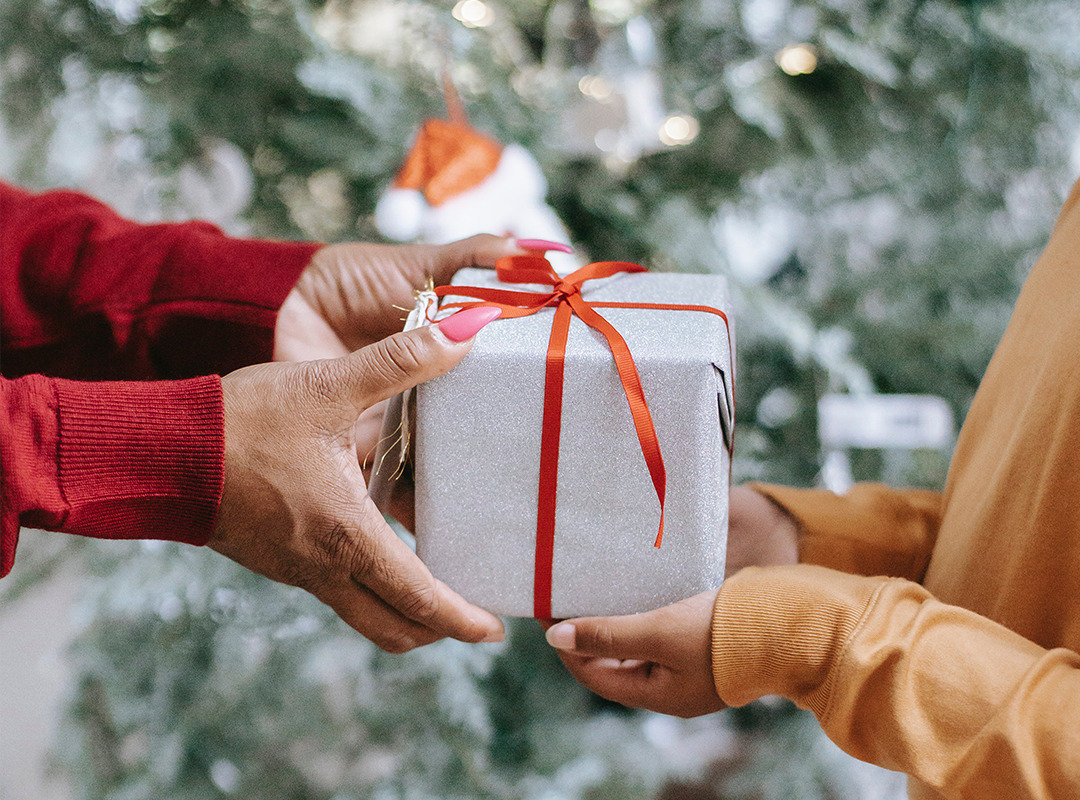 this makes gift buying so easy—trust us! 🎁
Stepping into baby Sienna's nursery is like feeling instant relaxation—the perfect vibe for a little one, right? Outfitted with whimsical DIY elements, sophisticated furniture, and collected decor items, the space is a beautiful yet functional room with an interior design that will transition perfectly as Sienna grows.
Keep reading to learn Kristin's inspiration for her daughter's nursery, find out where she picked up some of the room's most unique decor accents, and learn this mom-of-one's best advice for tackling DIY design projects at home.
Name: Kristin Corrigan 
Age: 35
Location: Fort Washington, Maryland (just outside of Washington, D.C.)
Room's Square-Footage: 275 
Years Lived In: 5
Rent or Own: Own
Children: Sienna, 10 months
To begin, tell us a little about yourself, your family, and your home!
My husband, Sam, and I have lived in the DC area for nine years. We are both originally from New England (Maine and Connecticut). After we got married in 2015, we decided to stay put and bought our house in the Maryland suburbs of DC. We had our baby girl, Sienna, last August, and life has been a wonderful whirlwind ever since.  
Our home is located on a creek off the Potomac, so it's such a relaxing escape—full of natural light and charming outdoor spaces. We bought a small boat a few summers ago and have been having fun exploring the area; Mt. Vernon is even more beautiful by water!  
I work as an event planner at an association in Alexandria, Virginia and do interior styling and wedding planning on the side. My husband works from home in strategic partnerships for a compliance software and services company.  
I'm happiest with a glass of Provence rosé in hand watching a brilliant sunset on our back deck with my husband by my side and babe in my lap. It wouldn't hurt if there was a cheeseboard involved too.
SHOP THE LOOK
How would you describe your home's overall interior design style?
Our home's interior design style is a warm, inviting take on mid-century modern layered onto a bright, light base. I like combining soft, neutral fabrics and materials with pops of rich textures and colors. I want lots of warm tones in the wood and gold accents. My favorite designs mix furniture with classic, modern lines and thoughtful, fun antiques and art to create a collected look. 
Tell us about designing your daughter Sienna's nursery! How did you find inspiration for it?
Warmth, peace, comfort, style, texture, imagination. These are the words that inspired our nursery design for Sienna. I created a few mood boards with these words in mind, including a boy's nursery before our 20-week appointment confirmed "it's a girl!"  
There are several themes in her nursery to highlight. On top of a base of neutral, light tones, we added sunset colors, dusty rose, mauve, and peach, and a pop of a water hue in deep teal. This adds the warmth and peace to the space. Despite having an unpredictable baby occupying this room, there is truly a sense of calm. Even during a meltdown, Sienna will often breathe a sigh of relief when entering her nursery. 
SHOP THE LOOK
How did your home's location and neighborhood influence the design of Sienna's nursery and the rest of your home?
The water hue in the nursery speaks to our home's location on a creek off of the Potomac River. Several décor elements reflect the water—the art over the dresser, the driftwood from Maine, the white pebbles from Croatia, and the pampas grass from our own backyard. There is abundant wildlife in our neighborhood even though we are just 20 minutes from D.C.—eagles, herons, geese, hooded mergansers (look these up, they are adorable), deer, and more. Along with the water elements, there is also a subtle bird theme in the artwork, crib sheets, and decorative pieces.  
You've incorporated some awesome DIY elements into Sienna's nursery—tell us about them and how you did them! 
Thank you! There are many DIY designs in the nursery such as the watercolor mural behind the glider and the pampas grass wreath over the crib, but my favorite is the gold birds flying out of the artwork over the dresser, it feels magical. Sienna loves looking up at this bold colorful print, and grabbing the frame while we're changing her diaper. Yes, we had to reinforce it on all sides, a new mom mistake to hang so low! The gold birds are removable stickers that I spray painted gold and placed over the glass and onto the wall.
SHOP THE LOOK
Have you always been into DIY decor? 
I've done a few other DIY projects in the house, mostly art projects when I'm feeling inspired to create something for a specific space.  
What tips do you have for someone who really wants to start a DIY project but has no idea where to begin?
Pinterest! Try searching a few keywords and dive deep into the Pinterest hole. Once you have your inspiration, slow down a bit to think through the project and make sure it will work in your space. Enjoy the creative process and don't rush it.
We love the soft, varying textures of the furniture and decor in Sienna's nursery. What are some of your favorite places to shop for furniture and decor?
For accent furniture and miscellaneous décor, my preference is to source from antique shops, Etsy, and Craigslist. I get almost all of my vintage rugs on Etsy straight from Turkey! When shopping online, I go to CB2, Anthropologie, Crate & Barrel (or Crate & Kids), West Elm, Target (so many great partnerships now!), and Rejuvenation. I also like to buy prints from museums we've visited in our travels or photographers online shops, then just pop it in an IKEA frame. 
SHOP THE LOOK
The room also includes decor items from some of your trips abroad—tell us about those special pieces. 
We brought in some sentimental pieces to Sienna's nursery, sharing with her important parts of our life pre-baby. The wine crates are from our babymoon in Portugal, pink chocolate box from a trip to Germany, kitten print from my mother's childhood room, vases from a sabbatical trip to Croatia, artwork gifted and painted by family, and a gold mirror we used in our wedding.
Do you have a favorite furniture or decor piece in Sienna's room? If so, tell us about it. 
The Audubon bird prints in modern frames were the first pieces we decided on for the nursery. The prints were gifted by my father-in-law and were just the right touch of gender neutral art to kick off the design plan.
SHOP THE LOOK
How do you plan to transition Sienna's nursery into a toddler and then big kid room as she grows?
Our Crate & Kids crib has the toddler rail attachment as she gets bigger. We have already started rearranging and removing things in her nursery since she is crawling and grabbing everything. I hope that her favorite toys find their places on the bottom shelves of the bookcase and that we have some of her own art to add to IKEA frames. Who doesn't love a footprint butterfly?
Kristin Corrigan is The Everymom…



Go-to everyday outfit? Dark, high waisted skinny jeans and a loose-fitting top that drapes low in the back.
Favorite ice cream flavor? Ben & Jerry's Vanilla Caramel Fudge
A secret skill you wish you had? Sewing! There are many times I wish I knew how—clothes, curtains, pillowcases.
Favorite decor item in your house? Set of vintage cognac leather chairs
Guilty pleasure? Staying up late and baking cookies. Favorite cookie: A Cozy Kitchen's Favorite Cozy Cookie 
Where would you most like to travel next? It's been on our minds to explore more of the U.S.—for example, the San Juan Islands in Washington state, the Michigan lakes, and horse country in Kentucky.
Biggest mom fail moment? I didn't realize that Sienna would grow out of her Uppababy bassinet before she moved into her crib at 6 months old, so we had no transition bed! With our pediatrician's approval, we kept her in the bassinet until 6 months—at 95th percentile height, she looked like a giant baby in a tiny bassinet. 
If you could have lunch with any woman, who would it be and why? Michelle Obama—authentic, intelligent, funny, cheeky—she's someone who genuinely seeks out the good in people.