March is here, which means it's time to order some Shamrock Shakes, don festive green clothes, and pull out the shamrock PJs for the kids. And if you're interested in getting your LOs in on some more St. Patrick's Day fun this year, we're here to help. Enter: the St. Paddy's Day craft session.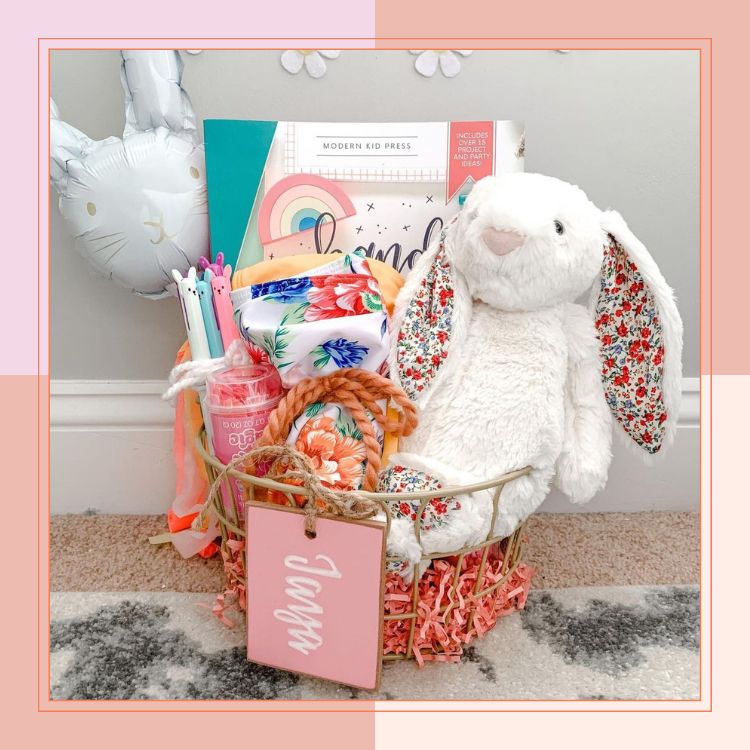 everything you need to get ready for the Easter Bunny's visit on April 9th! 🐰
Sometime on or before March 17, buy yourself a few minutes of much-needed quiet time by setting your little ones up at the kitchen table with some supplies and simple directions for fun shamrock-themed crafts and activities.
We've rounded up 20 of our favorite St. Patrick's Day crafts for kids below—scroll down to see them!
Little hands will be able to spend hours playing with this easy-to-make sensory bag that's perfectly festive.
We know you'll want to keep this art piece for years to come! When your kids are all grown, this four leaf clover handprint painting will be so fun to look back on.
Easy and creative painting projects are always a good idea. This is the perfect afternoon craft to celebrate the holiday.
These mosaic shamrocks always turn out beautifully. You're going to want to give them a permanent spot on the fridge—without a doubt!
Your kiddos will love making these paper rainbows and helping pick out a spot on the window to show them off all spring.
Crafts don't get much cuter than this ultra-festive shamrock man. This craft is so fun and easy to make.
A themed word search is not only a great way to get into the holiday spirit, but also a great way to get the brain working!
Hang onto all of those popsicle sticks to make these cute leprechaun hats this year.
I don't know one kid who doesn't enjoy slime, and hey'll have even more fun making it themselves! (Editor's Note: Click here for our hack to get slime out of clothes!)
Because leprechauns are notoriously tricky, you're going to want to set more than one trap! This one it too cute to pass up.
Keep an eye out for those sly leprechauns with these homemade binoculars that can be made with just a few items you already have at home!
A family game night is fun for everyone! You can make yours festive by incorporating this printable St. Paddy's Day-themed bingo game.
Experiment activities are some of the most fun. The best part of this one is that you'll want to put it on display afterwards!
Affordable crafts that are completely customizable are some of our favorites. Your little ones can get creative by painting themed rocks for the holiday.
It doesn't get much cuter than this! Help your little ones transform themselves into leprechauns with this fun and easy craft.
A craft you can snack on after you're done? Sign us up! It doesn't hurt that this leprechaun house is so cute, too.
Kick family movie night up a notch by making these leprechaun hat treats to munch on.
Science, but make it festive! Your little ones will love doing this easy science experiment that only takes a few simple ingredients.
This sensory bottle is fun, simple to make, and will keep your little one entertained for hours. Having your kiddo help assemble it is a good way for them to work on their fine motor skills, too.
If you're feeling lucky this year, be sure to help your little one create this leprechaun trap to see if you can catch one in action!