One could argue that with little kids around, our houses already have plenty of noise. But for those of us who crave the comforting sounds of friendly conversation, nothing can beat a good, engaging podcast. A podcast is infinitely portable, taking you from your first cup of coffee to errands and beyond. And now, when the radio is filled with anxiety-producing news breaks, a pre-recorded episode can offer a much-needed escape.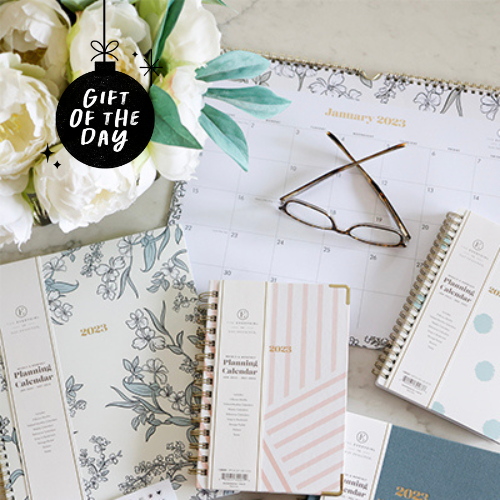 Help a mom stay organized and keep track of important doctor's appointments, playdates, and (hopefully) some scheduled 'me' time with this pretty wall calendar.
Here's what we're loving these days: 
Listen to when you crave connection or need to take your mind off the world. 
From WBUR Public Radio comes a podcast featuring personal essays from the beloved New York Times column, "Modern Love." Now in its fourth year, the show has accumulated more than 200 shows, all beautifully told first-person narratives that reflect on the themes of "love, loss, and redemption."
Each true story is a short episode read by a well-known actor and set to music and sound. The stories are sometimes funny, other times heartbreaking, but always deeply moving and thought-provoking.
Listen to when you need a big dose of comfort. 
A New York Times podcast, Sugar Calling features writer Cheryl Strayed (author of Wild and Tiny Beautiful Things) on her quest to uncover wisdom from her elders—brilliant authors over the age of 60. Here, listeners will find the same trademark warmth and wit that catapulted Strayed into our hearts when her "Dear Sugar" advice column ran on The Rumpus a decade ago. This show is brand new and has just two episodes under its belt, but you may as well consider us hooked.
Listen to when you're itching to dive into a good read or learn something new. 
Billed as "The Introvert's Guide to the Good Life," Nerdette is the invitation we all need to find joy and inspiration while stuck at home. This Chicago-based podcast from National Public Radio features smart, funny, and sometimes offbeat interviews with authors, artists, and self-professed nerds from around the world. We love the newly established book club, which welcomes listeners to join in a multi-episode conversation about a top-notch book pick.
Listen to when you want to celebrate brilliant women. 
As if made for our current times, CYG calls itself "a podcast for long-distance besties everywhere." Join the hosts, writer Aminatou Sow and journalist Ann Friedman, as they virtually hang out from opposite sides of the country. Here, listeners can find in-depth conversations about everything from politics and identity to feminism and more. These ladies are funny, candid, and wholly entertaining, bringing forth a podcast they describe best as "highbrow, lowbrow, and fiercely opinionated."