Yes, the world seems crazy right now, but babies are still being born, and parents of those babies still care about capturing photos of their new arrival's tiny toes, sweet faces, and petal-like pouts. Pre-pandemic, many hospitals offered newborn photography in your room or parents could book a worry-free session with a newborn photographer to come to their home after their baby is born.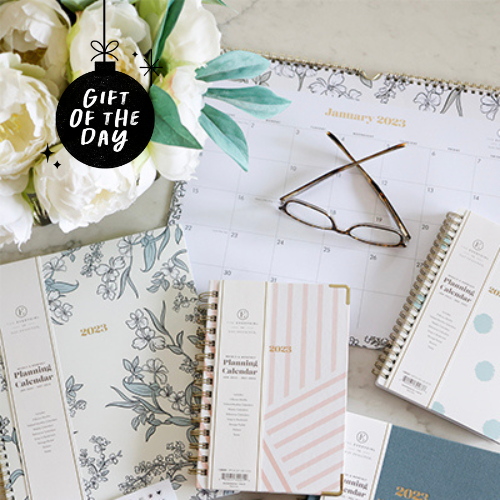 Help a mom stay organized and keep track of important doctor's appointments, playdates, and (hopefully) some scheduled 'me' time with this pretty wall calendar.
But pivoting from our plans is part of the new normal for most of us. Staying safe by staying home is the choice a lot of people are making, and probably feels pressing for new parents, even though they'd surely love the help from family and friends.
If you're one of those parents and are limiting exposure at home with a newborn, we asked some of the professionals also pivoting their photography businesses if they were willing to share some insight into how they create those perfect baby shots. They gave us so many great tips for taking your own newborn pics at home.
1. Keep Set-Up Simple in a Spot With Natural Light
"You can take pictures any time of day, as long as you have a soft, natural light source nearby," said Kim Hoover, the owner of Apple of Our Eye Photography.
She recommended keeping the background simple, like using an ottoman or bed. White bedding or blankets with texture can be your base. Less is more when it comes to simplifying your shoot and keeping the focus on your baby.
2. Think About Timing and Temperature
"Babies tend to be most relaxed right after a feeding," Hoover said. For an easy and natural look (and an easy transfer from feeding to the photoshoot), she recommended feeding your baby in only a diaper and wrapping them in the swaddle you plan to use.
Turning up the heat a few degrees was recommended by all photographers. Having a space heater nearby or adding white noise can aid in the baby's comfort and, hopefully, their cooperation. But don't be afraid to take breaks if you or the baby needs it, said Thao Lai, a Michigan-based photographer. referencing her own experience as a postpartum mom trying to take newborn pictures of her daughter. "It was shoot for 10 minutes, stop if she was crying or wanted to nurse, and pick it back up when we were both ready to get back into the moment," she said.
3. Use Baby-Led Posing
Hoover cautions against using adorable Pinterest poses as a guide for posing your own baby. "Unless you've been trained in newborn safety, do NOT attempt to replicate any poses you see," she said.
Instead, let your baby lead. "At only a few days old, these little ones will let you know what they are comfortable with. Focus on the details of their littleness now and save the creativity for later." She also suggested having rolled up bath towels or washcloths on hand to use under blankets or swaddles to help with positioning.
4. Move Around
Once you get baby in place, Lai recommended moving around your baby. "Shoot from above, from all sides, get the details of their toes, their fingers, the top of their head," she said.
If your baby is still cooperating, you can pull back to take in more of the scene. "I always take shots of the environment first, so I don't miss the moment as it is, but then I'll remove distractions like toys or the pile of burp rags out of the frame and retake the images," Lai said. "Sometimes, I'll invite the siblings into the frame, or they wander in and I go with it."
5. Get Yourself in the Picture
Every mom probably has thousands of pictures of their babies on their phone, but down the road, your kids are going to want to see you in their baby pictures too. Lai understands as a mother of three herself. "As difficult as it is and as much as you might not want to be in the frame, get in it anyway!" she said. Self-timers, tripods, remotes, or having your partner assist can help.
"There is more grace and patience needed when you're the photographer and the subject, so be kind to yourself," she added. "With my own daughter, I was intentional about taking pictures with my hand in the frame to show just how teeny tiny she was. I cherish these images with part or all of me in them because I am just as much part of their story."
6. Remember Imperfect Is OK
The everyday, real moments matter too. "'Perfect' newborn shots in the nursery are always idealized, but don't forget to remember what it's like right now, exactly where you are," Lai said. "These kinds of photos don't require so much preparation." Plus, you'll love looking back on them.
"Have the camera ready and shoot often!" Lai said. "Having the photos is more important than waiting for the perfect setting and light."
If Hiring a Photographer…
Obviously, professional-level photos are still going to be best captured by professional photographers. Weighing and evaluating risks for our families is part of parenting. Many photographers have been adapting their business to the new normal, with porch portraits, outdoor shoots, and more. "I've been offering editing services since March," Hoover said. "I provide some photography guidance and then clients submit their photos to me for editing."
Michele V. Wagner, a photographer based in Chicago, has also expanded options for her clients and enacted strict safety protocols. "I have been giving clients the options of whether they feel comfortable shooting completely outdoors or if they'd rather I come into their home," she said.  "But my safety protocols are the same—masked and gloved—using camera lens lengths that allow me to maintain a 6 ft. social distance the entirety of our session while giving the appearance I am standing close to them in photos."
"If your newborn photographer does not mention the safety precautions they are taking during this time, look elsewhere," Wagner said.