When we begin introducing our little ones to solid foods, we aim to make it a positive experience, one they'll be excited to continue day in and day out. Foods should be flavorful, fresh, and fun! So, it should be no surprise that my favorite place to get meal ideas and stock up on ingredients for my own two little boys is trusty Trader Joe's.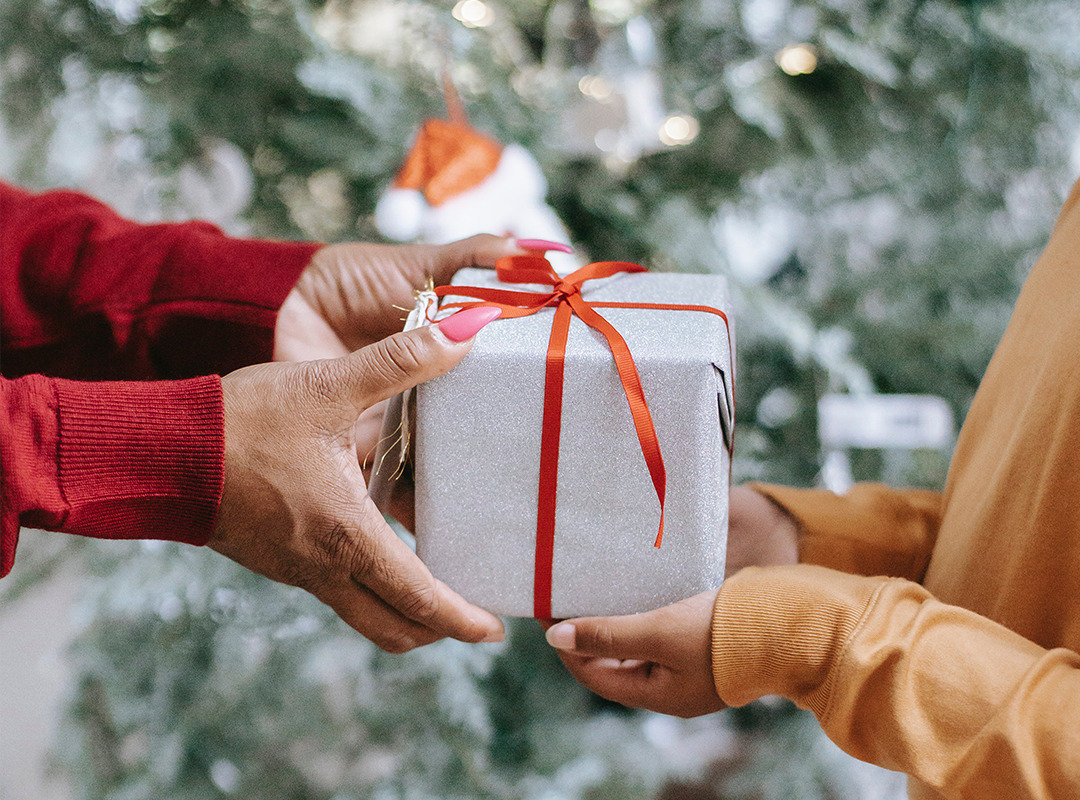 this makes gift buying so easy—trust us! 🎁
Whether you approach solids via baby-led weaning or purees, we're eventually all in the same boat, serving our babies and toddlers various foods with hopes (and prayers) that they'll love all the different tastes and textures. We personally did a combination of baby-led weaning and purees with both our boys and continue to strive to serve them a wide variety of foods and flavors. 
Today at mealtimes, I have an adventurous 15-month-old and a very picky 2.5-year-old. One will try anything, the other could live solely on crackers and fruit. But what do they both agree on? When Mama hits up Trader Joe's, there are bound to be winners in her grocery bags.
Here are the best baby and toddler meals that good ol' TJ's takes care of for us and that we always have on hand.
Pulled Pork in Smoky BBQ Sauce
This BBQ sauce is definitely on the sweeter side, making it more appetizing for younger (and pickier) palettes. The pulled pork is easy to chew, and my oldest has been known to shovel handfuls of this pulled pork into his mouth. Many little ones are extra fussy about meat, and this pork has proven to be a great go-to source of protein for our family. 
Ravioli
I'm personally obsessed with the ravioli varieties that TJ's stocks. Not only are they a fabulous, easy, delicious dinner for me when my husband works late, but they are also a quick dinner for my toddlers. The Honey Roasted Pumpkin Ravioli is a favorite during the fall season, and their Ricotta & Lemon Zest variety is a year-round winner, with or without any sort of sauce (the kiddos and myself enjoy these with butter and parmesan cheese alone). 
Panko Breaded Tilapia Fillets
My boys love fish sticks. I'm not really sure how we discovered this since I'm not a fan myself, but they devour them. So when I saw these Panko Breaded Tilapia Fillets at my local TJ's, I decided to give them a try. And this fancy fish stick upgrade is a hit. I love that my kiddos are enjoying seafood, and the boys love the crunchy breading and tender white fish inside.  
Falafel Mix
I'd love for my littles to eat meatballs, but in general, meat is a tough sell with my toddlers. But Trader Joe's Falafel Mix packs in some protein, and I'm hoping will help us move to enjoying meatballs in the future. But in the meantime, bring on this easy mix; my boys love the breading texture, and I always shape the falafel into easy and safe to eat portion sizes. 
Rice & Veggie Bags
The various frozen rice and veggie mixes at Trader Joe's are a perfect way for your baby to play with food. They can practice picking up the different pieces, sampling different flavors and of course, creating one amazing mess for you to clean up at the end. The pieces are also super easy for even toothless toddlers to manage for the most part and a little goes a long way … especially on the kitchen floor. Just a heads up. 
Organic Silver Dollar Pancakes and Blueberry Waffles
Whether you're an AM-only pancake fan or a "breakfast for dinner family," Trader Joe's has you covered from sun up to sundown. Considering breakfast is usually a mealtime win for us, replicating that in the evening is a surefire way for some dinner success as well. From Trader Joe's delicious blueberry waffles to the adorable silver dollar pancakes that my kiddos can't eat fast enough, TJ's is a breakfast haven. Add in one of their Frozen Hashbrowns and some fruit, and you have a fabulous, full meal in our house.
Chicken Drummellas
They may not come in a dino shape, but these nuggets are DELICIOUS. Both of my boys gobble them up (and so do I). I add in a side of applesauce, fruit, and nuts (all from TJ's), and we have a meal that even my picky eater gets excited by.
Bambino Pizza
Who doesn't love pizza? Well, shockingly my oldest refuses to eat it at the moment. He used to shake with excitement with TJ's Bambino Pizzas, but until he decides (remembers) that bread plus tomato sauce plus cheese is pure bliss, my youngest will happily eat one of these mini pizzas in no time. Add in some cut up carrots and dinner is served. 
*Trader Joe's also has an Organic Tomato Mozzarella Piccolo (little) Pizza that is great for kids to share!
Frozen Burgers
From mahi mahi to tuna and turkey and everything in between, Trader Joe's has a frozen burger to feed every palette. The hubby and I go for the salmon burgers, my oldest will sample a veggie burger (sampling equals success at this point) and my baby loves himself any of the fish varieties (all easy for little ones to handle and chew as well). They don't take up much room in the freezer, so I don't feel bad about stocking up on several options. 
Cauliflower Pancakes
Eager to get your baby or toddler to enjoy more vegetables but they aren't exactly diving into that bowl of roasted broccoli anytime soon? Welcome to the art of hiding veggies. And TJ's does the work for you with their Cauliflower Pancakes. Perfectly sized for little hands and full of nutrient goodness, these are our new must-have that have yet to lead anyone (picky or not) astray.