Few things in life are as exciting as welcoming a new baby into the world. To celebrate this exciting milestone, new parents often want to share their new little one with their friends and family. But, if there's one thing we know for sure, it's that taking care of a new baby is no simple task. As wonderful as it sounds, hosting endless visits from well-wishers can quickly take a toll on new parents.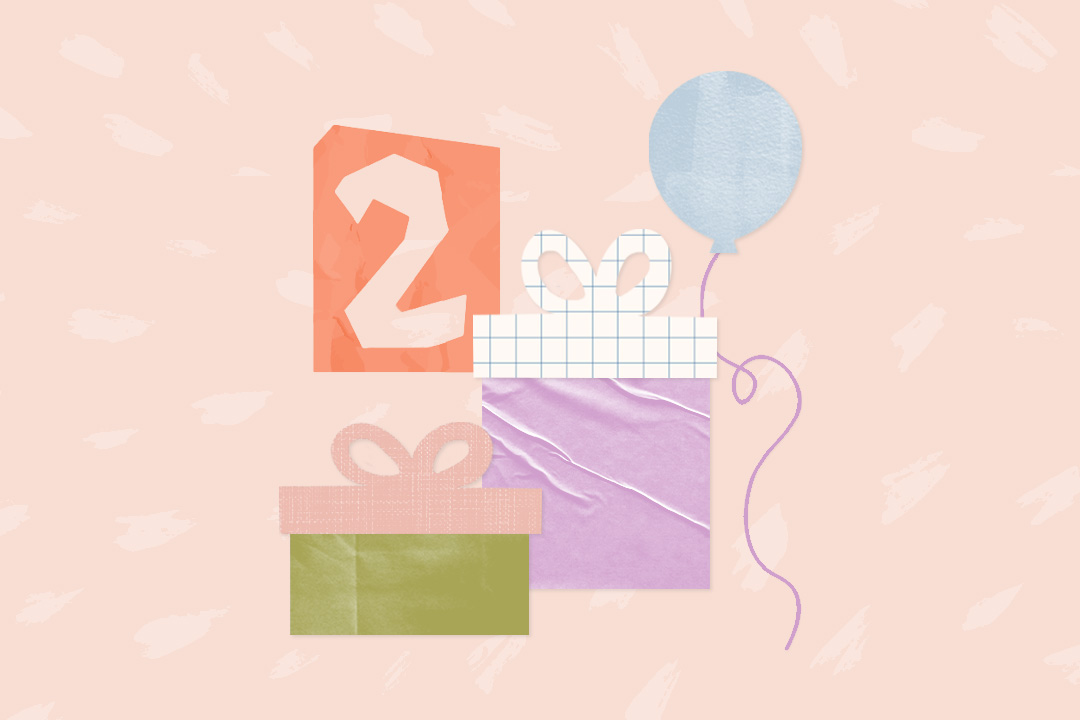 a LO in your life will love these! 🎁
Celebrating the arrival of a new baby can be done in a number of ways. Maybe taking on short, small visits from close friends and family is the best option for some parents. Others prefer spending a few hours one day introducing baby to the important people in their life. Some make it an event, choosing to show off baby by hosting a sip and see.
If you've been recently invited to a sip and see—or are considering hosting one yourself—you may be wondering, exactly what is a sip and see? Well, we've got you covered. Here we're diving into the ins and outs of sip and see's, how to host or attend one, and our favorite themes for welcoming baby to the world.
What is a Sip and See?
Unlike a baby shower that takes places before the baby is born, these are the gatherings hosted after the baby has been born. As the name says, you might sip some drinks and see the baby. These can be formal or casual and have the fun element that baby showers don't typically have: a baby as one of the guests of honor!
If you're planning a sip and see for yourself, you can figure out some logistics before the baby arrives (so you aren't doing it while taking care of a newborn), but it is a good idea to decide on the date after your baby is born. This way, you can make sure you feel well enough to host people. Don't rush into it, make sure your healing is going smoothly and you have the energy to have guests before setting the date. There is no need to have this party as soon as the baby is born; it's OK to wait several weeks or months. And better yet, if a friend or relative can manage the logistics, that's even better for the new mom. As with all things in motherhood, don't be afraid to ask for help.
How to Host a Sip and See
Pick a Theme
Like any event planning experience, decorating, crafting invites, and deciding what to serve will be easier if there is a theme to follow. Even if it's a casual stop-by event, a loose theme can help you plan for food and drink options, at a minimum. If a theme doesn't pop out right away, don't worry—we've got some great ideas below!
Decide Who Will Be Hosting
The expectations of a sip and see may be a little more loose than a traditional baby shower. While we can all, of course, do whatever makes the most sense for our circumstances, baby showers are typically hosted by a family member or close friend. A sip and see can be the same, or it can be hosted by the parents themselves if they're feeling up to the task!
Choose a Date
When is the best time to have a sip and see? While the most important factors on timing is making sure mom is 1) ready to show off their little one, and 2) have the energy to play host, it's typical for a sip and see to take place 1-2 months after the baby is born.
Send Sip and See Invitations
Another difference between a baby shower and a sip and see is the lenience of sending out invites. You'll want to give guests enough time to plan to be able to attend, so, when possible aim to send out invites at least 3 weeks in advance.
On the invites, be sure to include the necessary information: date, time, venue, name of the couple and baby, name(s) of the host, and RSVP information if required.
Should We Register for a Sip and See?
To put it simply, it's not the norm to create a baby registry like we typically would for baby showers. Many who host a sip and see likely also had a baby shower, where many of the same guests brought gifts and baby gear. Some attendees may bring a gift regardless, but it is not the normal expectation for this event.
Planning Food & Drink
A sip and see party is typically intended to be a fairly casual event. While everyone is entitled to go as over the top as they please, it's not uncommon to provide simple finger foods and light refreshments as opposed to an organized meal. Guests will be more focused on seeing the new baby than eating, anyway!
Sip and See Etiquette
When it comes to attending a sip and see party, there are certain 'rules' we can follow to make the party enjoyable for all.
Gifting
Like we mentioned, gifting is typically not necessary, but for many of us, showing up to an event empty handed feels like a crime (I think we have our moms and grandmas to thank for that). Plus, giving new baby gifts is often just as exciting as receiving them. In this case, we recommend bringing a small token of congratulations. Books for baby, personalized baby items, or something the new parents can enjoy, are always a good go-to.
Holding the baby
The most exciting part about a sip and see is, of course, seeing the new baby. And who among us would pass on the opportunity to snuggle a newborn, if even for just a few minutes? That being said, the couple will likely make it known if they are willing to let attendees hold the little one. If we notice that they're spending most of the time holding the baby themselves, they may not want the baby going around to guests. On the other hand, if they are offering guests the opportunity to hold the little one, we can feel free to do so if we'd like!
A good rule of thumb is to always wash our hands before holding someone else's newborn, whether they ask or not. And if you have any tinge of sickness, skip the event. The new parents will understand (and be grateful).
How long should we stay?
Much like a baby or bridal shower, a sip and see will likely last around two hours. Aside from close friends and family members who are staying to help clean up, not overstaying your welcome is a good idea. Sip, see, snack, play the games, offer congratulations, hopefully spend some time holding the baby, and be on your way!
Sip and See Theme Ideas
Sip and See Mimosa & Bloody Mary Bar
For an alcohol-friendly sip and see, invite your guests to make their own brunch cocktails as they stop by to meet your new little one.
Sip and See Hot Cocoa & Cookies Party
For winter babies, keep your guests warm and cozy with a hot cocoa bar. Add flavored marshmallows, peppermint sticks, whipped cream, and other fun toppings.
Sip and See Tea for Two
Throw a tea party with your newest addition, providing guests with different teas, mini sandwiches, and sweet treats.
A Cutie Has Arrived, Citrus-Themed Sip and See
Go for a clementine, or rather a cutie-themed, party with citrus decorations and citrus drinks to celebrate the new cutie.
Sip and See What Has Bloomed
Going off of the 'Baby in Bloom' baby shower theme, throw together a beautiful floral-themed sip and see to celebrate the new baby. Create mini bouquets, maybe even a flower crown, and floral-designed cookies for guests to snack on.
Sweet as Can Bee, Honey Bee Theme
For a little one who is as sweet as honey, a bee themed sip and see is a great option. Etsy and other retailers are full of cute bee and honeycomb decor. Include a 'Bee's Knees' signature cocktail and some sweet treats for guests.
Books For Baby
Babies truly can never have too many books. Encourage guests to bring books instead of gifts by making the sip and see book themed. This is a fun theme to get creative with by either choosing one favorite baby book to draw inspiration from, or book and reading in general. Mix up a few literary inspired cocktails ('Tequila Mockingbird,' or 'Gone With the Gin') to really capture the theme.
(and why they're going viral!)