As much as some of us may not want to admit it, we've all probably been significantly influenced by someone from the baby boomer generation. Whether from a grandparent, parent, or, family friend, many people born from 1946–1964 may have played a role in our upbringing. While it can often feel like we're living in a much different time than the baby boomer generation, they may have been onto something when it comes to achieving goals, being resourceful, and exuding independence.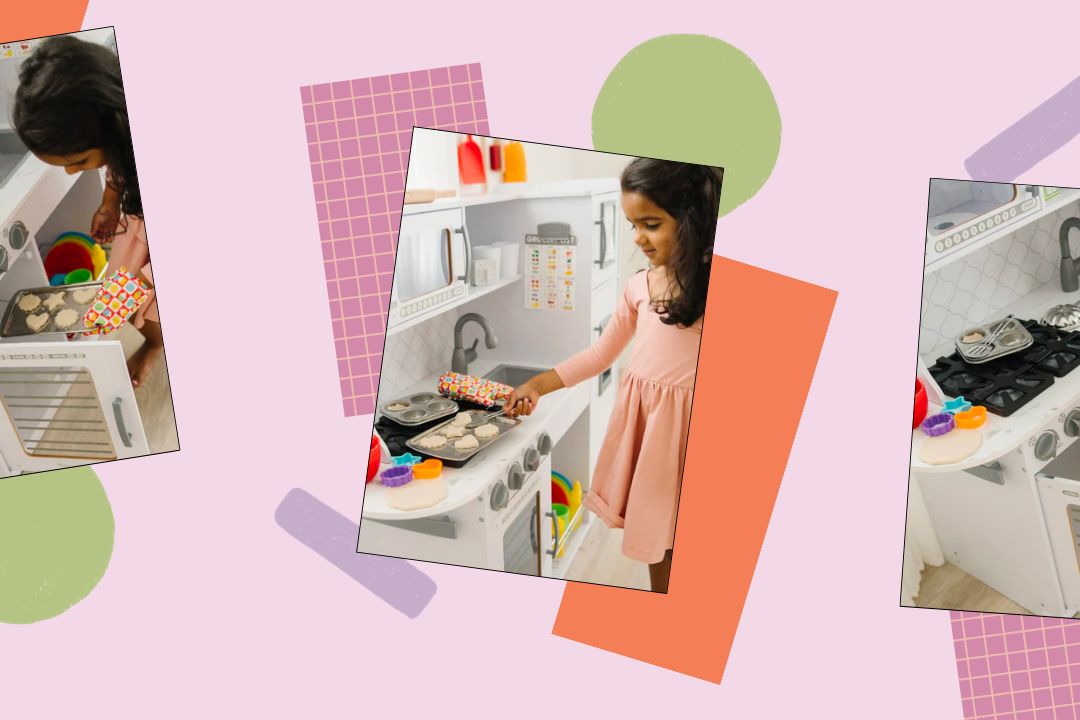 In recent years, we've seen a resurgence of vintage baby names, with many new parents honoring an older loved ones or looking back into history for alternatives to some of today's more modern baby name picks. While trendy and unique baby names offer some adorable options, there's also something to be said about names that have stood the test of time.
That's why we wanted to compare some popular boomer baby names to see how they ranked now. Read on for some baby boomer names still popular today—and a few that have stayed behind.
Baby Boomer Girl Names Popular Today
Alice
Each time I hear this name, my mind goes to the magical world of Wonderland. When I learned that the film, Alice In Wonderland, brought to us by the remarkable mind of Lewis Carrol, was released in 1951, there was no surprise that it became a popular baby boomer baby name. After taking a strong dip in popularity after the boomer years, this sweet name has regained appeal in the last 5 years.
Anna
This lovely Hebrew name holds the meaning of 'grace' and is the Latin form of 'Hannah.' It has been steadily popular over the last century, only leaving the top 100 baby names for a handful of years. Literature fans will recognize it from Tolstoy's Anna Karenina, and we have seen it in pop culture more recently in Disney's Frozen.
Charlotte
For those of us who lived vicariously through Carrie and her girls on Sex and the City, we know Charlotte as someone who is effortlessly classy. Much like the character, this name is timeless as it dates back to the 14th century. It has always been a popular baby name choice, steadily in the top 100 girl names in the 1940s, but it reached its peak popularity in 2021 as the 3rd most popular baby girl name.
Elizabeth
According to the Social Security Administration, Elizabeth has always been a wildly popular choice for baby girls as it hasn't left the top 30 in the last century. We're not surprised, as this lovely name can be shortened to many nicknames and holds the meaning of 'God's Promise.'
Eva
This short but sweet name is a variant of 'Eve,' referring to the first woman in the Bible, and means 'life.' It was a common baby boomer baby name choice that slightly lost traction in the late 20th century before regaining momentum in the early 2000s. It has not left the top 100 baby names for girls since 2009.
Evelyn
I would like to thank Taylor Jenkins Reid for putting this name back in the spotlight in recent years and gifting us readers the character of Evelyn Hugo. Traditionally used as a boy's name, the name took a feminine turn in the early 1900s. Its popularity has reached new heights in the last 10 years.
Grace
It would be tough to find a more charming name than Grace as it holds the meanings of 'goodness' and 'generosity.' It also has ties to Greek mythology as the goddess of charm, beauty, and creativity. Since the early 2000s, it has been within the top 30 names for baby girls.
Julia
A name that dates back to the days of Julius Caesar has quite the history. Even so, this name is highly sophisticated, charming, and modern. It has been a steady choice for baby girls for decades, and remains in the top 100 to this day.
Katherine
Fans of The Vampire Diaries will either cringe or smirk at the sound of this name as it was given to Nina Dobrev's character, the 'survivor,' Katherine Pierce. Regardless, this highly feminine name is one of the oldest on our list, and is as popular today as it was in the days of the baby boomers.
Lillian
As lovely as this 'L' name is, it took a significant hit in popularity after the baby boomer years. Millennials have a strong appreciation for it, however, and have brought it back to the top 100 in recent years.
Maria
She is the sunlight when the skies are grey. Country music fans may recognize this name from the Brooks & Dunn song, "My Maria." and Broadway lovers might equate it with West Side Story. This rhythmic name is highly historic, comes from Latin origin, and is known to mean 'beloved.' While being a consistent baby name choice, it was highly popular in the 1950s and ranked at #106 in popularity for baby girl names in 2021.
Mary
Ranked as either number one or number two all throughout the baby boomer years, Mary is a highly chosen name, likely thanks to it's connection to Christianity. Though it's popularity has decreased over the years, it remains one of the most common choices for baby girls.
Ruby
For a little girl that's more precious than the deep red stone, consider this delicate name. It was a highly appreciated baby boomer baby name and has regained popularity since 2007.
Sarah
Generally a popular choice due to its biblical reference as the wife of Abraham, Sarah has Hebrew origins and means 'Princess.' For the little princesses among us, this name that has withstood the test of time may be a great option.
Vivian
Meaning 'lively,' this name of Latin origin was alive and well in the 1940s, '50s, and '60s before losing preference starting in the '70s. It's made a name for itself once again since 2014.
Least Popular Baby Boomer Girl Names Today
These names were some of the most popular baby girl names in the 1950s according to the Social Security Administration that have declined in popularity—but maybe they're due for a resurgence with the next generation.
Linda: then #2, now #850
Patricia: then #3, now not in the top 1000
Susan: then #4, now not in the top 1000
Deborah: then #5, now #909
Barbara: then #6, now #911
Karen: then #8, now not in the top 1000
Nancy: then #9, now #945
Donna: then #10, now not in the top 1000
Brenda: then #18, now not in the top 1000
Janet: then #20, now not in the top 1000
Baby Boomer Boy Names Popular Today
Anthony
Bridgerton fans will instantly recognize the name as the dashing eldest brother of the clan and the focus of season two of the riveting Netflix romance series. The noble name of Latin origin means 'priceless one' and was a popular choice among baby boomers and beyond.
Arthur
A name fit for a king! Holding Celtic origins, the name has been known to mean 'strong as a bear.' For a strong, noble little boy, consider this historic name that has only slowly regained popularity in the last three years.
Charles
The baby boomers loved timeless names, and so do we! Names like Charles and its variations, such as Charlie, truly never go out of style. Reigning supreme in the top 15 until the mid-1960s, this masculine name has been a popular choice for decades.
Daniel
For a little boy strong enough to survive the lion's den like Daniel in the Bible, this is a great masculine name. It holds Hebrew origins and means 'God is my judge."
Henry
For the little boy who rules our hearts and is the king of the household, give him the name meaning 'house rule.' Henry is finally making its way back to peak popularity after taking a dive in the 1970s.
James
For a little "rebel" who's as cool as James Dean, this may be the perfect name. It holds Hebrew origins and is the name of many influential individuals throughout history like James Baldwin, James Madison, James Cameron, and more.
John
Meaning 'God is gracious,' this biblical name continues to be a popular choice. Many of us have an influential John in our lives, and we see no reason to not carry on this strong name that our little ones will share with John Denver, John Wayne, and John F. Kennedy.
Joseph
Coming from one of the most influential figures in the Bible, Joseph embodies triumph, respect, and forgiveness. To set our little boys up to be great leaders, we can consider the name Joseph, which has had a consistently high ranking since the baby boomer days.
Matthew
Alright, alright, alright. Though this name also has strong biblical ties, it was not significantly popularized until the baby boomer days. Since then, it has remained relatively consistent in its popularity. Many well-known figures share this name, including the ever-lovable Matthew McConaughey.
Michael
While many baby boomers may have chosen this name due to its biblical roots, these days there are also several influential Michaels to draw inspiration from: like Michael J. Fox or Michael B. Jordan. Pair it with a strong middle name to abbreviate and we just might have ourselves a rising star.
Samuel
As one of the most masculine names on our list, Samuel is a strong baby name that has held a spot as a top choice since the baby boomer days. With Hebrew origins, the name means 'God has heard.' Many famous men share this name, including Samuel L. Jackson, Samuel Adams, and Samuel Beckett.
Theodore
We love a name that can be shortened and turned into an adorable nickname, and with Ted and Teddy as options, Theodore is one of our favorites. Meaning, 'a gift from God,' it's no wonder this name was popular among the baby boomers. It lost some momentum in the 1980s and 90s but has steadily regained its appeal in recent years.
Thomas
Boys named Thomas will be among some great men, including Thomas Edison, Jefferson, and Wolfe. Not to mention, a little one may love sharing a name with his favorite tank engine, Thomas the Train.
William
For a name that exudes strength and integrity, consider a name that means 'resolute protector.' A name fit for a prince, celebrated playwrights, and distinguished authors is a great option for baby boomers and everyone after them.
Least Popular Baby Boomer Boy Names Today
While popular boy names have stayed a little more steady than girl names since the 1950s, these names significantly decreased in popularity.
Gary: then #12, now #904
Donald: then #14, now #592
Ronald: then #15, now #563
Larry: then #18, now #866
Dennis: then #21, now #693
Baby Boomer Gender-Neutral Names
Audrey
While seen primarily used as a girl's name, Audrey is a beautiful name meaning 'noble strength' that would suit a girl or boy well. It was used for boys in the early 1900s and gained significant popularity for girls during the baby boomer years. Perhaps we have the timeless Audrey Hepburn to thank for that one.
Kelly
While we may use the Irish name more for girls in recent years, Kelly was actually a very popular name for boys back in the baby boomer years. To ensure our little ones have a bright future, we might consider naming them Kelly, which means 'bright-headed.'
Leslie
Leslie has an extensive history of being a popular gender-neutral name since the early 1900s. While it may sound modern, it actually has medieval ties and means 'holly garden.'
Noah
While always a relatively popular choice for boys, in the last few years, Noah has made a name for itself for little girls as well. Meaning 'rest,' this Hebrew name often serves as a reminder of the story of Noah's ark from the Bible.
Robin
A gender neutral-name through and through, this name gained popularity in the baby boomer years and remains one of the top 1,000 baby names for boys and girls. While not as popular as it used to be, it is still a lovely name meaning 'bright,' 'shining,' and 'famous.' We know the name well thanks to characters like Robin Hood, and beloved actors like Robin Williams.
Rory
Anyone who's seen even a handful of episodes of the hit TV series Gilmore Girls likely attributes this name to the daughter of the world's favorite mother-daughter duo. Rory was popular in the 1960s as a boy's name and has reached new heights for boys since 2021. It did not land a spot on the SSA list for girls until 2003, which we have no doubt is thanks to the popularity of one of our favorite autumn rewatches.