Choosing a baby name is one of the most exciting parts of being pregnant, but it can also be challenging. With endless name possibilities, especially for baby girls, deciding on the perfect name takes time, and many of us can use all the inspiration we can get. As helpful as all the baby name lists out there can be, you can quickly feel overwhelmed by all of the options. When it comes to making this decision, it may be helpful to narrow down the choices by choosing an initial you want to stick with (think Kris Jenner and all of her K's).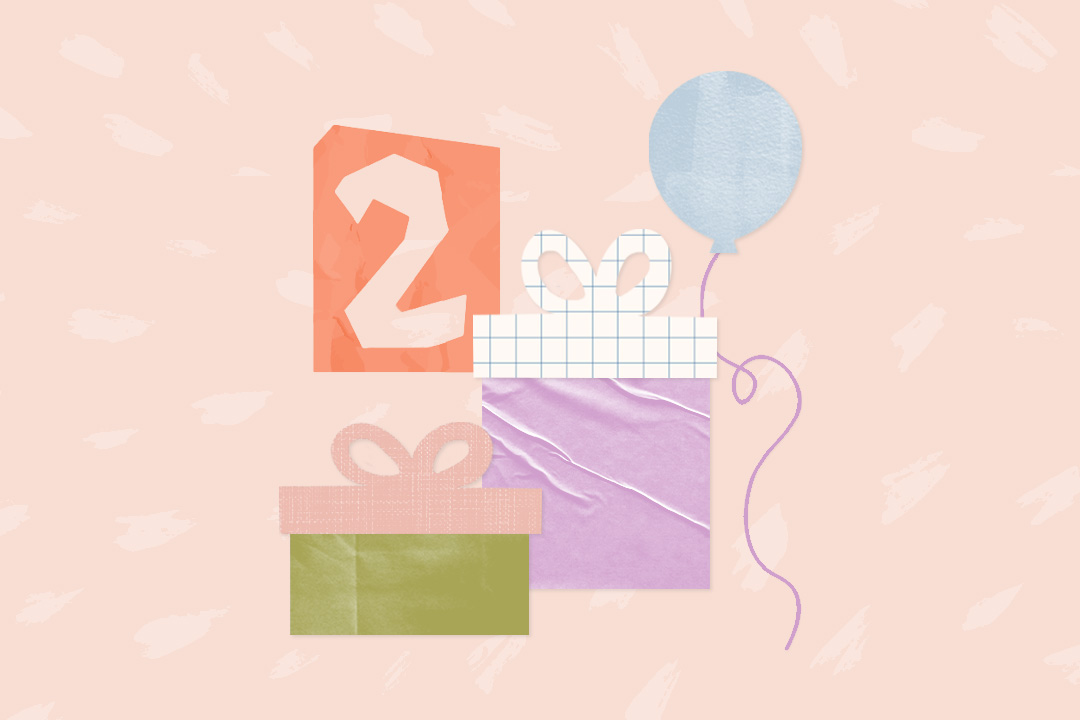 a LO in your life will love these! 🎁
As arguably one of the loveliest letters in the English alphabet, it should come as no surprise that many beautiful girl names start with the letter 'L.' Names starting with this letter were wildly popular in the 1960s. So if going the vintage route for your baby girl's name is on your radar, you may want to consider girls names that start with 'L.' If modern is more your style, there are beautiful baby girls' names that start with 'L' that are increasingly popular right now, including Luna, Layla, and Liliana.
No matter what type of name you're going for, a cute baby name, a unique baby name, or you want to draw name inspiration from TV shows we all know and love, we've got you covered.
50+ Girls Names That Start With L
Read on for all of the loveliest baby girl names that start with the letter 'L.'
Most Popular Girls Names That Start With 'L'
Luna
This sweet name has become more and more popular over the years and translates to 'moon' in Latin. Luna was also the moon goddess in Roman mythology. Luna reached the top 100 baby names in 2016, and the top 20 in 2019. Even celebrities like Chrissy Teigen and John Legend embracing the name for their daughter, and we don't expect Luna to be going anywhere anytime soon!
Layla/Leila
With ancient Arabic origins, this alluring name means 'night' or 'dark.' Since the 1970s after Eric Clapton and his band Derek and the Dominos released a song entitled "Layla," the name has grown in popularity in the U.S. You also may have heard the name in reference to Layla El, a British model and wrestler.
Leilani
The meaning behind this Hawaiian name is just as beautiful as it sounds. Meaning 'royal child,' this name is a combination of the Hawaiian word 'lei,' referring to flowers, and 'lani,' referring to the heavens. We love that this beautiful name can be shortened to sweet nicknames for your baby girl.
Lily
Nature-inspired baby names rarely go out of style, and that's partially why Lily remains such a popular girl name. The English name references the popular flower of the same name and signifies purity and innocence. Popular Lilys include Lily James, Lily-Rose Depp, and Lily Collins.
Liliana
One extended version of Lily is a name also meaning 'pure' and 'innocent.' It's become more popular in North America in recent years and has been steadily popular in Italy, Spain, and Portugal.
Lucy/Lucille
With a resurgence of vintage baby names in recent years, it's no surprise that Lucy has increased in popularity. Made popular in the 50s thanks to I Love Lucy, the name is derived from the masculine name Lucius meaning 'light.'
Lyla
This feminine Hebrew name means 'night' or 'dark.' Over the last 20 years, it's grown in popularity to reach the top 300 girls names according to the Social Security Administration.
Cute Names
Lainey
We love that this sweet name is gaining in popularity. With French origins, this name means 'bright' and 'shining light.' One famous Lainey has been making headlines in the country music genre the last year; Lainey Wilson.
Lulu
This fun and charming name has several origins including Swahili, Hawaiian, and Tanzanian. Meanings of the name include 'precious,' 'peaceful,' 'protected,' and 'calm.' It doesn't get much better than that! The name was quite popular in the late 1800s/early 1900s but has yet to crack the top 1000 names since the year 1939.
Lindie/Lindy
A cute variant of the name Linda, Lindie has Spanish, German, and Portuguese origins, and meanings of cute, soft, pretty, and tender. Though this name has not been a common choice in recent years, it is a unique 'L' name to consider for your little girl.
Lola
Though this name with Spanish origins is a shortened version of the name Dolores, meaning 'sorrows,' we happen to think it's quite beautiful. After dropping in popularity in the 1970s, it has steadily increased over the years, and we can see why.
Lilibet
You may have seen this name recently as the chosen name for Prince Harry and Meghan Markle's daughter who they welcomed in 2021. Inspired by Queen Elizabeth's nickname as a little girl, this feminine Hebrew name means 'God is my oath.' Though still fairly uncommon, this sweet name has been slowly inching its way up the charts in recent years.
Lavender
Another uniquely beautiful nature-inspired name, Lavender in particular is a name as pretty as the purple flowering plant it represents. Though it's not high on the list of popular names, it's a sweet name to consider for your little flower.
Lemon
While we've seen names associated with fruit before, like Clementine, Lemon is certainly more unique. Even though the fruit may be sour, the name pairs quite well with a sweet little girl.
Lakshmi
Set your little one up for a lifetime of good fortune by giving her this name that means 'good omen' of Sanskrit origin. Lakshmi comes from the Hindu goddess of wealth, good fortune, and beauty. This beautifully unique name is a great option for your little lucky charm.
Vintage Names
Louisa
A sophisticated name, Louisa has German origins and means 'famous warrior.' While its peak popularity was in the 1880s and it slowly descended throughout the next century, in the last 15 years, it has been steadily increasing as a popular choice for a girl's name. Who doesn't want their little one to embody a fierce warrior when necessary?
Leona
No "Bleeding Love" here, even if your little girl takes the name of the famous British singer/songwriter Leona Lewis. This Latin name is the feminine version of the male name Leon and means 'lioness.' After losing popularity in the early 2000s, it has continuously increased over recent years.
Laverne
This Latin name has an extensive origin throughout many cultures. In Roman mythology, Laverne was known as the goddess of thieves. It also has connections to Celtic history in reference to the alder tree, which symbolizes the balance between male and female principles. You may have seen the name in pop culture recently due to the iconic Laverne Cox.
Lisbeth
This unique version of Elizabeth is both traditional and uncommon. From Hebrew origin, it means 'God is my oath.' For fans of The Girl with the Dragon Tattoo, you know it as the name of the main character. And for any true crime enthusiast, you may recognize it as the name Lizzie Borden changed her name to after her trial.
Lottie
Deriving from the ever-popular name Charlotte, Lottie is a French name meaning 'little' and 'womanly.' This ultra-feminine name was steadily popular in the early 1990s and has had a resurgence within the last five years.
Lynn/Lynette
This feminine name may just be the most natural of them all on our list, with Welsh origins meaning 'nymph,' 'idol,' 'lake,' 'waterfall,' 'pool,' and 'pond.' While Lynn is a common middle name, it's found a spot for itself on the charts as a first name as well.
Lorelei
Many of us know this strong, feminine name from the beloved main characters in Gilmore Girls. It's no surprise the name gained popularity after the premiere of our favorite fall rewatch, though its origins date back much further than 2000. The German name relates to a rocky cliff on the Rhine River where a maiden named Lorelei would sit and sing to draw in fishermen and lure them to their deaths (do with that what you will).
Loretta
This name may have a special place in your heart if your mom or grandma was a country music fan and you grew up listening to Loretta Lynn belt her heart out. With Italian origin, the name is derived from the Laurel tree that symbolizes victory.
Lana
If you never turn down a rewatch of The Postman Always Rings Twice, keep every Lana Del Ray song you hear on repeat, or simply like timeless names, consider naming your little girl Lana. With meanings of 'light' and 'shining' of Slavic origin, your little one is sure to grow into a starlet with a name like this.
Gender-Neutral Baby Names
Lennon
It's next to impossible to hear this name without thinking of the famous singer/songwriter John Lennon. Don't be fooled, though, this is a great name for a little girl as well. From Irish origin, the name means 'lover.'
Lorde
For a baby with a 'noble title,' you may consider the name Lorde for your little girl. This English name has been popularized within the last decade by the New Zealand singer known for her song "Royals."
Lake
Of course, relating to a body of water, the name Lake inflicts a sense of tranquility and peace. Nature-inspired names for babies have never been more popular, but Lake is still not the most common, settling perfectly between trendy and unique, like actress Lake Bell.
Layne/Lane
Understandably meaning 'road' or 'pathway,' the name Layne or Lane can inspire your little girl to be a trailblazer. Since the early 1900s, the name has increasingly grown in popularity for both boys and girls. For our Gilmore Girls lovers, you may associate the name with Rory Gilmore's spunky best friend.
Legacy
For a strong, noble name that nearly ensures your little one will pass on wisdom to others, Legacy may be the perfect choice. This British name didn't hit the charts significantly until the mid-1990s, but since has become more and more popular.
Logan
Using names typical for boys for a girl has become a welcomed change in recent years. While typically seen as a masculine name, Logan is a Scottish name meaning 'hollow' that portrays strength no matter what gender.
Biblical Names
Leah
Known as the spouse of Jacob in the Bible, the name Leah has Hebrew origins and means 'delicate' and 'weary.' As a consistently popular name, Leah hit the SSA's top 1,000 list in 1900 and hasn't left it since.
Levi
For a gender-neutral baby name that can also be considered trendy, Levi is a great option. From Hebrew origins, the name means 'united' and 'joined' with roots back to the Bible. The name reached the top 20 on the Social Security Administration's list in 2020.
Lydia
Seen in the New Testament as the first European convert of Saint Paul, this Biblical name wasn't made significantly popular until used as the name of the youngest sister in Jane Austen's Pride and Prejudice.
Lois
Lois first appeared in the New Testament and has a Greek meaning of 'superior' and 'most beautiful.' Seen in pop culture as Superman's love interest, Lois Lane, the name significantly dropped in popularity in the 2010s but is steadily making its way back up in rankings.
Lilith
For a Biblical name with an edge, consider naming your little one Lilith. Mentioned in the Bible only once, Lilith is known for being the first wife of Adam. With Babylonian origin, the name translates to 'belonging to the night.' It has appeared in TV shows like Supernatural and has climbed the ranks since 1999.
Modern Names
Lauren
Derived from the beautiful French name Laurence, this feminine name means 'wisdom.' While traditionally seen as a masculine name, it's thought to have been popularized as feminine thanks to the beloved actress Lauren Bacall, hitting peak popularity in 1989.
Leighton
Though the name dates back to the 13th century meaning 'meadow town,' it has been reaching new heights in popularity since 2019. While traditionally a masculine name, Leyton, the more feminine spelling was likely brought forth by Gossip Girl actress Leighton Meester.
Lyric
This musical name has Greek and French origins and means 'songlike.' It's no surprise former Backstreet Boys star AJ Mclean and his wife Rochelle reached for this moniker for their daughter in 2017. Lyric reached its highest ranking on the Social Security Administration's list in 2021 and has been steady ever since.
Travel-Inspired Names
London
Your little jet setter will no doubt grow to be as elegant and strong as her namesake, London, England. This charming name has fluctuated in popularity since the late 1880s, and while we've seen this as a masculine name fairly regularly, it reached an all-time high for little girls in 2013.
Laramie
A name that's perfect for an up-and-coming trailblazer as it embodies all that is a frontiersman (or woman) is Laramie. Known as the historic and rustic city in Wyoming, this is a unique and uncommon name for a little girl but is beautiful nonetheless.
Lincoln
Though it may be nearly impossible to hear this name and not think of the 16th American president, we wouldn't count that as a bad thing. The name is of English origin and means 'lake/pool colony.' While not very common for girls, we don't see why Lincoln couldn't be a perfect choice.
Liberty
Foster a free spirit in your little one by giving her a name of Latin origin that means 'freedom.' This powerful name has shifted in popularity over the last century, but it currently stands outside of the top 1,000 girl names according to the Social Security Administration. Movie fans might remember Liberty Bell as the name of the little sister in 2007's Juno.
Lani
Translated from Hawaiian meaning 'sky,' 'heaven,' and 'chief,' this short, two-syllable girl name is a lovely option to consider. This dreamy name has never seen peak popularity on the SSA charts, making it a great way to step outside of the box.
More Baby Girl Names That Start With 'L'
Those are just a few of our favorites, but the options don't end there. If you're still on the hunt for the perfect name that is lovely, lucky, or luxurious, here are some other wonderful options.
Lucia: Refers to the Latin word Lux meaning 'light.'
Lupe: Of Hawaiian origin, this name refers to a form of the deep red gem known as ruby.
Linden: This German name means 'made from Linwood,' or 'lime tree.'
Leia: A lovely name with equally lovely meaning refers to 'heavenly flowers' in Hawaiian—not to mention heroine Princess Leia of Star Wars fame.
Lilo: Seen in the Disney movie Lilo & Stitch, the Hawaiian name means 'generous one.'
Liv: Of Scandinavian origin, Liv means 'life.'
Livi: Of English origin, Livi represents a symbol of peace.
Libby: A British name meaning 'God's promise.'
Lindsey/Lindsay: Meaning, 'island of linden trees,' Lindsey is of British origin.
Lark: This British name means 'lighthearted songbird.'
Luxe: Of Latin origin, Luxe means 'light.'
Larah: Meaning a woman who is 'recognized and splendid' of Latin origin.
Landry: A powerful French name meaning 'ruler.'
Lenore: Of Greek origin, Lenore means 'light.'
Laura: This name of Latin origin refers to the bay laurel tree.