Baby names say so much about a given time. Trends always emerge and are often repeated in future generations. It's fascinating to see which names end up topping the charts. Liam, for instance, has held a top spot on the list of most popular baby boy names in the U.S. for four years in a row now. Meanwhile, Harper began her meteoric rise in 2004, moving from the 887th most popular baby girl's name to the top 10 in 2015. Having been bestowed upon Aubrey Plaza's character in the much-buzzed-about season two of The White Lotus, we anticipate the name won't be losing its spot anytime soon.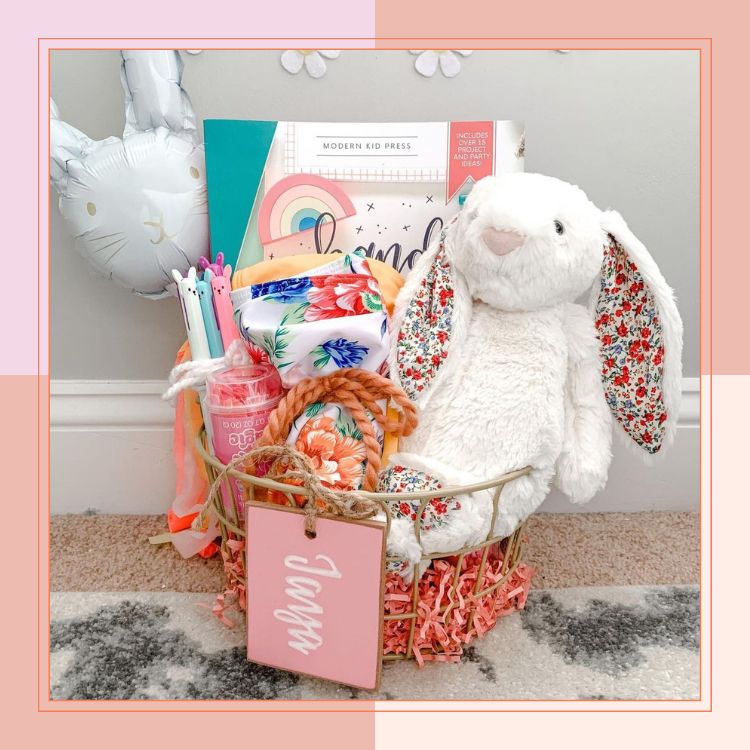 everything you need to get ready for the Easter Bunny's visit on April 9th! 🐰
If you're in need of some more baby name inspiration for a little one on the way or you're just curious to see what this year's trends might hold, look no further! Here are our predictions for the most popular baby names we'll see more of in 2023—from names inspired by current pop culture events to general baby name trends.
Baby Name Trends: 20+ of the Most Popular Names for 2023
Baby Girl Name Predictions
Alicent
Origin: Fictional (George R. R. Martin's A Song of Ice and Fire)
Like Allison… but make it fantasy. While the queen from House of the Dragon might be morally questionable, it's admittedly a pretty name and we'd be surprised not to see an uptick in usage.
Daphne
Origin: Greek
As one of the most talked-about shows of the past year, The White Lotus is sure to influence new parents. Meghann Fahy's character may result in a resurgence of the name that many once associated with the 90s show Frasier and, more recently, the main character in season one of Bridgerton.
Evelyn
Origin: English
Evelyn surged in popularity last year (it was the only new name to crack the top 10!). Could that be because it appeared in the 2022 film Everything Everywhere All at Once? If so, it'll likely to continue to rise as the film cleans up at awards shows.
Luna
Origin: Latin
Luna, which means "moon," has been gaining steam for a while. Whether that's due to the popularity of astrology, the sweet Harry Potter character, or some other reason, it's hard to say. Either way, its immense popularity made it the subject of a viral Tik Tok parody about Anthropologie product names.
Lyra
Origin: Greek
The heartbreaking young heroine of The Golden Compass book series gained relevance again with the final season of the TV adaptation of His Dark Materials, which came out in 2022.
Maeve
Origin: Irish
Nameberry says Maeve (which alludes to a queen of the faeries in Irish mythology) is trending, which is indicative of a general interest in wanting to honor cultural heritage.
Mei
Origin: Chinese
The 2022 film Turning Red was deeply moving for many Asian-American women who saw themselves in the young Meilin "Mei" Lee, and this may factor into the name-picking decision.
Selena
Origin: Greek
Selena Gomez, star of Only Murders in the Building, is said to be dropping a new album in 2023, which may inspire fans.
Tanya
Origin: Russian (from Tatiana)
Given how much love there's been for Jennifer Coolidge and her White Lotus character, it seems likely some would take inspiration from her character Tanya. The show itself is filled with female monikers we'd love to see more of this year, like Valentina, Lucia, Mia, and Portia.
Wednesday
Origin: English
Would it be a bit quirky to name your child after a day of the week/a character from a comedy-horror TV show? Sure. But then, plenty of people are named after months, so why not?
Baby Boy Name Predictions
Amadeus
Origin: Latin
According to some trend watchers, "maximalist" (think: long, grand, historically significant) names are going to be big this year, in part because of fantasy movies and shows.
Cassian
Origin: Latin
The premiere of Andor was to Star Wars fans what a new Beyoncé album is to the Beyhive. People lost their minds over the edgy new series, and we can imagine some will take inspiration from its protagonist, Cassian (or the actor, Diego).
Daniel
Origin: Hebrew
If you feel like you've recently heard this classic name more, it could be because the creators of Everything Everywhere All at Once are known collectively as the "Daniels." It could also owe its current popularity to actor Daniel Kaluuya from Jordan Peele's Nope.
Harry
Origin: English
When Prince Harry dropped his memoir Spare, the internet was quick to circulate shocked-face emojis about some of the confessions and stories revealed. While not all the press has been good, the name "Harry" has certainly been on a lot of lips.
Myles
Origin: Latin
Myles rose in popularity more than any other boy's name in 2022, according to BabyCenter.
Quentin
Origin: French
Also from The White Lotus, Quentin is an elegant-sounding name that might appeal to lovers of the "dark academia" trend.
Travis
Origin: French
Travis may scream early 2000s, but Blink-182 is going on a world tour in 2023 and supposedly releasing a new album. Nostalgic millennials might just feel the need to name their kid after one of their teenage heroes, drummer Travis Barker.
Gender-Neutral Baby Name Predictions
Carmen or 'Carmy'
Origin: Hebrew, Latin
The Bear was the binge-worthy show of the summer, and Jeremy Allen White's "Carmy" shone as the tortured and talented chef.
Legend
Origin: English
According to BabyCenter, Legend's ranking rose 28 spots last year. It's nothing if not an optimistic name, implying your progeny will go on to do great things (no pressure, babies).
River
Origin: British
River also jumped up the ranks in 2022, according to BabyCenter. Its popularity fits with two current trends: gender-neutral names and names inspired by nature.
Taylor
Origin: English
The name Taylor reached its peak in the year 2000 for both boys and girls (topping out at #10 for girls). Although Taylor's popularity has gone down since then, we wonder if the name might see a resurgence as Swifties become parents and Taylor Swift embarks on her 2023 Eras Tour.