Old Hollywood can be a great source of inspiration for baby names. If you associate a particular movie with cherished childhood memories, naming your child after a character or actor from the film could be a sweet way to remember them. Maybe you always watched It's a Wonderful Life during the holidays or sang tunes from The Sound of Music with your grandparents. Maybe you grew to love a film or star on your own. Perhaps, you just love the elegance of names from the golden age of cinema.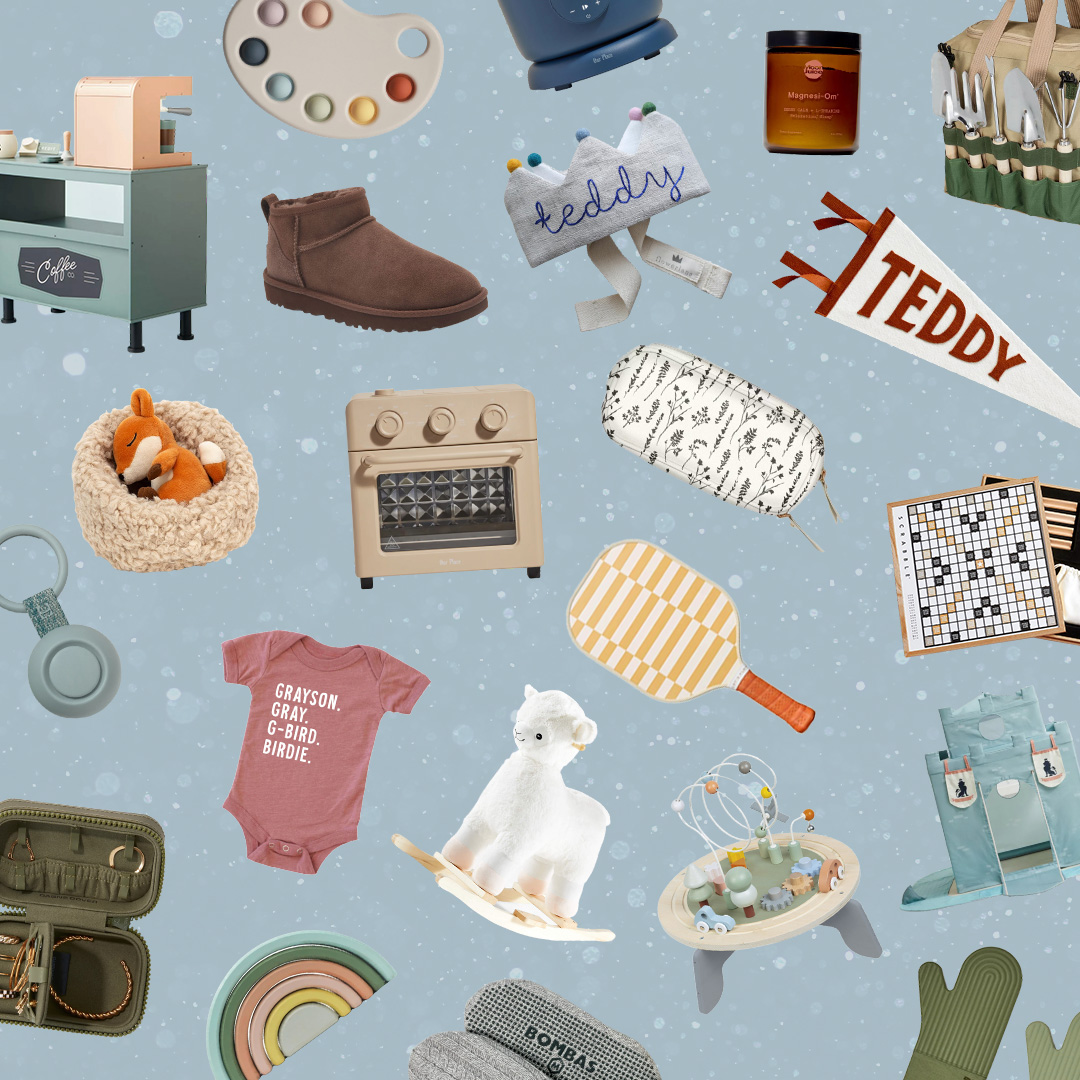 everything you need to ace holiday gifting this year 🎁
Whatever your reason, classic movies have many baby name options to choose from. Of course, between the many glamorous stars and the memorable characters they play, there are way too many names to list. So, below are just a few of our favorites.
Names for baby girls inspired by classic films
Anita
Origin: Spanish
Fans of West Side Story could take inspiration from the character of Anita, who was played flawlessly by Rita Moreno in the 1961 version of the film and by Ariana DeBose in the 2021 remake—for which she won the Academy Award for Best Supporting Actress.
Audrey
Origin: English
You can't get more classic than Audrey Hepburn, star of Roman Holiday, My Fair Lady, and Breakfast at Tiffany's, among other films.
Ava
Origin: Various
Ava, which is currently one of the most popular names for girls, was also the name of the legendary starlet Ava Gardner. Gardner starred in Show Boat, The Barefoot Contessa, and many other hit films.
Dorothy
Origin: English
Dorothy pays homage to the adventurous, pure-hearted hero of The Wizard of Oz. This movie somehow still feels magical and relevant despite being more than eighty years old.
Eliza
Origin: Hebrew
Eliza from the 1964 film, My Fair Lady, was a charming character. Additionally, her name means "joyful."
Esther
Origin: Persian
Esther appears in the Old Testament and means "star." It was also the name of the character played by Judy Garland in the 1944 Christmas musical Meet Me in St. Louis.
Glenda
Origin: Welsh
Imagine a child's delight when she learns that the glittering "good witch" from The Wizard of Oz shares her name.
Grace
Origin: Latin
Grace Kelly epitomized old glamor, starring in a number of Hitchock films and other mid-century hits.
Ilsa
Origin: German, Spanish, Dutch
Ilsa is inspired by the tragic heroine of the 1942 film Casablanca, often referred to as one of the greatest romance movies ever made.
Leia
Origin: Hebrew, Greek, Hindi, Hawaiian
With her commanding confidence, Princess Leia from Star Wars makes a very cool namesake for a modern girl.
Lena
Origin: Various
Lena is historically used as a nickname for many different names, including Helen, Alina, and Elena. It's also one of the characters from the seminal play and 1961 film, A Raisin in the Sun.
Maria
Origin: Latin
Maria, which has long been one of the most popular names in Latin America, pays homage to two beloved classics: The Sound of Music and West Side Story.
Sabrina
Origin: Latin
This pretty name references the 1954 film, Sabrina, starring Audrey Hepburn. (However, no one has to know if you're low-key more familiar with the 90s sitcom Sabrina The Teenage Witch.)
Vivien
Origin: Latin, French
The name Vivien, which means "lively," is shared by British actress Vivien Leigh. She's known for her roles in Gone with the Wind and A Streetcar Named Desire.
Zuzu
Origin: Czech, Yiddish
There's something fun and unexpected about names that start with "Z," and Zuzu, a character in the 1946 Christmas classic It's a Wonderful Life, is no exception.
Names for baby boys inspired by classic films
Bernardo
Origin: Spanish, Portuguese, Italian
The name of the smooth leader of the Sharks in West Side Story, Bernardo, means "brave as a bear." (If nothing else, it'd be a fun excuse for a teddy-bear-themed nursery).
Clark
Origin: English
The name Clark may bring to mind "The King of Hollywood" Clark Gable (and, for fans of The Postal Service, the song named after the actor).
Don
Origin: English, Irish
Don, the name of one of the characters in the delightful 1952 musical Singin' in the Rain, means "chief" or "noble."
Dean
Origin: English
Dean, which means "valley," nods to James Dean, star of Rebel Without a Cause, East of Eden, and many other classics.
Ford
Origin: Old English
For an unexpected choice, you could name your child Ford, inspired by Francis Ford Coppola's Godfather trilogy, as well as Harrison Ford of Indiana Jones and Star Wars.
Fred
Origin: German
This name is shared by Fred Astaire, widely considered one of the greatest American dancers in history.
George
Origin: Greek
George Bailey, the endearing, self-sacrificing protagonist of the holiday tear-jerker, It's a Wonderful Life, would make a meaningful namesake.
Luke
Origin: English, Latin, Greek
While Luke is a very old, Biblical name, it's now inextricable from the humble hero of the original Star Wars trilogy.
Samuel / Sammy
Origin: British
Samuel "Sammy" Davis Jr. was groundbreaking as a Black performer at a time when Hollywood was still highly segregated. Fun fact: He started his career in vaudeville at the age of three—not to put any pressure on your little guy.
Victor
Origin: Latin
The name of one of the love interests in Casablanca, Victor, means "winner" or "conqueror."
Gender-neutral names inspired by classic films
Cary
Origin: English, Irish
Before we all associated the name "Carrie" with Sex and the City or the '70s horror film, it was famously the name of actor Cary Grant. He starred in many movies, including four Hitchcock films. (Fun fact, his original name was Archibald.)
Sidney
Origin: English
Your boy or girl could share a name with legendary actor Sidney Poitier of such influential movies as A Raisin in the Sun and Look Who's Coming to Dinner.
Gene / Eugene
Origin: Greek
Fans of Singin' in the Rain and the 1915 film, An American in Paris, might associate the name Gene—a nickname for Eugene—with classic Hollywood star Gene Kelly.
Marlon
Origin: American
This name pays tribute to Marlon Brando Jr., who appeared in dozens of influential films during his long career, including The Godfather, Julius Caesar, and A Streetcar Named Desire.
Monroe
Origin: Scottish and Irish Gaelic
While Marilyn Monroe epitomized the mid-century starlet, her last name on its own could work as an unexpected and sophisticated name for a boy or girl.
Robin
Origin: English
There are more than two dozen adaptations of the Robin Hood story spanning from the early 20th century to today. Its significance bridges generations.