It goes without saying that pregnancy and becoming a new parent can have its challenges. One thing that makes these challenges more manageable is having people in our corner to rely on when we need a helping hand, guidance, or words of encouragement. And if we're really lucky, we have people in our lives who will do all of that and beyond. If you have someone throwing you a baby shower, you might be looking for the best baby shower hostess gifts to show them your appreciation.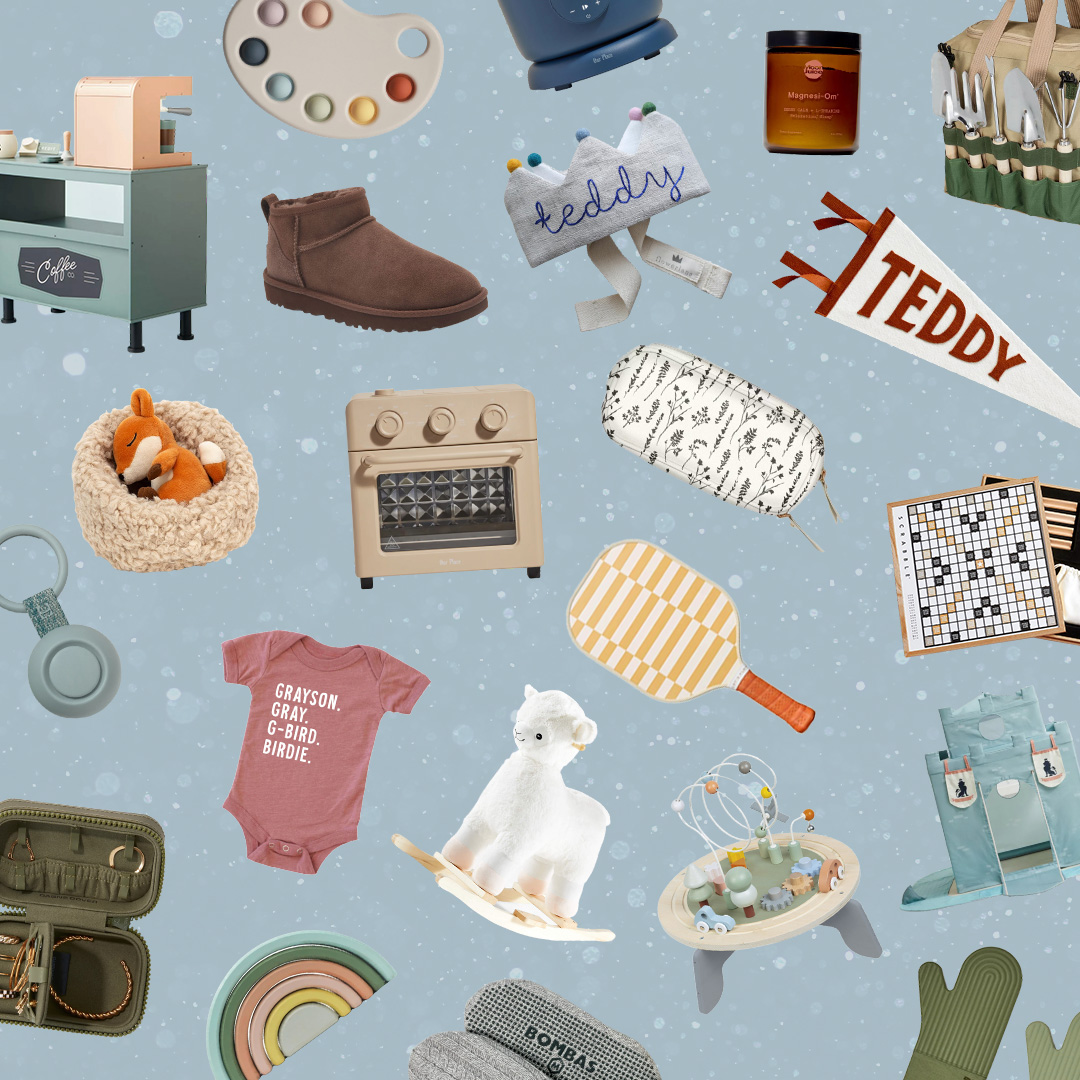 everything you need to ace holiday gifting this year 🎁
After all, one of the most special things a loved one can do for a mom-to-be is offer to host her baby shower. With any baby shower, lots of preparation, time, and money go into the planning. Plus, it gives us an opportunity to think about other things—like searching endless for baby shower dresses to find the perfect one. And while it may be difficult to truly show how grateful we are to our hostess(es), it can't hurt to try.
Although not required, it's always a nice gesture to buy a gift for the hostess of a baby shower as a token of our gratitude for their time and effort. Plus, there's no better way to make this person feel special than by hand selecting a gift for them. But where should you even begin thinking of the perfect baby shower hostess gift ideas? That's where we come in. We've rounded up the best of the best baby shower hostesses gifts for any mom-to-be to consider gifting to the hostess(es) of her baby shower. With options for a unique gift, a personalized gift, a gift she wants but would never buy herself, and more, there's a gift idea here for anyone.
Baby Shower Hostess Gift Etiquette
How we show our appreciation for our baby shower hostess or hostesses will depend on our relationship with them. It's important to remember that gifting is not required, but it is a nice gesture that's sure to put a smile on their face. When picking out the perfect gift for them, consider the following.
There's no need to go overboard. A small token of appreciation will go a long way.
A great time to present the gift is after the party, or you can simply leave it behind after the clean up for her to open later.
Including a card with a handwritten note is always a great addition to the gift.
If there are multiple hostesses, be sure to include a specific thank you note for each.
Whether choosing to give a physical gift or not, always be sure to thank the hostess(es) of the party in person.
Baby Shower Hostess Gifts
Herb Garden Kit
For the hostess with a green thumb, gift her her own personal herb garden she can keep right in her home. She'll love watching as the plants grow day by day, and will be excited to cook with the herbs she grew right in her own home.
Coffee Mug or Tumbler
Gift with their favorite brand of coffee or tea and this will make for the perfect, simple gift! Whether she starts her morning with a breakfast blend or Earl Grey, a thoughtful mug or tumbler from someone she loves will always start her morning off right.
Tote Bag
Consider gifting something she'll use all the time, like a functional tote bag. This is a great time to grab one she's always wanted but never committed to because of the price tag. If she commutes to an office or is always on the go, she's sure to appreciate it.
Dishcloths
With all of the fun, unique, and even comical dish cloth options on the market, there's sure to be one that fits her personality to a T. Functional items make some of the best gifts, and with a set of dishcloths that reflect her style, she'll love to put them on display. Wrap one around a bottle of wine for an adorably put-together gift.
Personalized Calendar
When the hostess is a close friend or family member, one of the most thoughtful gifts would be a calendar filled with photos. These are relatively inexpensive to make, but add a personal touch that she will cherish all year. Fill each month with shared memories, or big milestones in her life, and watch her face light up when she sees it.
Cookbook
If she's always spending time in her kitchen baking or cooking, gift a cookbook to add to her collection. There are the tried-and-true options, as well as one-of-a-kind cookbook options. Pick whichever fits her personality best.
Baby Shower Hostess Gifts for Multiple Hostesses
Vase with Flowers
No one I know will ever turn down a nice bouquet of flowers, especially when they're in a stunning vase. Even though the flowers will eventually wilt, she'll be left with a vase that she can use over and over again. Plus, each time she uses it, she'll be reminded of the special occasion.
Conversational Card Game
Ensure she never has a dull moment at a game night or dinner again. These card games are great to get conversations going at any gathering. Plus, it's something you can use together. Whether you've known her forever or she's a new addition to your life, these games prove there's always something new to learn.
Scented Candle
"I have too many candles!" said no one ever. Whether you know her favorite scent or pick a seasonal favorite, a scented candle is always appreciated. Plus, many come in adorable and fun designs that she'll love to put on display.
Gift Cards
Sometimes the best gift is giving them something of their choosing. Treat her to a guilt-free Target run, a well-deserved coffee or two, grocery delivery, or anything else that will make her life easier. Gift cards are also a great option because you can choose an amount that fits in your budget. Pair a Starbucks gift card with a reusable tumbler for an extra thoughtful gift.
Gift Basket
Putting together a nice gift basket is always a good go-to. Pick a theme, such as an at-home pampering night, and fill the basket with goodies. Include things like bath bombs, a bottle of wine, a cozy blanket, slippers, face masks, or nail polish—you get the idea! Show your appreciate for the hard work she put into planning the shower by giving her the gift of relaxation.
Luxury Hand Cream
Some of the best gifts are ones that we want but typically wouldn't buy for ourselves. Quality hand cream is the perfect example of a simple luxury that we often forgo for ourselves, but always appreciate when it's gifted, making it a perfect inclusive on our list of baby shower hostess gifts.