Most, if not all, moms will feel the urge to take a vacation away from their kids at some point—as they should. We need to normalize alone time. Ultimately, getting in touch with yourself again makes you a more present, happy mama and partner.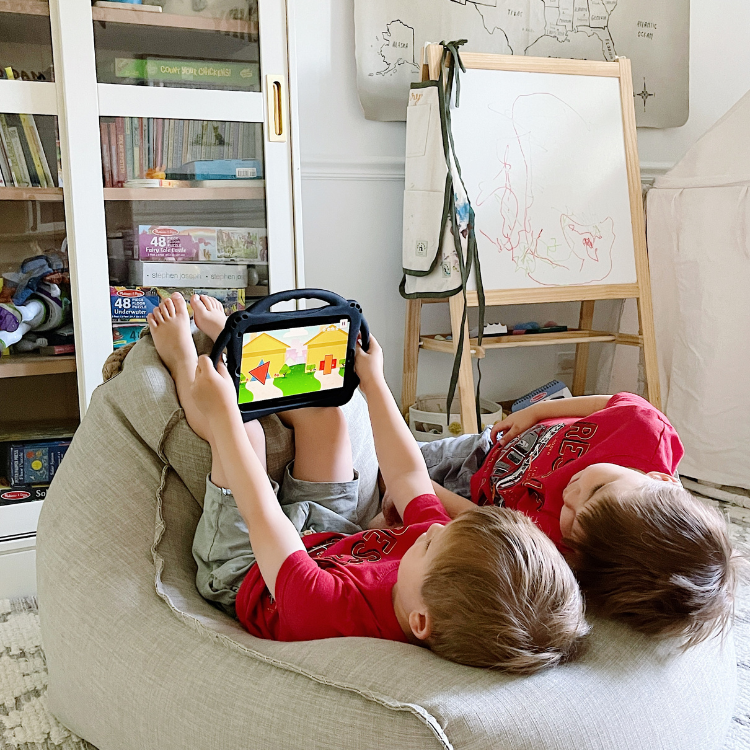 a pediatrician shares what she *really* thinks about LOs and screen time
There's zero shame in getting away for a couple of solo days. In fact, a weekend with no responsibility for anyone but yourself may be a much-needed break. It's an opportunity to simply not speak to another human being for a weekend if you'd like. Or you could explore another culture. Perhaps, you could challenge yourself physically. This may be your first time traveling alone, which can be empowering beyond belief. And if you want to spend two days wearing a bathrobe, in a spa, drinking bubbly, or reading a book, you can. Here are 12 of the ultimate stress-free places to spend much-needed "me time."
The very setting of this iconic resort is transportive. Indeed, it takes you far away from everyday life and into dreamy gardens and rolling hills of oaks and lavender. You can ride horses, paddle board, or take cooking classes. Then, unwind with soap and jewelry making in the Artist's Cottage. Afterward, spend time lazing by the pools or visit the 31,000-square-foot Spa Ojai to savor multiple treatments, yoga, and more.
This luxe beachfront wellness resort has the largest spa on the Eastern Seaboard. Its state-of-the-art services are geared toward things like relaxation, weight loss, and anti-aging. It also boasts a two-story indoor rock climbing wall and a team of board-certified physicians. This fall, the resort is offering an Integrative Emotional Wellness Retreat curated for women. Although, throughout the year, you can book a customizable retreat such as Serenity & Renewal at your convenience.
If you're a solo adventure traveler who doesn't want to be alone, Flash Pack's boutique trips might be for you. They are highly curated, guided group trips for up to 14 solo travelers in their 30s and 40s. These trips are designed to be stress-free but also involve experiences that would be difficult for a single tourist to access. These experiences include visiting a private aurora island on the Arctic Circle, making wine in Argentina, or hiking a secret route into Petra in Jordan. There are shorter itineraries, such as the 5-day Unknown Iceland or Mexico City Immersion trips. There are also longer trips to places from Morocco to Peru.
Japanese-inspired and endlessly peaceful, this adults-only wellness retreat is quite literally heaven on Earth. For treatments, there are 10 private spa hales, which are like individual villas, each with its own Ofuro tub, indoor and outdoor shower, infrared sauna, private plunge pool, and oversized massage table. Every experience is personalized, thanks to Sensei guides who help design your stay with purpose. There are tons of classes if you wish to be active. To wind down, don't miss the steamy onsen hot springs, which are hidden amid tropical gardens.
If it worked for Julia Roberts in Eat, Pray, Love, it might work for you. Bali is a place to find yourself and tap into healing vibes, meditation, yoga, healthy food, and more. Retreats are plentiful on the island, but this Ubud sanctuary is the pinnacle. You can get your core shaking in Pilates classes, hike down through lush jungle valleys to peaceful swimming pools, have Ayurvedic treatments, and melt tension with a Balinese massage.
Amanera, Dominican Republic
When R&R is the goal, the Dominican Republic is a very good answer. Especially this paradise within a paradise, which is designed as a place of peace. It's a major splurge, but most definitely a worthy one when it comes to breathtaking seascapes and available indulgence. The Amanera Wellness Casa offers transformative healing journeys inspired by the moon cycles, featuring plants used by the indigenous Taíno Indian shamans. There are also facials, scrubs, massages, and wraps that bring a tired mom back to life.
Set on 12,000 acres in the bucolic Blue Ridge Mountains, this luxury retreat is an outdoorswoman's dream. There are quiet suites in The Lodge, close to two restaurants, the spa, pool, hot tub, and observatory. Or opt for a rustic and remote treehouse above the Dan River Gorge, which promises maximum privacy and peace. Wherever you sleep, there's lots to do—hiking trails, horseback riding, mountain biking—or not!
When it's time to decompress and de-stress, wine aficionados should head to the source: Napa Valley. In adorable St. Helena, you'll find an idyllic wine country boutique hotel. The luxe rooms have divine terraces with fireplaces, well-stocked minibars, and the plushest robes imaginable. It's even for adults only! The hotel is surrounded by vineyards and wineries, so the juice is never out of reach, and the same goes for amazing food. It's an impeccable place to just be.
Rejuvenation and transformation are on the menu at this serene luxury wellness boutique resort and spa. Located at the base of a quartz mountain, it's dreamed up by bestselling author and health coach Diana Stobo. You can expect to be nurtured amid feng shui accommodations, yoga and meditation spaces, organic gardens, and farm-to-table restaurants. The 8,000-square-foot spa and healing center offers every type of treatment your body, mind, and spirit could ever crave. Treatments include facials using crystals, Ayurvedic therapies, bath rituals, chromotherapy, and a Turkish Hammam bubble ritual, to name a few. Plus, there are wellness packages such as the Art of Resting—something every mom needs to learn. 
If you like structure and sweating, sign up for a weekly program at this rigorous retreat. The Ranch originated in Malibu but expanded in 2022 to an ancient hilltop park less than an hour from Rome. It features a state-of-the-art medical facility and stunning hiking trails in a place known for its healing waters. The program is results-oriented and incredibly active, so don't go tired. Each day starts with a 4-hour morning hike but also includes nap time, strength and core training classes, yoga, and a daily massage.
Teleport to another time and place at this tranquil gem 45 minutes north of Chicago. It feels like a centuries-old countryside mansion in England. The service is as impeccable as the formal English-style gardens, adding to the escapist nature of the whole environment. It's especially nice for a busy mom who's used to waiting on everyone else.
Tuck into the traditional afternoon tea and bring a good book. For a little excitement, book a suite with a bathtub that fills from the ceiling. The Inn has a chief spirits officer who can teach you to make your favorite craft cocktail or walk you through vino or whiskey tasting in a hidden wine cellar. There are also complementary Electra bicycles for tooling along Lake Michigan. And instead of tucking the kiddos in, turndown treats here involve warm chocolate chip cookies and gin-and-tonic mixology kits, so you know you'll sleep well.
Moms in the tri-state area who can't travel far but want maximum relaxation should consider a stay at this Hamptons classic. Their reimagined spa uses the ocean's healing powers in treatments and amenities. These include the Atlantic-fed seawater pool, caldarium, vitality bath, and cold plunge—all with amazing ocean views. There are also tons of cardio options if you feel the need to earn your pampering à la bespoke, cutting-edge treatments.