How did mom of two Elizabeth Rees know her daughter Uma was ready for a big kid bedroom? When little Uma rejected her toddler bed and started sleeping on the floor (toddlers, amirite?). Describing both her daughters as "a force," Elizabeth knew she'd find a lot of inspiration for Uma's new room right in front of her—in Uma herself. Elizabeth also used her design expertise as founder of the wallpaper company all over your Instagram and Pinterest feeds, Chasing Paper.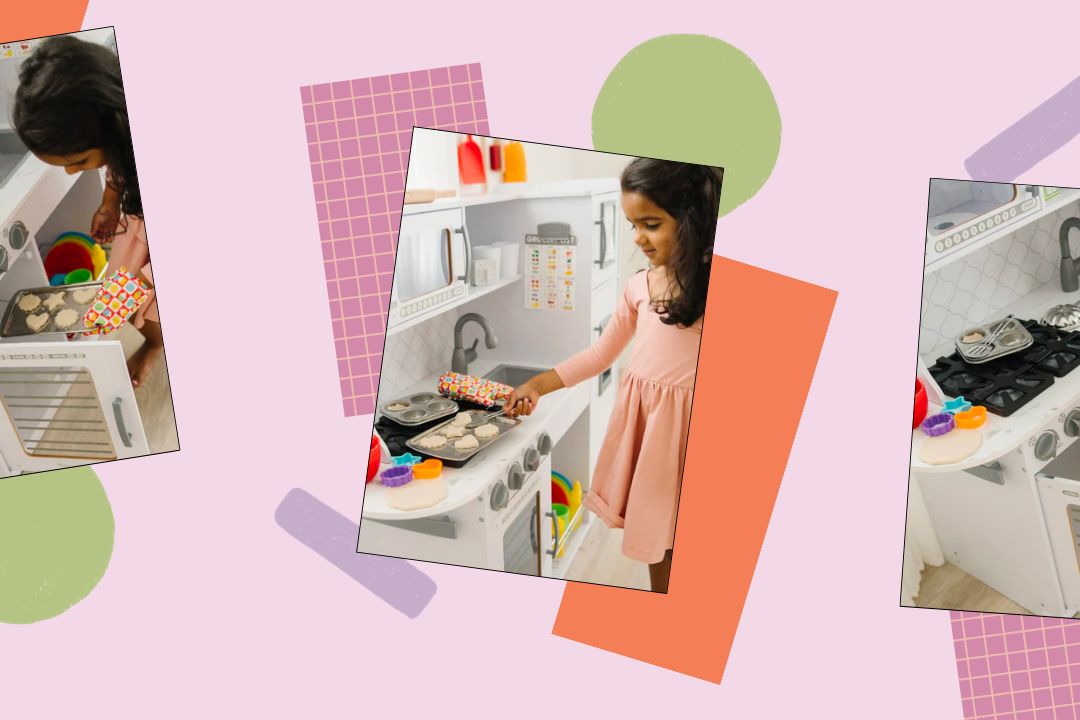 This bright, fun, imaginative space is an ode to Uma's personality as well as to her love of all things cozy. And Elizabeth did all the work herself, from painting the trim to wallpapering the walls to styling the bedroom with details special to her family. Read on for her tips on designing a bedroom your kid can grow into. Plus, shop Elizabeth's look if you're interested in creating your own bright and imaginative kid's space.
Name/Job Title: Elizabeth Rees, Founder of Chasing Paper
Location: Milwaukee, WI
Rent/Own: Own
Children: Uma and Marlow
Where did you find design inspiration for your daughter Uma's room?
I love mixing prints and colors and draw so much inspiration from designers like Meta Coleman; her design is so interesting, layered, and warm.
Was there a story or theme you wanted to create in this room?
Uma's nursery had more of a theme, but in this iteration, I wanted to be a bit more classic in the design approach so that it can grow with her.
What advice do you have for parents who want to transform their nursery into a big kid room?
Taking your time, bringing your child into the process, and doing some (or all) of the work yourself is so rewarding and gives that parent a personal tie to the room!
What part of the room are you most proud of?
I hung a piece of art next to Uma's bed that my grandmother gave me. Her great-grandmother is the matriarch of our family, and it's so special for that to be a little moment in Uma's room.
How did you capture Uma's personality in this room?
The inspiration for this room came from Uma—she is bright, fun, and imaginative. She loves to feel cozy and to read books. I thought the Plaid wallpaper in Mauve was just a touch of femininity, and the blue accents gave it a fun finish.
Is there a specific aspect of the room that has special meaning to you and Uma?
We love to be cozy. When I pick her up from school, she says, "Mom, can we go home and be cozy?" Meaning comfortable clothes, building a fire, having a snack on a blanket on the floor while coloring, reading, or watching a show! So I wanted this space to feel like a big hug—through soft lighting and rich textures.
How much time did the transformation take?
Two weeks! I wallpapered and painted a little bit each day leading up to the furniture install, and then took a few days to style things and find a place for everything!
You did the work yourself?! What was the most challenging part of the transformation?
Yes, I did it all myself—I think just finding the time was the most challenging part. Between work and two toddlers, I cherish my quiet times of the day, but it was so worth it.
What lessons did you learn through this transformation that you'll remember in the future, perhaps for a remodel for Marlow's room?
Not to rush it! I think we'll keep Marlow in her crib a bit longer, but Uma was very early to potty train so we wanted her to have access to the bathroom. Plus, she did not love her toddler bed (she started sleeping on the floor!), so we felt that a bigger bed was necessary.
We are obsessed with the wallpaper selection in this room, but we know a lot of people shy away from wallpaper. What would you tell people who want to try it?
Do not underestimate how transformative print is! Even a more subtle print brings texture and depth to a space that paint just cannot do.
What is Uma's favorite part of her new room?
Her bed! She asks everyone who comes over if they would like to see her big girl bed 🙂 She and I read books and snuggle every night, and I cherish this time so much.
Shop the Look
Elizabeth Rees Is The Everymom…
You previously shared with The Everymom that you wrote notes for your girls under the wallpaper in their rooms. Was your note found during the redesign? I wrote Uma's note in her bathroom, so it has not been uncovered yet 🙂
Is there a particular home trend you're loving this season? I love mixing prints and colors for a very layered, warm look—one step beyond cottagecore!
Latest show you watched that you couldn't press pause on? I just finished The Watcher and am still thinking about it—it was so scary!
Favorite song to listen to with your kids? My girls love CCR! Ha! I played "Bad Moon" one day in the car, and they call it the "buzz buzz" song and we have dance parties in the car.
What has been the most rewarding part of being a mom so far? Just seeing who they are from other people's eyes. They're both such forces, but hearing from a teacher that they're great helpers or kind to a friend having a hard time is very rewarding. I also just really treasure our family time—both girls very much notice, when all four of us are doing an activity, that "the whole family is here!" Having two working parents can feel like a ton of coordination and logistics, so to just be present together is such a gift.