Being a new mom can bring up a lot of emotions, and one of the most painstaking ones is deciding when and/or how you will return to work. For many first-time parents, their jobs were their passions—their first baby, in a way. Speaking from personal experience, while I missed my job and career, suddenly the thought of being away from my family felt heavier than ever. The combination of these two feelings can be polarizing and difficult to navigate.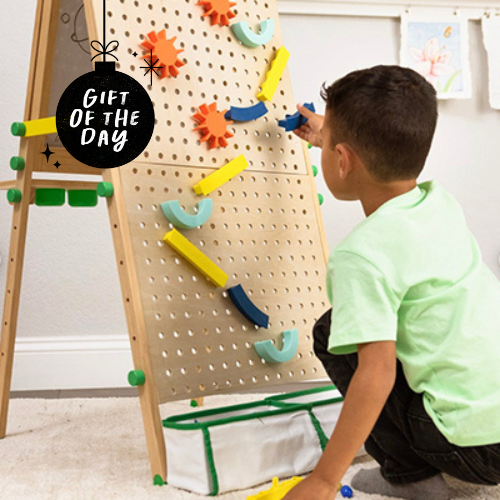 Art, fine motor skills, and fun all mixed into one great gift! Kids will learn engineering with the marble run but also get creative with the art easel mode.
However, there's a middle ground, and it starts with reimagining your career. It's unrealistic for yourself to assume you're the same person you were before baby, so it's equally unfair to put the same career pressures on yourself. By reevaluating what you're capable of and coming up with a plan that works for you, you'll begin to feel a new kind of balance that fulfills your needs as a mother and a career woman. Sometimes, you can even blend your two roles together.
Here are some useful ideas and options you can explore that might help you navigate your career and new motherhood.
Consider Child Care Options
For many women, their careers were already quite established before kids—especially those who had children later in life. This can make the transition even more uncomfortable, particularly for those who are the primary earners of the family. If you have the means to do so, look into all of your options for child care; from daycare to co-working spaces that allow you to bring your child into work to hiring an at-home nanny.
While it can be hard to let go of being 100% hands on as a parent, finding someone you trust to help you out will go a long way in helping you continue to thrive in your existing career. If you go this route, my #1 piece of advice is to always have at least two backup options. If you don't have friends or family nearby, that's OK! You can always post on some great apps, like Nextdoor, to see if there is anyone in your area who could do a nanny share.
Set Boundaries
If you're returning to the workforce, it's very important to set boundaries and ease back into your former role while balancing your new one. Everyone's situation is different (some of us are single mothers whereas some have support from family or in home child care), so have a conversation with your employer before you return back to work and discuss how your capacity may change once you return to work. 
For example, you may be less available to travel or head to a happy hour like you did in your pre-child life. Reassure your employer that you're just as committed to your role, but you'll be more selective with hours outside of your required work attendance. 
It's also just as important to tell your team what to expect from you as your return back to your role. By setting healthy boundaries right away, many mothers are able to ease back into the workforce and test the waters to find a reimagined system that's best for them.
Schedule With Precision
To avoid feeling like you're being pulled in two different directions, make sure your schedule is air-tight and communicate that schedule to your co-workers, boss, and family. As a mom and a worker, we're always flooded with tasks, and without proper communication, they can overlap. Let your family know when it's work time and when it's mom time and vice versa so that during your "mom hours," your work won't require your attention.
It's also important to prioritize every day. There's only so much you can get done in a day, and some things will inevitably fall by the wayside. Make a solid list in order of importance and do your best to go down the items one by one.
Of course, no one can predict a sick kid, sick caregiver, or anything else that might throw off your schedule. Prioritizing can help determine what can wait when obstacles come up.
Give Yourself Grace
While no woman's experience is the same when it comes to balancing career and motherhood, I'm a firm believer that any career can be reimagined and adjusted to fit your new lifestyle. Overall, it's so important to weigh each and every pro and con that comes with your specific role and prioritize accordingly. Don't be too hard on yourself for not being the workhorse you once were, celebrate your accomplishments daily, and recognize when you've taken on too much. By setting boundaries and communicating clearly with those around you, I promise you will begin to see just how possible a career as a new mom can be.