I have fond memories of running around Costco as a kid, grabbing handfuls of greasy appetizer samples and mini servings of candy. So, it's no wonder that up until recently I assumed these big warehouse stores were a place to go to buy enormous quantities of unhealthy foods.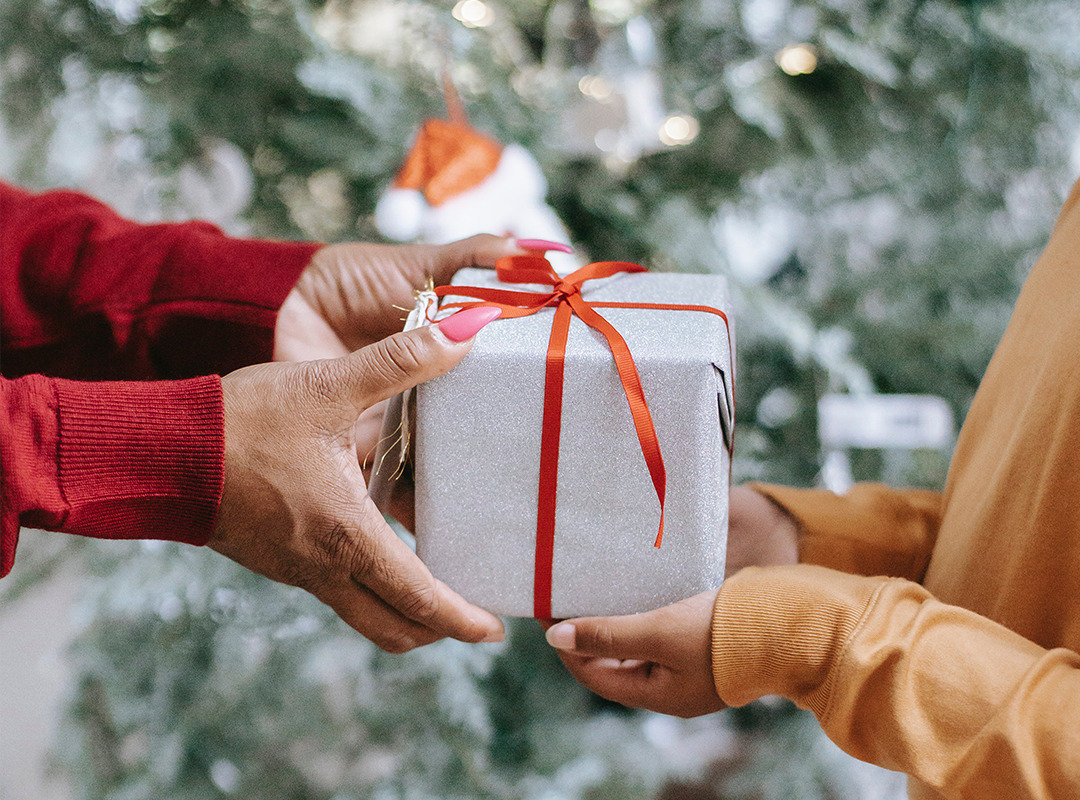 this makes gift buying so easy—trust us! 🎁
We recently joined Costco for the main purpose of buying diapers and wipes (fellow moms swear by the Kirkland brand wipes!), and I was pleasantly surprised by all of the healthy items available. I had no idea that many of my go-to grocery store buys were available at Costco. And yes, they are in much larger quantities, but they also come with a better price tag.
Here are 25 healthy Costco items to stock up on during your next visit.
1. Kirkland Signature Organic Virgin Coconut Oil
If you're a believer that coconut oil is the answer to all of life's problems, you might as well buy this 84 oz jar. Coconut oil is good for everything from sauteing and baking to moisturizing dry skin and even as a hair mask. With this massive container, you'll never run out of the miracle product that is coconut oil.
2. Kirkland Signature Blanched Almond Flour
If you're trying to cut back on white flour in your cooking and baking, almond flour is a great replacement. And this 3 lb. bag will last you a while. Use almond flour in baked goods, pancakes, Paleo breads, Paleo chicken tenders, and more.
3. Chosen Foods Avocado Oil
While not as well-known as olive oil, avocado oil is another great oil to have in your pantry. It's rich in oleic acid, is a heart-healthy fat, and is great to cook with. Because its fatty acids are stable at high heat, avocado oil is an excellent choice for high heat cooking. The smoke point is high meaning that you avoid toxins and trans fats. Use avocado oil for searing, stir-frys, broiling, baking, and roasting. Or use it cold as part of homemade salad dressings.
4. Bare Organic Apple Chips
It can be hard to find a crunchy snack that is actually good for you. Enter Bare! These apple chips are literally just organic apples. It doesn't get any simpler than that.
5. Hippeas Organic Chickpea Puffs
For cheesy-goodness that is actually dairy-free, grab Hippeas. They are made from chickpeas but taste like a good ole cheese puff. Delish!
6. Simple Mills Almond Flour Crackers
These nutrient-dense baked crackers are Paleo-friendly, gluten-free, and are a great snack on their own, or topped with a nut butter or spread.
7. Thai Kitchen Organic Coconut Milk
Especially if you're dairy-free, coconut milk is an excellent alternative. Use these cans in place of milk or cream in soups, smoothies, or even in your morning cup of coffee.
8. Organic Garbanzo Beans
It might sound crazy, but an amazing use of garbanzo beans is as the main ingredient in healthy cookie dough. Doubters, I hear you. How could mashed garbanzo beans taste like cookie dough? Give it a try and get back to me, because it is shockingly good. Beyond that, these beans are great to toss into salads, to bake up as a crispy snack, or to use as the base for homemade hummus.
9. Vital Proteins Collagen Peptides
For an extra dose of protein, mix Vital Proteins Collagen Peptides into your morning coffee or smoothie. The powder dissolves completely and has no taste. Benefits of collagen are said to include brighter and firmer skin, reduction of the appearance of fine lines and wrinkles, improved digestion, and an increase in joint and bone health.
10. Kirkland Signature Smoked Salmon
Take your at-home brunch game up a notch with smoked salmon. Pair it with scrambled or poached eggs, and you'll feel extra fancy. Smoked salmon is a good source of protein, contains B-complex vitamins, vitamin D, magnesium, selenium, and is a good source of Omega-3 fatty acids. Two huge packages of smoked salmon might seem overwhelming; feel free to freeze one of the packages for a later date.
11. West End Cuisine Grilled Mediterranean Style Chicken Skewers
When you don't have the energy to grill your own chicken, these skewers are an easy stand-in. Eat them right off the skewer or toss into a salad.
12. Aidells Chicken & Apple Sausage
Many sausage brands have added ingredients—like sugar, nitrates, maltodextrin, dextrose, and other hard to pronounce and unnecessary additives. Aidells skips all of that and is a tasty and healthy option. These are great chopped up and seared on the stove.
13. Kirkland Signature Pistachios
Nuts are a super healthy snack. But it can be easy to go overboard and mindlessly eat a thousand calories worth of nuts before you realize it. You could buy pistachios without the shell, but de-shelling each nut will slow down your snacking.
14. Kirkland Signature Walnuts
Another great nut to add to your snacking lineup: walnuts! Walnuts are rich in antioxidants, are a good plant source of Omega-3s, and promote a healthy gut, among other health benefits. Add to a homemade trail mix, toss into salads, or top your smoothie bowl or chia pudding with walnuts for a healthy crunch.
15. Kirkland Signature Organic Creamy Almond Butter
When looking for a quality nut butter, check that ingredient list. Some nut butters are full of added sugars, salts, and other unnecessary ingredients. This version is made of roasted almonds, and that's it.
16. RXBAR Protein Bars
These protein bars are made of a simple list of ingredients, contain 12 grams of protein, and are a perfect grab-and-go filling snack. Toss one or two in your bag or car to have on-hand if a desperate snack attack hits.
17. Kirkland Signature Organic Dried Mangoes
A naturally sweet snack, dried mangoes are a must for every Costco visit. Like nut butters, dried fruit can also include unnecessary additives, often sugar. Thankfully, fruit is naturally sweet and added sugars can and should be skipped. This dried mango has one ingredient: mango.
18. Happy Village Organic Sun-Dried Smyrna Figs
Another no-sugar-added dried fruit option, dried figs are a naturally sweet snack that are high in antioxidants and are a good source of vitamins A, C, K, and more.
19. Made in Nature Organic Dates
One more dried fruit option for you: dried dates! Snack them alone, add them to smoothies, or make fruit and nut power balls for a quick nutrient boost, like these Thin Mint Protein Balls—yum!
20. The Snak Yard Shiitake Mushroom
These are addicting, so beware when you open a bag. These crunchy shrooms contain no artificial ingredients, are non-GMO, and are a flavorful addition to salads or to snack on straight from the bag.
21. Nature's Earthly Choice Cauliflower Rice
Cauliflower rice is an amazing way to sneak more veggies into your diet, but making your own can be a real mess. These microwaveable pouches are a simple go-to for your vegetable rice needs. Costco also has a giant bag of frozen cauliflower rice to check out.
22. Kirkland Signature Organic Quinoa
Quinoa is a very nutritious grain and makes for a great side dish to any meal. Or make it the main event and create your own grain bowl. Quinoa is a good source of protein, fiber, manganese, among other nutrients and vitamins. Since you're going for the 4.5 lb bag, make a large amount on Sunday and add a serving to meals throughout the week.
23. Birch Benders Pancake and Waffle Mix
With 7 grams of protein, this is a pancake mix you can feel good about. Plus, it's super easy to make. Forget the eggs and oil, the only thing you need to add is water.
24. Kirkland Signature Three Berry Blend Frozen Berries
Fresh berries are delightful and all, but they go bad so quickly and also can be very expensive. Go the frozen route (frozen fruits and veggies have the same benefits as fresh) and grab this 4 lb. bag of frozen strawberries, blackberries, and raspberries. Add to smoothies or have has a refreshing frozen snack.
25. Fresh Produce
And finally, Costco has a great fresh produce section to peruse. You'll need to be strategic in this section as fresh produce doesn't have the same shelf life as many of these other products. Since the produce comes in large quantities, realistically think about how much you can eat before it goes bad. Consider buying a smaller variety of fruits and veggies than you might at a regular grocery store to ensure you can make your way through the quantity. It's helpful to buy things that you can freeze (like bananas) if you are overwhelmed by the amount. And be careful with your selection. If you buy items that are ripe (say, a 5-pack of very soft avocados), you won't have much time to make your way through. Aim for products that aren't quite ripe to allow yourself more time.
Honorable Mention: Rotisserie Chicken
It wouldn't be a proper Costco list without mentioning the oh-so-versatile rotisserie chicken. Grocery shopping—especially at Costco—can be exhausting. Have you ever been so tired after grocery shopping that you get home with all of your fresh foods and the only thing you want to do is order take out? It happens to the best of us. Throw a Costco rotisserie chicken in your cart and your post-grocery shopping dinner is done.