Many of us are asking ourselves, "How do I hold onto a semblance of normalcy this year?" Usually, this season is about celebrating with folks you know and love, but without holiday parties or big family gatherings, we wanted to help come up with some activities you can still do to bring you and your family some holiday cheer at home. And the right accessories can complement a festive night in—read on for some activity inspiration for the upcoming holiday break.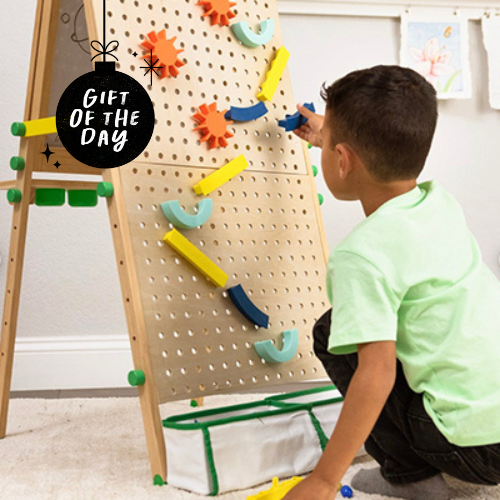 Art, fine motor skills, and fun all mixed into one great gift! Kids will learn engineering with the marble run but also get creative with the art easel mode.
1. At-Home Hot Chocolate Bar
Any night during the holiday season is immediately a winner when you add hot chocolate to the mix (pun intended). My sister taught me to mix my candy canes into the hot chocolate, making the flavor superior to anything I had ever known. I have always looked forward to cold weather because I had some delicious ways to heat up.
To help it become event worthy, splurge on the fancier hot chocolate and get yourself some personalized mugs. This company even has a shatterproof (AKA kid-proof) option. Curl up to a Netflix fireplace and blast the holiday songs while you sip.
Etsy | Blue Lion Design Shop
2. Cookie Exchange
While we can't necessarily do our epic group cookie bakes from previous years, it doesn't mean we can't exchange some holiday deliciousness anyway. I love baking and then dropping off the extras on my girlfriends' porches.
If you're anything like me and just like a good shortbread or sugar cookie, a new winter cookie cutter set will take your baking to the next level. My mom also used to put the cookies on special holiday plates. You can gift one to yourself and one for the cookie exchange.
3. Holiday Lights Tour
Growing up, my Hindu grandmother's favorite part of the holiday season was looking at holiday lights. We would bundle into the car and drive around looking at the beautiful lights in nearby neighborhoods. It grew to become everyone's favorite part of the holiday season.
Even though the pandemic has taken a lot from us, it's also shown us what things we can still do. Bundle up, pour some of that hot cocoa into a thermos, and make your rounds!
4. Themed Movie Nights
One of our wonderful readers, @kakmendiola mentioned a themed movie night! Muppets Movie Monday, or White Christmas Wednesday, for example. You can drink hot chocolate, share some cookies, slip into pajamas, and get cozy under your own warm fuzzy blanket.
One of the biggest arguments as we cuddle up around the TV in my house is who gets to claim the blankets. I like to have my own, but my husband always wants to share. I love this cozy option; big enough to share or have all to myself.
5. Matching PJ Game Night
Family game night has always been a great tradition. My family loved Trivial Pursuits, particularly the 1980s edition. Things would get heated, we'd laugh a lot, and in the end, we'd have no idea who won.
To give your family game night a festive flair, why not throw on your family matching pajamas? And see if you can make holiday rules for stand-by family favorites, like Pictionary, Charades, or Scattergories. For example, when playing Scattergories, give yourself the additional challenge of coming up with words that are holiday-themed.
6. Gingerbread Village
Our childhood gingerbread houses were a little … rough. I was in charge of decorating, and as the youngest child, my candy preference was maybe a little out there. I thought chocolate, peanut butter, gummy candies, sour candies, and everything in between tasted delicious all mashed into one.
With the cutest gingerbread kits out there now, luckily, things are a lot easier for parents. And you can make a night of it; instead of limiting your architecture dreams to a single building, why not go for a whole town? And enjoy snacking on any extra candies along the way.
7. Donation Goodie Bags
Another great suggestion from one of our readers was to create donation goodie bags with your kids. With the pandemic still enduring, you may have had to change your holiday donation plans or giving plans.
My family always used to work at a local shelter in person and adopted families for the holidays. Since in-person helping is likely out of the question, you can still adopt families for the holidays or create goodie bags for your local organizations. Sit down with your kids and brainstorm over what you think you should donate (if a list is not provided) and how you want to make it special for the holiday season.
While these items won't replace being with your extended families and friends, we hope that they will bring some holiday cheer. Maybe they can help you build some new traditions this year. No matter what the season holds for us, we are looking forward to sharing moments of love with our loved ones in our homes, and on our screens.
Want more ideas for safe family activities this season?