On a whim in March of 2020, I booked a flight for myself and my 8-month-old baby. My husband had a bachelor party, so I took advantage of my weekend solo parenting and decided to hop on a plane to spend the weekend with friends. I was a bit nervous about flying alone with a baby but was pleasantly surprised at how smooth the journey was that I vowed to do more traveling on a whim and book more flights.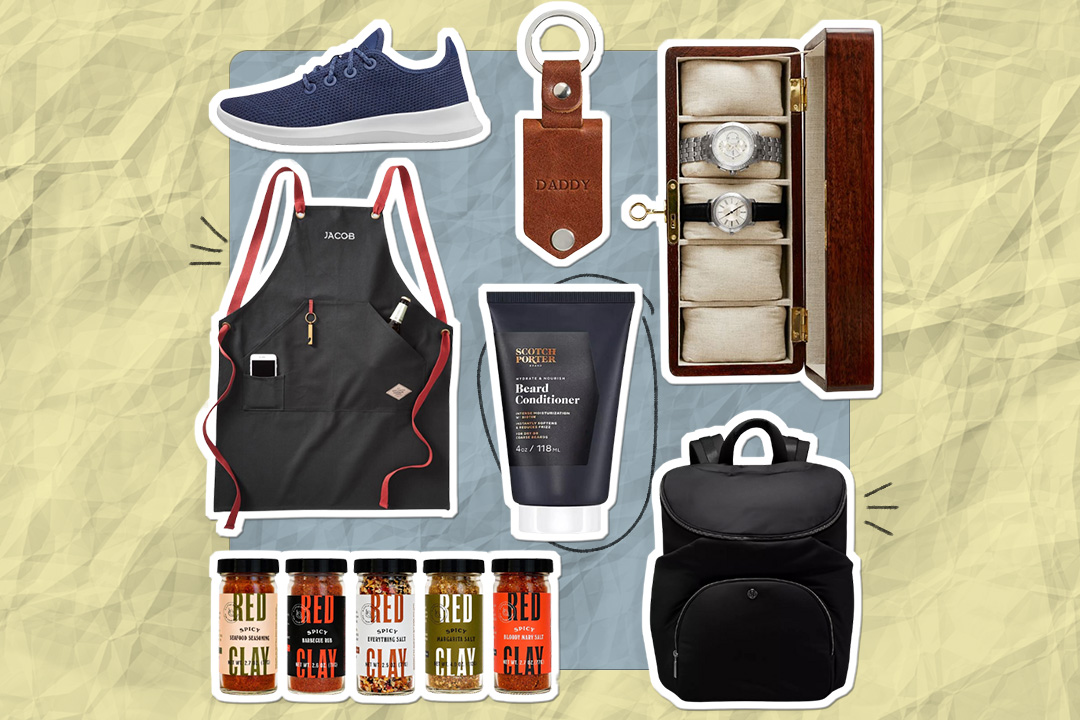 june 18 is coming up fast — have you started shopping yet? 😎
As you might guess, that was the last flight my baby took for nearly two years. When the pandemic hit, our travel completely halted. While I thought my daughter and I would be hopping on flights left and right, in reality, we stayed put for the better part of two years. Earlier this month, we felt comfortable enough to get back on a plane, but this time there were two kids, my now-toddler daughter and our almost 1-year-old son.
I was once again nervous about getting on a plane. Even though I wouldn't be doing it solo—my husband would be helping—traveling with two kids is no joke. Whether you're with or without kids, we're all a bit rusty when it comes to traveling. After lots of planning, asking for advice, and simply crossing our fingers hoping that our kids would be chill travel companions, we made it through our trip. I learned some things along the way as we dip our toes back into the traveling-with-kids world.
Looking for some advice for an upcoming flight? Here's what I have to share about flying with two kids.
Always give yourself extra time
It's not particularly fun entertaining your kids in an airport for long periods of time, but in my experience, this beats rushing through the airport in a panic to get to your gate before it closes. I like to work backwards and overestimate every step to figure out how early we should arrive at the airport.
Remember to calculate parking your car (if you're leaving it at the airport), checking in at the counter (often required with tickets for little ones), getting through security, potty breaks, filling water bottles, getting to your gate, and so on. Then, add some extra time for toddler unpredictability. You may find yourself bored at the gate, but it takes some stress out of the process as you meander through each step of your journey.
It's worth investing in quality travel gear
If you do plan to travel often, it's worth it to invest in high-quality products, especially if traveling with multiple kids. I've tried budget travel strollers as well as luxury versions, and I'm telling you that there's a major difference. If it's rare for your family to travel, you can get away with the less expensive items, but if it works with your budget, some of the splurges are worth it, as they will make for a smoother trip and will likely last longer. Items get beat up during travel, so durability matters.
Buy Buy Baby
This travel stroller is incredibly light, has a smooth ride, and amazingly fits in the overhead compartment. This is what I used on my recent trip and I love it.
Guava
This travel crib folds up super small and even fits into an airport-friendly backpack. The setup process is also a breeze. We use this travel crib, and I recommend it for frequent travelers or even if you want to keep it at home for when you have guests.
Make sure to have key items handy (pockets are your best friend)
I love a diaper bag backpack, but it can be impossible to grab necessities from a backpack while also wrangling multiple toddlers or babies. I recommend a belt bag or jacket with a lot of pockets in addition to your main bag. Only put the necessities in those handy spots and take note of exactly where they are. Another key thing to have handy are your children's birth certificates or passports. I keep a picture of my kid's birth certificates on my phone and have them favorited for easy access (often needed at check-in).
Fawn
This is a stylish way to keep your necessities easily accessible during airport travel, plus it's a great bag to have during your trip.
Rent or borrow when possible
Do your research before your trip and eliminate as many items from your packing list as possible. If you're staying at a hotel or rental house, ask about renting things like cribs, high chairs, strollers, and even toys. Some rental car companies will have rental car seats available, but some parents may not feel comfortable with this option. I was told by friends that it can be hit or miss, so we chose to travel with our carseats, but if you're feeling weighed down by all your luggage, consider renting those as well.
Combine as many bags as you can
Though it's impossible to pack light when traveling with kids, combine as many things as possible so you have fewer bags to manage. I can absolutely see how it's possible to completely forget about a bag you checked when you're traveling with so much stuff. Invest in large suitcases to avoid multiple smaller ones. And if you're checking car seats, you can use the extra space around the bag to pack extra items. Packing cubes are also a game changer when it comes to keeping large suitcases organized with gear for multiple kids.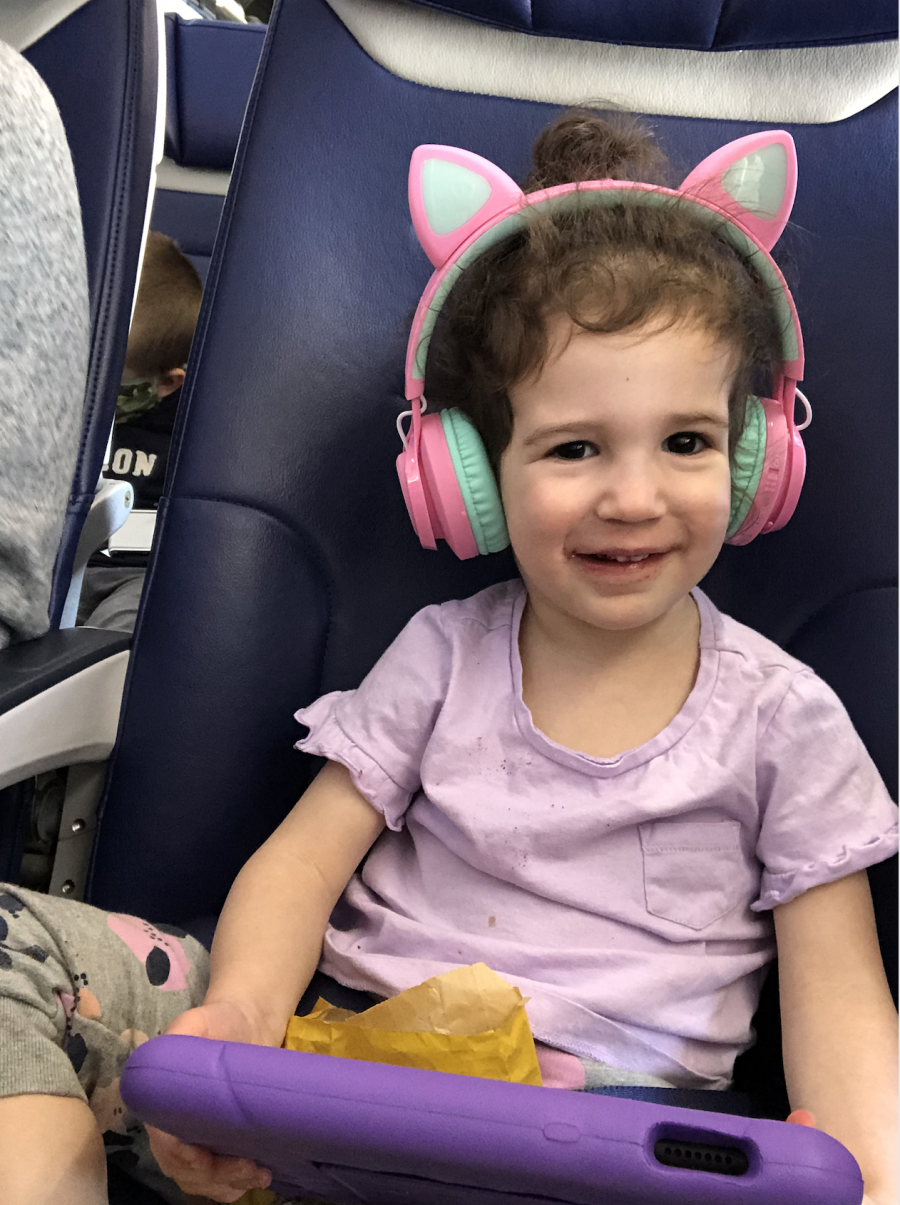 Pack light for the actual flight, but bring lots of entertainment
I recommend checking as many things as you can so you can have your hands free for your kids. So while I do recommend packing as light as possible in terms of what you're carrying on, I also want to emphasize the importance of entertainment and snacks for the flight. I assumed my toddler would happily watch her tablet for our entire flight (she loves TV, what can I say?). I was wrong. While she asks for shows every day, on the flight, she had no interest. It's always good to have backup items to keep kids entertained. I also recommend snacks that work for both kids because they inevitably are going to want whatever their sibling has.
Was flying with a toddler and a baby a breeze? Nope, it wasn't. While our journey was pretty smooth, it was still incredibly exhausting and a bit stressful. Will I plan to do it again? Of course. Though elements of traveling with kids are anything but a vacation, it's worth it for the overall experience, and I can only imagine it gets easier with time and practice.