With 2022 being the year of weddings after many couples had to put off their nuptials due to the pandemic, we believe 2023 may just be the year of traveling. We're ready to get back out there—and many of us have already! We can travel with kids via plane, on a roadtrip in the car, or even train (there's an idea!), and no matter what route we take, there's no time like the present to make memories together as a family. All parents deserve a vacation every now and then, and a family trip is one of those things that reminds us all of the tough moments are worth it.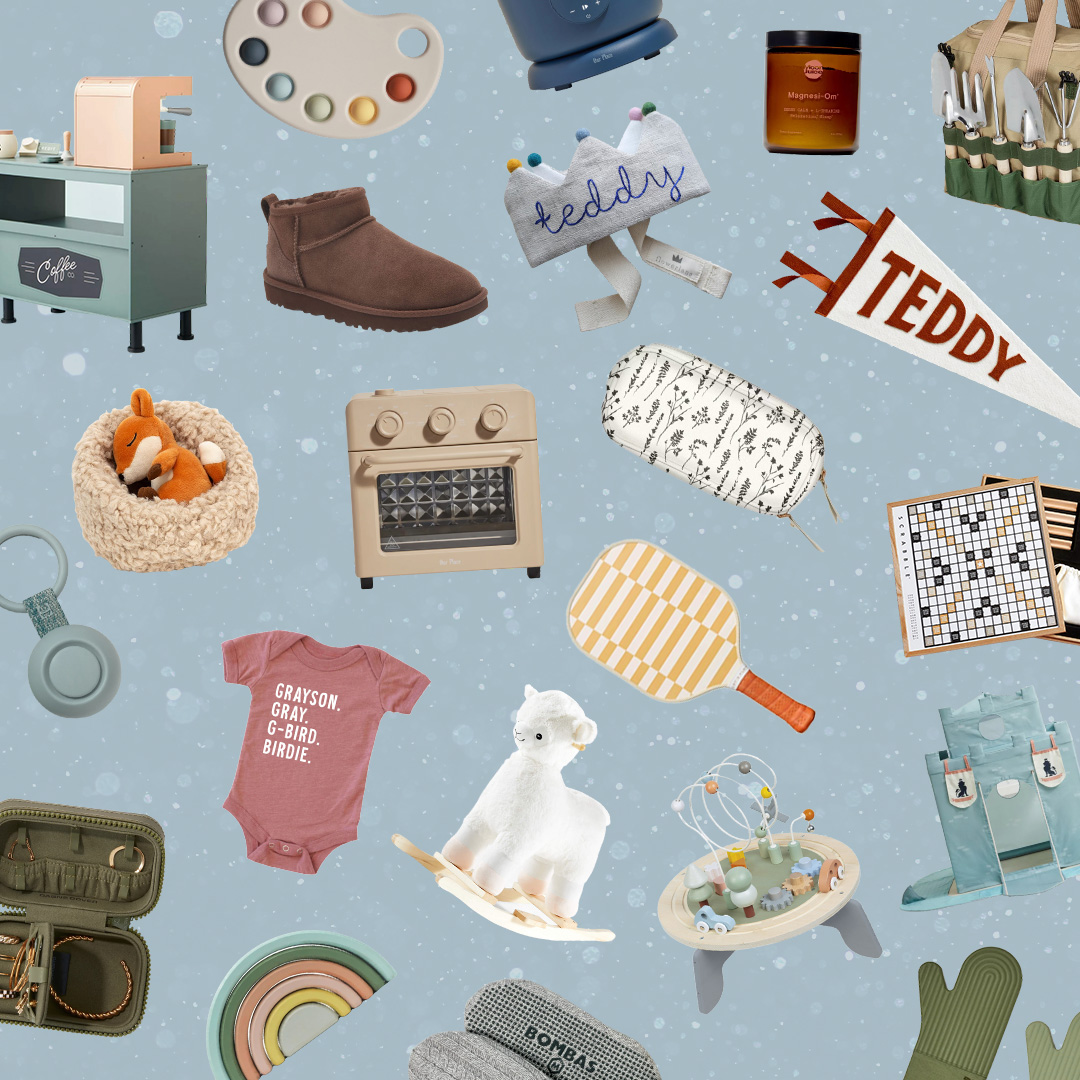 everything you need to ace holiday gifting this year 🎁
But, let's be honest, certain 'vacations' don't actually feel like a vacation to parents. Some destinations simply aren't kid friendly, meaning parents have to put in extra work to make sure everyone enjoys themselves. Not to mention, the hefty price tags on certain excursions and restaurants can add more stress onto a parent's plate than they had before they left. That's why we wanted to provide a list of the best places to travel with kids in 2023. To help narrow it down your search for the perfect family vacation, we've picked 13 destinations that will more than quench that thirst to see, feel, and experience something new with the whole family.
Best Places to Travel With Kids in the U.S.
Island of Hawai'i, Hawaii
Is Hawaii ever a bad idea? The 50th state offers the best of both worlds: it feels like a totally different country without requiring a passport or currency exchange. And ideally, you can show your kids that the Hawaiian islands are more than a collection of pretty beaches, leis, and drinks with umbrellas. The Island of Hawai'i is the perfect place to do just that since it's a bit less developed and retains a strong sense of old Hawaii. There are otherworldly outings to take, such as to the surreal lava flows of Volcanoes National Park, waterfalls, and snorkeling, plus resorts that will truly blow you away.
One of those is Mauna Lani, Auberge Resorts Collection, which has as much soul as it does luxury amenities. At the heart of the resort is a giant family pool, with a big green lawn for games or getting the wiggles out that stretches to the sand and sapphire Pacific Ocean. There are outrigger canoes to paddle as a family, plus surfing and snorkeling to try. The resort's Holoholo Kids Crew is the kind of kids club that makes you wish you were 6 again so you could join the fun (and if you have a 3- or 4-year-old, you actually can, since they require a chaperone!). They'll learn the Hawaiian language, hunt for crabs, make natural dyes, and check out royal fish ponds. There is also an island's worth of lovely Airbnb options at every price if you're a family who loves seeking out your own adventures.
Orlando, Florida
Orlando will always be a top contender on the best options when you want to travel with kids, and there's no better time to head there. Whether we're excited to reacquaint ourselves with Disney World or not, we're here to remind you that that's far from the only thing to do in Orlando these days. The Nona Adventure Park, with its inflatable aqua park and obstacle course, is most definitely another draw. Next to it is the Lake Nona Wave Hotel, which provides endless fun in the form of miles of nature trails (it's within a 17-square mile micro-city that's one of America's healthiest communities) and offers amenities like rock climbing and tennis, too. There's even a curated kid's library by the owner of the country's first social justice-driven children's bookstore.
Or opt for the Four Seasons Resort Orlando at Walt Disney World Resort, which you might never want to leave—especially if you can sneak off for a few hours at the spa, like for an Anti-Gravity Facial or Vibrational Sound Therapy. There's an Italian chef for all the pizza, pasta, and fresh bread you can stand and multiple pools (including, yes, an adults-only Oasis pool with underwater audio and hourly amenities). And bonus: There's a complimentary kids club daily from 10 a.m. to 6 p.m. for ages 4 to 12!
Seabrook, Washington
There's only one thing we should warn you about taking a vacation to Seabrook, the small but dynamic Washington-coast beach town less than three hours from Seattle, and that is that it may make you want to uproot your life and move there. There are miles of beaches, 17 parks, a community pea patch, hundreds of acres of mountain biking and hiking trails, an ice cream shop, old-school arcade, spa, and a Montessori school in this idyllic little enclave, not to mention 275-plus vacation home rentals that can fit two to 22 people. And they come with concierge services (someone to do your grocery shopping? yes, please!), plus a pool and gym, Pickleball lessons, and beach yoga classes.
In the summertime, a concert series in the amphitheater caps days full of outdoor fun: think surfing (lessons are available for your littles), skim boarding, stand-up paddle boarding, kayaking, fishing, and biking. Kids can also dig for razor clams—there are even guides for it!—and enter sidewalk-chalk contests. And day trip options abound: exploring 90-foot waterfalls, Lake Quinault, and Olympic National Park are just a few.
San Diego County, California
North to south, San Diego County is just plain cool. It's full of beachy gems and sunny escapes with skateboarders and surfers galore. There's fantastic food, often with a Mexican influence, and a super laid-back vibe that is very necessary on vacation. The town of Oceanside has heated up recently thanks in part to a pair of chic new hotels that includes The Seabird, a slightly preppy, East Coast-y beach house across from the pier.
There are local pros offering surf and skate lessons, and you can stand-up paddle board amongst sea lions at the harbor. The food scene is worth the trip alone and includes plenty of fare made with locally grown and caught ingredients. The Seabird's sister hotel even has a brand-new dessert shop in the Top Gun House, and there's a dreamy spa for mom. Farther south (passing Legoland California) in the center of the city is Town and Country Resort, a Palm Springs-esque getaway a couple miles from the famous San Diego Zoo Safari Park. The super family-friendly property boasts multiple pools, a four-story Twister waterslide, and s'mores on Friday nights, plus movie screenings for all ages on Saturday nights.
Telluride, Colorado
In every season, Telluride is incredibly charming. The former Victorian mining town in a box canyon still feels authentically Old West but is also a world-class ski mountain with slopes for literally all skill levels (not to mention outstanding instructors) and, when it's not snowing, hiking galore. You might even catch local resident Jewel singing in town!
Slope-side, Madeline Hotel & Residences, Auberge Resorts Collection encompasses all the magic in its stunningly redesigned common spaces, elegant yet comfy rooms, and pool with hot tubs where stargazing and s'mores are a must. They offer seemingly endless fun pursuits for all ages, from exciting active exploits like horseback riding, ice skating, sleigh rides, and backcountry dogsled rides in a literal winter wonderland to more low-key experiences such as foraging with the chef, candle-making, and a Little Explorers Spa Day. For young ones, there's also 20 Below, a colorful, creative kids hangout space with games, movies, and crafts so they can keep busy while you relax just a little.
Acadia, Maine
If the idea of Maine lobster and seafood boils, blueberry pancake breakfasts, s'mores nights, and oyster cocktail hours makes your mouth water, then you should book it to Maine for a glamping adventure that's magical for kids and adults alike. Terramor Outdoor Resort Bar Harbor just outside Acadia National Park has all that and more, like a pool, hot tub, and crackling fires. It's rustic but not too rustic, with Wi-Fi, outdoor showers, bunk beds, and private bathrooms in the wooden platform tents with canvas sides. It's fancy camping that the kids will dig, be it fishing, bird watching, stargazing, kayaking, crafting, or even logging demos. And parents, you get live music, morning yoga, and craft cocktails.
Another excellent option in the region is Under Canvas Acadia, set along 1,200 feet of pristine Maine coastline. The bright white safari-style tents are chic but cozy and just the right size for families of up to seven. In a way, it's like summer camp but if you got to go with your kids for birdhouse painting, scavenger hunts, fireside chats, bingo, beach volleyball, and sunrise yoga.
Albuquerque, New Mexico
Famous for a whopping 310 sunny days per year, Albuquerque is a rich holiday destination you may have never considered. The high desert is actually the hot air ballooning capital of the world, and every October, there's a spectacular fiesta dedicated to it. It's the trip of a lifetime to go up in one as a family, but if you're not sold on the thrill, then take the Sandia Peak Aerial Tramway to a 10,000-plus-foot peak for awe-inspiring panoramas and New Mexican sunsets.
There's plenty to do outdoors in the fresh air, including an ABQ Bike & Taco Tour, and Los Poblanos Historic Inn & Organic Farm—with 25 acres of lavender fields and a cult following for their products—is an idyllic place to base yourselves. The Rio Grande River Valley locale is a gracious family-run hotel and regenerative agriculture business with farm-to-fork meals, scavenger hunts, and a sweet collection of alpacas, peacocks, and sheep. A visit to the Indian Pueblo Cultural Center for dance performances and lessons as well as indigenous meals make for a fascinating and enlightening outing, too.
Mackinac Island, Michigan
Midwesterners have known Mackinac Island as the go-to summer destination for years now, but northerners and others alike can take in all the best that the beautiful state of Michigan has to offer. Not only can you find the classic island options like swimming and biking, Mackinac Island takes it a step further. Have the time of your life with beautiful hiking options, fairytale carriage ride tours, and one-of-a-kind blacksmithing experiences (yes, it's safe for the kiddos!).
The island is filled with Airbnb's and VRBO's galore, so take a peak to see if there's a perfect option for your family—but be sure to book early as they'll fill up quickly! Otherwise, book a suite in one of their many gorgeous hotel and resort options like Mission Point. Take advantage of the resort's daily Kid's Club from 4:30 to 7:00 p.m. and enjoy a well-deserved date night.
Outer Banks, North Carolina
Parents who can't get enough of the Netflix hit series Outer Banks will love spending a week living like John B. and the gang (sort of). While you may not be fighting for your life to find buried treasure, there is adventure around every corner in this North Carolina beach town. Plus, nothing puts a smile on little kids' faces than being steps away from the beach. In the Outer Banks, your family can spend days by the water splashing around and building sand castles, snorkeling, or even horseback riding—there won't be a day that doesn't end with a few "best day ever" compliments.
A great option for lodging in Outer Banks is the Beachwoods Resort in the Kitty Hawk region. It offers everything families could want, from an expansive outdoor pool, to tennis courts, and even a lazy river. Plus, if the weather isn't cooperating (knock on wood!), they also have an indoor pool, a spa, a game room, and an arcade.
Gatlinburg, Tennessee
A retreat to the Great Smokey Mountains of Tennessee might just be the trip everyone in the family needs. Offering the perfect mix of excitement and relaxation, this is a choose-your-adventure type of destination. Gatlinburg has been one of the best trips for kids for many years for good reason. There are options for the whole family. The adventurous outdoorsy types will like zip lining and white water rafting. Thrill seekers will have the time of their lives at the many amusement parks in the area, including the iconic Dollywood in nearby Pigeon Falls. Then for those of us who want to slow down and take in nature, there's plenty of hiking, as well as spas in the mountain region.
The best way to take on Gatlinburg is to do so the mountain way: in a cabin. But don't worry, we aren't suggesting you take your chances in a wilderness shack. Rather, rent a luxurious cabin through a company like Stony Brook Cabins. You won't want to ever leave these ultra-cozy lodges with incomparable mountain views and all the amenities you could want.
Best Places to Travel With Kids Outside of the U.S.
Lisbon, Portugal
It's true that Europe is full of attractive cities, but if there's one that feels like a true family destination, it's fairytale-like Lisbon. Home to trams weaving through colorful streets, the mouthwatering Time Out Market crammed with treats, an impressive aquarium (the Oceanario), and a real-life castle, Sao Jorge.
Take a fun Trafaria Praia Boat Ride on a work of art by a Portuguese artist and get amazing views of Lisbon's riverside. The gorgeous boutique hotel Martinhal Chiado makes the city even more perfect for travel with little ones, thanks to its Baby Concierge, an incredible service that helps guests pre-arrange their vibrant apartments (outfitted with rounded-edge furnishings) ahead of their stay, with life-savers like door protectors, potties, bottle sterilizers, safety gates, and more. The kicker, though, is free child care!
The hotel boasts a screen-free playroom that looks like something you'd see in a design magazine, with interactive sensory toys and professionals offering complimentary supervised child care for 3- to 9-year-olds (it's 12,50€/hour for kids 6 to 36 months). For those 3 to 9, there are science experiments, musical games, and a themed challenge of the day, plus pajama party weekend sessions.
Antigua and Barbuda
If glittering sunshine, electric water, and snowy beaches are what fill your daydreams while doing laundry and cooking dinner, then Antigua is the place to run away to. Just kidding, but really—you can take your family, too. The Caribbean waters around it are crystalline so you can see the coral reefs without even trying. This is the kind of West Indies island where families go repeatedly for generations. Curtain Bluff is all-inclusive resort, which equals a vacation for your brain.
Bury each other in that perfect Caribbean sand, see who can spot the most tropical fish in the shallows, and race crabs—there's nothing but time and nowhere to be. The CeeBee Kids Club (for ages 3 to 10) is a super fun way for children to mingle with others during property excursions, crafting, board games, and Hobie Cat sailing. There's child care on hand for evenings, so parents can truly let loose over cocktails, long dinners, and starlit dancing to live music.
Vancouver Island, Canada
If anyone in the family is remotely interested in sea life, then get yourselves to Vancouver Island, STAT! Whale watching off the coast of British Columbia should be an as-soon-as-possible kind of vacation—it's that outrageously amazing. The ocean's super-impressive creatures aren't the only reason to visit this western slice of Canada, especially in the summertime. Take Victoria, where Fairmont Empress is a fairytale experience in and of itself, in a glamorous waterfront city known as the City of Gardens. Up and down the island are incomparable First Nations experiences that will leave a lasting impression and open up a whole new world and perspective to your kids.
And in Tofino, wannabe surfers will love hitting the water for lessons in wide, friendly Cox Bay, home of an annual Queen of the Peak competition for all female surfers—goals! Pacific Sands Beach Resort is right there practically in the waves too, with beach houses that happily hold entire families (and also have a full kitchen), barbecue grills, and hammocks, plus beach cruisers for rides to the iconic taco truck Tacofino. Go fishing, foraging, or on a guided search for black bears—it's truly the best of the beach and wilderness in one.