When first-time mom Carly was designing her baby daughter Ainsley's gender-neutral nursery, she focused on mixing modern pieces with some traditional furniture — and the result is nothing short of gorgeous. After purchasing a serene baby blue rug for her little girl — which she claims is her best HomeGoods find ever! — Carly perfectly decorated the rest of Ainsley's bedroom with items from Pottery Barn Kids, Serena and Lily, and Target and even incorporated a few special family momentos into the decor too.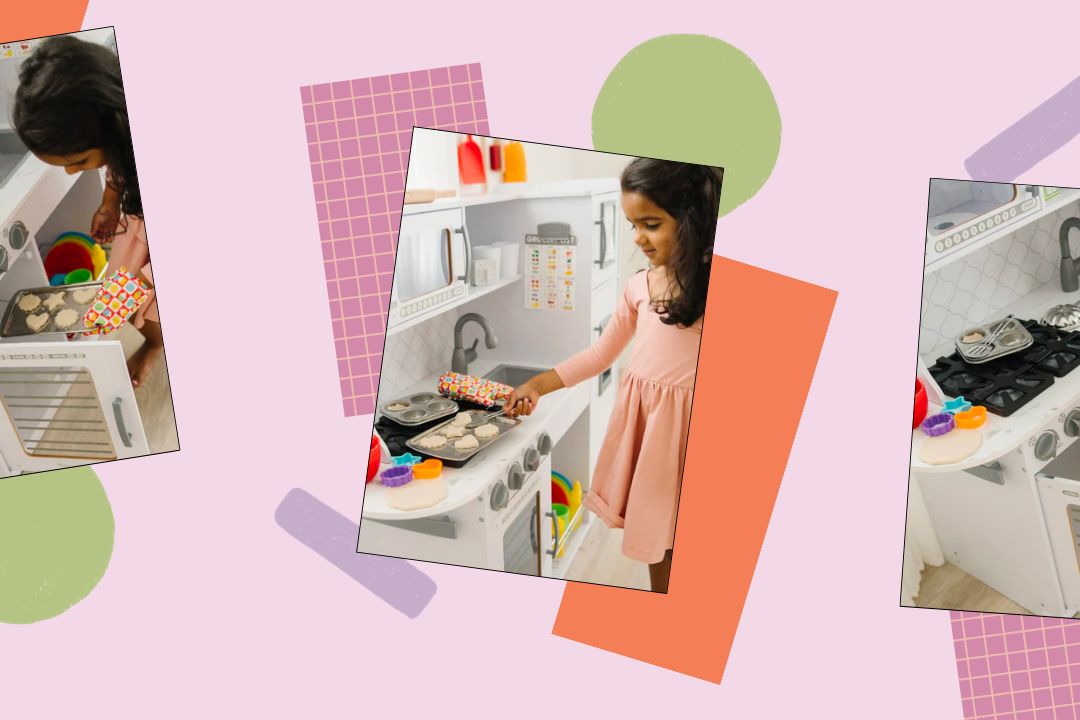 Keep reading to find out the touching ways Carly honored her late mother and brother in Ainsley's nursery, learn her easy DIY tip for sprucing up old furniture, and check out this working mama's best hacks for being her most productive self day-to-day!
Name: Carly Ritt, Influencer Relations Manager at Kohler Co.
Age: 30
Rent or Own: Own
Room Sq. Footage: 168
Location: Mequon, WI
Children: Ainsley, 12 months
What was your first job and how did you land it?
My parents introduced me to Irish dance when I was 5 years old. I don't think they anticipated that I would stick with it for 20 years! I competed and performed for about 15 years and then transitioned to teaching and performing. I was a performance manager and principal dancer for the Trinity Irish Dance Company before starting my next career in the advertising world.
SHOP THE LOOK
How has your career evolved over the years and how has it changed since you became a first-time mom?
I actually majored in Elementary Education at UW-Madison. I adored working with kids but also started a lifestyle blog on the side during my fifth and final year. I had this nagging feeling that I could also really enjoy a career in public relations and/or social media. While in Japan on an Irish dance tour, I decided I wasn't going to apply for teaching jobs and began my search for an internship in Milwaukee. My blog helped me land a PR internship at Cramer-Krasselt (C-K). I worked there for six months, but unfortunately, they couldn't hire me full-time. The stars aligned and a teaching job opened up at a school one mile from my parents' home where I was living at the time and trying to save money. I got to teach first grade for a year — my absolute favorite elementary grade level. 
While I loved working with kids, I still wanted to pursue another avenue and felt like it would be easier to come back to teaching as opposed to teaching for 10 years and trying to start fresh. C-K had an opening and I was able to join the PR team full-time. I worked there for 2.5 years and then switched to the corporate side at Kohler Co. in January 2017. 
Becoming a mom has been rewarding in so many more ways than I ever could've imagined. I always talked about work-life balance but had the hardest time letting go of work. I would put in crazy hours and let it affect me outside of the office. I admittedly threw myself into work after my brother and mom passed away. I much preferred to keep my schedule crazy, so I didn't have time to process everything that had happened. 
While there will never be a perfect balance, motherhood has reminded me that work is just work and being Ainsley's mom, a wife to Bill and a daughter, sister, friend, etc. is so much more important. I want to be remembered for what I was like as a person, not what I accomplished in the office. 
How would you describe your decorating style?
I'd say it's pretty transitional. I always thought I was more traditional but gravitate towards modern, clean lines. I prefer to mix and match different styles while incorporating pieces I truly love. 
What was your original vision for Ainsley's nursery? Did it turn out just as you anticipated?
Honestly, I just wanted it to be a room that you walked into and smiled. I wasn't quite sure what to expect because I didn't have a final vision or layout in mind. I made a handful of mood boards but struggled to make decisions. 
My first purchase was the rug, and it's still my best HomeGoods find to date. I clearly like having blue in a little girl's room, but I was also convinced we were having a boy at the time. Besides the rug, I kept things pretty neutral and tried to make it a calm oasis.
And for what it's worth to any moms-to-be reading this, her room wasn't "done" until she was about 1.5 months old (and I was still making changes at the 11 month mark) so even though I was set on trying to get it done before we had her, everything worked out A-OK.
Where did you draw decor inspiration from when creating Ainsley's nursery?
I turned to some of my favorite moms I follow on Instagram for inspiration including @meghall, @alainakaz, @ashleylulli, @lizadams, @crystalinmarie, @chrislovesjulia, and @daniellemoss_.
SHOP THE LOOK
What are your go-to places to shop for decor?
Pottery Barn Kids, Ballard Designs, West Elm, CB2, McGee & Co, Serena & Lily, One Kings Lane, Wayfair, plus Target and HomeGoods, of course. 
What is your favorite piece in Ainsley's nursery and how did you find it?
The dressers. My mom bought a full bedroom set off of Craigslist for my last apartment in college. We had them painted by a family friend and picked out knobs at Hobby Lobby to spruce them up a bit. I still remember telling her that they would be perfect in a nursery one day. 
You sadly lost your mom to cancer two years ago and tragically lost your brother in 2016 — how are you honoring your family in your home and specifically Ainsley's nursery?
Throughout the home, I have photos from our wedding day. I love to walk Ainsley by them and talk her through everyone in the pictures. I want to make sure we bring them up in regular conversations with her. 
Within her nursery, you can see we have several penguin items. There was an inside joke with my mom and her friends involving penguins (I'll keep the story amongst them), but the penguins have stuck with us these last few years. I adore the two little prints above the dressers, and my sister gave Ainsley the penguin rocker for Christmas last year. She loves it. A family friend also painted the beautiful roses next to Ainsely's closet as a nod to my mom (Rosie). They brighten up the room and were such a thoughtful gift. 
My dad's basement, unfortunately, flooded at the end of last year, and while cleaning it out, he found the wooden train and helicopter which were my brother's toys. I love having pieces in her room that I can tell Ainsley were Uncle Kevy's. 
Since you and your mom spruced up Craigslist dressers together, what are your best tips and tricks for DIY furniture or decor items?
Ha! I think I may not have shared the whole story here 😉 The only work we did was getting the knobs at Hobby Lobby. While I think we could've painted them ourselves, sometimes you just need to know when to ask for help. Life was a little crazy during that time, and adding another thing to our plate wouldn't have been our best idea. That said, we had fun picking out the knobs and switching them out as soon as we got the dressers back.
Is there anything you'd change about the functionality or design of Ainsley's nursery today?
I love the room the way it is. If I had to pick one thing for other moms to consider, I'd point out that if you're repurposing an older dresser, the larger drawers don't open as smoothly since I can't just pull one knob to open it. This didn't bother me at first but has been more of a challenge now that Ainsley's older and wants to roll over the second I set her down on the table. There is very little time to grab anything in the drawers so every second counts. 
SHOP THE LOOK
What nursery furniture or decor items do you think are most worth investing in?
Our glider was worth every penny (it also helped that we scored it during one Pottery Barn's big sales for about half off). My husband, Bill, still wishes it was a recliner — although he feels that way about every chair in the house. 😉 I originally was worried about a recliner because I didn't want to fall asleep nursing her in the early months, but it would be pretty nice at this point on those nights where she's coughing or super congested and will only sleep on one of us. 
And while not necessarily furniture or decor, we invested in having the closet redone, and I'm so glad we did. I opted to keep the closet doors off because, 1) I didn't want to pay for doors on top of all of the other home projects we were tackling at the time, and 2) I pretty much have the heart eye emoji face every time I get to look at all of her sweet clothes and shoes. It also makes it much easier to grab a quick book or stuffed animal. 
There were already blackout blinds in this room, but if there hadn't been, we either would've installed those or purchased blackout curtains — so important! 
How do you think Ainsley's room will evolve as she continues to grow?
I've already been rotating out the pouf/ottoman in front of the glider. The original pouf we had started shedding everywhere and wasn't practical with her trying to pull up on any and all furniture. 
She has a fun play area in the basement, so I think I'd like to keep her room more of a relaxing space for her. I'll likely add some lower shelves to make her books even more accessible. And maybe even add in a cozy little reading nook for her to curl up and read in one day.
How did you come up with Ainsley Rose's cute name?
My aunt ended up having three boys but shared the girl name they had picked out and never got to use — Ainsley. They discovered the name thanks to a character on The West Wing. The day my aunt told me the name, I came home and shared it with Bill. Neither of us had heard the name before but loved that it was unique while not totally out there. We knew we wanted her middle name to be Rose after my mom Rosie and loved the ring of it. We still kept brainstorming other names but kept coming back to Ainsley and knew it was the one.
How do you handle work-life balance while also making time for self-care?
I'm still working on it every day, and I don't think I'll ever find the perfect balance. Most days, I feel like I'm not giving my whole self to work or my family, and it's physically and emotionally exhausting. I have days where I drop Ainsley off and daycare and cannot believe I still have an entire workday ahead of me. Regardless of how the day goes, either picking her up at daycare or walking in the door at home and seeing her little feet kicking with excitement and huge smile can wipe away any frustrations of a long day. She makes it all worth it.
The most important thing for me has been trying to say no to more commitments. It's hard, but I'm trying to make time for just the three of us and not let our calendar become something we dread looking at because it's so full. Time with friends and family is always fun, but some weekends spent at home are just what we need. 
At 12 months of motherhood, I'm still trying to prioritize "me" time, but that was hard for me even before having Ainsley. So, while I might not have my Saturday go-to workout or get massages/facials as frequently as I would like, I try to do little things just for me throughout the week. Sometimes that means going to HomeGoods on my lunch break or indulging in some Pizza Hut breadsticks after a long day. My mom always put others before herself, and while self-care is such a hot topic these days, I love that I have that part of her is instilled in me and don't want to feel guilty about that. 
SHOP THE LOOK
What are the greatest challenges and rewards of being a working mom?
My biggest challenge is always wanting to do more in my professional life and as a mom. One of my personal goals this year at work and home is to focus on prioritization to make the most of my time in the office and with my family. I'm also trying to set realistic expectations. I don't have meal planning done every Sunday and a lot of the times I have four loads of dry laundry that sit unfolded for at least three days. Some days getting the extra time with Ainsley and/or extra sleep is more important than responding to work emails at 10pm or cleaning the bathrooms. I have to figure out what is most important to me that day and what will re-energize me or help the most going into tomorrow.
That said, I like to think that being away from her during the day really does make me appreciate the time with her even more (not to say if I was a stay at home mom I wouldn't, but I hope that makes sense). I get home, leave my phone in my purse or on the counter, and am 100% present with her and Bill. And while starting daycare was really hard (for me, not so much for Ainsley fortunately), I am thankful that she has time to interact with friends her age on a daily basis. 
When it comes to being a mom, what are you most insecure about and what are you most confident about?
We're not in the thick of toddlerhood so I'm sure this will shift very soon, but overall, what I fed Ainsley was a big insecurity to me. I was most insecure about transitioning from breast milk to formula. I wholeheartedly believe fed is best, but there was something ingrained in me that made me feel guilty when starting the transition. I started the process around four months and then Ainsley was getting formula full-time by six months. And you know what? She was more than OK, and I kind of wish I would've started the process earlier. 
Introducing solids was also a bit overwhelming. I was seeing so much about baby led weaning in my Instagram feed but didn't feel comfortable with it. I started with oatmeal and purees and then started mashed solids. I didn't want to do something just because it was what a majority of the new moms I followed on Instagram were doing. You need to do what is best for you and your family. 
While I might not prep the best food for her all week long or have pre-planned activities on the weekend, I sure do love her, and I feel really confident in knowing I show her that every day. 
If you could only pick one, what has been your favorite memory from motherhood so far?
I wish I could bottle all of them up, but I'd have to say watching her start to push her walker around 11.5 months and seeing how excited, proud, and confident she was. I swear she grew up so much in just a minute and watching her personality develop is so much fun. 
Can you share with us a few mom hacks you rely on to make things work in your day-to-day life?
1. Prep as much as you can the night before. You'll never be mad at yourself for spending 10 to 15 minutes tidying up or packing food for the next day, and you never know what surprises you'll have in the morning with a little one. 
2. Get the car ready for baby (and mom!), too. Before Ainsley wakes up, if I'm doing daycare drop-off, I'll put my chai and water in the car so I don't forget them (almost as important as the baby) and make sure her car seat is ready to go so I'm not messing with the straps while holding her.
3. Always have the diaper bag ready to go. If I use anything from the bag, I make sure to replenish it that night so I'm not scrambling the next time we need it.
4. Use Siri for reminders. My mind is all over the place, so even while I'm driving to work, I'll say things like, "Remind me to call Katie at 5pm, remind me to find the HomeGoods receipt at 7:30pm, remind me to schedule Ainsley's doctor's appointment at 7am." I give it an exact time, so I actually see it and don't just have it on my running to-do list. Most of the time I use this for everyday items, but you can also use it to remind you to text someone happy birthday (even if it's not for another month) or to cancel a subscription prior to your free trial ending on a specific date. 
Carly Ritt is The Everymom…
Favorite family tradition? Walks in her Radio Flyer wagon in our court after we get home from work and daycare and slow Saturday mornings curled up in our bed after Ainsley wakes up. 
I can't leave the house without… Ello water bottle and lip balm
Your dream vacation?  Banff!
Last home item you splurged on? I just bought new chairs, pillows, and curtains to make some more progress on our living room. It only took me six months and a little liquid courage to hit purchase one night. 
Guilty pleasure? Hallmark movies, cookie dough straight out of the package and Pizza Hut breadsticks.
Most embarrassing mom moment? Probably when I panicked the first few times at the doctor's office and couldn't quickly answer when they asked me for Ainsley's birth date or how to spell her name. I would just stare at them like they asked me a question in a foreign language. 
I wish I knew how to… sing. I would gladly change places with Carrie Underwood or Adele for a day and sing to everyone I run into because who wouldn't want to hear their angelic voices? The good news for me? Ainsley has no idea what a "good" singing voice sounds like so I can sing as loud as I want at home and in the car. 
Favorite date night activity? Grabbing an Old Fashioned and appetizers at a local bar. 
Best mom advice you've been given? Ignore unsolicited advice (or take it with a grain of salt), give yourself some grace, and try to clearly communicate your needs.