With so much time spent at home, it's not surprising that many families are using this as an opportunity to do DIY home renovations.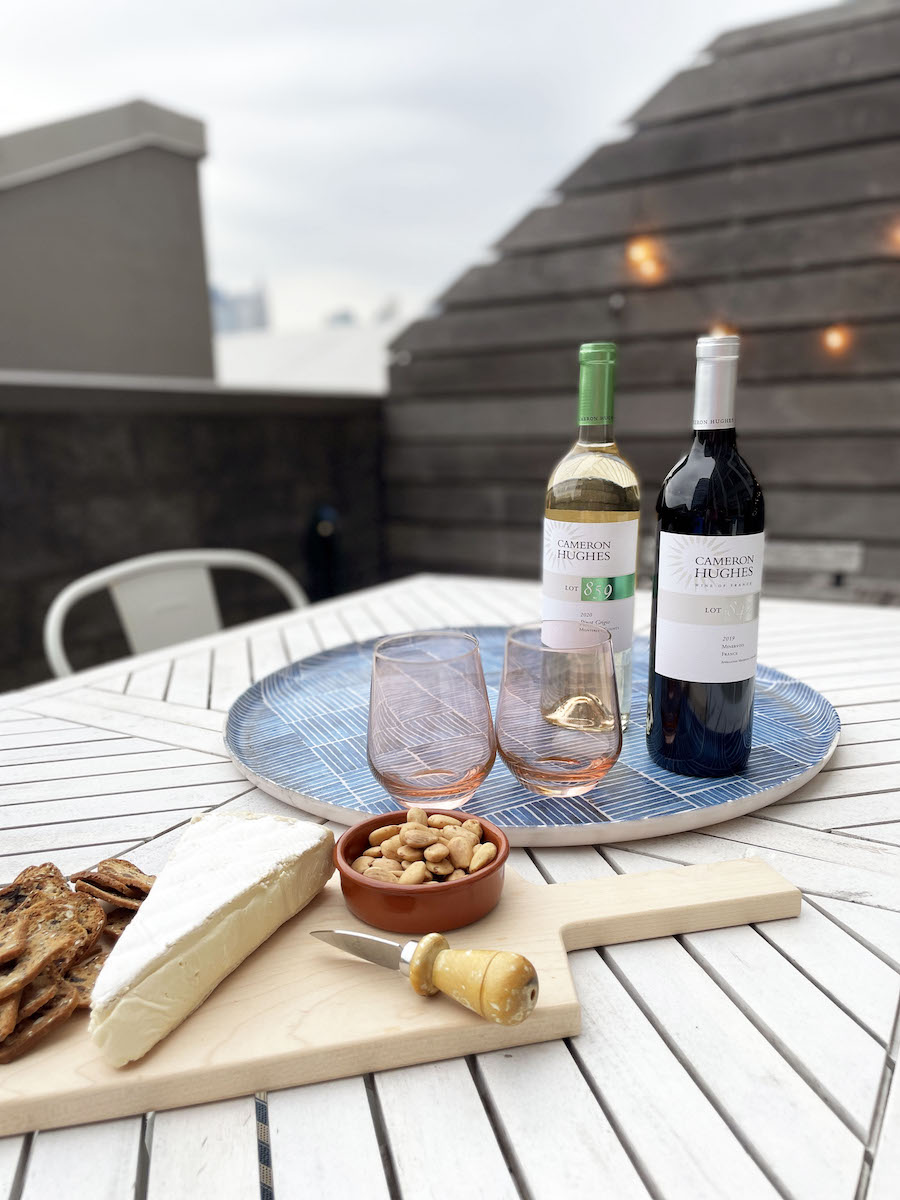 plus, the wines to go with them! 🍷
I love seeing the before and after photos of spaces, making a fixer-upper seem dreamy and approachable. I currently live in a rental, which makes home improvement projects a little tricky. If you're in a rental, maybe you can't do big and permanent projects like homeowners can, but there are some home improvement projects you can take on. I've lived in many rentals over the years, including some New York City apartments that needed some serious love, so I know my way around rental-friendly home renovations.
For fellow renters looking for a project, there are some easy updates you can make that won't cost a lot of money and won't interfere with your lease agreements.
Before we jump into these projects, here are a few tips to keep in mind with rental home projects.
First, if there is anything you're even a little unsure of, review your lease agreement and speak with your landlord or management company before getting to work.
Next, if there are permanent updates you want to make, it's likely that these will then increase the value of your rental. Reach out to your landlord, explain the project you want to do, and how it will increase the value.  Ask if they would be willing to cover the cost of the upgrades and allow you to remove it from your rent. For example, if you're going to add a backsplash to the kitchen, maybe they'll let you subtract the cost of tiles from next month's rent. You never know, and it doesn't hurt to ask!
And lastly, if your landlord isn't on board with big changes, or you'd rather stick to small superficial changes, consider ones that use products you can bring into your next home. If you update knobs and lighting fixtures, the investment you put in is worth it since these items can stay with you, even in a new home.
If you're ready to jump into rental-friendly projects, here are eight ideas to get you started:
1. Paint an accent wall
If you aren't planning to live in your rental for a long time, painting can be a big job that may not be worth the effort. Instead of painting the entire interior, painting just one wall can make a huge difference.  You may have to paint the wall back when you move out, so decide if it's worth the effort. Consider a bold color or even a design.
2. Use removable wallpaper
And to upgrade your walls without paint, removable wallpaper is a fun choice. Removable wallpaper is usually easy to take off, avoiding damage to the walls, but isn't typically reusable. Since most are not cheap, an accent wall is another good option here. When the time does come to move out, if there is already a new renter lined up, ask if they want to keep the wallpaper before you tear it down and move out. They might like it, and it's a nice way to pass along some charm!
3. Replace cabinet handles and knobs
If your kitchen cabinets are feeling outdated or a little boring, new knobs are a simple way to give your space some personality. Save the original knobs so you can put them back on before you move out.
4. Paint the cabinets
Basically anything that involves painting should go through your landlord first, but if they are on board, painting old kitchen cabinets can make a huge difference in how your kitchen looks. To do it the right way, allow for a few days to get the project done. You'll want to take the cabinets and drawers off, clean and potentially sand them, remove knobs, and depending on the material, use a primer.
5. Add a new backsplash
If your kitchen is bare-bones in design, a backsplash is a quick way to add style. There are simple options, like peel and stick sheets, that even the most novice of renovators can handle.
6. Plant a window box
Bringing plants into your home is an instant mood lifter and brings brightness into your space. Plus, you can always bring your plants into a future home. Add a windowsill garden to living room and kitchen windows.
7. Update faucets
Update your kitchen and bathroom faucets, giving you both better water flow and a fresh look. A new shower head is the perfect first step to turning your bathroom into an oasis. Again, another item that can come with you, so make sure you save the old faucets to replace before you move out.
8. Swap out light fixtures
And lastly, rental homes are notorious for having boring, old light fixtures. Find classic light fixtures that you love, and they will be worth the investment for use in future homes. This both allows you to change the look of your space and can help to make your home brighter.