Do you remember when you were young and childless and had–gasp–free time?! Does anyone else look back longingly on that time and wonder how you spent all that free time? Those were the not-tired days. Your current exhausted, hungry, mysterious-stain-covered self is laughing at your naive past self. Now, if you're lucky, you can get either a few minutes of self-care or a few minutes of basic hygiene.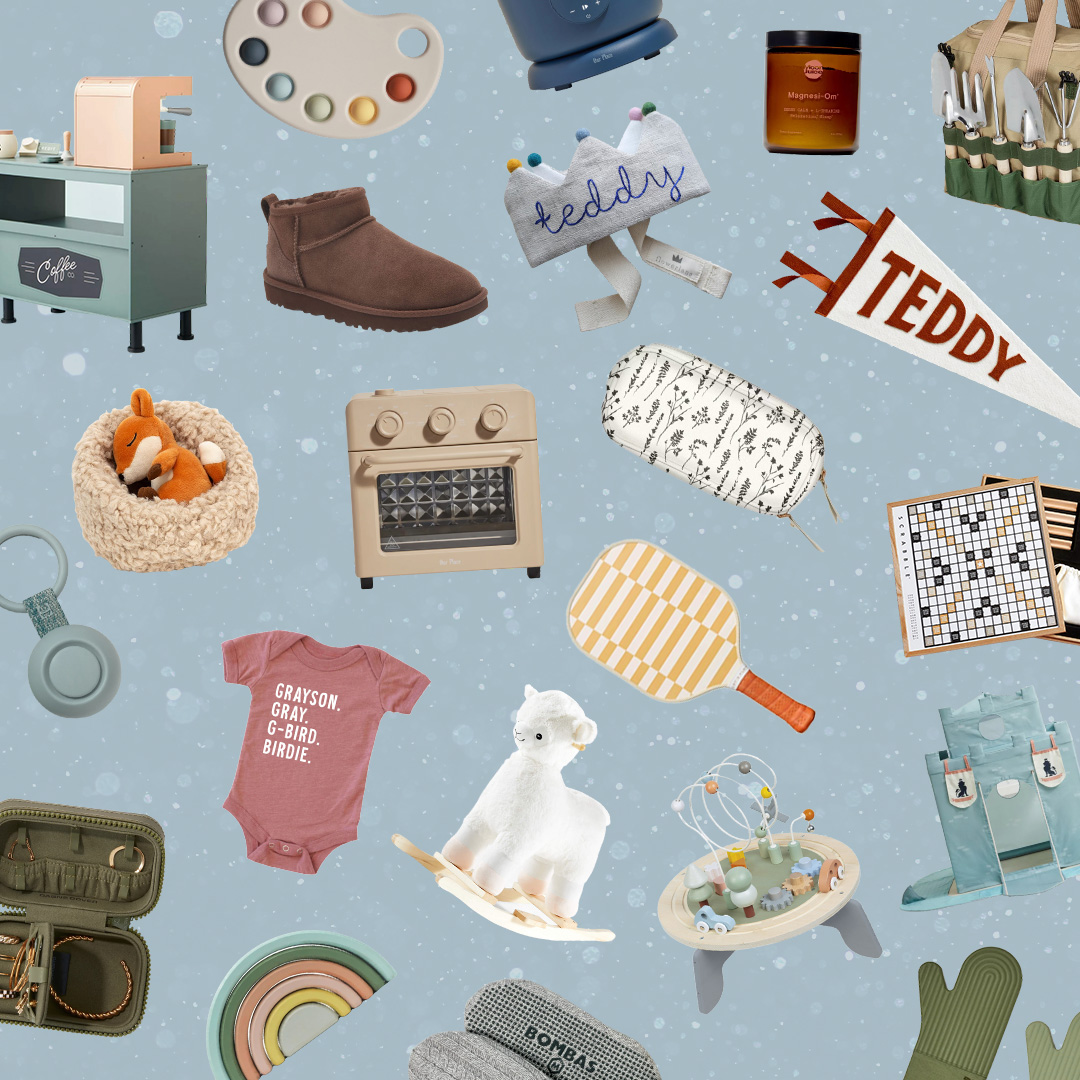 everything you need to ace holiday gifting this year 🎁
With less time and more personal care needed than ever, you've got to multitask, and putting in the effort to make your shower routine ~extra special~ will give you that extra boost of energy to manage the day and peace of mind that only comes with knowing you're treating yourself like the queen mother you are.
With a few tweaks to your shower routine, you can easily turn it into a self-care oasis. We'll show you how in six easy steps!
1. Make it personal
Think about the best shower you've ever had. For me, a nice hotel in Hawaii comes to mind. One with a huge central showerhead, shampoo that smelled like a spa, and a big seat to easily shave my legs on. It also had a speaker that let me play music or a podcast. Does it get any better?
Though we can't all recreate an epic hotel shower design, we can all make our showers more special based on what makes us happy. If you're a huge scent person, take the time to find products that smell amazing instead of grabbing what's on sale. It might cost you a few extra bucks, but if you're using it daily, it's probably worth it.
As for the other aspects, keep them personal as well. If you shave your legs regularly, don't suffer bending all the way over if you don't have a seat. A little stool that you can use on shaving days will make all the difference in terms of comfort. If you'd love to listen to a quick podcast or some tunes while you shower, get a waterproof speaker. Shower heads can easily be swapped in and out, even in a rental. Think about the aspects that make you happiest when showering, and find ways to include them in your own!
2. Keep it tidy
Not the most exciting tip, but taking a shower in a clean space is much more enjoyable than a dirty one—it's a fact. If you have a glass door, take the extra 10 seconds to squeegee it after each use. Recycle old bottles as soon as they're done instead of leaving a cluttered mess in the corner. If space is an issue, consider a chic looking shower rack like this one.
As far as physical cleaning, wipe down the shower weekly, using non-toxic products. After all, a clean shower isn't much of an oasis if it's lined with harmful chemicals and intense smells. Do a full-blown clean every two weeks, which should include wiping down bottles and scrubbing the grout (I know, the woooorst).
3. Pamper
Think of your shower as the time to pamper your entire body with self-love—which should include a beauty treatment every so often. It's always a good time to properly exfoliate (which can easily be done in the shower). Instead of rushing in and out, take a couple of extra minutes a few times a week to exfoliate. By ridding your body of dead skin cells, you'll notice much softer, smoother skin—plus the practice alone feels crazy good.
Dry brushing is amazing for detoxing, preventing cellulite, and supporting digestion, and should be done before you get wet. If you're not into that, these exfoliating sugar cubes smell delish and take about a minute to use while wet.
4. One word: eucalyptus
Eucalyptus bunches shouldn't only be reserved for the living room. With such a relaxing scent, the bathroom is actually the perfect spot to store these greens. Whether you get fancy and hang some from your shower head or simply vase a bunch on a stool, the point is to get the greens inside the bathroom.
Every time you shower, the moisture from the shower naturally waters the plant and your entire bathroom will smell like a spa—without the need of a candle or extra effort. Plus, it makes for a prettier bathroom in general!
5. Melt away
We're huge fans of soaking in the tub, but let's be honest, who has time for a morning bath? Not us! Luckily, there are ways to mimic that "I just soaked for 15 minutes" feeling. Enter: shower melts.
Made with essential oils, you can cater the melts to whatever you want—something uplifting for day time or relaxing for an evening rinse. Place one at the drain of your shower and go on with your normal routine. As the melts… melt… the oils evaporate into the air and fill the shower with the benefits of the oils. For the DIYers, they seem pretty easy to make, but you can also buy them already created.
6. Invest in good towels
For some reason, we're all willing to invest in sheets or a nice mattress, but we buy the cheapest towels—or the pretty ones that feel like cardboard—even though we use them daily. Do some research (we recommend going into stores and essentially hugging every towel) and find the material that feels best to you. Go crazy and buy the big size so that every time you hop out of the shower, you are genuinely happy to get out and dry off.