If you follow The Everygirl Media Group's cofounder and CEO, Alaina Kaz, on social media, you know a lot of creativity and planning goes into her home projects. From creating mood boards to testing designs out in Photoshop, it's labor that pays off in gorgeous room transformations—from her office to her kitchen to her sons' nurseries. Now, we're sharing the reveal of her gorgeous en suite bathroom remodel.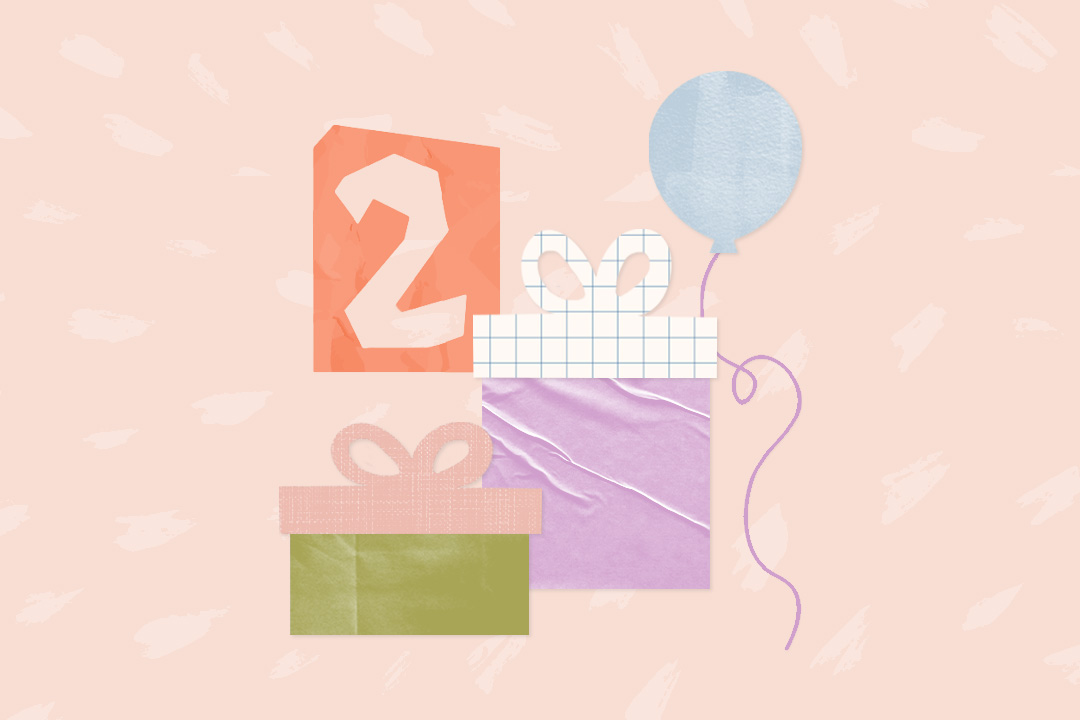 a LO in your life will love these! 🎁
For this space, Alaina knew she wanted a bathroom design that wouldn't feel dated in a few years. So she opted for a traditional, timeless style with investment selections and fixtures. You'll probably notice some of the bathroom's design details are giving off strong Bridgerton vibes, like the wooden stools and candle sconce near the tub.
The bathroom also needed some functional elements like extra vanity storage, a privacy wall in the shower (fellow moms of littles know why), and a tub for her kids' bath time and her own time to relax and reset. Read on for Alaina's fully remodeled bathroom reveal, lessons learned through the process, and plenty of before and after photos. Plus, you can shop her selections with ways to get a similar look for less.
Name: Alaina Kaz
Location: Chicago suburbs
Rent/Own: Own
Children's Ages: 4 and 3
Before we get into your amazing bathroom remodel project, can you tell us a little bit about your family, home, and overall decor style?
We bought this home in spring 2020 after looking for a year once our second son was born. The house had everything we were looking for in terms of bedrooms and bathrooms, a great location near the town and train line, excellent schools, and a finished basement. The house is fairly traditional but has needed some updating from its original 2002 finishes, so we've slowly been tackling one room at a time for the past two years.
What elements of the bathroom weren't working that you wanted to change?
Functionally the bathroom was great with the exception of a faulty toilet and my desire for more storage. When we went to renovate, we kept the footprint exactly the same but wanted to bring the 2002 design into the 2020s. As you can see from the before picture of our vanity, I was excited to add a lot more storage to that space. And we swapped the built-in jet tub for a freestanding Kohler Imperator tub and added a privacy wall to the shower along with jets and a steam shower.
Before
After
Before
After
Where did you find inspiration for the bathroom decor? 
I've been saving beautiful bathroom images on my Instagram since we moved into this home, knowing it was a project we'd tackle one day. Some of my favorite designers include Heidi Caillier, Amber Interiors, Studio McGee, The Misfit House, Lauren Buxbaum Gordon, Kate Marker Interiors, and Tiffany Leigh Design—to name a few!
How did you incorporate bathroom storage or other organizational elements?
The big addition was the countertop cabinetry storage that we added flanking the sinks. They are game changers for all my products, vitamins, etc. which used to clutter the countertop.
The Vanity: Before
The Vanity: After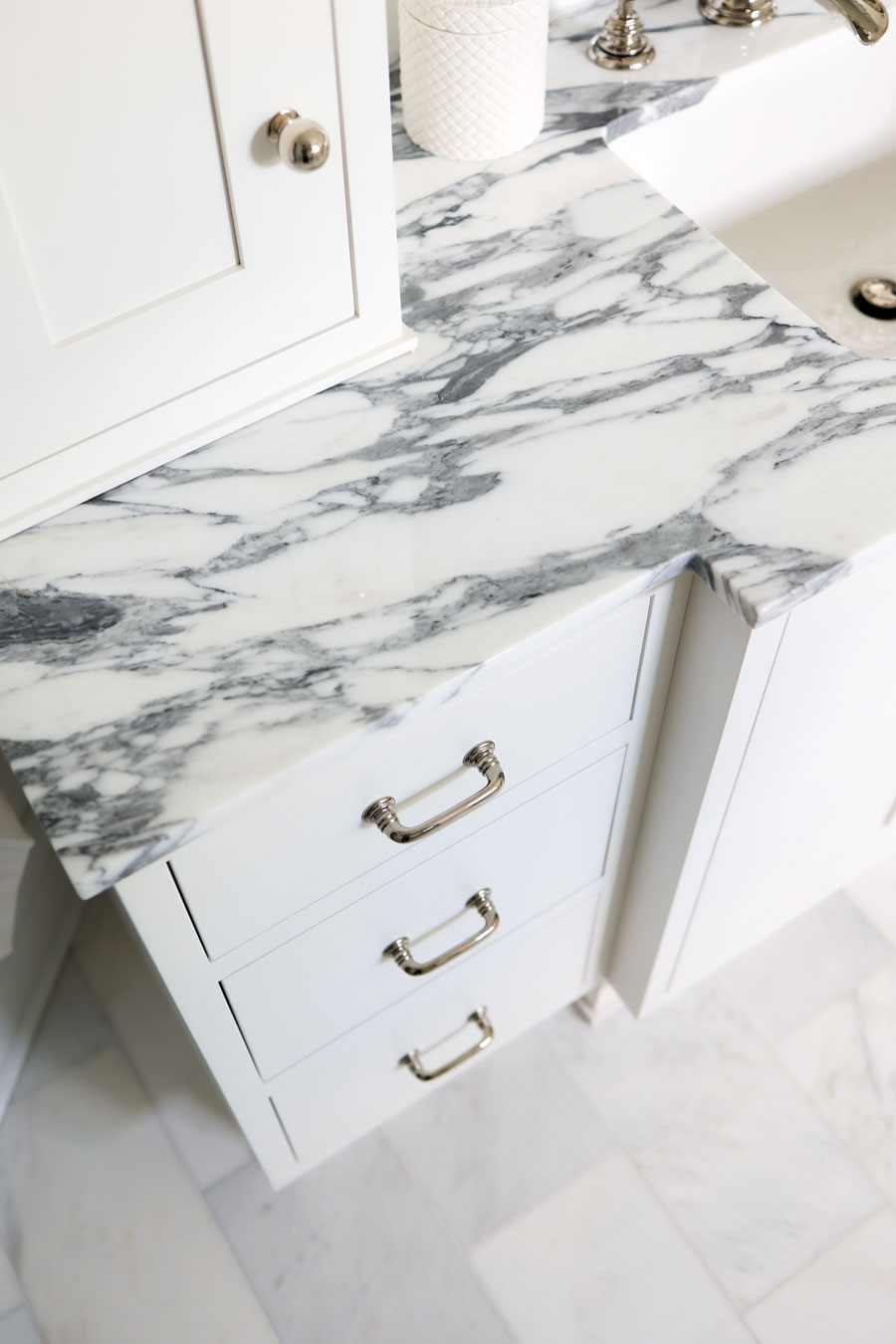 Get the Look
Did you do a lot of the design yourself? What did you outsource?
I actually worked with a designer at Kohler on this space–an amazing service I didn't even realize they offered. I had a very clear vision of the look I wanted and provided her with the design inspiration. She then offered two mood boards with plumbing fixtures and tile selects. I then chose from the two mood boards, and we just kind of tweaked it from there!
Then I ended up working with a cabinet maker on the vanity design, but the designer from Kohler was hugely instrumental in helping design the shower, choosing the correct plumbing fixtures for the space, offering design solutions, helping me figure out dimensions, and creating 3D renderings to see how it would all come together. I would have been pretty overwhelmed if I had tried to do it all myself like I did our kitchen remodel.
What was the timeline like for your bathroom remodel project—from concept to demo to completion?
Oh boy, a long time. The design process maybe took a few weeks. Then once materials were ordered, that took a few months for them to arrive. Then finding a contractor took a couple of months. The actual renovation probably took three weeks total but a few odds and ends dragged on. All in, I think we started the design process in July/August, work started in April, and it was finished in June/July.
The Tub: Before
The Tub: After
Get the Look
Lumens
similar look for less here
Where did you save and where did you splurge on this bathroom remodel project?
To be transparent, most of this project was a splurge as it's the main bathroom in our home. We have been saving for this home and all of its renovations for over six years, and I was very lucky to partner with Kohler on the plumbing fixtures, which helped tremendously.
We did save by shopping holiday sales for light fixtures and mirrors. I ordered an Etsy printable download for the art by the tub. And most importantly, we got a few quotes for labor, so that helped us save on that also.
Our two biggest splurges were the vanity and the steam shower. The electrical alone was extensive because we needed higher voltage power brought up from the basement to this space. It was a full day's work for an electrician and our contractor who had to drill through every 2×4 that lines the back wall of our house. Plus, the additional cost of tile and glass to have the shower enclosed. But we had a steam shower in our last home and it became a must-have for this renovation; we use it several times a week. It's our favorite feature.
Our second biggest splurge was the custom vanity cabinetry. I worked with the same cabinet maker who did our kitchen remodel a year ago because he was very flexible and worked with my elementary drawings and renderings and last-minute changes and requests.
The Shower: Before
The Shower: After
What elements of the bathroom are you the most excited about?
All of it. The steam shower, the multiple shower heads, the soaker tub, the amazing vanity with storage, a toilet that flushes properly, and the gorgeous marble. All of it.
The Water Closet: Before
The Water Closet: After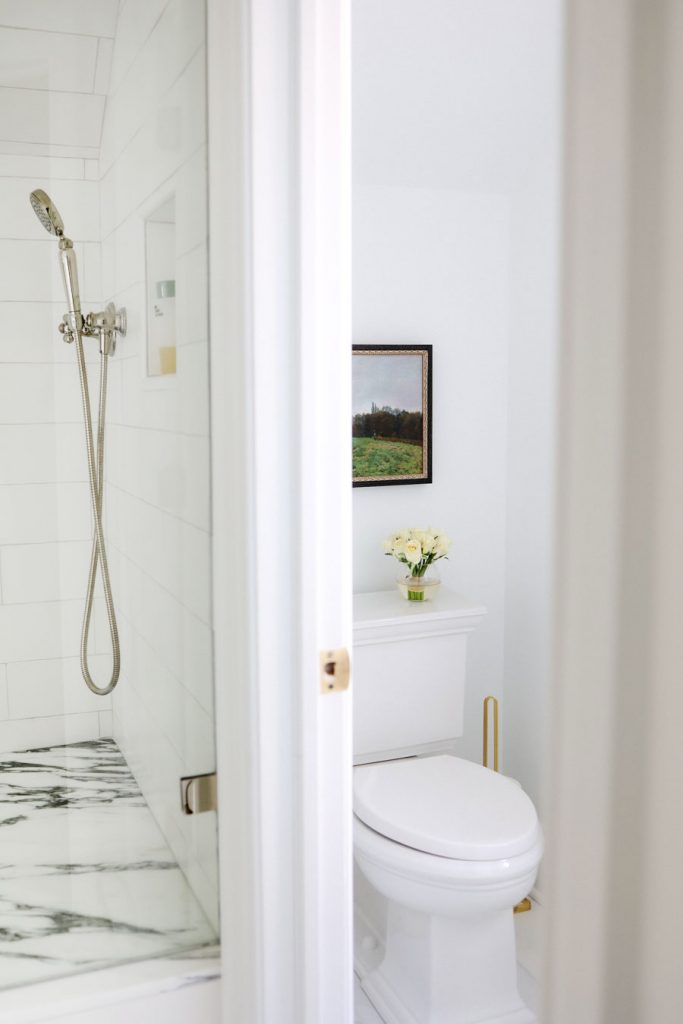 Get the Look
Were there any other lessons learned or things you'd do differently next time?
Yes … my one bit of advice is to have a very detailed contract with your contractor on expenses, timelines, and deliverables. We ran into a lot of hiccups on what was included in the rate we agreed on and what wasn't. Sadly, our contractor left the job unfinished, and we had to hire additional help to finish the painting and electrical work.
Final question: Do your boys use the tub more than you?
Haha, that tub is enjoyed by everyone! It has a bunch of plastic trucks and toys sitting in it as I type.