From birthday parties to the upcoming holiday season, pandemic hosting etiquette is a difficult topic to navigate. We're approaching new territories that we haven't encountered before, such as face mask safety and physical distancing. Hosting a safe and small event during the pandemic is yet another thing we're figuring out as we go.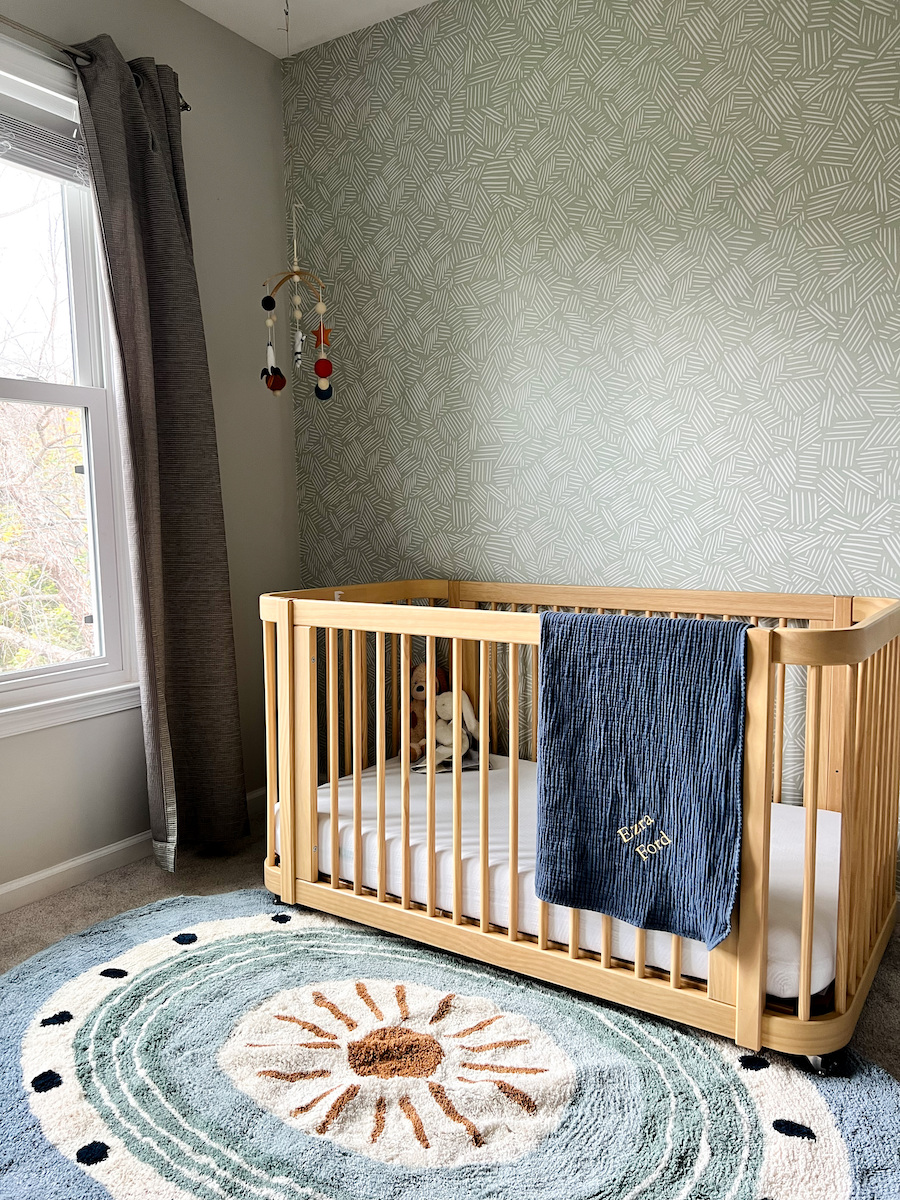 editor-favorite crib brand Nestig just released gorgeous new wallpapers that will easily transform any space 😍
A lot of people are asking if you can host celebrations right now. My answer is yes—with thoughtful planning, communicating, and understanding. As much as it sometimes feels like it, life is not pausing this year. Especially for our children, continuing to celebrate life's special moments—from birthdays to the holidays—is important. Planning an event this year will take some extra time, patience, and flexibility. Here are answers to some common questions surrounding safe and small party planning and hosting right now.
1. How do you decide who to invite?
First things first, get familiar and stay up-to-date with your state or local guidelines so that you're a responsible host. You can also read the CDC's current guidelines for personal and social activities here.
Then, get on the same page as your partner. Who are you both comfortable with? Family only? A pod? A broader circle? While there are guidelines we all have to follow, how we interpret the rules varies from person-to-person. Ensuring you're on the same page as your partner will dissipate any potential conflict in your own home.
But be mindful that everyone you're comfortable with may not feel comfortable with each other. Pandemic hosting etiquette is super tricky, and the more thoughtful and detailed you are with your guest list, the better.
2. When and how should you invite people?
Who are the must-have people on your list? Invite them one by one. Call, text, or email them directly. A mass email can make people feel uncomfortable and unsure of how to communicate where they stand.
When you invite someone, share who else you plan to invite and ask if they're OK with that. Ensure they feel comfortable telling you if that guest list works for them and respectfully accept their decision. The more details you can communicate, the better for hosting this year. People do not want to be caught off guard. We've had enough of that with the pandemic in general!
3. Consider creating alternative ways people can celebrate.
Be prepared that not everyone will be ready and willing to celebrate in person. Part of being a great host is making your guests feel comfortable. Everyone is handling the pandemic differently, and it's important to respect their decision and not take it personally.
One way to avoid feeling let down is to plan for people not to come, including any last-minute cancellations due to exposure or illness. Consider adding in a virtual happy birthday or holiday happy hour over Zoom where people can stop by.
You could also invite people to come in waves so they can travel with their pod and not interact with people they don't know. A friend recently hosted a baby shower that had guests coming in three different waves, and it worked so well. (It goes without saying, every guest couldn't hug the mother-to-be, but it was a nice way for her to safely spend a little time with those most important to her).
If you're a guest who's not attending a birthday party or holiday function, consider a personalized gift for the child to make it that much more special. This year, it's important to show we care in other ways than physically being there.
4. How do you maintain social distancing while celebrating?
As a host, pre-plan the menu by asking about any allergies and plan to separate food and drinks as best as possible. Give guests different looking glasses or have a washable marker so it's easy to tell them apart. Consider individual appetizer or charcuterie boards to avoid shared food, which can also be fun to style. Create fun cocktails with individual garnish boards. If you're hosting a birthday party, set a theme that's fun and creative but allows for distant games and activities. A great way to encourage social distancing is to set up food, drinks, and activities in different places so people aren't just crowding around the kitchen. And, of course, if the weather allows, set some up outside.
All things considered, we have to accept that this year is unlike any other. Communication is of the utmost importance as both a guest and a host this year. Be honest and open about your feelings, and accepting of what others are and are not comfortable with. While we can be disappointed, it's important to not take things personally. Everyone is trying to do the best they can to keep their friends and families safe.