Finding out you're pregnant, one of the most exciting life milestones, is an experience filled with a range of emotions. The excitement may be accompanied by nerves, unparalleled joy, and oftentimes a lot of questions. One of the biggest initial questions may be how to tell your partner you're pregnant. It's an event that deserves a meaningful announcement, but how do you know when the moment is right and the best way to share the news?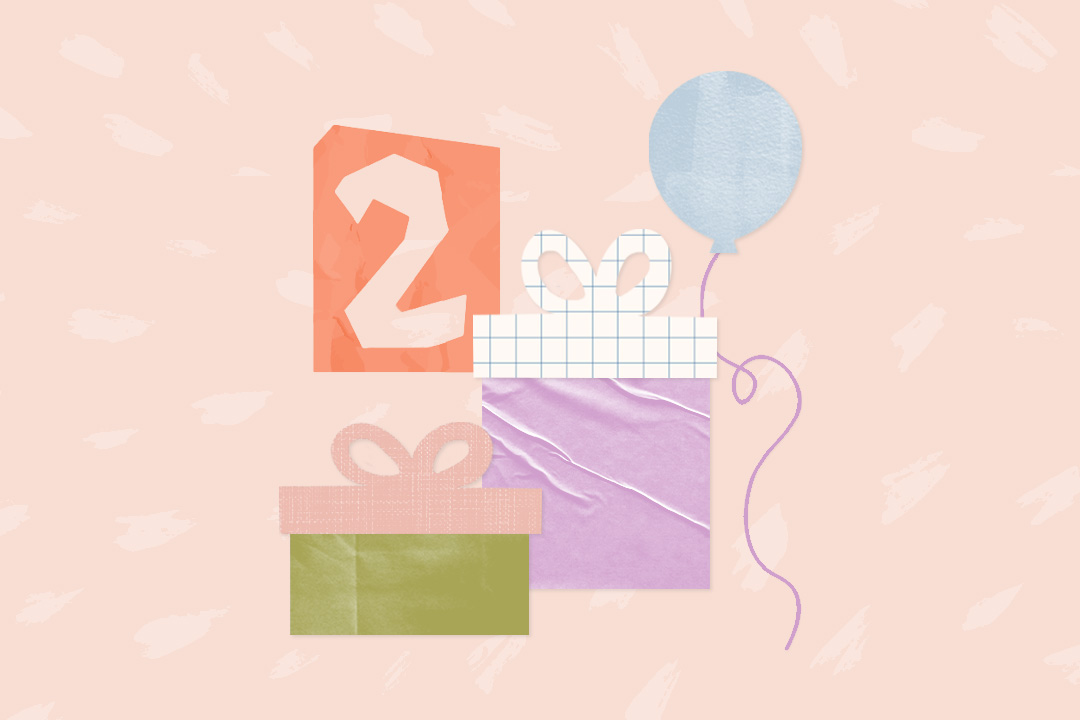 a LO in your life will love these! 🎁
Whether you've been hoping for a pregnancy for a long time or the positive pregnancy test isn't something you and your partner had planned for, choosing how to tell them you're pregnant is a big decision. You'll have a lot on your plate after the announcement, like setting up a nursery, considering online parenting classes, preparing for your due date, and picking out a name for your little one. Your pregnancy announcement is just the beginning. That's why we're here to help make it as enjoyable and memorable as possible with a roundup of fun and creative pregnancy announcement ideas.
Cute Ways to Tell Your Partner You're Pregnant
1. Create photo-books of important milestones
Kyra Henry had the most heartwarming way of telling her husband she was pregnant with baby number three. She created photo-books of their exciting milestones together, including their wedding and first two pregnancies. She included a photo-book entitled "Pregnancy #3" that featured a photo of her positive pregnancy test and blank pages for them to add photos as the pregnancy progressed. No matter whether this is your first or third baby, this is a touching way to share the news with your partner.
2. Have a baby-themed breakfast
If you and your partner have a tradition of sharing your morning coffee together on the weekends, step things up a notch by preparing your partner a "kid-themed" breakfast to share the big news. This could be as simple as cutting the crust off their toast, cutting up fruit and eggs into little bits, including kid-favorite foods like applesauce or Cheerios, and/or pairing the plate with a glass of whole milk for "strong bones." Give them some time to catch on while dropping a few hints before sharing the big news.
3. Give them a sentimental gift
Whether you've been trying for a baby or this pregnancy comes as a total surprise, you can't go wrong by incorporating a sentimental gift in your announcement. Take Bri Obaseki, for example: When she and her husband first started dating, they bought matching LA Dodgers hats. When she told him she was pregnant, she gave him a custom "World's Best Dad" hat and gifted it along with a pair of baby sneakers and her positive home pregnancy tests. We love the personal touches she included in her announcement and know the gift is something he'll cherish forever.
4. Write a letter to your partner
For a sweet, sentimental way to share the news, consider writing your partner a letter telling them you're pregnant. This can be a "love letter" of sorts in which you share your appreciation for your partner, announce the news, and explain why you're excited to embark on this journey together. We know without a doubt they'll treasure the letter forever, and it would make a great addition to a baby book.
Creative Ways to Tell Your Partner You're Pregnant
5. Put the pregnancy test in an Amazon package
We love the way Emily Travis shared her pregnancy with her husband. She told him she'd accidentally opened one of his Amazon packages, and when he went to see what was inside he found a baby onesie. As he realized what she was telling him, she showed him the positive home pregnancy test she'd taken. This announcement is as simple as it is precious and a great idea to consider for the big decision.
6. Have a package of baby items delivered
With Amazon deliveries quite literally at our fingertips, you can use them to your advantage to share the news of your pregnancy with your partner. Place an order with several baby items like diapers, baby clothes, toys, etc. When the package arrives, ask your partner to open it for you and see the surprise on their face as they realize what it means.
7. 'Gift' them a pregnancy test
Another simple way to share the news with your partner is to put the pregnancy test in a box and have them open it as a gift. Heather Rae El Moussa used this method to share her pregnancy with her husband Tarek and caught his initial reaction on camera to capture the memory. This idea is sweet and can be executed quickly if you just can't wait to share the big news with your partner.
Fun Ways to Tell Your Partner You're Pregnant
8. Take a trip down the baby aisle
The next time you and your partner head to the grocery store or you get them to agree to taking a Target excursion with you, take a turn down the baby aisle and start adding items to your cart. Your partner will likely be confused at first, and you can share the good news once they catch on.
9. Have them find a 'bun in the oven'
There are few things more fun than a good pun. Lauren Lumbard capitalized on this when she told her husband she was pregnant. By a twist of fate, the couple had already had an at-home photoshoot planned for the day after she found out she was pregnant. She got creative and during the shoot and had the photographer ask him to act like he was putting something in the oven. When he opened the oven he found a bun, a small package filled with the pregnancy tests she took, and a poem she had written for him. This sweet and fun idea can easily be mimicked with or without the photographer.
10. Let Starbucks do the talking
Your partner should know by now that any good outing should begin with a Starbucks run. Place a mobile order for pickup and have the baristas write something like "Dada" or "Mama" on your partner's drink. Ask them to check the name on the cup to make sure it's correct, and when they start to question it, let them know the barista didn't mix up your order.
11. Plan a baby-themed movie night
No Saturday night plans? Cozy up on the couch with your partner for a good old-fashioned movie night. Pick baby-centric movies to watch like What to Expect When You're Expecting, Juno, Knocked Up, Life As We Know It, or Baby Mama (you get the idea). You could even include baby-themed snacks like Baby Bottle Pops, Baby Ruths, and Sugar Babies. With all the hints, your partner is sure to know something's up!