Welp, here we are on what feels like day 1,258,783 of living with the realities of a pandemic. I know you're probably tired of talking about COVID (so am I!) and dealing with all that comes with raising little ones in pandemic times. But here we are, still. The year 2022, thus far, has given many of us flashbacks to March 2020 with daycare and school closures due to COVID exposures and infections (AKA the Omicron variant becoming prevalent in our lives). Although kids 5 and older are now eligible for the vaccine, with the COVID vaccine for kids under 5 recently submitted for U.S. FDA approval, this is not a panacea. Your children and your entire family can still get COVID-19 regardless of vaccination status.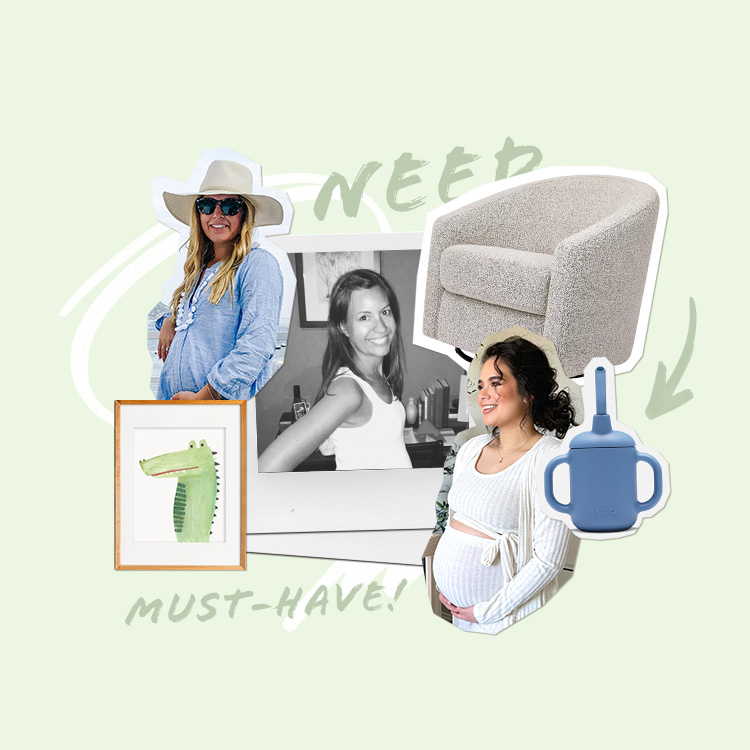 babylist has everything you need—and more! 💕
Parents, and in particular mothers, are at peak-anxiety levels. The fear of getting COVID is one thing, but if you and your family unfortunately contract the virus, it can disrupt so much in your life. Caring for a sick child is never easy, and what can make it worse is if you, the caretaker, are also unwell. 
But there is another scenario that is also likely to happen, which is your child's school/classroom/child care being temporarily shut down due to a COVID exposure within close proximity. Now, parents are left with no viable child care options and with the fear of their kids getting sick while also missing the social/emotional development and education from being in school. This is even more complicated for those working mamas who have to adjust their work schedules to now be the caretaker during the day, the snack maker, the boo-boo healer, and the pseudo-teacher—all while attending Zoom meetings or taking days off work. 
Moms may be feeling like their kids are missing out on so much these days: the carefreeness of life pre-pandemic and the consistency of relying on school to educate and take care of them. The only thing that is currently consistent in our lives these days is the day-to-day inconsistency. We wish we could send all mamas an e-hug via this article and let you know that we see how hard it is right now and we know everyone is just trying to get through this.
The only thing that is currently consistent in our lives these days is the day-to-day inconsistency.
We also want to ease your concerns about your preschool-age child falling behind in school by giving you some guidance on what you can do with them when they are home with you all day. We reached out to two experienced teachers—a preschool teacher and a kindergarten teacher—and asked them what parents can do at home with their preschool-age kids to prepare them for kindergarten when school has temporarily been suspended due to COVID outbreaks. For a more extensive kindergarten-ready list, check out the Scholastic website for further details.
Below are a few disclaimers before we get into more detail about what these wonderful teachers suggested:
These suggestions are not obligatory. Every state and local school district will have more specifics on what they hope kids have learned as they enter kindergarten. Check online for more information relevant to your school district/state.
These suggestions are not meant for parents who homeschool their children full time. Instead, these are for parents who do not have any teacher training and merely want some general guidance on how to support their kids when school is not a consistent option these days.
Loving your child, feeding them, playing with them, and reading to them are more than enough. You don't have to do any of these suggestions. Don't put more pressure on yourself; you're already going through enough. These suggestions are merely for those who want some guidance without the added pressure and expectations of becoming a master teacher.
For those mamas wanting some low-key, easy tips on how to get their kids ready for kindergarten, this post is for you. Below are seven areas you can focus on, suggested by current credentialed teachers, in preparing your preschool kids for kindergarten when COVID has disrupted your children's schooling.
Read for at Least 20 Minutes a Day
Both teachers suggested reading to your kids for at least 20 minutes a day or more. Reading is the key to language development. The books you read to your child should be books that spark their interest to encourage the love of reading. The length and topic of the book are not as important as your kids having fun following along with you reading to them. If you are looking for some books to build on phonics skills, check out My First Bob Books by Lynn Maslen Kertell.
Start Open-Ended Conversations
Talk to your child to build on their language development. Having conversations about any topic they are interested in can add vocabulary and comprehension skills to your child's literacy development. Perhaps consider discussing the book you just read with them or asking about a more general topic like what their favorite thing to do with you is and why. Speaking with them can increase oral skills in your child tremendously. 
Practice Tracing and Writing
The preschool teacher recommended working on some writing practice with your child for a few minutes a day. At the preschool age, helping them hold a pencil and trace over dotted lines is great practice to prepare them for letter writing in kindergarten. Tracing over shapes and squiggly lines can be a fun thing to do with your littles while you help them hold their writing utensil. If your child has mastered tracing, you can practice writing their first name with the first letter in uppercase and the remaining letters in lowercase. This name tracing worksheet by The Primary Parade can help by providing dotted lines for your child to trace over before doing free name writing.
Amazon | Wonder House Books
Filled with tracing exercises and creative activities, this Amazon bestseller can help little learners with pencil control and motor skills.
Amazon | Melissa & Doug
Trace and practice writing letters and more in this oversized activity pad from award-winning brand Melissa & Doug.
Work on Counting, Sorting, and Matching
The beginnings of math computation are rooted in counting, sorting, and matching exercises. You can support your child's counting practice by finding anything around your house for them to count. Maybe it's the Cheerios they're about to eat or the toys currently on the floor that can serve as their counting tools. Anything can make counting fun! Additionally, sorting objects into categories and matching similar objects can also aid in them understanding and analyzing their environment in preparation for kindergarten. 
Scholastic
Having a few workbooks on hand can be helpful for school closure days, like this option to practice sorting and matching.
Amazon | Skoolzy
In addition to counting and sorting, this highly rated set from mom-founded brand Skoolzy can also help little ones with their fine motor skills.
Incorporate Life Skills
By far, both the kindergarten teacher and preschool teacher stressed life skills development more than academic development, which your child will have plenty of time to practice during kindergarten. These life skills are things you can easily incorporate into your day when you're home with your kids and time is limited. More specifically, the experts mentioned the following life skills:
Encourage independent creative and work time by having spaces where children have access to materials: variety of markers, papers, books, Play-Doh, etc. You don't have to replicate a school setting. Simply having a few of these materials easily accessible can encourage your kids to work and create independently.
Play time is never to be underestimated. It's important for them to have the space to play freely. Therefore, have their building materials/toys available to them for play when it is appropriate.
Help them build independence by having them be responsible for chores at home (cleaning their toys, helping to set the table, organizing things, etc.). Being responsible for a task can also build problem-solving skills. On this same note, teaching your kids to wait their turn and have some level of patience will serve them well in kindergarten.
Provide opportunities for them to practice taking care of themselves, like going to the restroom independently, washing hands, using tissues, cleaning up, and eating using utensils. Although they will practice these in kindergarten, giving them at-home practice can help increase their ability to master these skills at school.
Build Social/Emotional Intelligence
Providing opportunities for socialization is more challenging during these pandemic times. However, providing spaces for our children to develop their social/emotional intelligence is important. The kindergarten teacher I spoke with suggested helping your kids make connections with other children either virtually or in person in the park to continue developing their social skills. Having an occasional play date during these closures can provide significant life skills practice. If your child hasn't made any friends yet, contact your teacher for suggestions on setting up connections from the classroom. Finally, siblings also make for fun social partners when they're not fighting!
Make Time for Movement
If the weather and quarantine permit, incorporating any type of movement throughout the day can improve your child's well-being. You can support your child's development by taking walks, having a dance party break, or finding another way to get some exercise together. Movement is essential for brain development and can also help when mommy is feeling stressed and tired. It's a win-win activity that can produce many benefits for both of you.
---
We hope the suggestions from these teachers can guide you when you are wondering what you can do at home to support your child. Especially during the pandemic, make sure you show both yourself and your child grace if you're both just tired and want to sit on the couch all day. Supporting the mental, physical, and emotional well-being of you and your entire family always takes precedence above anything else.