When our pandemic puppy pounced on our spot-clean only couch with his muddy paws, I made a decision; this was the year I was going to update our living room. My family has been in our house for seven years now and our living room has been somewhat neglected. We first prioritized updating the kitchen and bathroom because our living area has been pretty functional, but lacks a cohesive style. With all the time we've spent in our primary hang-out space, it is ready for a little sprucing up (plus the puppy just turned 1 so I'm hoping the pouncing/chewing is on its way out). I have been saving inspiration ideas on Instagram and Pinterest and am finally ready to make some of the purchases I've been eyeing for so long.

What's on my list? A rug, furniture, lighting, faux greenery, creative storage, and throw pillows (though I'm trying to keep myself to a one-in-one-out pillow policy). I'm also going to tackle painting the room myself to stay within budget. 
If your living room can use a little refresh too, check out our list of 10 items to instantly spruce up your living space; from swoon-worthy furniture to plush throws and faux greenery to framed art. Read on for our picks. 
Interior Define x The Everygirl
If choosing a bold couch feels a little out of your comfort zone, consider a statement chair. As part of our collaboration with Interior Define, the Caitlin chair was designed for everyday living, without sacrificing style or comfort. From performance fabrics (i.e., you can even choose dog and cat-friendly fabrics) to its swivel design, the Caitlin is a family-friendly upgrade for your living room. Plus, Interior Define offers free swatches, so you can choose the perfect kid-friendly fabric for your space.
ETSY | UNIQUE FOREST ARTS
Whether faux or real, plants soften up a space and make it that much more inviting. We love the look of this faux olive tree available in 4 and 6 foot options.
---
West Elm
My kids use our coffee table to eat snacks or hurl themselves onto the couch. My hope is that by adding a tray with some organized and styled items, it'll be used less for leaping and eating.
Wayfair
A leather or fabric pouf adds style and versatility to your living room. You can use a pouf as a table, footrest, or extra seating. This leather option comes in 3 colors.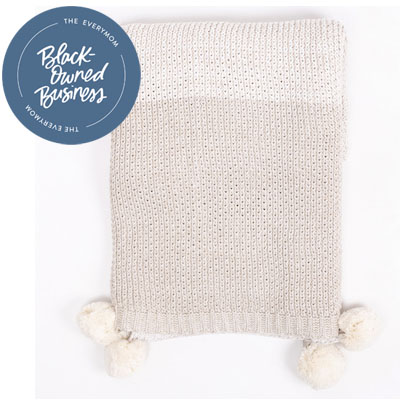 Domain by Laura Hodges Studio
This textured knit throw was made for draping a couch in style and wrapping around yourself—or your kids—for cozy nights of streaming your favorite shows or movies.