A trip to Paris helped inspire the pops of color in this adorable Los Angeles gender-neutral nursery designed by Maggie David. In addition to her home tour, Maggie shares the path that led her to become a stay-at-home mom and more about how she spends her days with her daughter Lena, now 11 months.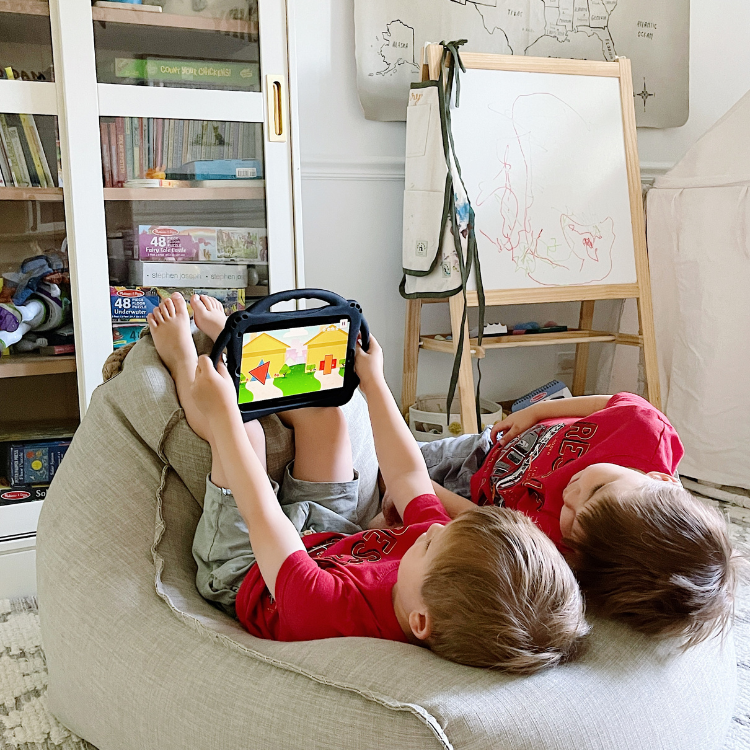 a pediatrician shares what she *really* thinks about LOs and screen time
We love how Maggie mixed old with new in Lena's nursery, like a refurbished rocker paired with acrylic book shelving and a traditional rug paired with a metallic statement crib. The colorful drawer pulls and bright wall art from artists she loves — like Gray Malin and Kristi Kohut — keep the room playful and fun, a perfect fit for little Lena's personality.
Read more about how this adorable room came together, where Maggie looks for inspiration, and how she keeps Lena's toys and baby gear organized in a small space. Plus Maggie shares a few of the daily challenges and rewards of being a stay-at-home mom.
Name: Maggie David, Stay-at-Home Mom
Age: 36
Square Footage: 1,310
Rent or Own: Rent
City/State: Los Angeles, CA
Children: Lena, 11 months
After having a career in public affairs/communications, you became a stay-at-home mom to your baby daughter, Lena. What considerations went into this decision, and how has this role changed your view on parenthood?
Prior to having Lena, I struggled with unexplained infertility for three years. It's something I haven't spoken about publicly, but I think it's important to let other women know they aren't alone. It was a huge factor in my decision to become a stay-at-home mom, and I try to never take it for granted. My husband also travels frequently, and we don't have a huge family network here in LA so those also contributed to our decision.
Honestly, it wasn't until I became a mom that I truly understood what it means to be a parent. For the rest of your life, you're in charge of this little person's upbringing, and it's a huge responsibility that requires endless amounts of love and patience. I never really realized how much sacrifice goes into the role, and it's made me even more grateful for my own parents.
What are some of the struggles that come with being a stay-at-home mom, and how do you handle them?
I think one of the hardest things is losing a bit of spontaneity and independence. I never thought I would be a huge fan of routines, but when you have a baby you need to create some sort of routine so that you have an expectation of how the day will go. I try to be flexible, but at the end of the day I still sort of have to follow a schedule (even if it's a new one Lena sets that day) in order to avoid chaos. I also still use an app on my phone to log things (when I last fed her, changed her, etc.) and it helps me anticipate what Lena may need next.
It can also be isolating. I spend most of my days talking to my 11-month-old and our dog. I miss the types conversations that take place in a work setting or happy hour. Staying in touch with friends and getting together with other moms is key. I never saw myself as the type to join a mom group, but when Lena was about 6 months old, I did. I've learned so much from being around other new moms. Plus, if you're in a new city, it really just helps you get out of the house more and meet people.
SHOP THE LOOK
What misconceptions of stay-at-home moms do you hear that you wish people would think differently about?
Before I became a mom, I didn't realize what the job really entailed. Being a stay-at-home mom is a full-time job. There's a lot of sacrifice on a personal level, but also professionally and socially. You're constantly busy and hardly have any alone time. Whether you're staying at home or working full-time, being a mom is hard and all-consuming on so many levels.  
While searching for a home with your husband, what features were you looking for, and why did you decide to rent your 1920s home?
My husband actually found our home right before our wedding. He relocated to Los Angeles first and loved that the house maintains a lot of its original character. The huge bay window in the living room, sunny kitchen nook, and charming yard sealed the deal for us. The house gets a ton of natural light and had space for a home office off of the garage, which was also important to us. Our neighborhood is also full of families and is very walkable, which was a surprise to me since I had my own expectations of what life in a big city like Los Angeles would be like. We walk to restaurants, the dry cleaner, our veterinarian, and more.  
How did you prepare your home for the arrival of Lena, and what tips do you have for parents who are in the process of making their home baby-friendly?
Our house is pretty small and I wanted to try to incorporate the large "baby" items into our home décor as much as possible. When I registered, I looked for neutral-colored items and fell in love with the Nuna brand (I love their swing and playard). The quality is amazing and the colors weren't jarring like a lot of baby stuff tends to be. I'm a big fan of color and figured her toys and books would automatically play that role. I bought Pehr bins and a metallic toy chest on sale for our living room to store toys, blankets, and even stroller-related accessories that can't fit in our limited closet space. I also made to sure to carve out some space where she could safely play. When Lena was a newborn, she did tummy time in front of the bay window and could look outside. Now that she's older, we have foam mats in the space between our two couches in the living room and temporarily removed the table so she can have more room to play.
Where did the inspiration for Lena's neutral nursery come from, and what were the first steps in the design process?
A few years before Lena was born, we spent Christmas in Paris and stayed in an amazing, colorful apartment. It changed the way I think about color in a living space. I wanted Lena's room to feel and look magical. At the same time, I've always been a fan of mixing old with new and wanted to continue that theme from the rest of the house into her room. There's actually a framed photo of one of the Paris apartment rooms in her nursery because I love it so much and wanted to use it for inspiration.
I started off by creating a collage in Photoshop with my favorite items so I could see how things would look together. I focused on keeping the larger furniture items, like her dresser and armoire, neutral while incorporating pops of colors with items like knobs from Anthropologie and the toys/books on display. One of the first things I bought was the Gray Malin balloon heart print above her crib (we take this down when she's asleep). It's has a playful feel to it and I knew it would be perfect in a nursery. When I came across her metallic silver crib on sale, I fell in love. It's truly a showstopper and could easily work for future children. It's one of my favorite things in her room along with the vintage Adrian Pearsall rocker we recovered with fabric found at a Kelly Wearstler warehouse sale.
How did you decorate a nursery for Lena that reflects her personality while also proving functional in keeping her belongings organized?
Storage bins are key, especially since we lack a lot of storage options like closet space. I use them for books, toys, and even bibs. I also wanted her colorful books to have an impact in the room and the clear shelves I found on Amazon were perfect for the job. I added an acrylic bookcase recently once she started receiving more and more books as gifts. I hope she loves reading as much as I did growing up and want her books to be accessible.
We also purchased the Ikea armoire to serve as her closet since my husband uses the closet in that room. Not only is it a great size, but it also has a built-in drawer and shelves. I added some metallic baskets to organize shoes and swaddles and found the adorable scalloped bins on sale from RH Baby online to hold miscellaneous items on top. It's pretty and playful, but also practical.
SHOP THE LOOK
With a nursery full of original artwork and signed prints, what was your trick to incorporating these unique pieces to create an overall cohesive look to the space?
By keeping the big pieces in her room like the armoire and dresser neutral, I knew we could have some fun with artwork and color. I chose white, gray, and black as the main color scheme. Thanks to Instagram, I started following artists like Kristi Kohut and Kerrie Hess. We have a Kristi Kohut print in our living room and I knew I wanted one of her bright pieces for the nursery. We waited for a discount code online to purchase one of her smaller lucite shadow boxes. I didn't know what to expect when we ordered it, but it's even more beautiful in person and sparkles in the light. It looks great with the Gray Malin print, keeping up with the magical and playful theme in the room. I also loved the illustrations by Kerrie Hess that I saw on her Instagram account and found one with the Eiffel Towel that I thought was perfect for a little girl's room. It's mainly black and white with a pop of color so it easily fit into the space.
We love her colorful book collection! What are your favorite children's books to read to Lena?
Thank you! Growing up, I loved to read so I'm hoping Lena will love it too. Some of my favorites to read to her are Guess How Much I Love You? and Maverick and Me (we have a rescue dog and I love the message it sends). She's also obsessed with a few nursery rhyme books that I found on Amazon. She loves pushing the buttons to play the songs.
Due to the fact that almost every piece in Lena's space was purchased on sale, what advice do you have for parents who are trying to design a budget-friendly nursery?
Take your time! If you find something you love, keep watching it online, look for it at an outlet or find something similar. These days, almost everything goes on sale at some point. Her crib, artwork, mirror, knobs, and rug were all purchased online using discount codes or during major sales. While her crib wasn't inexpensive, we splurged because it was so unique and nothing like we had ever seen before. Plus, I found it on sale so we didn't pay full price. The dresser and changing table were from the outlets. Her rocker, blue toy chest, and lamps are vintage and we found the fabric for the chair at a Kelly Wearstler warehouse sale.
If you can't find it on sale, look for something similar and make it your own. I fell in love with an armoire at Pottery Barn Kids and actually saw it at the outlet, but it was still really expensive. We went to Ikea and saw this one in person and I immediately loved it. I ordered knobs from CB2 (also on sale) and found antique drawer pulls to give it some unique character. A vintage armoire would've worked great, but I wanted one with mirrored doors and it was harder to find.
Also, I was okay with the room not being completely finished when she was born and waited until I found pieces I loved on sale to complete it so it was an ongoing process and we didn't buy everything at once. For example, my husband purchased the rocker years ago and we slowly added pillows and other decor.
Where are your favorite places to shop for baby/nursery decor?
I am a big fan of Pottery Barn Kids for the quality of the items and Crate & Kids. I also love places like CB2 or West Elm that aren't technically baby décor, but work great in the space like her curtains and acrylic side table. Zara Home also has an amazing children's section and Ikea can be a great resource too. I also love going to antique stores and flea markets to look for vintage décor and accessories.
Now that you've finished the nursery, what do you wish you had known decorating-wise before creating it?
Babies love to grab stuff, and even though everything is anchored to the wall, I'm still nervous letting her play and explore in her room. Now that Lena is mobile, she's constantly trying to grab things like the armoire and the rocker so playtime in her room isn't always fun and relaxing. Although, is it ever with a newly-mobile baby?
The other thing I would say is we learned the hard way that the location of the changing table matters and which way you position the baby. Let's just say we had some diaper incidents that resulted in us needing to recover the chair in her room. Luckily, we had leftover fabric!
SHOP THE LOOK
How do you and your husband divide parenting roles, and how has having a baby impacted your marriage?
Early on, we started dividing tasks like bath time, bottle cleaning, and even cooking so that one person didn't feel overwhelmed. Having a baby means adding a lot of little tasks to your daily routine. Free time turns into baby time and it sort of makes you wonder what you did with your free time before. Finding a rhythm to allow each one of us a break is important and while we haven't mastered it, we're getting there. Communication is also key and I think it's important to tell your spouse when you need a break and need help.
What's your approach to enjoying motherhood while also maintaining your personal identity?
Having patience and knowing that this time is fleeting helps me get through tough days. I constantly remind myself that our daughter will only be this little for a short time and try to enjoy each day with her. She's turning one soon and I can't believe how fast the year has flown by! It's true what they say that the days are long, but the years are short. Getting dressed and staying true to my personal style has been key to maintaining my identity. On more than one occasion, I've brought Lena with me to some amazing sample sales here in LA. I try to balance out our time with fun baby classes for her and the occasional sale for me.
Do you have any advice for new moms?
Ask other moms for advice! When we first brought Lena home, we had visitors nearly every weekend (both family and friends). I thought this might be overwhelming, but it was a blessing. I learned so much from having my mom, sister, and best friends stay with us and show me their tips from letting Lena learn to nap around every day noise to showing me how to handle a diaper blowout in public. Also, I wish I took their advice about getting out more while Lena was younger – I was intimidated to take her out in a big city and now that she's mobile, it's way harder to keep her happy in the stroller.
When it comes to being a mom: what are you most insecure about and what are you most confident about?
As a first-time mom, I think I'm most insecure about whether or not I'm doing everything right and if I'm doing a good job. In the beginning, it's so overwhelming and you're really just trying to survive each day. You're learning as you go and it can be intimidating to get out of the house with a new baby even to do simple things like grocery shopping. On days when I am unsure about something, I call my mom, text my sister, or ask our neighbor to get their perspective and advice – it's been a lifesaver. I think I'm most confident about providing her with a safe, loving, and happy home.  
If you could only pick one, what has been your favorite memory from motherhood so far?
There are so many already! Some of my favorites are when Lena hugged me back for the first time, how she grabs hold of me now when I pick her up or gives me kisses. I also love watching her transition from infant to toddler and seeing her learn to play independently with toys.
Maggie David is The Everymom…
Brunch order? I'm the worst at ordering. If I'm being indecisive, I'll just go with pancakes or waffles.
Dream vacation? South of France.
Song currently playing in your car? Lately, whatever's on the radio.
Favorite part of Lena's nursery? Her metallic silver crib.
Diaper bag essential? A small toy to distract Lena during diaper changes.
Best mom-related advice you've been given? Get out and go places before your baby becomes more mobile.
Most embarrassing mom moment? Taking her rocking chair back to the upholsterer to have it recovered after a misdirected blowout.