Feeding in the fourth trimester is a known challenge. And we're not just talking about feeding your baby. That's a huge learning process, but so is figuring out how to feed yourself while 110 percent of your energy is focused on your newborn.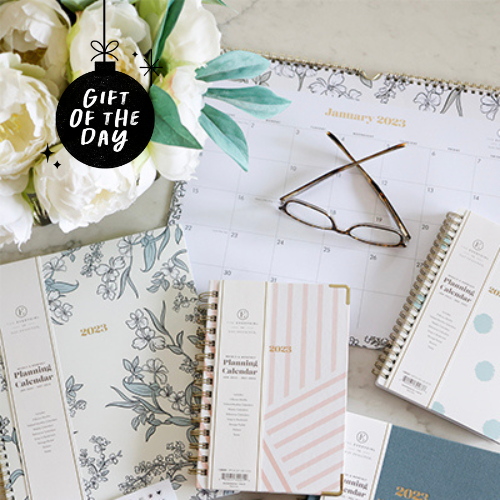 Help a mom stay organized and keep track of important doctor's appointments, playdates, and (hopefully) some scheduled 'me' time with this pretty wall calendar.
Breakfast might not seem like a priority when you're in fourth-trimester survival mode, but it is so important to make sure you're eating and getting enough calories each day. This is especially important if you're breastfeeding. According to KellyMom, breastfeeding mothers should aim for 300-500 above what was needed to maintain pre-pregnancy weight. And breastfeeding or not, new moms are recovering from childbirth, are exhausted, and are probably a bit overwhelmed. Adding hunger to that mix isn't great. Start your day with a solid meal to keep your energy levels up.
And speaking of energy, you probably don't have much to spend on cooking. It's also pretty tough to accomplish tasks with both hands (one is usually holding that sweet baby!). One thing that can help is having a well-stocked kitchen, as well as an arsenal of easy breakfast ideas.
As much as we'd love to recommend a fridge full of fresh produce, we're going to keep it real. It can seem impossible to get enough nutrition for yourself in those first few weeks and simple is the name of the game.
Here are nine breakfast ideas that take mere minutes to prepare and can be eaten with one hand (welcome to your new normal!).
1. Frozen Waffles with a Twist
It's pretty easy to grab a frozen waffle from the freezer and toss it in the toaster. To enhance the nutritional value of this option, top the waffle with almond butter and banana (or whatever nut butter and fruit you prefer). Or simply cut the waffle in half and turn it into a peanut butter and jelly waffle sandwich.
When selecting waffles, look for ones with a good nutritional base, like Kodiak Power Waffles, which have 12 grams of protein.
2. Pre-Made Smoothies
Not that smoothies are that complicated to make, but even the simplest tasks become a challenge when you have a newborn as your main priority. So while you could buy all the necessary ingredients, measure, chop and blend, this is a great time to turn to a prepared smoothie.
Daily Harvest smoothies do all the prep work. All you do is toss the contents and a liquid of your choice into your blender. There are plenty of flavors to keep mornings interesting. The Mint + Cacao is a personal favorite, it's like mint chocolate chip ice cream, but healthy and acceptable for breakfast.
If your preference is to make your own smoothies, think ahead and create a freezer stash of prepared smoothie packs. Measure and chop your ingredients and store them in individual containers in your freezer. When you're ready to mix it up, toss the ingredients plus a liquid into your blender, and you're all set.
3. Bulletproof Coffee
If you haven't tried butter in your coffee yet, don't knock it 'til you try it. There are a variety of ways to make Bulletproof coffee — what it comes down to is coffee blended with grass-fed butter (or ghee) and MCT oil (or coconut oil). It's a calorie-dense way to start your day and is said to boost energy and focus. And what mom can't use a little extra energy? I'm a fan of Bulletproof coffee, and I swear I'm more energized when I have it.
This does take a bit of measuring and blending, but it's a quick process. Keep all your ingredients next to your blender so you're ready to go.
My personal recipe is 8 ounces of coffee, 2 tablespoons nut milk (I use NutPods), 1/2 tablespoon MCT oil, 1/2 tablespoon Vanilla Bean Fourth and Heart ghee, 1 scoop Vital Proteins Collagen Peptides and a dash of cinnamon, blended until frothy. It's important to use a blender (instead of stirring) to get a frothy and not-oily consistency.
If the calories of adding butter to your coffee are scaring you off, remember that sufficient calories are very necessary during the fourth trimester. It's ideal to have actual food for breakfast, but at the very least, this coffee will get your day started on a high note.
4. Overnight Oats
Oats are a great way to start your day, especially if you're breastfeeding. Many women claim that oats increase their milk supply. A bowl of overnight oats is a nice way to sneak oats into your diet at the start of each day.
There are two ways to go about this one. You can make the overnight oats yourself (which is super simple) or you can buy a pre-made mix. For the zero-effort variety, check out Mush Overnight Oats; they contain a shortlist of ingredients, are dairy-free, have no added sugar, and are a good source of fiber and protein. It even comes with its own spoon!
Prefer to make overnight oats yourself? Check out Fit Foodie Find's simple base recipe, plus eight add-in recipe ideas.
5. Power Oatmeal
And if you prefer your oats hot, go the oatmeal route! Again, this is an easy one to make yourself, or you can stock your pantry with pre-mixed oatmeal. If you're making oatmeal yourself, consider adding chia seeds, flax seeds, nut butter, and fruit to make it a more nutritionally dense offering.
If you'd prefer to buy ready-made oatmeal, look for blends that do not have added sugars and contain ingredients you can pronounce. We like RX A.M. Oats, Purely Elizabeth Superfood Oatmeal, or Daily Harvest Oat Bowls.
6. Avocado Toast
This was the first thing I "cooked" after having a baby and it made me feel like I was human again. It's really simple, but it made me feel like I was getting back to my formerly functioning self, just a little bit.
Again, minor prep for this one — you can whip this up in about three minutes. Take sliced bread (I like a thick slice of sourdough) and top it with half a mashed avocado for a solid serving of healthy fats. Amp it up with red pepper chili flakes or Trader Joe's Everything But the Bagel Seasoning. If you're feeling energetic, you could also add a scrambled egg on top, but oftentimes that's just a bit too much work with a newborn in tow.
7. Berry Yogurt Parfait
A bowl of yogurt is good, but turning it into a fancy berry yogurt parfait is even better. And it's easy. Grab a serving of yogurt (choose from regular, Greek, or a dairy-free option like Kite Hill Almond Milk Yogurt) and layer it in a bowl with granola, berries, and nut butter. By adding a variety of ingredients, your yogurt bowl will keep you full all morning.
To make this as quick as possible, opt for berries that don't require cutting (sorry strawberries!). I like to have blueberries, raspberries and blackberries on-hand simply because they don't require that extra step of slicing. And since trips to the grocery store might not be realistic, frozen berries work just as well as fresh.
8. Nutritionally Dense Snack Bars
During childhood, maybe you grabbed a Pop Tart on busy mornings. Thankfully, there are healthier options available to you. When selecting a bar, search for something with a limited number of ingredients that you can pronounce. Personal favorites include RX Bars, Larabars, Clif Bars (the new coffee flavors by Clif are a great caffeine boost!), and Vital Proteins Collagen Bars.
If you have the time to make your own, that's another great option. Here's a recipe for Paleo Grain Free Granola Snack Bars by Unbound Wellness to get you started.
9. Everyone's Standard Standby: Cereal
Everyone knows about cereal, and you don't need an article to tell you to have this for breakfast, but it's worth adding to our list. It is truly one of the simplest options. If you're going this route, look for a cereal that is high in fiber, is made with whole grains, and has a limited amount of added sugars. I like to add fresh berries and chia seeds to take the nutrition up a level and to keep me feeling full for longer.