When designing a nursery, some parents start with a statement crib or dresser and build the room around those pieces — but not Sivan Ayla Richards. The blogger and first-time mom chose to base her daughter's chic nursery around a bold pink and green cactus wallpaper to create the perfect boho space for her little one, Capri.
a tried and true solution 💩
Keep reading to find out how the California mama revamped the nursery's Ikea dresser, which decor piece was the biggest splurge, and how she plans to transform the room into the perfect toddler space for Capri in the future!
Name:  Sivan Ayla Richards, Blogger
Location: Los Angeles, California
Room Sq. Ft.: 200
Years Lived In: 1
Children: Capri, 9 months 
Before becoming a blogger, you had jobs in fashion and creative consulting. What was the transition like to blogging full-time? What's your favorite part of working for yourself?
The transition into full-time blogging was challenging but rewarding. I knew I was pursuing my passion, so it never really felt like I was forcing the issue, and I knew it would all be worth it. My favorite part of working for myself is the creative freedom. I love expressing my creativity through my different platforms and now by creating product lines. 
Capri's name is so adorable! Is there a special meaning behind her name?
We named Capri after the island off the coast of Italy. It is our favorite place on earth, and after our first trip to Capri, we secretly decided if we ever had a baby girl, we would name her Capri. 
You have such a strong personal aesthetic. How would you describe your style?
Thank you. I'm pretty eclectic — I am drawn to certain color palettes (nude, white, tan, blush), and it just translates well visually in every aspect of my content and my home decor. When people ask me to label my home style though I always struggle. It's very all over the place — clean, a little boho, a little modern farmhouse… see what I mean? 
What was your original design concept for Capri's nursery? Did it turn out as you anticipated?
Honestly, I didn't have a concept. Basically once I found the wallpaper, everything came together. I kept it super simple, so I had the option to revamp and restyle later, which is something I do throughout my house often. 
You live in LA with your husband! Does your location influence your design style?
My home style is somewhat influenced by my location since I live in sunny Southern California. There is a sense of casualness, and I like bright airy spaces with lots of natural lighting. I feel like it's more about how a space makes me feel rather than making it about my location though. I'm all about easy, comfortable, and luxurious living. 
We hear you have a hack for the changing table! Can you share it with us?
Yes! I purchased the Ikea Hemnes dresser in white, changed the knobs (found some brass ones on Etsy), and then screwed in a changing pad on top. It was super easy, affordable, and honestly much cuter than anything else I saw out there. 
What items are worth investing in? Are there any pieces that will transition well into a big-kid room?
I think the three main furniture items are the crib, dresser/changing table, and a big comfy chair. I was able to find a crib and changing table for less, so I splurged on the plushy swivel chair, and it was worth every penny. I don't think it will necessarily transition into her big-girl room, but that chair is a lifesaver! 
I'm hoping I can repurpose most of the items in the nursery with the exception of the bed since I've seen some really cute big-girl beds!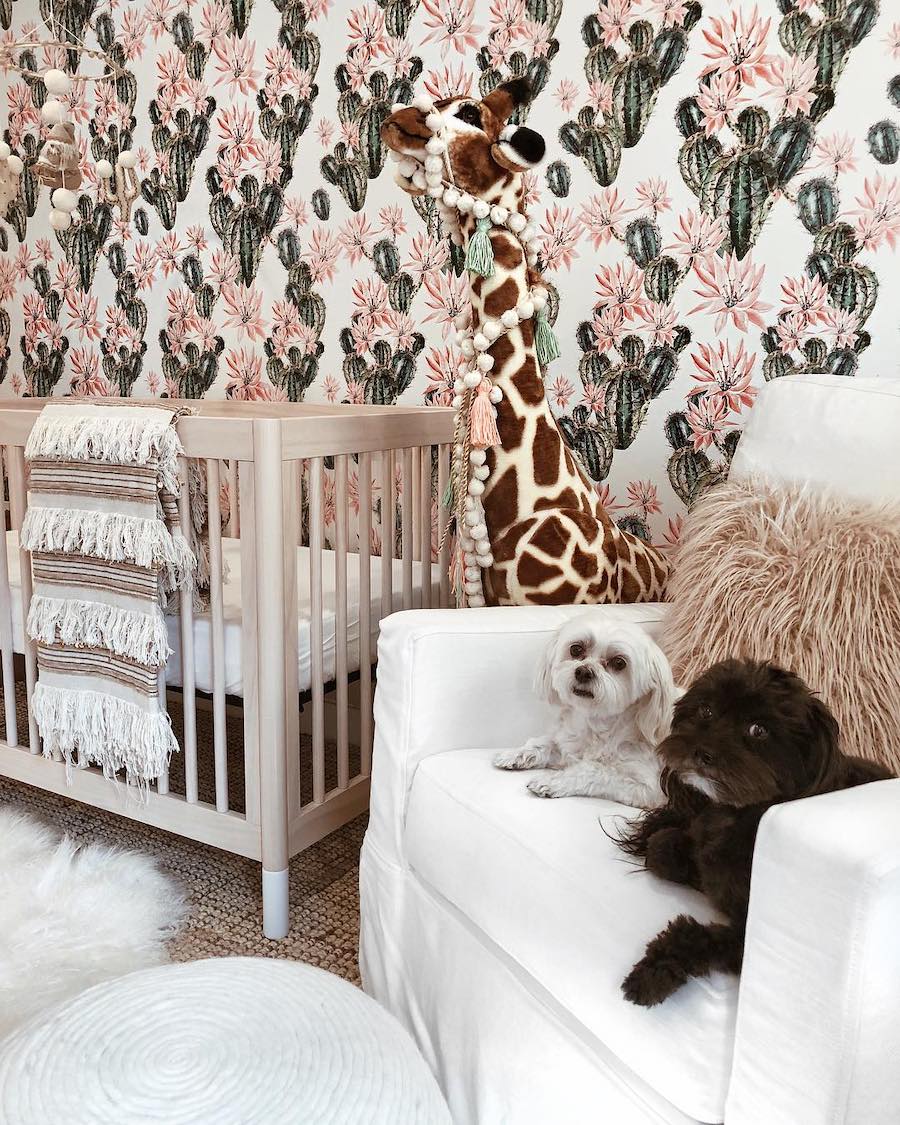 SHOP THE LOOK
Do you have any tips for maximizing functionality in a smaller nursery?
Our nursery is on the smaller side, and I feel like it totally gets the job done. Keeping everything super organized (with bins, baskets, etc.) is key. I also made a point of only having the essentials. You can get so caught up with all the baby gear out there, but I was determined to only have things we really needed. 
Where are your go-to places to shop for baby/nursery decor?
I shopped all over the place – Serena & Lily, CB2, Ikea, Wayfair, Amazon, Etsy, Home Goods, World Market, Pottery Barn. I specifically looked for pieces that weren't necessarily for nurseries so they remained in my style. 
What's your favorite part of Capri's room?
I love the wallpaper. The cacti print with the pink detail is so sweet and really makes a statement in her room. Since everything else is neutral, the wallpaper gives the room color and something to look at. 
It's easy for kid's gear to overtake a home. How do you manage the spread and mess of baby stuff?
The struggle is real! We recently designated our TV room as the unofficial "playroom" with her play mat and toys. I have nice big baskets that house her toys, but I already see the stack growing (thanks to Capri's grandmothers!). I think eventually I will have to just revert to my motto for purging clothing – for every new item we bring into the house, something old must go. I see lots of toy donations in my future. 
How do you juggle working from home and taking care of a baby?
I have help from my family four days per week. Without them, there is absolutely no way I would be able to continue working the way I do. Between blogging, launching a bikini line, and one other product I'm working on (top secret for now!), it would be impossible without help. Since I work from home, it can be challenging at times since I hear Capri and want to spend time with her. But I'm a very disciplined person, so I have to prioritize my time during work hours. 
SHOP THE LOOK
You have such a close-knit relationship with your mom and younger sisters. What's the best piece of advice your mom has given you on motherhood? What's one piece of advice you would tell your sisters when they become mothers?
My mom taught me to stay consistent and always follow through. We were all really well-behaved kids growing up, and I hope Capri will be too. I'll report back in a few years. The advice I'd give my sisters on parenthood is don't be ashamed to ask for help. Bringing a baby home is overwhelming and scary, and sometimes, you just need support. I heavily lean on my family for help, and I want my sisters to feel like they have the same support system that I have when it's their turn. 
You and your husband, Paul, took Capri with you to Mexico recently. Do you have any tips for parents planning on traveling with a baby?
Capri was an angel on that trip! She was 5 months at the time, and I'd say the best decision we made was bringing her Dock-A-Tot. It came in handy at the beach, in the hotel room, etc. She needed something familiar to feel like home, and that was perfect. There is really no easy way to travel with a baby – they require SO much stuff, you never know how they will behave, and it's just plain tiring. Be ready to do things differently than you're used to. We ate a lot of room service since Capri goes to bed early. It's not what we are accustomed to when traveling, but that's just our new normal. 
How do you and Paul divide parenting roles, and how has having a baby impacted your marriage?
We have a really great arrangement that has worked for us from the beginning. Paul does the morning shift, I split my time with Capri and work throughout the day, and I do the nighttime routine with Capri. Paul and I make a point of reading her bedtime stories together before putting her to bed. On the weekends, we just share all the duties. Capri is such a chill baby that she makes it very easy for us. 
What's your approach to enjoying motherhood while also maintaining your personal identity?
I make sure to do things for myself. Massages, date nights, dinners with girlfriends, solo travel — basically all the things a lot of moms feel guilty doing. I recently opened up on my blog about why I don't have mom guilt – I just truly believe it's healthy to remain your own person despite having a baby. It's all about finding a balance, and don't forget to take care of yourself too. 
When it comes to motherhood, what are you most confident in? What are you still insecure about?
It took me a while to feel confident in being a parent. Everything was so new and scary the first few months. I finally feel like we have a good routine with Capri, so it's not so unknown. I love our dynamic and how our relationship is developing. 
Capri is not super attached to me (or anyone for that matter), and sometimes I'm sad about that. But it's honestly a selfish feeling because she's independent, and I just want her to need me more. However, I know as she gets older, we will be able to do more meaningful things together that she will actually remember. 
What is your morning routine?
Paul gets up with Capri at 6:45am, feeds her, plays with her, and waits for me to get up. I usually wake up around 7:30am, have breakfast with Paul and Capri, and start mapping out my day. I make a coffee, check emails, promote my new posts across my social media, then either head to a workout or shoot content/attend events/leave for a meeting. Each day is different, but all my mornings start the same. 
Sivan Ayla Richards is The Everymom…
Favorite date night activity? Sushi and sake.
Go-to meal to cook? Salmon rice bowls. 
Last item you splurged on? A pair of Christian Dior slides for summer. 
Favorite workout? Kickboxing and pilates. 
Favorite Instagram to follow? @gerihirsch. Just major life goals! 
Beauty item you recommend to everyone? Cleansing balms. Game changer. 
I wish I knew how to… Speak Italian. 
Coffee order? Dirty chai > coffee.