There's no denying parenthood is a bit of a roller coaster. It can bring you the highest highs and, on the very same day, have you questioning yourself or even feeling alone.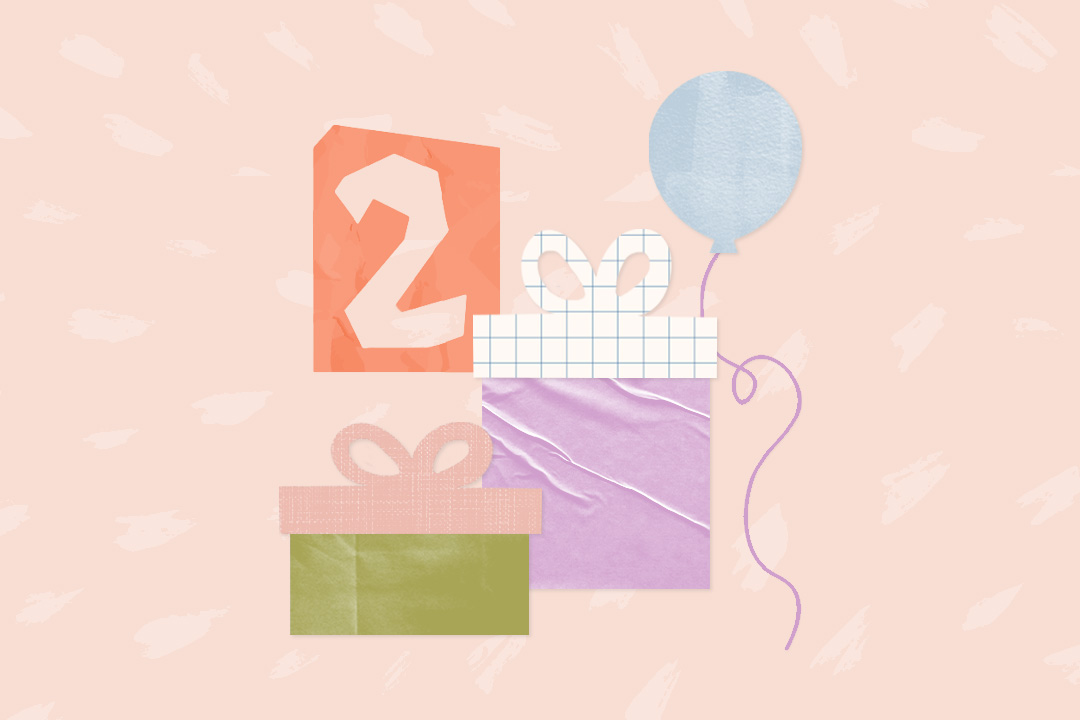 a LO in your life will love these! 🎁
Since we launched The Everymom five years ago, our goal has been to offer guidance and build a community to celebrate those highs and help you through the lows. We hope that every mom who finds themselves on our virtual doorstep feels seen, represented, and anything but alone—and we hope we've been able to achieve that in some small way.
It's kind of funny looking back to where this all began and seeing how far we've come in five years—as a team, as women, as a community, and as mothers. We're so grateful to have such a supportive and enthusiastic readership, and we're constantly inspired by the stories we hear from parents who have found comfort and support through The Everymom.
You might not know this, but creating this resource and community for moms was always the obvious next step for our company and mission. We bought the site domain back in 2013 knowing it would be a resource many in our audience would one day need, but it wasn't until 2018 that it finally felt like the right time to embark on The Everymom chapter. And here we are five years and almost 20 million site visitors later.
Wow. Thank you.
Thank you for being a part of it. And for letting us into your family.
Your feedback, messages, and comments mean the world to us. We're so grateful to have you as a part of our supportive community, and we can't wait to keep growing and evolving with you in the years to come.
Thank you to our incredible team and contributors for their hard work and dedication to our mission.
We can't wait to see what the next five years hold. We have a few things up our sleeves that will be revealed over the next few weeks—new exciting launches, an in-person event, and more. But connecting with you, our community, and giving you opportunities to connect, is at the top of our list!
Cheers to the next five,
Alaina Kaz, Cofounder & CEO, and Roberta Correia, Editor-in-Chief
Our Team Reflects on 5 Years of The Everymom
Alaina Kaz, Cofounder & CEO
When I look back to five years ago, I was about to welcome my first son into the world. I was scared, excited, nervous–essentially every possible feeling at once. And I didn't feel ready; how could I? I had no idea what was on the other side of motherhood. Every mother I had ever known or spoken to had such different things to say and experiences to share.
Fortunately, from that very fact sparked the inspiration for The Everymom. A place to share all experiences lived and emotions felt on the journey of motherhood. A place where moms could seek out and find inspiration, comfort, and community when they need it most. And for me, The Everymom has been a community more than anything else—in both my team and our readers. And I hope we can continue to be that for all of you. We wouldn't be here without all of you, so thank you. I'm so excited about the next five years!
Roberta Correia, Editor-in-Chief
Five years. Only parents know that five years can feel like both an eternity and a blip in time. In five years, my son has grown from a babbling baby who had just learned to walk to a little boy who reads, plays basketball, and has a full life and even fuller personality. And it hasn't all been easy. Between all of the giggles, hugs, and love, there have been tantrums, struggles, and more than a few glimpses into what life with a teenager will look like.
When I first interviewed for a job at The Everymom, we were in peak pandemic—a time that most parents of young children will not look back fondly on. But all I remember thinking is how much I needed the content The Everymom put out, and how incredible it would be to play even a small part in offering other parents out there the same connection this site had offered me. Almost two years later, here we are celebrating this milestone. And all I can think about is how grateful I am to get to be a part of this—a community of like-minded moms looking for connection, advice, and just to know someone else is going through what you are. That is what is so special to me about The Everymom.
Julia Poulter, Senior Managing Editor
I often joke that I manifested my dream job at The Everymom—but, to be honest, I truly believe I did. Five years ago, I had just relocated from New York City to Chicago, moved in with my then-boyfriend (and now-husband), and felt totally burnt out from my stressful job working in celebrity news. Then one night while talking to my sister, I told her, "I really want to work at a women-led company with employees who value flexibility, have a healthy work-life balance, and support each other. I want to work… with moms." The next morning, I saw the job posting for The Everymom's Managing Editor role and, within a few weeks, I had the job.
From my very first day working at The Everymom, I've loved learning from our editors, freelance writers, and readers about the joys of parenting, the highs and lows of motherhood, and what it's like to be a modern mom. When I joined The Everymom team in 2019, the site's editorial content was being managed by two full-time editors—now, we're a team of five. It's been such a joy and privilege to be a part of The Everymom's growth over the past five years. So much in the world has changed since then—and I'm proud that we remain a constant for moms looking for community and connection. And, I've grown a lot too: I got married, bought a home, grew in my career, and created countless memories, both personally and professionally, that I've loved looking back on as we celebrate The Everymom's anniversary. Cheers to the next five, Everymoms!
Kathy Sisson, Editor
Five years ago, a friend introduced me to The Everymom, just as it launched. Like so many of our readers, I was in the midst of early motherhood with two young kids, ages 2 and 5. While I was having a hard time finding the ever-elusive "mom friends" in a new city, I found so much inspiration and connection in stories from other women on the site. I even slid into the DMs of one of the writers to say thank you because her story resonated with me so much.
I was also trying to figure out my next career move—while working part-time and freelance writing in the precious hours after bedtime—when The Everymom posted a call for writers. Applying changed my life. I pivoted from a marketing professional into my dream job—a real-life writer. In the years I've been part of The Everymom team, it's been my privilege to share personal stories and expert resources along with some of the humorous and heartwarming moments of motherhood. I still turn to our content first for advice on everything from having uncomfortable conversations with my now school-age daughters to finding outfit inspo for the upcoming season. I'm so proud to be both an editor and longtime fan.
Jessica Welsh, Associate Commerce Editor
Just about five years ago, I was getting ready to graduate college with my degree in journalism. I had a summer internship lined up, but had no idea what would be in store for me career-wise when that ended after a few months. I was so sad (and scared!) to be leaving my college life behind, but had big dreams of moving into the city and getting started with the rest of my life.
It would be another year of me just trying to get any job experience I could before I saw a post about The Everygirl's editorial internship. When I applied, I was working a data entry job that I hated—so I hoped with every part of me that I would get the job. I did, and since then I've been lucky enough to work on many different teams across both The Everygirl and The Everymom.
I landed in my full-time role as Associate Commerce Editor at The Everymom about a year ago, and I instantly felt at home with this team, this audience, and this brand. Although I am not a mom myself, I like to call myself "one with the moms" when it comes to tapping into our readers' shopping behavior. I love a mix of budget-friendly finds with a few investment pieces here and there (and live for a great dupe), and I've truly adored getting to share hundreds of pieces of fashion content with The Everymom audience over the past few years (especially when I get the chance to make trends more approachable or encourage a little step out of the comfort zone!).
Alexandra Pagar-Wolf, Chief of Sales
Five years ago, I was more than four years into a battle with infertility and recurrent pregnancy loss. I laid awake at night searching for resources to support me through that challenging time and help me keep the faith. The Everymom was born at the exact same time I found out that my first son was healthy and on the way. Infertility is a lonely and painful journey, as can be pregnancy and early motherhood. The Everymom was a safe and judgment-free space that was designed to support every kind of mother and the various paths that led her to the title of Mom.
Parenting is both the best and most challenging job I have ever had. Working to create an inspiring space to support mothers has been a true joy of my life. I am so very proud of the work I do every day and the team I do it with. I'm grateful for the readers who welcome us into their lives every day. I'm inspired by my coworkers, our readers, my husband, my mom friends, and my two miracle boys to create content that makes women feel seen. Whether it's checking off every single box on your childhood sickness bingo card, or finding the best tricks for potty training, The Everymom always makes me feel like I am never alone in this journey of motherhood—and I hope you feel that too. Thank you for five amazing years!
Steph Alleva Cornell, Branded Content Editor
Nearly five years ago, I discovered I was pregnant with my first baby. Though it was a surprise, my husband and I had dreamed of being parents our entire lives and were over-the-moon excited. However, I suffered an early miscarriage just a few weeks later and it truly broke my heart. After a few grief-filled months, I came across an article written by an editor on The Everymom who shared her experience with an early miscarriage. It resonated so deeply with me that I promised myself I would subscribe and follow The Everymom when I finally became pregnant again (which did, in fact, happen later that year!). Over time, I gained two beautiful children and a trusted resource for all my parenting needs.
Fast forward to summer 2022: I was let go from my company of three years barely a month after returning from maternity leave for my second child. But in a crazy twist of fate, the digital publication that I had been following for years posted a job opening looking for someone with my exact qualifications. And so I joined this amazing team of brilliant mothers and women who had provided me with support and connection during my darkest time all those years ago. So, to me, The Everymom represents hope after loss—a place of understanding and acceptance throughout every stage of motherhood. I'm honored to be part of this team and help other mothers through their journeys just like The Everymom has helped me. Happy five years to this incredible site!
Nyla Montanez, Social Media Editor
Five years ago, I had one child and another on the way and somehow I still felt like I needed some guidance on motherhood. I knew that no amount of books, expert tips, or family advice was going to equip me for becoming a mom of two—and I needed to soak up as much knowledge about it as I could.
I became a young mother and have absolutely no regrets because having a family of my own was truly a dream come true. When I discovered The Everymom, it was the exact resource I had been looking for—my go-to safe space and digital mom bestie. The articles, stories, humor, and everything in-between resonated with me on so many different levels. I'm beyond grateful for this online community and being a part of this force where women can be who they want and speak on it without judgment. No matter what stage of life you're in, there is something for everyone here and you take what you need. Allowing ourselves to grow with one another by sharing real-life experiences, you might not know that The Everymom is just what you need—until now.
Enter Our 5th Anniversary Giveaway!
Click on the graphic below for all the giveaway details and to enter to win 🎉