Why does it feel like we just dressed up for Halloween and Christmas was yesterday—and, now, Valentine's Day is comin' in hot?! It boggles my mind, too, but here we are: forging ahead into 2023.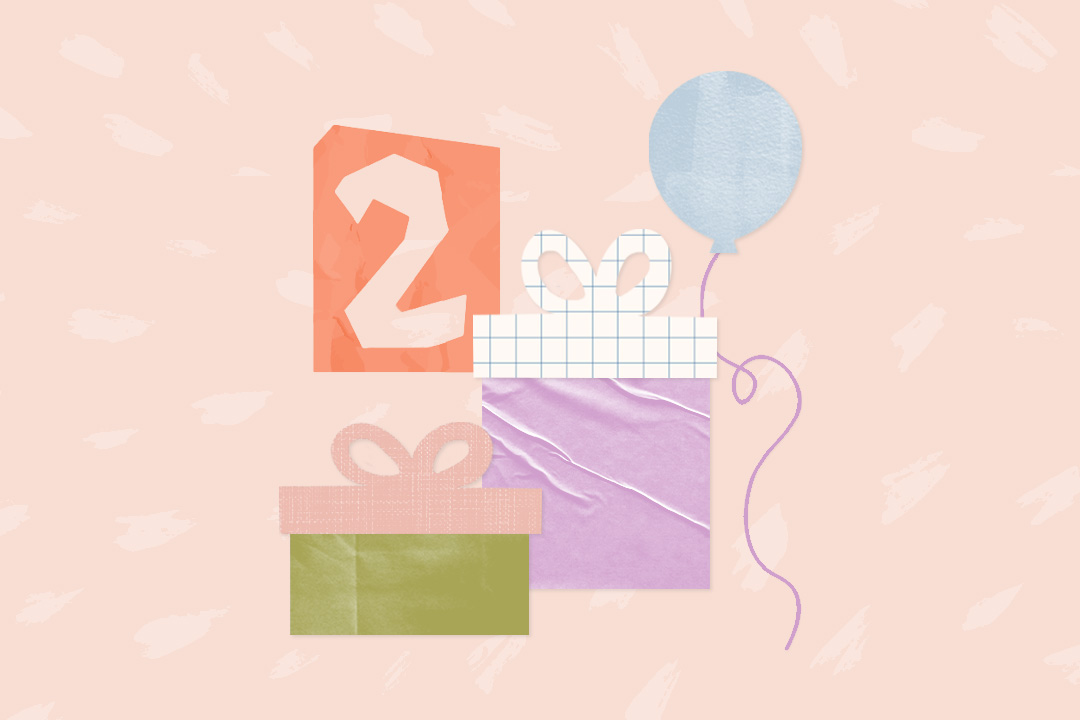 a LO in your life will love these! 🎁
First stop on the 2023 love train? Valentine's Day. I have to admit that I'm way more into Valentine's Day as a mom than I am as a wife. Certainly, there's something special about celebrating romantic love, but for whatever reason, the maternal side of me feels particularly mushy as February 14th rolls around.
So for the snow days at home this February, a Saturday with nothing planned, or as a last-minute gift for the grandparents, we've rounded up 20 easy and adorable Valentine's Day crafts to celebrate L-O-V-E—check them out below!
What would a craft round-up be without an adorable paint handprint piece? This take on the classic craft uses a super cute pun that anyone would love as a gift from their little one.
This easy and fun DIY is perfect for adding a subtle Valentine's Day look to your home, but can easily be kept up all year round!
If you nickname your kiddos "Love Bug," look no further. Kids of all ages will loving making these simple, cute, and colorful paper decorations.
There's nothing like receiving a handmade card from someone you love, and finger painting makes it doable for kids of all ages!
If you have kids that are Ninja Turtle-obsessed, they'll absolutely love creating these paper hearts—they're perfect for handing out at school for Valentine's Day celebrations, too!
This is a super simple craft that uses materials you probably already have on hand, and is perfect for catching sun beams even after V-Day.
You can stick to the classic Valentine's color palette or pick your kid's favorite colors to decorate this wreath and have the cutest door on the block.
This is the perfect decoration for a quick and fun DIY project that'll make an adorable addition to your home or classroom to help get in the V-Day spirit.
For kids that are particularly crafty, this beginner friendly sewing project is a unique little trinket they'll never want to stop making!
These felt wall banners are easily customizable and are sturdy enough to keep as decor for many year of Valentine's Day celebrations.
Any kid loves an excuse to play with slime, so this is a super fun craft for the holiday that'll easily keep them entertained for hours on end.
This silly little craft is something kids will absolute love to make—it's easy, funny, and uses only a couple of materials you most likely already own.
This craft is super fun for kids of all ages and makes for one of the coolest V-Day decorations out there.
This is truly as simple as it gets in terms of crafting: simply print, cut, and color away for an easy, mess-free DIY.
These heart-shaped paper flowers are ridiculously cute and actually very easy to make—you can create an entire bouquet for a fun centerpiece!
These quirky owls are just a simple paper and glue stick type of craft that will be the hoot of all of your decor!
Kick the simple paper projects up a notch with this funky 3D whale craft that's (literally) overflowing with love and fun.
I can't think of a single kid that wouldn't be obsessed with this snack-craft crossover. Customize them with your little one's favorite snack foods and give them the best V-Day treat ever.
This is a great project for very little kids who are just dipping their toes into the crafting world, and it's a perfect choice for a classroom craft, too.
You can put those spare cardboard boxes you have lying around to good use by creating these super simple hearts perfect to stick anywhere around the house or classroom.
This article was originally published at an earlier date and has been updated for timeliness.