It's January yet again, which, for many moms, means a month of setting new goals, intentions, and resolutions for the New Year. If you're looking to focus on something other than fitness, skincare, or career aspirations over the next 12 months, the start of the next year (goodbye, 2022!) can be a great time to get your home organized. After all, a tidy home can not only lead to organizational harmony for your space and family but also help with mental clarity—and who doesn't need more of that?!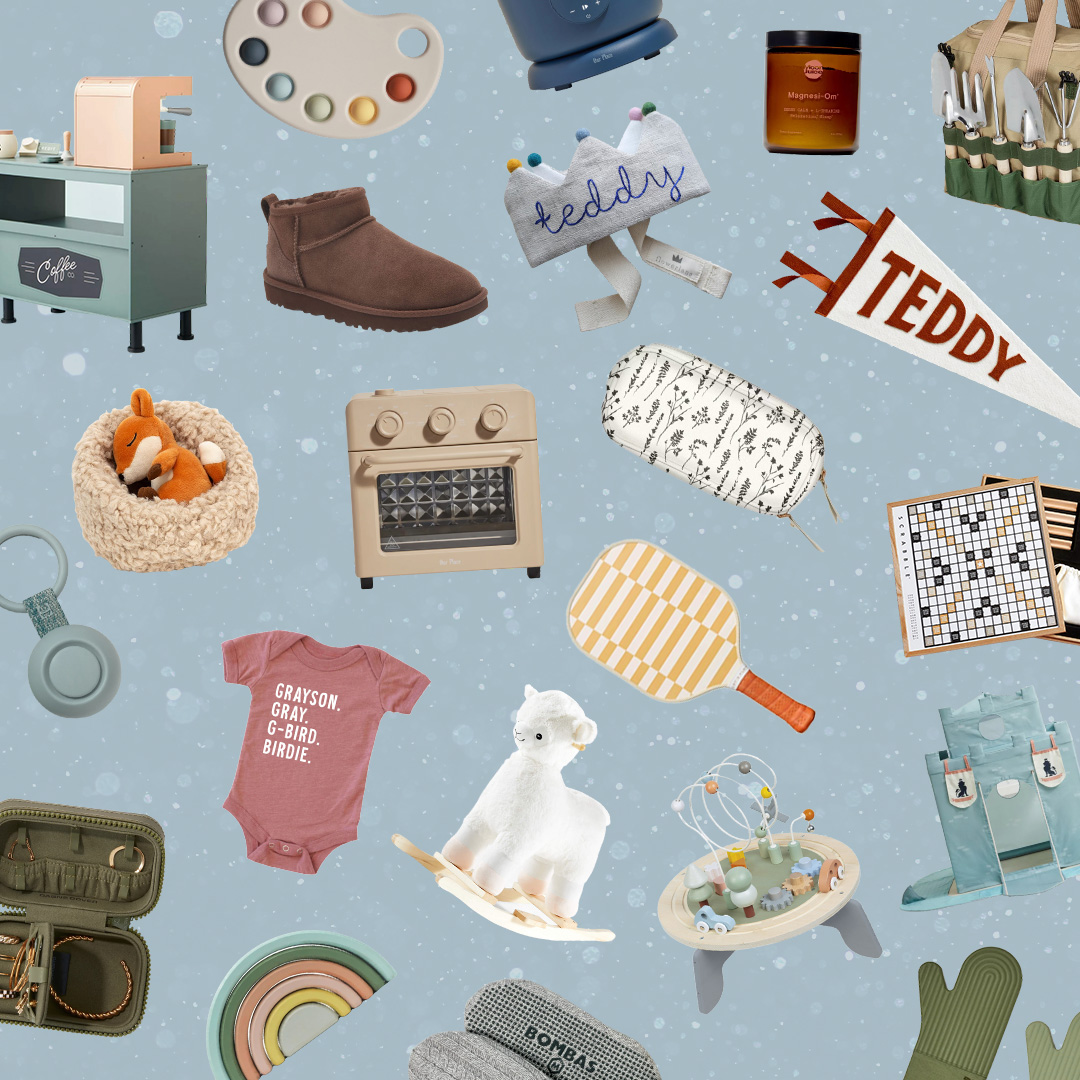 everything you need to ace holiday gifting this year 🎁
Since January is National Get Organized and Be Productive Month, I chatted with Certified Professional Organizer and Owner of Keep It Organized, LLC, Linda Birkinbine, to get some expert tips and tricks for the best ways to simplify your home, organize your spaces, and tidy up your paperwork. Since tackling a home-wide organization project can seem super overwhelming, Birkinbine suggests getting started by simply identifying what disorganized areas are currently hindering the daily smooth operation of your household and beginning with those pain points.
Since tackling a home-wide organization project can seem super overwhelming, get started by simply identifying what disorganized areas are currently hindering the daily smooth operation of your household and begin with those pain points.
If finding a few spare minutes here and there seems too difficult to start getting your home organized, Birkinbine notes it can be helpful to specifically block some time on your personal or family calendar to tidy by yourself, with your kids, or even with a professional organizer if your project warrants extra help.
Meet the expert
Linda Birkinbine, MLS, CPO
Certified Professional Organizer and President of Keep It Organized, LLC
Overall, she emphasizes the key to organizing is simply finding a realistic and accessible place for everything in your home—something that can be especially difficult after the influx of new items that comes during the holiday season. Thankfully, Birkinbine explains below the best ways to clean out holiday decor and incorporate new clothes, toys, and more into your home come the New Year.
The key to organizing is simply finding a realistic and accessible place for everything in your home—something that can be especially difficult after the influx of new items that comes during the holiday season.
"You can either make your stuff fit your space or your space fit your stuff, and it's much easier to do the former than make big changes to your house—or even move!" Birkinbine says. "Above all, don't get discouraged with tidying projects. Organizing is a continual process and a habit you practice."
Read on for Birkinbine's expert tips for getting you and your family organized in 2023 and shop some of The Everymom's favorite organizational products.
1. Purge holiday decor when you take it down
Don't wait until next holiday season to clean out your collection of holiday decor. While you're taking down your Christmas tree, outdoor lights, garland, wreaths, etc., Birkinbine suggests taking time to sort through and purge any broken or malfunctioning items now (seriously, no sense keeping a string of lights that is half lit!) instead of packing it away and storing it for another year. (Plus, who actually has time at the start of the next holiday season to weed through stuff then?!)
If your pile of Christmas decor grew over the last year, make sure to also donate or recycle any unused or duplicate items. Check to see if donation centers are accepting holiday decor post-season, and if they aren't, consider setting it aside to donate or sell (either online or to a consignment shop) next fall when people are looking for holiday items again.
If you're also looking to update your storage options for festive decor, Birkinbine suggests investing in items including ornament boxes, a tree storage bag, outdoor lights holders, wreath cases, and wrapping paper totes to ensure your stuff stays in tip-top shape until next year. And remember to label, label, label!
2. Weed out old items while putting new presents away
If your family received a bunch of new gifts this holiday season, be sure to weed out any old or duplicated items in your kitchen, play areas, and closets when putting the new items away. Did your MIL give you a beautiful set of new hand towels? Donate or recycle any ripped or stained versions from your old stash before adding the new ones.
Did your kids get a bunch of fun, new toys? Make it a family activity to sort through any toys that are no longer being played with and donate them to those in need before introducing the new items into the mix. Finally received a cozy new sweater to replace that well-loved one you've had forever? Be sure to remove it from your closet to donate, sell, or recycle before putting away the updated version to ensure you have the space to store all these new things.
3. Use the "hanger hack" to purge clothing
After incorporating new holiday gifts into your wardrobe, Birkinbine suggests using this well-known "hanger hack" to help you easily weed out clothes from your wardrobe that you no longer love and wear. Instead of taking a big chunk of time to go through everything in your closet and clean things out all at once, simply take each hanger in your closet and turn it the other way around so all of your items are hanging backward. Then, after you wear clothes and return them to your closet, hang them with the hanger facing the right way. After a few months, weed out all the items that are still hanging backward. This allows you to very easily identify clothes that you aren't regularly wearing, and if you're not ready to get rid of them quite yet, you might be inspired to mix them back into your regular rotation. You can also do this in kids' closets too!
Bonus tip: when you're starting the hanger hack, replace your closet's hangers with slim velvet hangers (if you aren't using them already!) to maximize your hanging space. If you're currently using a mix of hangers, these chic options can also help create a streamlined look in your closet. A win-win!
Amazon
Swivel hooks plus velvet hangers means that these are the best possible hangers for clothing storage. These hangers can hold up to 10 pounds, so they are extra sturdy.
Amazon
For kids whose wardrobes are nearly as big as your own, look no further than these small non-slip velvet hangers for easy, compact storage.
4. Clean out expired items in your kitchen and bathrooms
One of the easiest ways to purge items from your pantry, fridge, bathroom cabinets, and junk drawer is to simply go through these areas and clean out expired products. Chances are your refrigerator is filled with old condiments that can quickly be discarded and your pantry has some forgotten snacks or always-there ingredients that may be questionable to eat. Don't forget to also sort through old makeup and other bathroom products that are past their prime, including medicine. (Click here to learn how to properly and safely dispose of unused or expired medicines.)
As for tackling your junk drawer—admit it, we all have one!—be sure to properly dispose of any expired batteries and recycle any broken or unused charging cords and headphones as well as old phones, smartwatches, e-readers, and more. Best Buy is currently the largest national retailer that recycles tech items for free, so check out your nearest store to do your part in eliminating e-waste when purging these items.
Once everything in these areas is cleaned out, it's helpful to reorganize items that are staying in clear containers and use a label maker to denote what's inside for easy retrieval when they're needed next. (Bonus tip: Birkinbine loves using The Container Store's plastic shoe boxes to organize small items. They're great to label and stack in the bathroom's under-sink cabinets or linen closets!)
Crate & Barrel
Put your dried kitchen goods in these clear containers to give your pantry a streamlined and minimalistic look. Plus, the clear plastic makes locating your dried goods much easier.
The Container Store
Shoes can be one of the most challenging things to store neatly and easily. These clear shoe boxes ensure that your pairs of shoes will never be without their other half.
Amazon
Hold up to 140 batteries in this storage box, which also comes with a battery checker to make sure you're not accidentally storing old or dead batteries.
5. Make sure everything has a place
One of the secrets to maintaining an organized home, Birkinbine says, is to have a place for everything and make sure everything regularly finds its way back to its place. If you and your family establish a system for where certain items "live" in your home, it helps ensure high-traffic areas don't get cluttered with random, everyday items like mail, keys, shoes, bags, etc.
Plus, this is also the easiest way to make sure things don't get misplaced—if you're always setting your keys in the same place every time you return home, they'll always be waiting for you when you need them next (unless tiny hands move them which we know is always a possibility, ugh). If you have items or categories of items that don't yet have a spot to be stored in your home, take this time to figure out the best area for them to live and educate your family on where things should be put away in the future.
World Market
Storage never needs to be an eyesore, and this marble and gold metal letter sorter proves it. For less than $25, this letter sorter will keep your desk drawers and your mind clear.
Amazon
Hang everything from necklaces to bags to keys on these multi-purpose rattan wall hooks. These will match your decor in your bedroom, bathroom, living room, and more.
Etsy | Poured and Crafted
A good jewelry tray is an absolute essential, and this trinket tray can be used to collect little objects in every room of your home.
many colors available
6. Get your important paperwork in order
With the holiday season behind us, January is the perfect time to make sure your family's important paperwork is organized and in a safe place. Birkinbine suggests taking some time to create physical and/or digital folders that include copies of passports and birth certificates as well as your home's deed, marriage license, professional certifications, driver's license, insurance cards, credit cards, etc. to have on-hand in an accessible place in case of emergency. If you want to take things a step further, store these items in a fire-proof safe, safe deposit box, or give a copy to a trusted individual such as a family member, lawyer, or executor.
Now is also a good time to take photos of each room in your home (including the floor, walls, and ceiling) and valuable items and store them in a safe place. These are invaluable in case you ever need to file a renter's or homeowner's insurance claim, Birkinbine explains.
Since tax season is also right around the corner, be sure to file away other important documents like W-2s and 1099s so you have everything together when the time comes to file your taxes.
7. Create a system for family communication
Life with kids is super busy, so to make things easier for everyone, it's helpful to establish a system for family communication. Birkinbine says setting up weekly meetings or check-ins (Sunday nights might work best!) with your partner and/or kids can be really helpful for getting organized and making sure everyone is on the same page about what's coming up.
While it's helpful to regularly chat with your significant other about finances and other important to-dos during these weekly chats, consider also including your children for part of the meeting to chat through upcoming events, meal planning, school assignments and activities, family goals, etc.
Bonus tip: if you have the space to hang a family calendar or chalkboard in a common area of your home, that can be helpful for kids to visualize and stay involved in the family's day-to-day or week-to-week schedule.
The Everygirl x Day Designer
This large paper wall calendar is perfect for displaying all of your family's appointments and activities in 2023.
Etsy | Circle and Square Decor
This personalized dry erase board is amazing for keeping track of your family commitments and engagements heading into the new year. Just erase it each month and start over!
8. Write a will and name legal guardianship for your kids
No parent ever wants to think about what may happen to their children if something happened to them, but it's so important to have the proper paperwork in place just in case. From creating a will and appointing legal guardians for your kids—AKA deciding who you want to raise your children if you or your partner aren't able to—to setting up life insurance and savings accounts for the future, this post has everything you need to know about what you should have organized in case of an emergency.