One of my main forms of entertainment over the last year has been switching from one streaming platform to another. Since streaming has become most people's main source of entertainment, media companies have all been trying to create their own services.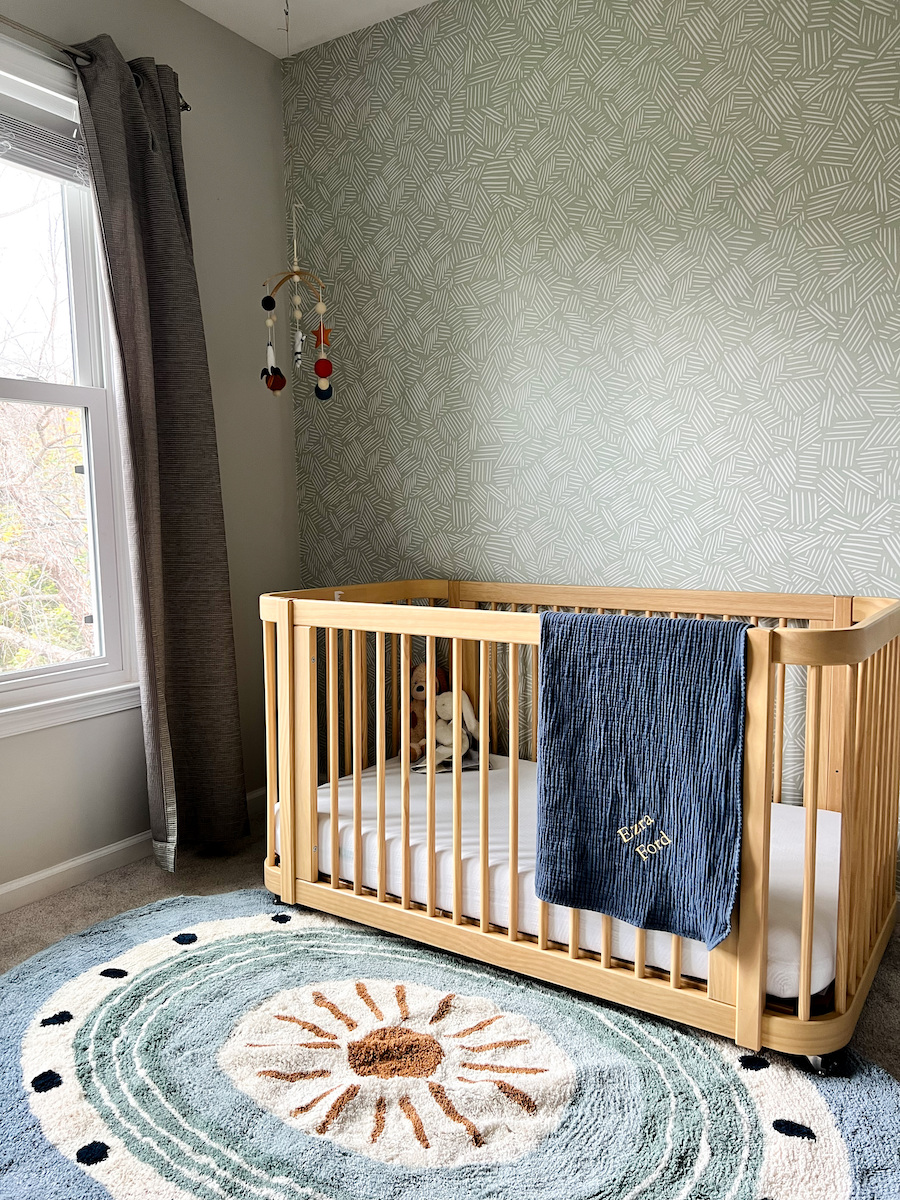 editor-favorite crib brand Nestig just released gorgeous new wallpapers that will easily transform any space 😍
The problem is that all of these services begin to pile up, and then suddenly you have 10 different charges from different streaming services without even remembering you purchased them. That's why it's a good idea to choose a couple of services that best suit your needs in terms of content and pricing.
If you don't even know where to start, we created a list of all the main streaming services, including some of the best TV shows and films for adults on each platform, from throwback movies to modern, buzzed-about series. We hope this helps determine the best streaming services for your family.
Netflix
Cost: $9 to $18/month
Netflix remains as one of the top video streaming services. Besides having a large selection of old classic films, kids' shows, and family-friendly shows, Netflix consistently releases new original movies and series each month, with a wide variety of shows and movies for adults.
Netflix Original Series
One of Netflix's most popular originals Stranger Things (Millie Bobby Brown, Finn Wolfhard, Winona Ryder) takes place during the 1980s when a group of young children witness supernatural events and proceed to search for answers to a series of mysteries. Season four debuts in 2022.
Based on the book with the same name, Firefly Lane charts the story of two best friends, Kate and Tully (Sarah Chalke and Katherine Heigl), as they experience the challenges of growing up. Despite 30 years of ups and downs, Kate and Tully still remain inseparable. 
In this Netflix original drama, we get an inside look at the life of Queen Elizabeth II from the 1940s to present day. From politics to romance, this series has it all. Season 5 will debut in 2022.
Netflix Movies 
Throwback: Ferris Bueller's Day Off
In one of John Hughes' first big hits, bad boy Ferris Bueller (Matthew Broderick) decides to cut class before graduation. The movie explores his journey through the streets of Chicago as he tries to avoid being caught. 
Modern Favorite: To All The Boys I've Loved Before 
Lara Jean (Lana Condor), a quiet high school student, has her life turned upside down when her secret love letters get mailed out to her old crushes (Noah Centineo).
Original: Fatherhood
Kevin Hart stars in this new Netflix original drama movie about learning to raise his baby girl after his wife dies the day after giving birth. It is a touching and moving story that's definitely worth the watch. 
Cost: $5.99 to $7.99/month (also available as a bundle with Disney+)
Hulu is also one of the most popular streaming services out there. Not only is there a wide selection of TV shows and movies to choose from, but Hulu also allows you some live or next-day streaming options, which is unlike any other service. The only con is that for a basic membership, you have to deal with some ads while watching. 
Hulu Original Series
The popular novel by Margaret Atwood was turned into a Hulu series in 2017 and just released its fourth season. The story takes place in an alternate universe, where the United States is turned into a totalitarian society that treats women as property of the state and forces them into sexual servitude. The series follows the life of one woman, Offred (Elisabeth Moss), as she tries to survive the terrible circumstances of the world she lives in. 
Based on the novel with the same name, Little Fires Everywhere, starring Reese Witherspoon and Kerry Washington, takes place in a small town in Ohio in the 1990s with a seemingly perfect family, the Richardsons. Everything in their lives takes a turn when a mother and daughter move into town and change their lives for good. 
In this new Hulu original starring Nicole Kidman, Melissa McCarthy, and Michael Shannon, nine strangers go to a health-and-wellness 10-day retreat to decompress—but they have no idea what is about to happen to them.
Hulu Movies 
Throwback: Heathers
In this classic film, Veronica (Winona Ryder) and her boyfriend J.D. (Christian Slater) accidentally poison the most popular girl at school and try to make it appear like a suicide.
Modern: Booksmart
In this movie directed by Olivia Wilde, two high school best friends realize that they have missed out on their teenage years because they were so focused on school. To make up for lost time, they decide to have one wild night.
Original: The United States V. Bille Holiday
This biographical movie stars Andra Day as the famous singer Billie Holiday. Based on a true story, the movie is about how Billie Holiday was targeted by the U.S. government for her drug use and one of her songs that protested the lynchings of Black Americans during the 1940s.
Cost: $7.99/month (also available as a bundle with Hulu)
Disney+ is a newer streaming service that has all of the old Disney classics and some new original films and TV shows. It's a great service for families and for lovers of popular Disney franchises like Star Wars and Marvel. Although Disney+ has a lot of content for children, they do have some things meant for older audiences, like the shows and movies listed below. 
Disney+ Original Series
With the characters from the Marvel films, this series is all about Loki (Tom Hiddleston) as he deals with all of the events after the fallout of Avengers: Endgame.
A continuation of the Star Wars franchise, this series takes place after the fall of the Galactic Empire, as a lone gunfighter (Pedro Pascal) tries to make his way through the galaxy.
This National Geographic show with Sam Shepard and Scott Glenn is all based on the true story of the start of the U.S. Space Program and America's first astronauts at the height of the Cold War. 
Disney+ Movies 
Throwback: The Sound Of Music
This classic, heartwarming story describes the lives of the children of the Von Trapp Family as they get a new governess (Julie Andrews) who brings a new perspective on love and music to the whole family. 
Modern Favorite: Jane
This documentary film tells the story of Jane Goodall's early explorations in Tanzania while also discussing her relationship with her cameraman and her husband.
Original: Clouds
In this Disney+ original based on a true story, a teenage boy discovers he only has a few months left to live and decides to embrace his dream of becoming a singer.
Cost: $9.99 to $14.99/month
Some of the most classic and critically acclaimed TV shows and films only exist on HBO Max. All of Warner Bros.' new releases now come out on HBO Max as well. HBO Max does not have a lot of programming for young children, but they do have a ton of nostalgic and new content for adults, like the shows and movies listed below. 
HBO Max Original Series
The cast of the popular series Friends (Jennifer Aniston, Courteney Cox, Lisa Kudrow) return in this reunion special that is only on HBO Max. It's great to see everyone back together on the original set. All of the Friends episodes are also on HBO Max if you feel like going back down memory lane (and while you're there, check out Fresh Prince: The Reunion too!)
This new HBO series details the lives of three men in London in the 1980s as they deal with the widely spreading AIDS virus that the world seems to be pushing off. 
This popular HBO series includes stars like Murray Bartlett, Connie Britton, and Jennifer Coolidge. The White Lotus follows the layered, surprising, and dark events that happen to various employees and guests at an exclusive Hawaiian resort for one week.
HBO Max Movies 
Throwback: Clueless 
The beautiful and popular Cher (Alicia Silverstone) decides to befriend the new girl at school and makes it her mission to make her popular.
Modern Favorite: Crazy Rich Asians 
Rachel accompanies her boyfriend, Nick, to a wedding in Singapore, where she learns that his family is actually one of the wealthiest families in the country and Nick is the most eligible bachelor.
Original: Temple Grandin 
Based on a true story, Claire Danes plays animal husbandry expert Temple Grandin in this emotionally moving film.
Cost: $8.99/month
Amazon has everything from home decor to fashion, groceries, and music. They also have their own streaming platform called Prime Video. If you already have an Amazon Prime membership, you already have access to Prime Video with some original content but also lots of old or international films that aren't offered on a lot of other services.
The only con of this platform is that although they do offer a lot of movies and shows included with a Prime membership, you have to pay extra for some titles. Listed below are some TV shows and movies that are included with a Prime membership without any additional cost. 
Amazon Prime Original Series
Miriam Maisel (Rachel Brosnahan) lives on the Upper West Side of New York with her beautiful family, but life takes a turn when she discovers her passion for stand-up comedy. She must give up her comfortable life so she can hopefully become successful in the comedy world. 
This Amazon original series tells the story of a washed-up lawyer named Billy McBride (Billy Bob Thornton) who somehow ends up in a life-or-death trial against a large firm that he helped create. Watch McBride as he tries to get revenge and redemption out of this complicated trial. 
This other Amazon original series describes a group of women (Genevieve Angelson, Anna Camp, and Erin Darke) who work in a newsroom during the 1960s and struggle to fight for equality. Their fight for justice causes a lot of complications in their workplace and in their personal lives as well. 
Amazon Prime Movies
Throwback: Alien
This award-winning film describes what happens when a space crew encounters an alien ship that soon begins to attack their entire crew and take over their ship. Ellen Ripley (Sigourney Weaver) must protect the rest of her crew and get rid of the deadly aliens. 
Modern Favorite: Four Good Days
Starring Mila Kunis and Glenn Close, Four Good Days is about a mother helping her daughter work through her substance abuse recovery.
Original: Annette 
A stand-up comedian (Adam Driver) falls in love with a world-renowned opera singer. After the birth of their first child, they realize that their little daughter actually has an exceptional destiny.
Cost: $4.99/month
For an affordable price, viewers can access a limited library with some exclusive series. Similar to Prime Video, Apple TV+ allows you to be able to view more movies and shows for an additional price. Here are some of the exclusive, popular movies and shows on Apple TV+. 
Apple TV+ Original Shows
This award-winning TV show with Jennifer Aniston and Reese Witherspoon describes the lives and work of the people on early morning television after a scandal rocks the network.
One of the most popular TV shows at the moment, Ted Lasso is about a small-time football coach (Jason Sudeikis) who is hired as a coach for a pro soccer team in England even though he has no prior experience. 
This series with Joel Kinnaman and Michael Dorman is all about what life would be like if the global space race still continued. 
Apple TV+ Movies 
Throwback: A Charlie Brown Christmas 
In this 1965 animated film, Charlie Brown tries to get his friends into the Christmas spirit.
Modern Favorite: Bruce Springsteen's Letter To You
In this documentary, we get a behind-the scenes-look at Bruce Springsteen's creative process.
Original: The Banker 
This movie that takes place in the 1960s describes two entrepreneurs (Anthony Mackie and Samuel L. Jackson) who try to fight for housing integration. 
Cost: $4.99 to $9.99/month
Paramount+ is a relatively new platform that features a wide variety of classic TV shows, similar to HBO Max. Paramount+ exclusively is home to CBS series and also Viacom cable channels like MTV and Nickelodeon. The platform will also release Paramount movies 45 days after their theatrical release. Paramount does have some great old TV shows and films that are perfect for adult viewers. 
Paramount+ Original Shows
This series is a spinoff to the show The Good Wife, which picks up after the final episode of the original show. It explores what happens when characters Diane (Christine Baranski) and Maia (Rose Leslie) try to rebuild their lives at a new firm. 
This much buzzed-about drama series follows the Dutton family, helmed by patriarch John Dutton (Kevin Costner), as they try to protect their sixth-generation ranch through a game of corruption and politics in Montana. The breathtaking scenery offers a contrasting backdrop to some dark themes surrounding loyalty, family, and the treatment of Indigenous people. Season four debuts in November 2021.
This series is a revival of the original Star Trek that takes place 18 years after all of the previous events. The retired Jean-Luc Picard (Patrick Stewart) starts a new chapter of his life that does not come easily to him. 
Paramount+ Movies 
Throwback: Roman Holiday
This classic Audrey Hepburn film is about a European princess who falls asleep on a park bench and is found by a reporter who finds out her identity and bets he could get an exclusive interview with the royal. Although he starts off by trying to find more about her life, romance soon gets in the way. 
Modern Favorite: A Quiet Place
This horror film, starring Emily Blunt and John Krasinski, is about a family that must live in silence to avoid creatures that hunt by sounds.
Original: Infinite 
Starring Mark Whalberg, this action movie explores what happens when a man joins forces with a team of reborn warriors to help save the world.
Cost: Free or an additional $10/month for premium content
Peacock is another newer platform that streams new and old NBC Universal shows and also a rotating slate of hit movies. Peacock has a limited library of content, but they do have some live news and sports broadcasts like WWE. Listed below are some of the best TV shows and movies on Peacock. 
Peacock Original Shows
A biochemical engineering student becomes the guitarist of an all-female Muslim punk band and struggles to balance her old and new friendships while also trying to find her voice.
Based on a true story and a popular podcast, this is about Dr. Christopher Duntsch (Joshua Jackson), who has a successful neurosurgery practice until patients suddenly come in for complex spinal surgeries and either leave permanently disabled or dead. As more people become aware of what is going on, two physicians (Christian Slater and Alec Baldwin) and a prosecutor set up to stop Dr. Duntsch. 
In this sitcom, two best friends (Ed Helms and Jana Schmieding) live in a small town without much happening until they suddenly get a shocking wake-up call. 
Peacock Movies 
Throwback: A Nightmare on Elm Street
In this original horror movie, several teenagers fall prey to Freddy Krueger (Robert Englund) and one girl and her boyfriend try to figure out what is happening before it's too late. 
Modern Favorite: Boy Erased 
Starring Nicole Kidman and Lucas Hedges, Boy Erased is all about the fallout of a young boy being outed as gay to his family and sent away to conversion therapy.
Original: Anthony
Based on a true story from 2005, a Black teenager named Anthony (Toheeb Jimoh) is murdered at 18 years old by two white men in an unprovoked attack. The film tells the story of what life would have been like for Anthony if he ended up surviving.