Is there anything better than changing into comfy clothes, settling into the couch with a bowl of popcorn, and watching one of your favorite rom-coms? There's just something special about a slightly cheesy but oh-so-sweet movie where two leads slowly (and oftentimes unexpectedly—to them, at least!) fall in love right before our eyes. And by the time the credits roll, you've had a few laughs, you undoubtedly believe in love again, and you're basking in all the feel-good vibes. Seriously, why isn't every movie a rom-com?!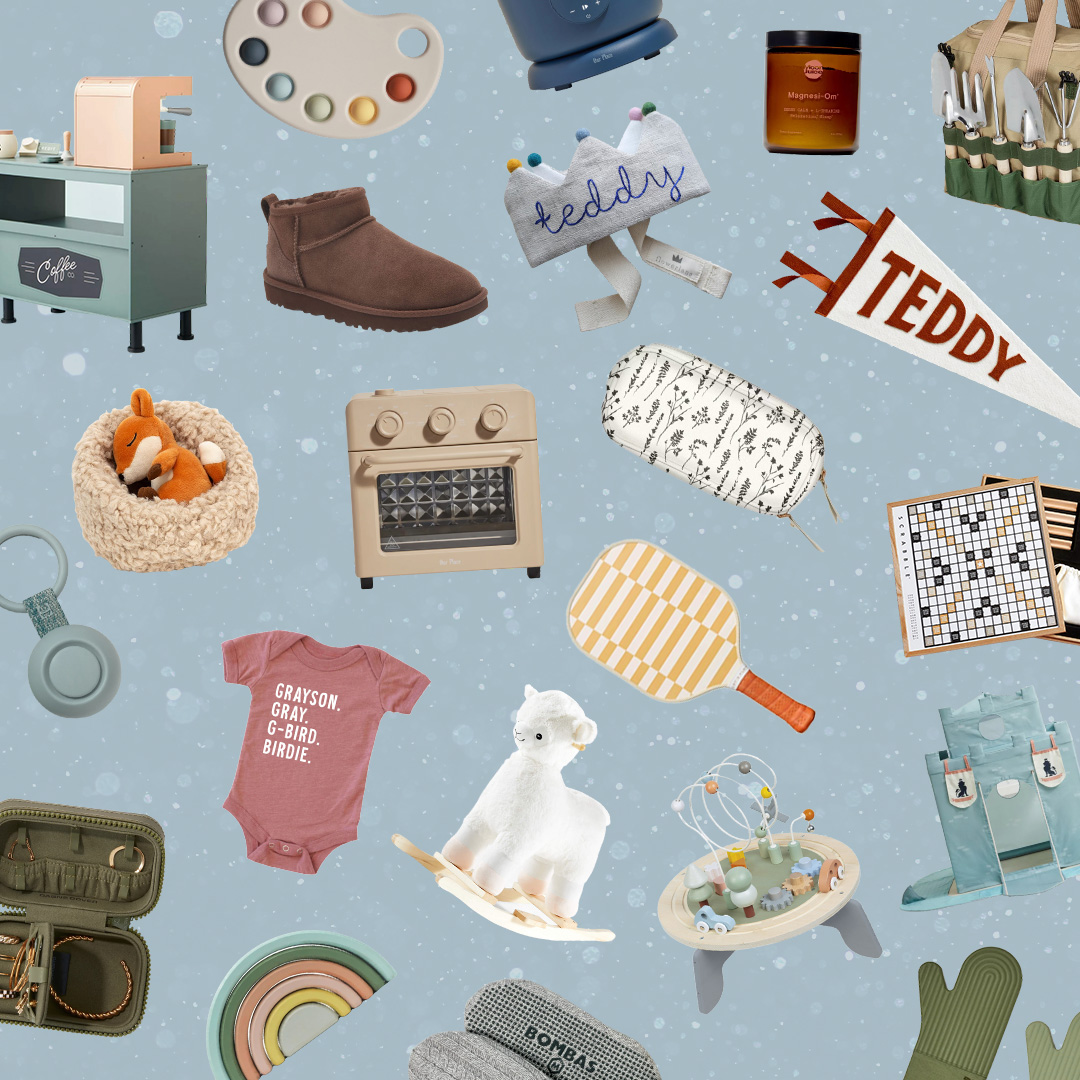 everything you need to ace holiday gifting this year 🎁
Over the years, we've been #blessed with some truly classic rom-coms for the ages like Pretty Woman, When Harry Met Sally, and You've Got Mail. Then came the era of late '90s to early 2000s flicks—She's All That, 10 Things I Hate About You, Sweet Home Alabama, How to Lose a Guy in 10 Days—that are some of the most quotable and beloved movies of our generation.
Lucky for us, the rom-coms just keep coming—especially now that streaming services like Netflix, Peacock, and Amazon Prime Video have big budgets to dedicate to this star-studded (and fan-favorite) genre. And with Valentine's Day right around the corner, this is the perfect time to catch up on newer rom-coms you haven't seen yet—like The Lost City, Marry Me, and Your Place or Mine–or rewatch an old classic or two.
Below, we've put together a list of 40+ rom-coms we love, organized into classic movies and new flicks. Scroll down to check out our best recs!
New Rom-Coms
Your Place or Mine
Where to Watch: Netflix
This new Netflix flick stars rom-com queen Reese Witherspoon alongside both Ashton Kutcher and Jesse Williams. Bicoastal best friends Debbie (Witherspoon) and Peter (Kutcher) both need a change of scenery, so they switch houses and lives for a week, with Debbie heading to NYC and Peter visiting LA. But when Debbie meets Theo (Williams), Peter realizes his chance at love with his longtime BFF might be slipping away.
Marry Me
Where to Watch: Amazon Prime Video
Pop superstar Kat (Jennifer Lopez) gears up for a huge performance during which she's set to marry her famous fiancé Bastian (Maluma). But when she learns about Bastian's infidelity seconds before going onstage, she publicly dumps him and spontaneously asks a single dad in the audience, Charlie (Owen Wilson), to marry her instead. Though Kat and Charlie come from two very different worlds, they start to fall for each other—will it last?
Ticket to Paradise
Where to Watch: Peacock
Divorced couple David and Georgia Cotton (George Clooney and Julia Roberts, respectively) travel to Bali after learning their daughter Lily (Kaitlyn Dever) has fallen in love with a local seaweed farmer. Though David and Georgia don't get along, the two put their differences aside and secretly try to sabotage Lily's whirlwind wedding.
Good Luck to You, Leo Grande
Where to Watch: Hulu
An older widow (Emma Thompson) who's never had an orgasm is determined to change that in the wake of her husband's passing. When she hires a male sex worker, the two embark on a night of self-discovery and connection together in this sweet and unexpected coming-of-age story.
The Lost City
Where to Watch: Paramount+ or Amazon Prime Video
This movie has everything we love in a rom-com: romance novels, action, adventure—oh, and a cameo from Brad Pitt! When author Loretta Sage (Sandra Bullock) is kidnapped by an eccentric billionaire (Daniel Radcliffe) who wants her to help him discover an ancient city's lost treasure, Loretta's hunky cover model Alan (Channing Tatum) tries to rescue her to prove he can be a hero both on and off the pages of her bestselling books.
Wedding Season
Where to Watch: Netflix
When Asha (Pallavi Sharda) and Ravi (Suraj Sharma) meet on a dating app, they don't hit things off romantically. But since they're both feeling pressured by their parents to get married, they team up to spend a summer pretending to be a couple and each other's dates for a bunch of weddings. When they start to catch actual feelings for each other, what will become of their arrangement?
Bros
Where to Watch: Peacock
Podcast host Bobby (Billy Eichner) isn't into commitment. But his feelings change when he meets Aaron (Luke Macfarlane), an equally-detached lawyer who typically likes to play the field. What ensues is a sweet story about finding love with plenty of moments that'll make you LOL.
Resort to Love
Starring Christina Milian, this movie follows a woman named Erica who lands a gig as a singer at a luxurious island resort where, unbeknownst to her, her ex-fiancé is having his wedding.
Where to Watch: Netflix
The Lovebirds
Where to Watch: Netflix
In this film, a couple on the verge of breaking up find themselves accidentally embroiled in a murder. Stars Kumail Nanjiani and Issa Rae are hilarious and have great chemistry together as they start to fall back in love while fighting bad guys side by side.
Isn't It Romantic
Where to Watch: Rent on Amazon Prime Video
After Natalie (Rebel Wilson) is knocked unconscious during an attempted mugging on the New York City subway, she wakes up in an alternate universe where she's living in a cheesy, PG-13 rom-com. Also starring Liam Hemsworth and Priyanka Chopra, this movie will make you laugh and fall even more in love with the lovey-dovey clichés of romantic comedies.
Always Be My Maybe
Where to Watch: Netflix
Sasha (Ali Wong) and Marcus (Randall Park) grew up together but lost touch due to a series of miscommunications. But when Sasha returns to San Francisco as an adult to open her latest restaurant, they reconnect and sparks fly.
Set It Up
Where to Watch: Netflix
Two overworked and underpaid assistants (Glen Powell and Zoey Deutch) who work in the same corporate building team up and try to set up their bosses (Taye Diggs and Lucy Liu) in the hopes that their romance will distract them from work.
To All the Boys I've Loved Before
Where to Watch: Netflix
When Lara Jean (Lana Condor) realizes her younger sister secretly mailed out a bunch of her old love letters, she has to cover up the fact that she's actually in love with her older sister's ex-boyfriend by pretending to date her junior high crush (Noah Centineo). When you're done watching, both sequels (To All the Boys: P.S. I Still Love You and To All the Boys: Always and Forever, Lara Jean) are also available on Netflix!
Crazy Rich Asians
Where to Watch: HBO Max
We love a rom-com based on a bestselling book, and this adaptation did not disappoint. The film follows a New York City professor (Constance Wu) who travels to Singapore to meet her boyfriend's family—and realizes he comes from incredible wealth.
Home Again
Where to Watch: Rent on Amazon Prime Video
Another Reese Witherspoon feature! This one is about Alice, a recent divorcée who decides to start over by moving back to Los Angeles with her two daughters. While out celebrating her 40th birthday, she meets a group of aspiring filmmakers who need a place to live—so she offers them her guesthouse and embarks on a budding romance with the much-younger Harry.
The Big Sick
Where to Watch: Amazon Prime Video
Based on married couple Kumail Nanjiani and Emily Gordon's real-life love story, you're seriously missing out if you haven't seen this movie yet. Eight months into dating, Emily falls ill and Kumail meets and connects with her concerned parents while she remains in a medically-induced coma.
Trainwreck
Where to Watch: Peacock
Starring Amy Schumer and Bill Hader, Trainwreck follows magazine journalist Amy as she meets and interviews sports doctor Aaron (Hader) and subsequently starts falling for him. But is Amy ready to put aside her feelings about relationships and ditch her wild ways for real romance?
About Time
Where to Watch: Amazon Prime Video
This touching story (seriously, grab the tissues!) follows Tim (Domhnall Gleeson), who, on his 21st birthday, learns that the men in his family have a secret gift for time travel. After realizing this might help him get a girlfriend, he meets Mary (Rachel McAdams). We see their love story unfold over time while gleaning important lessons about the beauty of an ordinary life.
Classic Rom-Coms
Crazy, Stupid Love
Where to Watch: HBO Max
With an all-star cast including Steve Carell, Ryan Gosling, Julianne Moore, Marisa Tomei, and Emma Stone, this flick follows a recently divorced man (Carell) as he's taken under the wing of a self-styled player (Gosling) who helps him re-enter the dating world.
The Proposal
Where to Watch: Hulu
When a high-powered book editor named Margaret (Sandra Bullock) learns she's set to be deported back to her hometown in Canada, she convinces her assistant, Andrew (Ryan Reynolds), to marry her. But things get complicated (and hilarity ensues) when Andrew insists Margaret travel to Alaska with him to meet his family.
Valentine's Day
Where to Watch: HBO Max
The perfect movie to watch on February 14, this flick features a star-studded ensemble cast that includes Jennifer Garner, Ashton Kutcher, Julia Roberts, Bradley Cooper, Anne Hathaway, Jamie Foxx, Jessica Biel, Taylor Swift, Kathy Bates, Shirley MacLaine, and more as their characters' stories intertwine over the course of one Valentine's Day.
P.S. I Love You
Where to Watch: Amazon Prime Video
After Holly's husband, Gerry, dies of an illness, she starts receiving a series of letters written by him in hopes of easing her grief and encouraging her to move forward in life without him. It's a touching story about love and loss and stars Hilary Swank, Gerard Butler, Lisa Kudrow, and Jeffrey Dean Morgan.
Fever Pitch
Where to Watch: Rent on Amazon Prime Video
When a schoolteacher named Ben (Jimmy Fallon) starts dating a successful businesswoman named Lindsey (Drew Barrymore), she has no idea about his lifelong obsession with the Boston Red Sox. As they fall deeper in love, Lindsey starts to question whether Ben could ever love her as much as he loves baseball.
13 Going on 30
Where to Watch: Peacock
This adorable movie stars Jennifer Garner as Jenna who, on her 13th birthday, wishes she could skip ahead to age 30. When her wish suddenly comes true, Jenna has everything she ever wanted—but realizes she lost touch with her childhood BFF Matt (Mark Ruffalo) in the process.
Something's Gotta Give
Where to Watch: Hulu
You can never go wrong with a Nancy Meyers film. This one stars Jack Nicholson as Harry, an older womanizer who's invited to his much-younger girlfriend's house in the Hamptons—only to find out her mother, Erica (Diane Keaton), is staying there too. But when Harry has a heart attack and Erica starts taking care of him under her roof, the two start to fall for each other.
How to Lose a Guy in 10 Days
Where to Watch: Paramount+
When magazine columnist Andie Anderson (Kate Hudson) decides to write an article about the most common dating "don'ts" and tries to get a man to dump her in 10 days, she ropes unsuspecting ad executive Ben (Matthew McConaughey) into her scheme. But Ben has a secret too—he's made a bet with his boss that he can make a woman fall in love with him in 10 days or less.
My Big Fat Greek Wedding
Where to Watch: HBO Max
Toula's big family is disappointed that she's still unmarried at 30 years old. So Toula (Nia Vardalos) decides to revamp her life in hopes of gaining more confidence and finding love. She soon meets and falls for Ian (John Corbett) but worries her parents, siblings, and hilariously overbearing extended family won't accept him because he isn't Greek.
Sweet Home Alabama
Where to Watch: Rent on Amazon Prime Video
New York fashion designer Melanie (Reese Witherspoon) has everything she wants in life, including a handsome new fiancé (Patrick Dempsey). But he doesn't know she's technically still married to her high school sweetheart, Jake (Josh Lucas), although they've been separated for years. When she travels back to her hometown in Alabama to get a divorce, she learns her romance with Jake might not be totally over.
Two Weeks Notice
Where to Watch: HBO Max
Environmental lawyer Lucy (Sandra Bullock) doesn't want to work for arrogant billionaire George (Hugh Grant) but concedes when he makes her an offer she can't refuse. After enduring George's frustrating antics for months, Lucy puts in her two weeks notice—only to realize she might actually have romantic feelings for her boss, despite their differences.
The Wedding Planner
Where to Watch: Paramount+
Wedding planner Mary (Jennifer Lopez) loves her job—but it doesn't leave much time for love in her personal life. Then one night, she's swept off her feet (literally) by a handsome doctor named Steve (Matthew McConaughey) who later asks her on a date. The next day, Mary meets with her newest wedding-planning clients—only to find out Steve is the groom.
Serendipity
Where to Watch: Paramount+
When Jonathan (John Cusack) and Sara (Kate Beckinsale) first meet, it seems like love at first sight. But Sara's convinced that if they're meant to be together, fate will ensure their paths cross again.
Love & Basketball
Where to Watch: HBO Max
Childhood friends Monica (Sanaa Lathan) and Quincy (Omar Epps) both hope to be professional basketball players when they grow up. As they fall for each other over the years, their passion for basketball threatens to take them on different paths.
10 Things I Hate About You
Where to Watch: Disney+
Kat (Julia Stiles) has little interest in dating, but her father won't let her popular younger sister, Bianca (Larisa Oleynik), start dating unless Kat has a boyfriend too. So Cameron (Joseph Gordon-Levitt), hoping to date Bianca, plots a set-up and pays mysterious high school loner Patrick (Heath Ledger) to ask out Kat.
Never Been Kissed
Where to Watch: Disney+
Reporter Josie (Drew Barrymore) is assigned to pose as a student at her old high school to research modern teen culture. But things get complicated when Josie starts to fall for her dreamy English teacher (Michael Vartan).
The Best Man
Where to Watch: Amazon Prime Video
Novelist and perpetual bachelor Harper (Taye Diggs) is about to publish his first book—but his close-knit group of friends don't realize the story is loosely based on their lives. When his former love interest Jordan (Nia Long) passes around an advanced copy of Harper's book, she threatens to reveal his secret. You can also stream the sequel, The Best Man Holiday, and a new limited series called The Best Man: The Final Chapters on Peacock.
She's All That
Where to Watch: HBO Max
High school student Zach (Freddie Prinze Jr.) is super popular until his equally-beloved girlfriend, Taylor, dumps him for a reality TV star. To save his reputation, Zach makes a bet that he can turn nerdy outcast Laney (Rachael Leigh Cook) into the school's prom queen in less than six weeks.
How Stella Got Her Groove Back
Where to Watch: Hulu
Feeling unlucky in love, Stella (Angela Bassett) travels to Jamaica with her BFF Delilah (Whoopi Goldberg) for a much-needed vacation. While on the trip, she falls for a handsome local (Taye Diggs) who happens to be 20 years her junior.
You've Got Mail
Where to Watch: HBO Max
This classic rom-com stars Meg Ryan as Kathleen Kelly, a small business owner struggling to keep her New York City bookstore open after businessman Joe Fox (Tom Hanks) plans to open a big-box bookstore on the same block. At the same time, Joe is involved in an email romance with a woman he's never met in person—and soon realizes it's Kathleen.
Sleepless in Seattle
Where to Watch: Rent on Amazon Prime Video
Another Tom Hanks and Meg Ryan classic, this one follows widowed single dad Sam (Hanks) as he moves to Seattle with his young son, Jonah. When Jonah calls into a talk-radio show campaigning for his dad to find a new wife, reporter Annie (Ryan) hears his plea and falls for Sam despite being engaged to someone else.
Pretty Woman
Where to Watch: Apple TV+
Prostitute Vivian (Julia Roberts) is hired by wealthy businessman Edward (Richard Gere) for a weekend and, despite the two coming from very different worlds, their romance soon turns real.
When Harry Met Sally
Where to Watch: HBO Max
Harry (Billy Crystal) and Sally (Meg Ryan) first meet in college and don't exactly hit it off. They meet again in a bookstore 10 years later and, at the urging of their best friends, attempt to be friends without ever crossing a romantic line.