I have always been an unapologetic lover of romantic comedies. I was in love with falling in love, even if romance in my own life was nonexistent. I could always find comfort in other people making out alongside some hilarious jokes, and I still have strong affection for the genre. So with Valentine's Day here yet again, I share with you my favorite rom-coms. Some on this list might be best shared with your partner, your friends, or as a lovely nostalgic rewatch for yourself.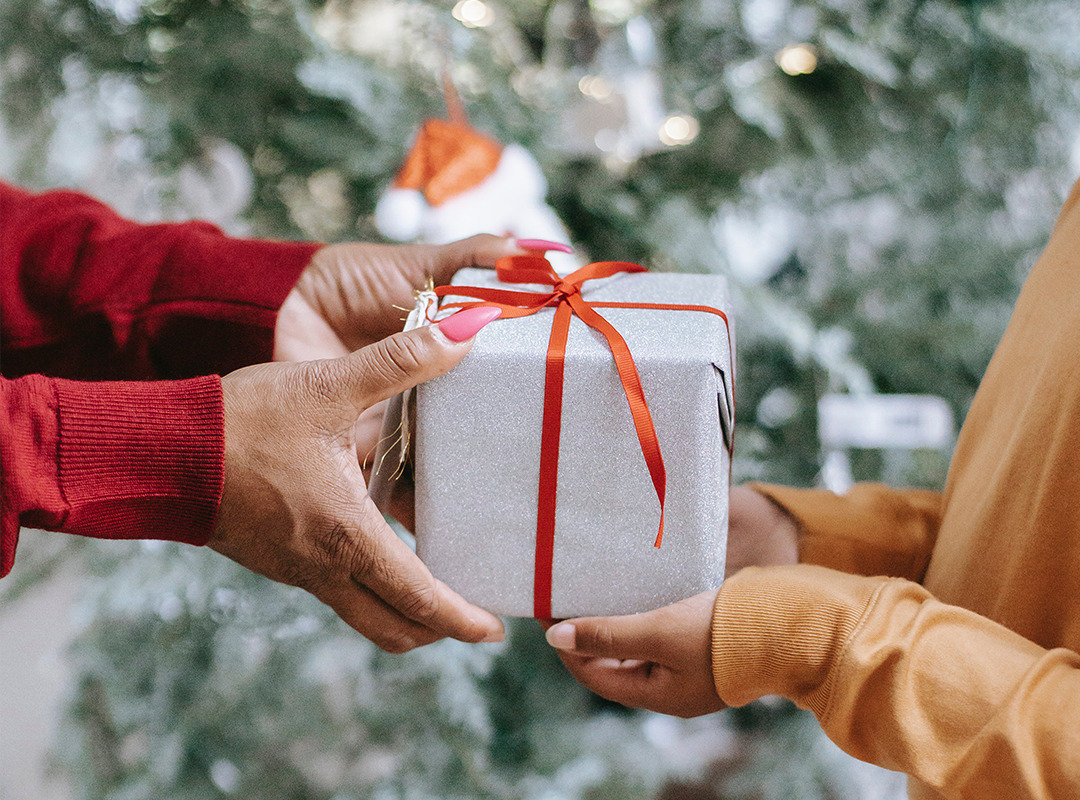 this makes gift buying so easy—trust us! 🎁
For Valentine's Day
1. Clueless
Available to stream on Hulu or rent on Amazon Prime Video.
I swear this movie will never go out of style. With the latest '90s resurgence in fashion, it makes me feel like I'm in middle school all over again, forcing my cousin to go watch this in theaters. First of all, it's early Paul Rudd (those dimples!), and second of all, it's literary. Kind of. Given the fact that it's technically an Emma adaptation, it makes me feel smarter when I watch it. Every time. If you're unfamiliar, Cher Horowitz is a high school junior, navigating high school as she knows best: giving everyone else advice. As she tries to matchmake everyone around her, she realizes maybe she doesn't know the first thing about love.
2. Lovebirds
Available to stream on Netflix. 
This movie came out at a bad time in the universe and gave us so much joy. It was one of the first movies during the pandemic that pivoted from a big theatrical opening to releasing directly to Netflix, and it did not disappoint. A couple, on the verge of breaking up, find themselves accidentally embroiled in a murder. They have to find the actual murderer or take the fall. Kumail Nanjiani and Issa Rae are hilarious together and they have great chemistry. If you haven't watched it yet, it's a perfect Valentine's Day date night movie to watch. You'll laugh and then remember that time when you fell back in love while fighting bad guys together. Checks all of my date boxes.
3. Always Be My Maybe
Available to stream on Netflix. 
OK, so many dreams converged in one on this one: Ali Wong gets to get down with so many attractive guys while wearing some dope ass glasses, set to the soundtrack of old school Mariah Carey. My middle school self lost it. And it also has all the hallmarks of my favorite kind of love stories: best friendship, poor communication turned good, a boss lady, and a man that learns to NEVER dampen her flame. I mean, I could go on. It's about Sasha and Marcus who grew up together and lost touch because of a series of bad communications around grief. When she returns to San Francisco as an adult to open her latest restaurant, they reconnect and sparks fly. Since it's Ali Wong and Randall Park, there's a perfect amount of dirty humor and heart. Another great pick for Valentine's Day.
4. To All The Boys I've Loved Before
Available to stream on Netflix. 
OK, I admit it, I still love high school romances. Sometimes I like to wonder what life could have been like if I'd been bolder back then. Or you know, if my little sister tortured me by sending out all of the (secret) love letters I'd ever written. When Lara Jean is confronted by the fact that all of her old crushes have her love letters, she has to cover up the fact that she's actually in love with her (older) sister's ex by pretending to date crush #2. And then things get complicated. When you're done watching, this movie's two sequels, To All the Boys: P.S. I Still Love You and To All the Boys: Always and Forever, Lara Jean, are available on Netflix, too!
5. Saving Face
Available to stream on Amazon Prime Video. 
This debut from Alice Wu (director of the incredible The Half of It) is fun, poignant, and downright entertaining. Wil is keeping her queerness from her mother, only to find out that her mother has her own romantic secrets, as in who is the father of her unborn baby at the tender age of 48. When her mom moves in with her since her grandparents disapprove, it strains Wil's relationship without Vivian. She is trying to navigate what her family needs versus what she needs.
I love so much about this movie, especially navigating the individual self versus the community self. That's a struggle I've had to navigate in my own South Asian culture as well. Plus, we get to watch the adults "mess up" too in this one, which is so so so incredibly validating.
To Watch With Your Gals
Lest you believe that my love for comedies centers only around romance and love, here's another list for you. Romance is a fun aspect of those movies, but it's the hilarious women and friendships that really draw me in. Here are some of my favorite picks to watch virtually with your friends this Valentine's Day (or anytime!).
1. Bridesmaids
Available to stream on Peacock or rent on Amazon Prime Video. 
I don't know how many times I've rewatched this movie. My relationship with it has changed over time, as I went from being a bridesmaid to being a bride to just being a woman in my 30s wondering how the hell I got here. Annie is a single woman whose dream just imploded (her bakery shuttered) when she finds out her best friend, Lillian is engaged. As she wades through the wedding planning and maid of honor duties, she keeps failing more and more until they have to ask themselves where their friendship came from in the first place. This movie is so very perfect in balancing humor with tenderness.
2. Like a Boss
Available to rent on Amazon Prime Video.
I will follow Tiffany Haddish to the ends of the earth. And Rose Byrne is amazing (see Neighbors and Instant Family for reference). They play Mia and Mel, best friends since they were 12 who started an incredible makeup business together. When they get themselves into some financial hot water, Mel convinces Mia to get an investor. The investor tries to steal their business out from under them, creating more tension until they have to ask why they were friends in the first place.
I think you see a theme for me here; long term friendships, taxed under pressure, when they have some big honest blowout, and then have to come together to triumph over evil. It's a great formula and one I'm sticking to. Plus, there's a great scene where they get caught smoking weed at a baby shower and jump off a roof into a pool to avoid… consequences.
3. The Boss
Available to rent on Amazon Prime Video. 
Melissa McCarthy is a boss of a huge empire until she's convicted for insider trading and stripped of all her resources. She finds her old assistant and tries to rebuild her empire and has to learn how to trust in love and friendship. At its heart, this is a story about a woman who has a bad attachment style because of her childhood trauma as an orphan. She is learning how to connect—albeit in some unhealthy ways to make us laugh.
Also, there's a street fight between two different girl troops in a ritzy Chicago neighborhood. It's brownies versus cookies. Whose side would you be on?
4. Girls Trip
Available to rent on Amazon Prime Video. 
This is the movie that made me want to follow Tiffany Haddish anywhere, she made me laugh so hard. But I started the movie because of the amazing array of heavy hitters: Queen Latifah (I can't get enough of her), Regina Hall, and Jada Pinkett Smith. I think Queen Latifah is perfect and can do no wrong (Beauty Shop, Last Holiday), so I started out the film with high hopes and it only got better.
It's a group of four women who have been friends since college, but their lives have gone very differently since then. Hall plays Ryan Pierce, who decides to invite the group (AKA the Flossy Posse) down for a reunion during the Essence Music Festival in New Orleans where she'll be giving a keynote speech and sealing an important deal. When they find out Ryan's husband is cheating on her, hijinks ensue. This movie reminded me to call all my ride or dies. Get you a group of friends who love you even after you peed all over a crowded street in New Orleans.
5. Romy and Michele's High School Reunion
Available to rent on Amazon Prime Video. 
This movie has not aged perfectly. There are some body-shaming jokes, homophobic jokes, and more, so be prepared if you decide to dive back in. That being said, it's also a movie about two outsiders learning that being an outsider isn't as bad as we are told it is because there's so much fun to be had along the way.
Romy and Michele were not popular in high school, but they've decided to solve that by telling everyone at their reunion that they invented Post-Its. As the night unfolds, and people start to see the cracks in their story, Romy and Michele struggle with their friendship. Can they make it through, or will the reunion break them? I was so in love with their friendship and still am. I dreamt of growing up and living with my best friend too. Also, the choreography to "Time After Time" made me feel like I could do anything with zero experience under my belt.
This article was originally published in February 2021. It has been updated for timeliness.