When I was pregnant with my first baby I meticulously washed, folded, and started organizing clothes by age (in months) so when my baby arrived I'd be set up for success to dress my little peanut. What started as a well-oiled machine quickly turned to chaos during the first few weeks of life with a baby.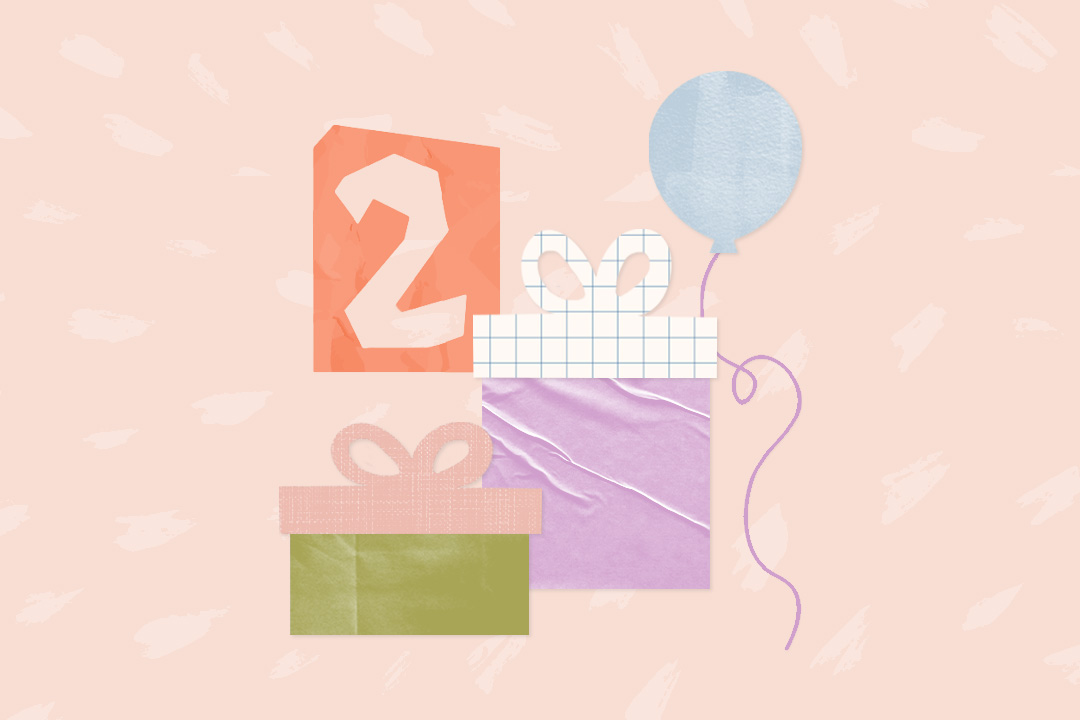 a LO in your life will love these! 🎁
Clothes of all colors, styles, and sizes were thrown into drawers, into baskets, and into corners of the nursery to find later. We were in survival mode, so while I may have wanted to dress my baby in a perfectly-matched ensemble, I usually resorted to whatever was in arms reach (and honestly dressing a baby in pajamas all day just makes sense).
We're a few years out from that and I've refined our closet organizational system. I now have a toddler who enjoys picking out her outfits, so that adds a fun element into the mix. If you're working to better organize your baby and kid's closets, here are a few hacks I've learned along the way.
1. For a low-budget option, use a wire rack + labeled bins
If you're not quite ready to commit to a closet organization system, start with a budget-friendly option like basic shelves and bins. While this probably won't work for a high-schooler, it's perfect for baby and toddler gear. Label bins by size or style and swap out labels as your kid (and their clothes) grow. You can repurpose the rack in a number of ways later as your kids get older and you want a more permanent (and likely more expensive) closet system.
Amazon
While certainly basic, this wire shelving system is adjustable and can bring order to your LO's closet at a reasonable price point. Once you're done with it in their closet, it can be used to organize crafts and toys or be utilized in the garage.
The Container Store
These minimalist baskets are perfect for separating out tiny clothing. Plus, you can always use more baskets around the house so if you move beyond the basket system as your kids get older, you'll be able to use these elsewhere.
2. Include printables to help with organization
When you're first organizing your baby's clothes, group items by size and type (pants, shirts, PJs, etc.) and label each section appropriately. Search online and you can find printables to hang in the closet or stick on bins to note the month/age they go along with.
You can even think ahead and note what season future months will be (for example, you can note that when your baby will be 6 months it will be winter so you'll need warmer clothes). Of course, not every baby wears the size that matches exactly to their age, but it's somewhere to start. You will easily be able to see where there are gaps in your little one's wardrobe and can think ahead if you need to buy new clothes in bigger sizes to match the season.
Etsy | Hazel Studio Designs
Keep categories organized with these labels you can print at home and add to bins or dresser drawers. The labels also help toddlers who can't yet read gain some independence.
Etsy | Pop Studio Creations
If most of your gear is being hung up for your baby, order a set of these dividers to keep track of clothing by size.
3. Add a low-hanging rod for easy access
As your child gets older, they may want to start picking out their own outfits. Whether or not you agree with their extreme pattern matching is besides the point. If you have a headstrong toddler on your hands, letting them pick out their own clothes is an easy thing you can allow them to control. Make elements of the closet accessible to little hands, like a secondary rod they can reach.
At the same time, if there are special occasion outfits you don't want them wearing for arts and crafts at preschool, put those completely out of sight.
4. Use a shoe rack to organize swaddles, burp cloths & blankets
Any new parents knows you end up accumulating quite a collection of swaddles, burp clothes, and baby blankets during the first few months of having a baby. Instead of piling them in a drawer( which can quickly become a huge mess), snag Andi Teggart's system and use a shoe rack to organize these items. It allows you to easily see what you have and grab it quickly. As you move beyond swaddles, burp cloths, and baby blankets, you can use this system to organize kid's accessories or, of course, you can use it for its originally intended purpose, for shoes.
Amazon
There are a lot of options for this, but a clear version is your best bet so you can have full view of what's stored in each pocket.
5. Store clothes together that should be worn as a set
While part of me wants to recommend putting all pants together and all tops together, there's a time where you should break this rule. If you buy clothing items that are supposed to be worn as a set, store them together in the closet. This will make for a much easier day of dressing than trying to search through multiple spots for the matching top and bottom.
6. Employ hooks for the next day's outfits
If you and your child like to prep for the morning the night before, put a hook on the inside door of the closet and you can hang the outfit of choice there. If you want your child to take ownership of getting themselves dressed, make sure the hook is reachable from their height.
7. Add a basket for outgrown clothes
Babies and kids grow incredibly fast (too fast!). It's common to just push the too-small clothes aside and say you'll remove them later. Instead of doing huge closet purges every few months looking for the outgrown items, keep a small basket in your closet where you can toss clothes that no longer fit as soon as you come across them. Then every time the basket is full, go through it and decide what to do with them. Out of the items, make piles for things you're going to keep for hand-me-downs for a sibling, clothes you're going to donate, and clothes that can be tossed or recycled.
Amazon
You'll be grateful you have a basket like this in your kid's closet to toss old clothes into. Plus, it can be repurposed as a laundry basket once your kids get older.
8. Brighten up the space with paint or wallpaper for a fun splash of color
And, finally, bring some life to your little one's closet aside from the expert organizational system you put into place. Make their closet a fun space for them to be creative. A simple coat of paint or adding wallpaper can go a long way to ensure your kid's closet sparks joy.
Livette's Wallapaper
I don't know about you, but getting ready in a closet full of pineapples would definitely bring joy to my morning.